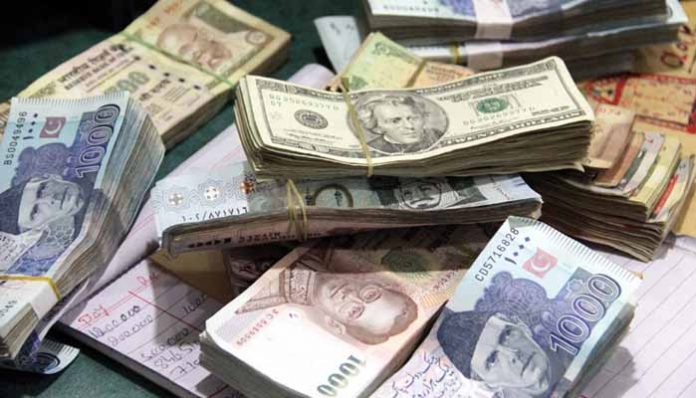 KARACHI/LAHORE: The Pakistani Rupee after declining consecutively for four days slid by another 64 paisas (0.4 per cent) on Thursday, June 18, dropping to Rs166.65 for one United States (US) dollar, its lowest value witnessed in two months.
On Wednesday, the rupee closed at Rs165.7143 per US dollar. During the trading session on Thursday, the rupee hit a high of Rs166.1630 per US dollar and a low of Rs165.2 per US dollar, before closing at Rs166.35. 
As per Capital Stake, the rupee is down by Rs 11.5 Year to date (YTD), Rs3.25 month to date (MTD), and Rs1.76 Week to date (WTD), which is 7.43 per cent, 1.99 per cent and 1.07 per cent respectively.
This decline in the rupee, however, is not induced due to a panic sell-off or mistrust in the rupee.
Geopolitical tensions
While speaking to Profit, AxiTrader Chief Global Market Strategist Stephen Innes, suggested that regional tensions played an important role in the trend exhibited by the rupee.
"I believe this is related to collateral damage as civilians were killed by Indian shelling in Kashmir, said Innes"
End of fiscal year
Innes also added that the timing should be taken into account. "There has been capital flight due to profit repatriation ahead of the end of the fiscal year," he said suggesting that this might have contributed to the slide of the rupee.
Trade and remittance
Renaissance Capital Chief Economist Charlie Robertson, however, believes that trade had a stronger hand in the decline of the currency.
"The weakness in the Pakistani rupee could be related to strengthening of the US dollar as trade tensions rise with Europe – the US dollar is stronger against Pakistan, India and Sri Lanka as well as the euro."
Considering the impact of Covid-19 on global economies, he adds, "Lower remittances and big falls in textile exports year on year (YoY) in April and May also justify modest depreciation in Pakistani rupee."
Foreign reserves
However, currency reserves cannot be ignored. "Foreign reserves of the country have witnessed a decline of over 10 per cent since the end of May. Declining reserves, a lower inflow of foreign investment coupled with low growth in exports and remittances have collectively put the currency under pressure," notes Capital Stake Director Research Maha Jaffar Butt.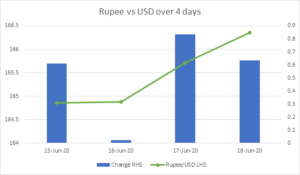 Data source: Capitalstake.com  and State Bank of Pakistan
Is the decline in rupee concerning?
While a decline in the value of the Pakistani rupee consecutively over four days may sound alarming, it is not something to be largely concerned about. "Volumes are already low in the Pakistani market so a small outflow has a significant impact. Lack of export and remittance flows are not helping either," says Tresmark Senior Analyst Komal Mansoor.
"In percentage terms, however, a  0.4 per cent decline does not seem noteworthy for any market-determined exchange rate" adds Mansoor.