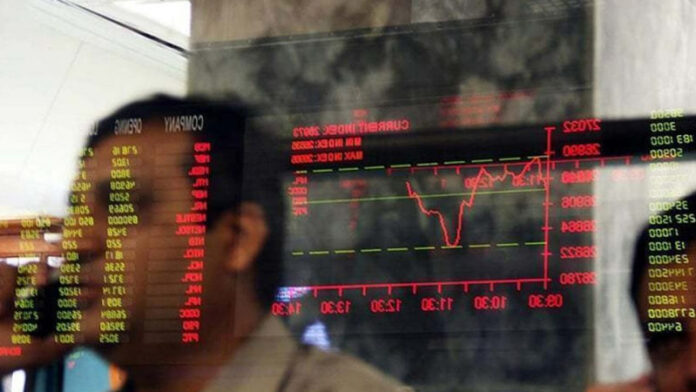 KARACHI: The Pakistan Stock Exchange (PSX) succumbed to selling pressure on Wednesday, as the indices failed to hold on to gains and closed in the negative zone.
Equity markets around the globe also showed a negative trend, whereas crude oil prices declined further from the previous close; WTI crude price falling 0.66pc to $39.03 while Brent crude price dropping 0.89pc to $41.19.
The benchmark KSE-100 Index swayed between the day's high of 41,438.33 (+233.97 points) and low of 40,494.90 (-709.46 points). It closed lower by 632.88 points at 40,571.48.
Among other indices, the KMI-30 Index plunged 1,145.94 points to end at 64,738.07, while the KSE All Share Index dropped 325.26 points, settling at 28,969.98.
The overall market volumes increased from 353.65 million shares in the previous session to 473.73 million shares. Hascol Petroleum Ltd (HASCOL -7.00pc), Unity Foods Ltd (UNITY -4.69pc) and K-Electric Ltd (KEL -0.47pc) led the volume chart, exchanging 86.63 million, 66.24 million and 24.76 million shares, respectively.
Sectors that drove the benchmark index south included banking (-89.71 points), cement sector (-82.77 points) and fertilizer (-71.12 points). Among the companies, United Bank Ltd (UBL -53.28 points), Hub Power Company Ltd (HUBC -42.39 points) and Engro Corporation Ltd (ENGRO -39.63 points) dented the index the most.
Shedding 2.49pc from its cumulative market capitalization, the oil and gas marketing sector ended as the session's top loser, with Pakistan State Oil Company Ltd (PSO -2.50pc), Shell Pakistan Ltd (SHEL -2.22pc) and Attock Petroleum Ltd (APL -2.28pc) posting significant losses.
On the financial side, Pioneer Cement Ltd (PIOC -2.00pc) announced a loss per share of -Rs0.92 (Rs3.48 in FY20), Thatta Cement Company Ltd (THCCL -2.93pc) posted an LPS of -Rs1.58 (Rs2.14 in FY19), while Kohat Cement Company Ltd (KOHC -6.54pc) recorded an LPS of -Rs2.21 (Rs12.29 in FY19).
Meanwhile, Ghandhara twins — Ghandhara Industries Ltd (GHNI -7.12pc) and Ghandhara Nissan Ltd (GHNL -6.53pc) — announced LPS of Rs30.11 and Rs3.62 for FY20 (Rs1.41 and -Rs0.51 in FY19).