One of the most significant talking points of Prime Minister Imran Khan's political career has been breaking the shackles of foreign debt. Before coming to power in 2018, Imran Khan time and again declared taking assistance from the International Monetary Fund (IMF), other bodies and friendly countries destructive for the economy. 
The rhetoric was hotly received. Telling crowds he would die before going to the IMF for a loan and promising his voters they would never see him going from one place to another with a begging bowl in hand to rouse people into support. Khan appealed to their dignity, without of course, realising that for a country like Pakistan there is sometimes no other option than looking towards bodies like the IMF for a loan. 
So when the Pakistan Tehreek-e-Insaaf (PTI) finally came into power, as a professional party of opposition, they now were faced with the embarrassment of going back on their claims and the Prime Minister had to embark on a desperate dash across China and the Muslim world to try and secure short term loans to bolster the shambolic economy five years of Dar-nomics had given Pakistan. 
This was embarrassing, yes, but still not the worst case scenario. The ultimate enemy, after all, was the IMF. That had been the ultimate and final evil that Imran Khan and the PTI had been indignant about for years. Eventually, that facade crumbled as well, and Pakistan went to the IMF the 22nd time for a loan in its 70-year history. 
Since then, the PTI has presided over a rapid rise in public indebtedness. Of course, this is not strange, since almost every succeeding government becomes the most indebted government. The problem is the history Pakistan has had with the IMF, and the hole we continue to dig ourselves deeper into.
A chronology of Pakistan and the IMF
Article continues after this advertisement
The IMF as an organisation consists of 190 countries, and is supposed to work to foster global monetary cooperation, secure financial stability, facilitate international trade, promote high employment and sustainable economic growth, and reduce poverty around the world. Pakistan joined the IMF in 1950, and since 1958 has taken a total of 21 loans from the IMF, 12 of which can be called bailouts. In the past 60 years, Pakistan borrowed a total of $27 billion as per the current value of the SDR, which is the IMF's currency.
When it comes to Pakistan, we see an interesting trend with the IMF programmes — they are becoming longer and larger. By longer, we mean the pay-out period is increasing. For example, between 1958 and 1977, all the programmes were of one year. Coincidentally, all the IMF programmes in this period were also bail-outs or stand-by agreements. There were a total of seven programmes.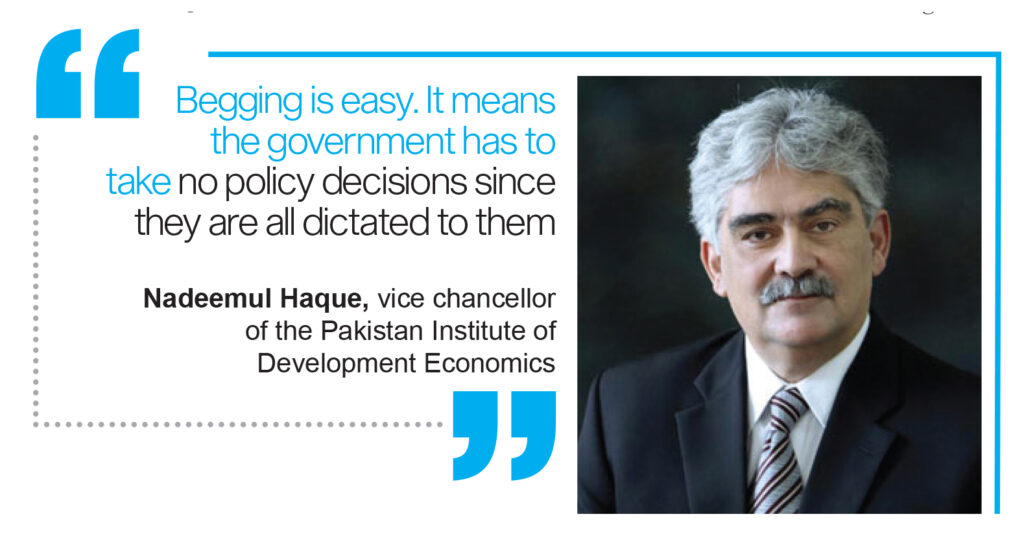 For clarity, a bail-out programme is one in which the IMF makes an injection into an economy that would otherwise collapse. Similarly, a standby line of credit is a sum of money, not to exceed a predetermined amount, that can be borrowed either in part or in full from a credit-granting institution if the borrower needs it. In contrast, an outright loan would be a lump sum of money that the borrower intended to use for sure.
Now, that sounds like a good deal and that the IMF is an organization that simply helps out faltering countries. The problem is that the fund gives loans to member countries that are struggling to meet their international obligations provided that in return these countries implement specific IMF conditions designed to put government finances on a sustainable footing and restore growth. These conditions are supposed to be for the benefit of the country seeking the loan, but the fear has always been that the organization is simply a neo-colonial tool. 
And Pakistan has had to seek a lot of IMF support, and has often failed to meet the criterias that the fund sets out, which is partly why the loans have been getting longer and larger. Between 1980 and 1995, Pakistan was part of another seven programmes and all but one were between one and two years long. Between 1997 and 2013 — when the PML-N took the last $6.4 billion loan — there were a total of six programmes. With the exception of one, all of them were approximately three years long.
In August 2018, the Khan led PTI government approached the IMF for a bailout package after Prime Minister Imran Khan's government took over. Despite loans from China, Saudi Arabia and the UAE, Prime Minister Khan's government was forced to turn to the IMF due to mounting economic problems, and Pakistan and the IMF were in talks for a $6 billion bailout. 
So what were the IMF's demands this time around? Front and center was the demand that Pakistan reduce its non-development expenses in order to bring the budget deficit down along with expansion in the country's tax net, according to one senior official at the Ministry of Finance, who spoke to Profit on the condition of anonymity. "They approved our $6 billion loan against the demand to reduce our circular debt and losses of the state institutions," they added. 
The meetings between Prime Minister Imran Khan and IMF's Managing Director, Christine Lagarde, have been widely publicised, commented on and criticised by the opposition – all as expected. However, the PM knew well enough to go back on his words and assured the IMF that his government would undertake structural reforms, and Lagarde showed the IMF's willingness to support Pakistan.
But the actual cause of concern is that the IMF has only paid Pakistan $1 billion out of  $6 billion promised, but their conditions are still in play. Recently, the country has also failed to meet the International Monetary Fund's (IMF) demand regarding structural reforms in State-Owned Enterprise (SOEs), a condition set to restart the $6 billion loan programme, which has been stalled for about ten months now.
The foreign loan surge 
The country's foreign loans have surged by almost 45pc to about $4.5 billion from July to November of the current fiscal year as compared to the same period during the last fiscal year. As per the data on Foreign Economic Assistance compiled by the Ministry of Economic Affairs, Pakistan has received a total of $23.6 billion in foreign loans during the tenure of incumbent PTI government. Speaking to Profit, economist Dr Aima Mehdi said that the state of indebtedness of Pakistan is once again surging. Foreign inflows as debts amount to roughly $4.5 billion between July and November 2020. 

"A sharp rise of 45% is a major cause for concern, especially since it has occurred under the PTI administration, who made great claims of shedding the country free of liabilities once in power," she said. "Another noteworthy point is that under the current pandemic, even big economies such as the US have seen a rise in their debt structure." Pakistan has also had to return $1 billion to Saudia Arabia, who are going through their own turbulent economic conditions after oil demand fell."
She added that coming back to the debt figures, undoubtedly, they are alarmingly posing great pressure on the economic development and solemnity of Pakistan. The consecutive current account surplus is also only due to foreign remittance coming through formal channels and the lack of foreign travel by Pakistanis. Meanwhile on the trade balance  front, exports have shown increasing behaviour but imports are rising at a faster pace So any currency pressure due to external debt and the fragile BoP condition will present a multiplier effect on the economy.
"This is something we cannot afford at this point in time when the world's financial condition is on thin ice. Pakistan might be losing its Arab financial allies and who knows might also be facing strict conditions from the IMF," she says. "Relying solely on China for external financial aid and the inflows through CPEC might in turn result in collateralising the country. This is indeed a concerning situation and about time when PM Khan should get the money back from the infamous launderers." 
According to Dr Qais Aslam, a Professor of Economics at the University of Central Punjab (UCP), modern neoclassical economists favour debt as financing budget deficit and running day to day affairs of the government, and that because of this, Pakistan finds itself in a debt trap. "The USA, China, and the 10 largest economies are also the 10 countries with largest debt in the world," he shared. 
For Dr Qais third world debt has always been a problem and remains the single most important cause of poverty in these countries as well as the single most important cause of corruption in the less developed countries. "Pakistan has a chronic debt problem where the country is in a classical debt trap. Subsequent governments take loans to pay back old loans only interest rates keep on increasing," he recalled. 
When the PTI government came to power in 2018, Pakistan was already in a debt trap and the time to pay back had come while the country was running a US dollar 40 billion plus Balance of Payment deficit and other economic difficulties like flight of capital, money laundering  trade deficit etc. The PML-N government had already exceeded the 60% debt legal restraint.
"The PTI government was slow in understanding the economic reality and restraints. This government tried China, Turkey, Saudi Arabia and the IMF for liquidity to pay back old loans. There were both economic and foreign policy restraints. Local debt was far greater than foreign loans," said Dr Qais. "Then in the middle of all this, the Covid-19 pandemic struck further bringing down the economy to minus 0.5%.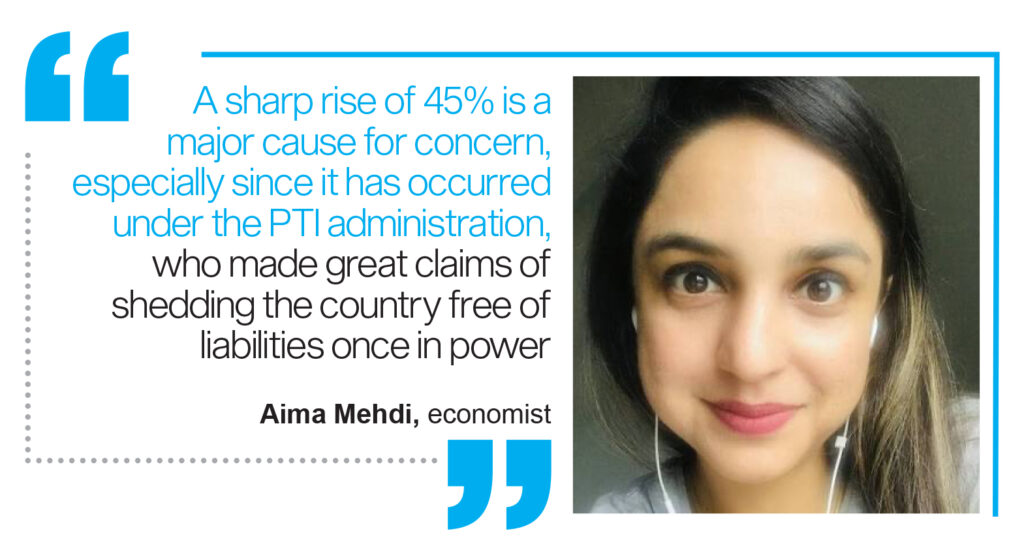 He maintains that the government took loans from left, right centre for its Balance of Payment needs and went into an unfavourable IMF program freeing its exchange rate and Dollar went up to PKR 168 thus further detonation of the country's debt position. Relations with Saudi Arabia became less friendly and they have come to pay back the $3 billion that they parked in SBP. We have already paid $2 billion by taking further loans from China. 
"The economy is currently at minus growth rate between – 0.5% to – 1.5%. There is still a $20 billion trade deficit. There is a reduction in foreign exchange reserves to $20.3 billion and reduction in foreign remittance to the country in the last month of 2020. Around 63% of our GDP comes from services, and most of this big chunk is not exportable and instead depends on expensive imports," he explains. "During 2020 services have been most hit by COVID-19 lockdowns. The debt servicing has increased from 40% of the budget to 45%, putting further pressure on the dual deficits – the fiscal as well as BOP deficit. Our situation is bleak." 
Then there are other problems that do not help at all. Government expenditures, inefficiencies, pilfreage and funding of large government entities that are in chronic deficit also puts pressure on Pakistan's foreign and local debt. In short the past debt pressures and present inefficiencies and  lack of specific economic policies is contributing to Pakistan's deteriorating debt position.
For Dr Qais, the remedy is to bring down government current expenditures with an increase in taxes on the rich to reduce cost of doing business in exportable goods and services, and to give specific relief to SMEs and to reduce debt burden on the economy through meritorious tasks assigned today by the government with international donors.
Acclaimed Economist Dr Nadeemul Haque, who is presently serving as Vice Chancellor of Pakistan Institute of Development Economics (PIDE) told Profit that Pakistan must stop begging as more money is in policy and reforms but it requires time and effort though. "Begging is easy. It means the government has to take no policy decisions since they are all dictated to them," he said.
A shaky defence 
On December 18, the Economic Affairs Division rejected the media reports regarding a 45pc increase in the country's foreign debts over the last five months. The Economic Affairs Division in its statement said that media reports regarding 45pc increase in foreign loans in 5-months period are completely incorrect and misleading.
The division claimed the government received gross external inflows of $4.5 billion during the first five months of the current fiscal year (July-November 2020), against the annual budgeted estimate of $14.37 billion. During this period, the government paid back $2.9 billion on account of external public debt and its servicing.
"Thus, net inflow was $1.6 billion," the statement claimed."During the tenure of the current government, the total external inflow amounted to $26.6 billion which were primarily used for repayment of external public debt and its servicing of $23.4 billion. Thus, net inflow was $3.2 billion." This has been the defence of the government, but the opposition and economists are not buying it. 

Speaking to Profit, PML-N's MPA Hina Butt, who is also a business graduate from Lahore University of Management and Sciences (LUMS), said that she is not surprised at all that the debt burden is growing at such a fast pace. "Our party has been warning people about this for more than a year now. And news reports of a 45 percent increase in foreign loans in the first five months of the current fiscal year only confirmed our doubts."
"In fact, the moment I heard about it I knew that the government would dispute the figures or blame the previous administration for this as well. And it did not disappoint me and did both. Regardless of its excuses, though, how good does the selected prime minister look now, after criticizing PML-N for burdening the country with debt while his own government has done much worse?"
The close aide of Maryam Nawaz added that even if, for argument's sake, one accepts that the 45 percent figure is not correct, it is still true that the PTI government has so far secured $23.6 billion in foreign loans. That's not very far from one-third of the country's total outstanding debt; and it has been incurred in about two and a half years only. 
On December 22, Federal Minister for Planning, Development & Special Initiatives Asad Umar who is also the former finance minister tweeted a table from State Bank of Pakistan which showed that the current account deficit is in the surplus for the first time in 5 years. "Look at the disaster the PTI government inherited. Current account deficit accelerated with each passing month as Pakistan sank into an external debt abyss. Look at the turnaround which started with PTI govt being formed and keeps getting better. Massive deficits turned into consistent surplus," Umar tweeted. 
Replying to his tweet, Profit's columnist, Ammar H. Khan, who had previously worked at several financial institutions in Pakistan, both in commercial banking and capital markets tweeted, "Meanwhile, GDP growth is like a mirror image. An incessant obsession with Current Account Deficit (CAD) while ignoring everything else has done more harm than good. Not saying CAD is a good thing, but self-congratulatory fluff on one metric whole ignoring everything else is not good."
Numbers game
Recently, the head of Prime Minister Imran Khan's economic team, Dr. Abdul Hafeez Shaikh, said that after a long period in the first five months of the current financial year, large-scale manufacturing industries have witnessed five percent growth. Production of cement, fertilizers and automobiles in particular has increased significantly. According to the minister, exports are also increasing exponentially, and the Pakistani rupee is also stabilising, with foreign exchange increasing by $13 billion, while in the financial sector, the FBR has increased revenue collection by 4%. 
He also announced that the IMF delegation, which has been missing for the past one year after arranging the first installment of the program for Pakistan, is now finally returning to Pakistan. Perhaps Hafeez Shaikh, himself a former top IMF official, meant that Pakistan's economy has improved so much that delegations of international organisations are already lined up outside the finance ministry headquarters to borrow. It should be noted that the IMF complained that the new program did not seem to have the ability to meet the targets and that the Covid-19 pandemic has made it impossible to achieve these goals. Also an important question that arises here is that if the condition of Pakistan's economy is so good then why a new program is needed with the IMF?
The real reason is that the economy here has historically grown on debt and Western-backed aid. But things are different now. America is no longer showering billions of dollars on Pakistan in return for its services. Unfortunately, that time has also passed when Pakistan became a member of anti-communist defense organizations such as the Southeast Asia Treaty Organization (SEATO), and the Central Treaty Organization (CENTO) to support their economy. 
"Unfortunately, as a result of the incompetence of the rulers of Pakistan, no policies have been formulated to date that would benefit the poor," said one economist who is also a member of the Prime Minister's Economic Advisory Committee. "In the last five decades from 1970 to 2020, the average growth of the economy has slowed down from 7.2 percent to 2.3 percent. According to the columnist, Sri Lanka has had the highest per capita income in South Asia since 1980."
"Sri Lanka's per capita income has increased 14 times. Bangladesh, which was once part of Pakistan and our so-called advisers to the IMF and the World Bank, used to say that Pakistan could not develop because it had to feed more than half of the poorest population. The country's per capita income has increased 3.8 times. The same is true of India, whose per capita income has increased 7.7 times. In other words, Pakistan's per capita income is the lowest in South Asia since 1980."
During that period, Pakistan has been facing extremely unfavorable economic conditions. Despite this depressing situation, most of the countries that were behind us went far ahead. But we are brazenly replacing our duffel. Meanwhile Pakistan is following the path of democracy one step forward and two steps back by fighting military dictatorships in the past.
Unless we acknowledge some of the basic facts and correct them, the people of Pakistan will continue to sink into the abyss of poverty. If we look at the non-development expenditure, the expenditure of the powerful classes, including the bureaucracy, is so high and unfair that the present economic structure of Pakistan will not be able to bear this burden for long.