Asaan Te Jana Ae Billo De Ghar//
Kine Kine Jana Ae Billo De Ghar//
Ticket Kataao, Line Banao!//
You've already started humming it, haven't you? The song is so many things: it catapulted Abrar-ul-Haq, a former Pak Studies teacher, into Pakistani consciousness. It established Pakistani Punjabi pop as a distinct genre. Its lyrics were audacious, silly, and playfully poked fun of Section 144 (of the Code of Criminal Procedure). And in true Pakistani fashion, it got the ultimate stamp of approval: a temporary ban by the Nawaz Sharif government in the late 90s for being 'immoral'. 
Billo de Ghar is many things, to many people. But one thing it did not make is money – specifically for Abrar-ul-Haq. Industry gossip and rumours abound, and some say that Abar had a particularly poorly worded and exploitative contract, which only allowed him to take home 1% of royalties. 
Wait: one of Pakistan's all time iconic songs barely netted an income for the singer itself? How is that remotely possible? And yet almost every musician, artist, and manager interviewed for this piece were in agreement that the Abrar-ul-Haq-1%-royalty-rumour was a totally plausible scenario; why, that it was practically ubiquitous. 
Article continues after this advertisement
We are a country that genuinely enjoys their pop music: you can go on Youtube and find dedicated playlists curated with titles like 'golden oldies' or 'patriotic anthems'. There is no shortage of online critique or loyal fan base, or artist profiles. But there is never really a conversation about money, or more accurately, the lack thereof. How do artists make money? What are their revenue sources? If someone is in their late teens, has a voice, or a guitar, and is uploading home-made tracks to Soundcloud: what does their career trajectory and corresponding income level in their 20s or 30s look like in Pakistan?
First, some definitions
For the purposes of this article we will be referring to pop, and indie, music in Pakistan. Technically pop is short for popular. However, it is a bit of a sociological nightmare to assess exactly what should be counted as popular in Pakistan, a multilingual country with thousands of musical traditions. 
But when we refer to pop music in Pakistan, we are referring to a particular niche of music: the typically urban and most usually Urdu productions of the last three decades. Think the rock bands of the 90s, the emo boy bands of the 2000s, and the electronic and rap inspired tracks of the late 2010s.
Ok, so what is indie? Technically, indie means 'independent', and refers to the underground music scene of Pakistan. These are often new artists with niche followings, who often perform at small venues in Karachi or Lahore. Technically, they could have a 'pop' sound, or they could break out and actually become 'popular'.
But using the term 'indie' in a Pakistani context can be misleading. As Zahra Paracha – musician, audio engineer, and one half of the band Biryani Brothers – explains, in reality, every artist in Pakistan can be considered indie, since even the most mainstream of artists are often working on all parts [of the production process]. 

"In most fields abroad, the process has been compartmentalized, where different players are focusing on one thing. There is an ecosystem. Everything here is kacha – it's hard to differentiate the process," she says. 
Which leads to our final definition: Pakistan's music industry. What is our eco-system anyway? Natasha Humera Ejaz – singer, songwriter and producer – declined to even use the term 'industry'. "A more relevant term would be fraternity. Industry implies there is a marketplace for the music, that there is an infrastructure in place." she says. Pakistan does not have those qualities. 
What's our scale?
Geography is also important when it comes to understanding the audience. The general consensus is this: on one end of the scale there is Atif Aslam, Rahat Fateh Ali Khan, and Abida Parveen. And on the other end of the spectrum, is everybody else. That is because those artists have broken out – which is to say, they have reached Bollywood. India is a much more sophisticated market, which proper record labels, contracts and royalties structure. 
The income levels that those three artists earn is enough to distort the entire model of Pakistani revenue. By one estimate, a singer like Atif Aslam can command somewhere like Rs70 lacs (Rs7 million) for a single concert. 
But this is not an article on Atif Aslam. Most Pakistanis artists can only dream of 70 lac rupees. Take Amna Zafar, the CEO and founder of CheckBox media, a strategic communications consultancy. She realized there was barely any artist management in Pakistan, often leading to young artists not being protected within the industry. Currently, her team is representing Abdullah Siddiqi, the 20-year old singer and electronic pop music producer. Abdullah has produced three albums and collaborated with established artists like Meesha Shafi and Aima Baig. 
Yet Zafar still worries immensely, not just about Abdullah, but about young artists in general. When she talks to an artist, she says she stresses: "I can't promise you an income. I can't promise that you'll make money. What I can do, is push your career forward, build your brand, and maybe open up avenues of income for you."
There are two ways to think about income streams. One is by the level of importance and exposure. In this scenario, brand placements and endorsements, and income received from those are of utmost importance, since they build artist visibility. Then, come concerts and gigs. Then come licensing and placements for individual songs, which can be a steady source of income. And finally, at the bottom tier are album sales. 
Most artists do not make a lot of money from individual albums, and neither are they   key to success. This is true in both Pakistan, but also globally, as listening habits have changed (people are more likely to stream or download singles, rather than buy an album). Ironically, it is the production of an album – or a smaller EP – itself that necessitates the hierarchy of the above tiers. Yet it nets the least value add. 
The second way to think about income is in terms a percentage structure. Despite various sounds and levels of 'indie', the breakdown was surprisingly similar for young-ish artists: concerts are the largest chunk of income, accounting for somewhere between 40% to 60% of incomes for artists. Streaming – and this includes both Spotify and Apple Music, and Youtube – in total account between 15% to 20% of total income. 
The trouble with concerts
So you've cracked the code: you're a new artist, and you know concerts can make some money. Now – exactly where do you perform? The trouble for young artists is that there is somewhat a dearth of options, and locations are often run out of the kindness of highly dedicated individuals. 
Such is the case of True Brew Records, a live entertainment space in Lahore run by producer Jamal Rahman. It's a space which Sikander Ali is familiar with, as the rapper Maanu (who he manages) has often performed there. Ali also manages the producer and DJ Talal Qureshi, and fell into this space of artist management somewhat accidentally: he was an old family friend of Maanu (whose real name is Rehman Afsher), had a knack for social media, and then as he explains 'everything snowballed'.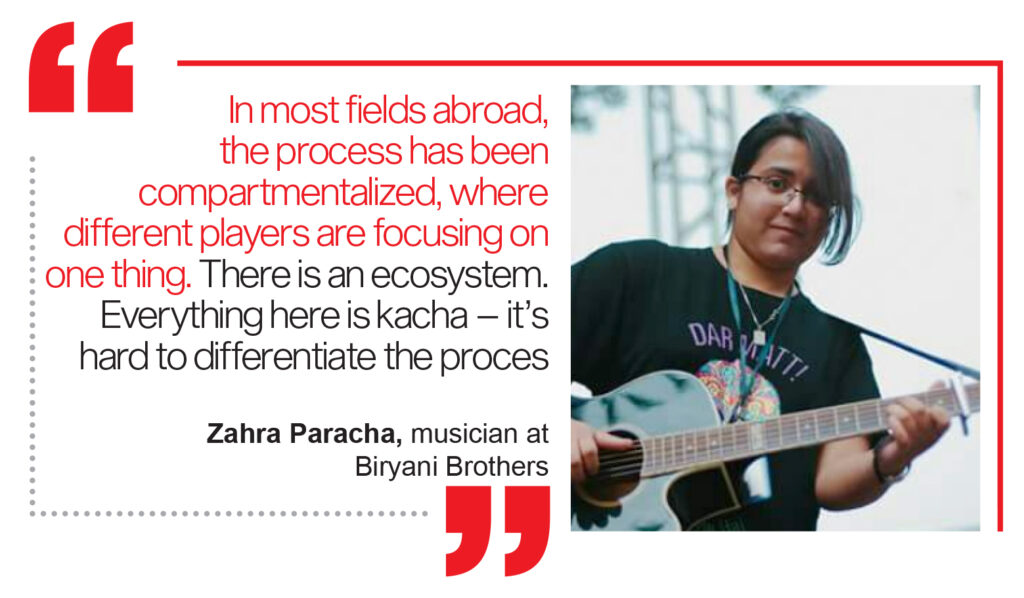 (The ad hoc nature of artist management, a relatively new concept in Pakistan, is quite common – Amna Zafar, for instance, is a friend of a friend of Abdullah Siddiqui, which is how she was introduced). 
Niche spaces like True Brew, or District 19 in Karachi, operate on a revenue sharing model. Upto 150 people can be present at the space in a given period, and depending on the artist, the entire income can come out to between Rs70,000 to Rs120,000. How much the artist gets to take home, depends on the agreement with the space; in some cases, an artist earning Rs120,000 can take home Rs50,000. Often. Ali says, the venue and artists may jointly pay for small costs, such as between Rs20,000 to Rs40,000 for security or sound.
Spaces like True Brew or District 19 are quite small events, with peculiar audiences: True Brew, which has the reputation for the best sound in Lahore, has a familiar crowd that regularly attends each function, regardless of artist, according to Ali. Meanwhile, District 19, which sometimes holds concerts, had a small outdoor concert earlier this year featuring Maanu, rapper Taha G, and singer Hasan Raheem. 
The crowd was almost exclusively filled with young Gen-Z Karachiites – which makes sense, since the artists themselves are in their early 20s, and in the case of Maanu, have still to finish college. For some, these places serve an unmet need. According to Bilal Baloch, lead singer for the alternative pop band Towers, True Brew was the only indie venue with a recording studio in Pakistan. 
So, what about concerts on a larger scale? At this, nearly everyone's attitude changes. Organizing a large concert in Pakistan is an absolute nightmare. The first problem is that it has to be priced at a point where Pakistanis will actually want to come, A recurring theme is that it is difficult to get Pakistanis to actually pay for their music (unless it is Atif Aslam, but as we have discussed, he is the exception, not the rule). 
Paracha, along with Natasha Noorani, helped organize LMM, Lahore Music Meet, for the last five years. Paracha describes it as a not for profit community project- though not for lack of trying. "The moment I even tried exploring the idea of charging tickets for the final performance, it was shut down." she says. Charging for tickets would mean suddenly involving the Federal Board of Revenue. According to sources, different players, like the venues themselves, wanted under-the-table cuts of the revenue.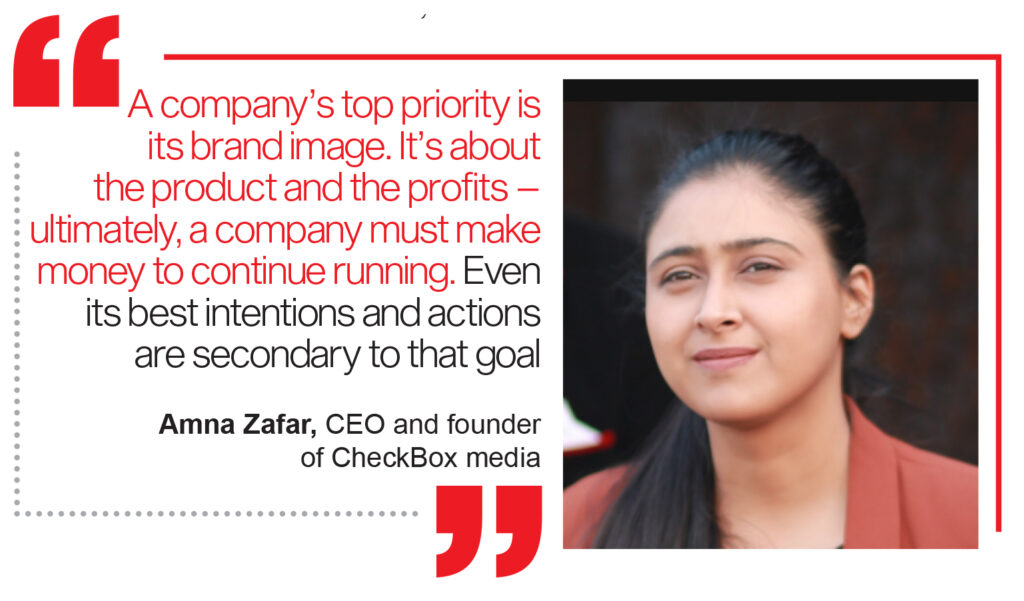 This is particularly acute in Punjab, where the official entertainment tax estimates are anywhere between 40% to 60%. On top of that, organizers are required to obtain two NOCs: one from the local administration, and the second from the excise and taxation department. Should one get in the room with bureaucrats, then one has to explain why a concert is a net good to begin with. Paracha bemoans that often, one is talking to an old uncle sipping chai, who often counter with 'Aap loag education ke barein mein baat karein.'" 
"How can you explain concerts to someone who doesn't even understand what the point of music is?" she says. "There is no state patronage, no state interest in music."
The barriers to entry are so high, that often it means organizing concerts in Sindh, where it is relatively easier. But this poses its own barrier of entry: not all artists can afford a Rs20,000 ticket to Karachi, and afford accommodation as well. 
Organizations like Salt Arts, which organizes private concerts in Karachi, are trying to create another alternate space for musicians, following a similar revenue sharing model.  But the eye-popping ticket prices – Rs5,000 – and the locales – the Beach Luxury Hotel, the French restaurant Cote Rotie – often mean only a select few, with a certain type of profile (ie. rich) get to listen to that music. For instance, a source mentioned some rappers who did not want to necessarily work with Salt Arts, simply because it did not fit with their idea of who should have access to their music. 
The trouble with brands
In the absence of state patronage, capitalism will make moves. And that's how Pakistan now has brands directing the future of music: Coke Studio, Pepsi Battle of the Bands, Nescafe Basement, Velo Sound Station. Even Bisconni – a biscuit, for God's sake – is creating music shows. 
Much has already been written about these brands, and whether they are a force of good or evil. There are two aspects this piece would like to touch upon: the legal binds that artists may find themselves in, and the pay structure itself. 
Bayaan, the band that won the Pepsi Battle of Bands in 2018, signed multiple legal contracts: to enter the competition, when they reached the top 20, the top 10, and the final two. Once they won, the band won a year long contract to produce one album, some money for one music video, and Rs5 million (split between the band members).
For the most part, according to Muqueet Shahzad, the guitarist and songwriter for Bayaan, the experience has been good. For one, the band received a ton of exposure. Secondly, they were able to produce a few music videos that they would not have been able to make out of their own pockets. Were there random corporate demands they had to give into? Of course. "For one of our music videos, we were told to wear blue, because red is Coke's colour. Then we forgot that our lead singer had been wearing a red muffler the entire song, and we tried to colour correct it afterwards," he recalled, somewhat amused.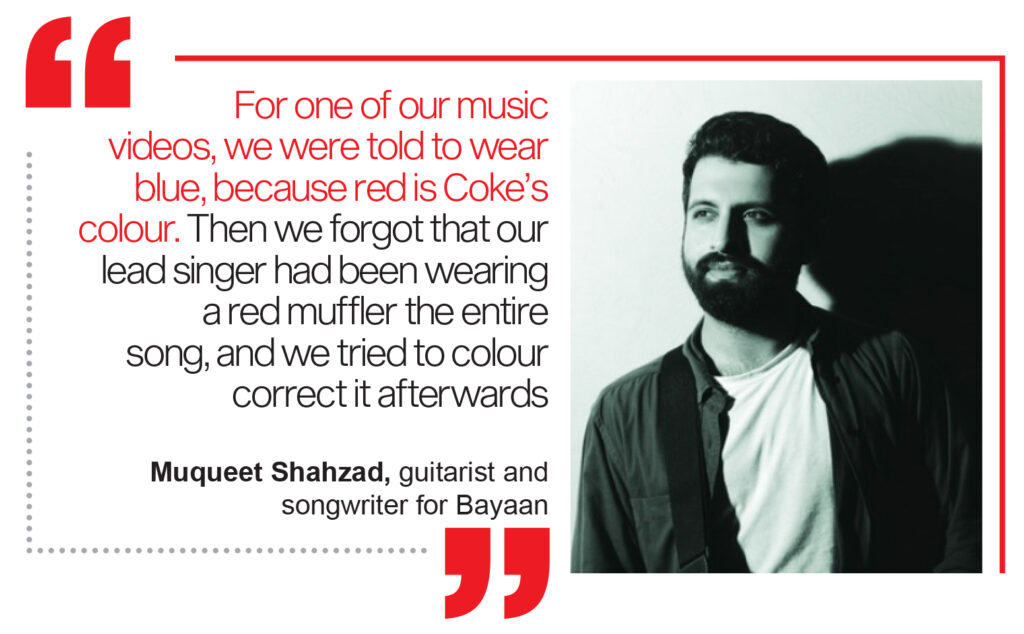 Shahzad carefully states that it is not really about the brand's direction, but who happens to be sitting at the brand at the time: what they think of the music, how much they interfere in the creative process. Still, at least Pepsi was unusual in that they offered a contract. Most artists who appear on shows are offered a lump sum amount of money to appear. Artists can expect payments of anywhere between 1.5 lac to 5 lacs, depending on their profile. Money is spent on advertising the artist, on giving the artist brand recognition, but the rights – and royalties – remain entirely with the brand. 
Despite the lumpsum approach, the offer is often too good to resist. A source cited Mehdi Maloof as a good example: while a darling of the underground scene for his witty songs like "Gandi si Building', which pokes fun at apartment living, music executives only seemed to take him seriously once he had appeared on this year's Coke Studio. That is enough to propel perhaps future income streams. 
"A company's top priority is its brand image. It's about the product and the profits – ultimately, a company must make money to continue running," Zafar stresses. "Even its best intentions and actions are secondary to that goal."
Did someone mention royalties? What royalties?
Let's go back to Pepsi Battle of the Bands for a minute. Shahzad conceded that Pepsi had been generous when it came to the creative process, and in helping build a brand process. But ask Shahzad about the royalties, and he pauses. It turns out, any song made by Bayaan and uploaded on the Pepsi channel, has no monetization – as in, Bayaan does not earn money. 
If a commercial project were to use the Pepsi song, then Bayaan would receive royalties. Shahzad points out that Pepsi has also not uploaded any song of Bayaan's on Spotify or Apple music, which would create some streaming income. 
Ejaz is adamant that royalties and sync licencing – or the lack thereof – is one of the biggest impediments to an artist making money. "The onus is on the artist to make sure that they are receiving correct licensing, brands will not care…as an artist it is your right to make money for the rest of your life [off your art]."
According to Ejaz, this means being astute about contracts, and picking your battles wisely. In the past, she would sometimes charge a higher fee, simply to offset the fact that she will not receive royalties in the future on that project. 
While artists are struggling to make money through contracts, one organization has perfected their legal stance: EMI Pakistan. The company is extraordinarily particular in making sure it receives payments for any song of theirs – and considering it is the record label 'of record' in Pakistan, that is a lot of songs. It is also an incredibly lucrative business: after all, almost every single brand show out there is remixing old Pakistani songs. 
Sources complain of annoying, laborious forms to fill out when requesting a song from EMI,  where a single mistake means the process has to be restarted all over again, and may take weeks to get approval. Others complain that EMI has enough money to do what regular record labels do: i.e. scour for new talent and promote new sounds. But EMI Pakistan is allegedly content with minting money off decade old pop hits, instead of creating new ones. 
The trouble with not being man
If the structural problems of Pakistan's music industry were not enough, your income could also be affected by what gender you identify with. 
"If a woman is a producer, she has to be twice as good as her male counterpart," Paracha says flatly. Paracha also works as an audio engineer, and to the best of her knowledge, there are perhaps only three other women working in audio in Pakistan. The onus is always on them to on them to prove more.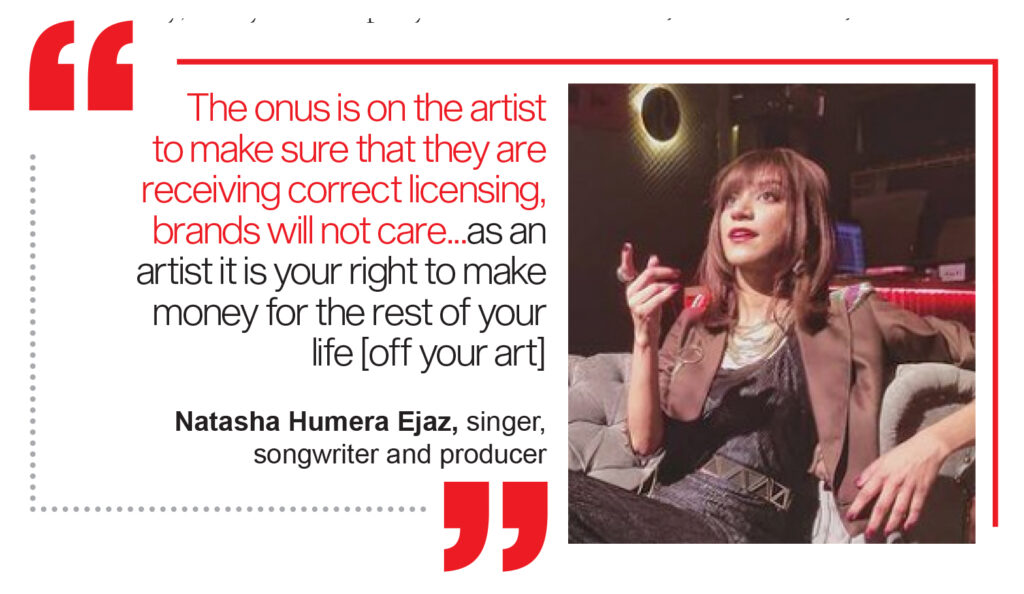 Some of it is also cultural: "Men are more confident at asking more, sometimes more than what they deserve," she explains. Women are not, which affects their income. The same holds true for vocalists – sources mentioned Aima Baig as someone who would have to prove herself much more than a comparable male vocalist. 
Ejaz is so done with the music industry's condescending attitude towards women that she simply does not entertain them: "I don't really get into the conversation with gender-biased clients if I know it's going to waste my time." Still, she says that the conversation on gender is "massive" right now, which might positively impact the music scene. 
Though as Paracha points out, in an effort to create gender parity, brands and executives run the risk of tokenization of women – which is a whole other can of worms. No serious artist wants to be considered a 'gimmick'.
Streaming: the final frontier
Spotify does not pay artists well – that is an established fact. Numbers vary but by one estimate Spotify pays around artists on average $0.0032 per stream. Some artists here were candid: Ali said Maanu earned around $200–$500 over a year and half period; Shahzad said Bayaan earned around $1,800 over a seven month period (this is including Apple music).
The problem is not earning money: that is a global Spotify issue. The problem is the fact that Spotify does not exist in Pakistan. This has a ripple effect. For one, artists can't actually access the funds, which means they have to call a friend who lives in Canada, or the United States, transfer money to their account, and then transfer money to Pakistan. Sometimes the cost of transferring the money exceeds the actual amount earned, in the case of smaller artists. 
Secondly, exactly who has Spotify in Pakistan? It's often people who already had access to Spotify when in other countries, or, and the more common method, people who have the hacked version. 
This is set to change, as Spotify Pakistan becomes an actual entity. Technically, Spotify itself is not coming to Pakistan. Instead a company called Httpool, which is a global partner of major media platforms around the world, has been set up in Pakistan. Sources have confirmed that its first product will be Spotify. 
The client-partner of Httpool Pakistan, Faraz Ahmed, is himself a musician, and also served as a project manager for Nescafe Basement Season 5, learning the ropes of the music industry (at least from one vantage point). 
When contacted by Profit, Faraz Ahmed was open about the state of the industry. He is a big believer in chance: "Some things out of your control, like whether you became famous or not, whether people like your music." But the things that are in your control? The ability to protect your interests. Ahmed says it is imperative that artists are aware of their rights, and constantly stresses that they must be firm with record labels or distribution companies about the amount of money they are receiving. Optimistically, he also thinks that several artists in the new generation are better educated about their rights, and have more business acumen, than the generation before.
He cites Ali Azmat as an example of an artist, who, whether you like or dislike his music, has been able to make the music industry work for him, and not the other way around. He also praises pop singers like Shamoon Ismail (of 'Marijuana' fame) and Asim Azhar  for their strategic choices regarding cultivating a celebrity persona. "People say, oh they're now everywhere, they're getting branded deals [such as from Samsung]", he says. "But people don't realize how hard these people worked. It's been seven years since Shamoon's [earliest songs] Jutt Blues, seven years is no joke."
Ahmed is relentlessly optimistic about the possibility of Spotify changing the digital economy for artists in Pakistan. So are some artists themselves. As Shahzad pointed out, most of their listeners ended up from Spotify India, or diaspora Pakistanis: actually earning money from Pakistan would be a nice change. Ali said that brands like Spotify can change a band's life: witness the traction that the progressive metal band Takatak got when they were featured on a curated list by Spotify International. 
As for Paracha, it's almost a matter of principle: "Streams from baahir, it's just weird. Everybody is counting on it [Spotify]". And yet,  others like Baloch say that Spotify entering Pakistan still won't solve the major roadblocks and hurdles that artists face. 
So in short, you might not earn as much if you're a woman; and you might have to deal with cantankerous old bureaucrats hell bent on making sure young people don't have fun: but it is 2021, and the internet might just save the day. Just make sure to read the fine print.