The Covid-19 pandemic ravaged entire societies, economies, and countries. For a brief period, particularly  between March and May 2020, it seemed as if the capitalist world as we know it was coming to a grinding halt. Companies' entire supply chains were upended and distribution models were thrown out the window, while the regulator and federal government scrambled to provide relief efforts. Now in 2021, the pandemic seems (dare we say it) somewhat under control, as the vaccine comes to Pakistan. 
But like every year, the financials and annual reports of companies are being released for 2020, and they reflect the gaping holes for those few months when the entire world seemed to be turned on its head. Most of these reports come with eerily similar feeble explanations about how challenges presented by the pandemic are to blame for these gaps. 
One exception to such insipid statements is Unilever Foods. While the company's annual report is not yet published, on March 1, the company issued its financial results for the year ending December 31, and the numbers speak for themselves. Unilever managed to increase its sales from Rs13.3 billion in 2019, to Rs15.5 billion in 2020. Similarly, the company's profit after tax increased from Rs2.4 billion, to Rs3.8 billion. That is the highest sales, and net income achieved by the company ever, in the last ten years.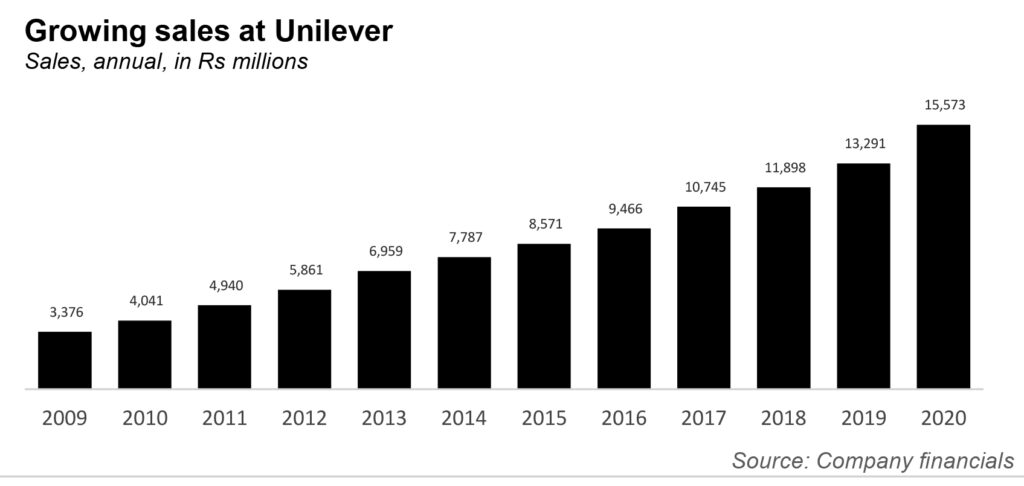 How did Unilever Foods get here? It goes to the heart of what Unilever is as a company. Let us take a look at how they managed to navigate these uncharted waters.  
In September 1929, Unilever was formed by a merger of the operations of Dutch Margarine Unie and British soapmaker Lever Brothers, with the name of the resulting company a portmanteau of the name of both companies. Lever Brothers had been manufacturing Lifebuoy Soap since at least 1894. They would end up controlling 60% of UK's soap manufacturing in the 20s. Even today, Unilever remains the world's largest soap manufacturer.  
Article continues after this advertisement
In Pakistan, Unilever was founded in 1948, taking over the operations of Lever Brothers Pakistan. The company has one manufacturing plant in District Kasur, and  six sales offices across the country.he company is a subsidiary of Conopco Inc. USA, whereas its ultimate parent Company is Unilever N.V. Netherlands. It manufactures and sells consumer and commercial food products, personal care, and home care products. The Pakistan division is headed by Amir Paracha, who joined the company in the year 2000, but became the CEO in February 2020. 
Think of the most iconic, most bought items at grocery stores, or even your regular khoka, and chances are Unilever has sold it. For instance, under food it sells Rafhan, Knorr, Energile, Glaxose-D and Food Solutions. Under personal care it sells Lifebuoy, Fair and Lovely (sorry, now 'Glow' and Lovely), Lux, Ponds. It also sells Surf Excel and Vim. 
The company's sales have grown steadily over the last decade. In 2009, the company's sales stood at Rs3.3 billion, crossing the Rs5 billion mark in 2012, the Rs10 billion mark in 2017, and then finally the Rs15 billion mark in 2020. The company's net income has been a little more erratic: in 2009, the company's profit stood at Rs176 million. Then in 2012 it crossed the Rs1 billion mark, and then stayed roughly in that same territory till 2018 (Rs1.7 billion), shooting up to Rs2.4 billion in 2019, and then Rs3.8 billion in 2020. 
What explained the rise in 2019? That is easy: according to the company's annual report, Unilever benefited from the growing foods market. The foods market (total packaged segment) in Pakistan was estimated at Rs2.6 trillion in 2019, with packaged food growing at 10.2% mainly led by edible oil and dressings.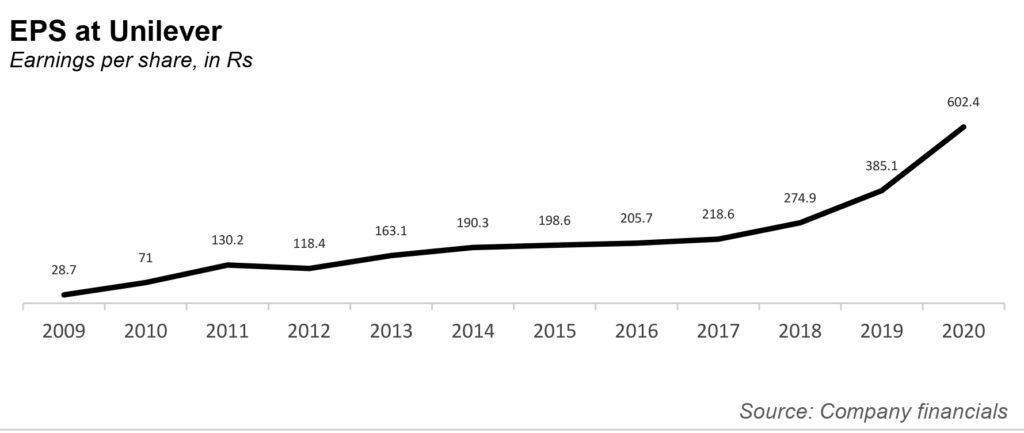 In 2019 , the company's food products grew by 11.7%, mainly led by volume growth. Growth was broad based, both within the Knorr and Rafhan portfolios.Growth in Knorr was primarily led by Noodles that grew on the back of building brand equity and leveraging digital mediums through precision marketing and capitalizing on the excitement of mega occasions, leading to increased consumption in urban and rural areas," the company report noted. 
Similarly, the annual report noted that the Rafhan was able to record healthy sales growth in desserts and corn oil product lines. This was achieved by strategic pricing decisions and relevant consumer promotions.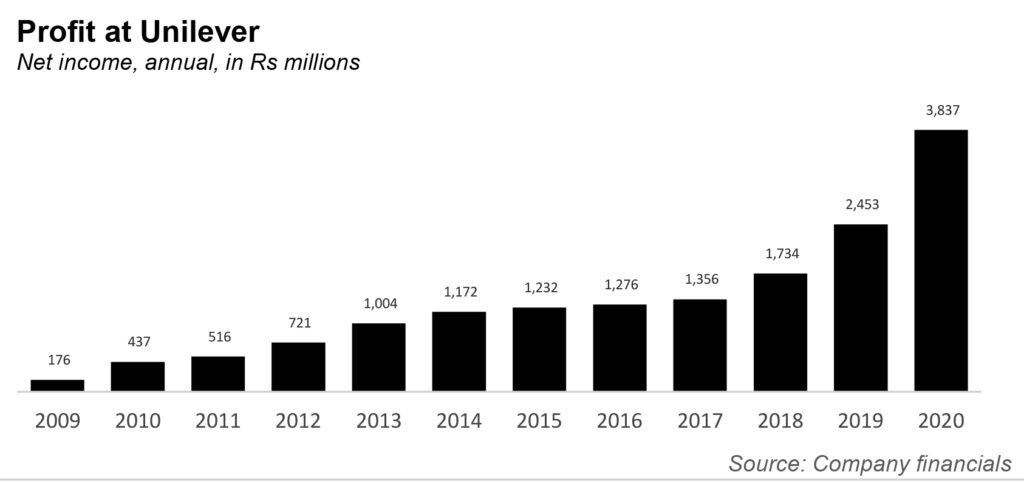 But what caused the year 2020 to stand out so drastically? One word: soap. Though the financials do not mention it, it is easy to see why Unilever would benefit. There are only two items the federal government has tried to hammer home: that if one wears a mask, and one washes their hand, the pandemic will be kept at bay. Lucky for Unilever, it supplies not just soaps, but also all sorts of cleaners, detergents, and anything else needed to keep an individual or a home virus-free. Besides, in an air of general panic, one can imagine that consumers would flock towards a brand they already know and trust. And Unilever, thanks to its decades long presence in the country, managed to deliver on just that.