Just how bad of a year did Pak Suzuki Motors have? The financial results for the year ending December 31, 2020 were released to the Pakistan Stock Exchange on March 22, and they were not kind. Pak Suzuki had an absolutely lousy 2020; in fact, the nicest thing one can say about the results are that they were not as bad as the year 2019. 
In 2019, the company's sales stood at about Rs116 billion, while the costs of sales stood at Rs114 billion. Hence gross profit was roughly Rs1.9 billion, while loss after tax stood at Rs2.9 billion. Now, in 2020, the company's sales stood at a much smaller Rs76 billion, while costs of sales stood at Rs73 billion. Hence, gross profit stood at roughly Rs3.3 billion, while loss after tax stood at Rs1.6 billion.
Which leads to the question, what happened in both these years, and why was there such a difference? 
First, some context. At this point, rehashing Pak Suzuki's history almost seems pointless, but we will stick to Profit tradition nonetheless. 
Pak Suzuki Motor Company Limitedis a public limited company which was formed in August 1983, as a joint venture agreement between Pakistan Automobile Corporation Limited (representing Government of Pakistan) and Suzuki Motor Corporation (SMC) Japan. The company started commercial production in January 1984, with the primary objective of manufacturing, assembling and marketing of cars, pickups, vans and 4×4 vehicles in Pakistan.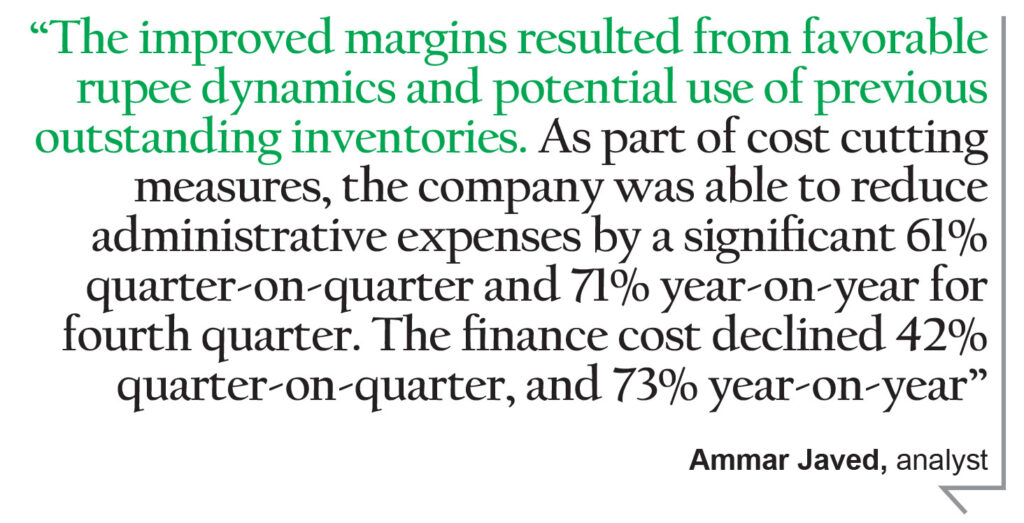 Article continues after this advertisement
The company is a big deal. Consider that the foundation stone laying ceremony of the company's existing plant located at Bin Qasim was performed in early 1989 by the then Prime Minister, Benazir Bhutto. By early 1990, in-house assembly of all the Suzuki engines started. In 1992, the plant was completed and production of the Margalla Car commenced. Over the years, Suzuki became the working man's car in Pakistan, and was considered the cheaper but reliable competitor to the more high-end Toyota sedans. 
Then, under the government's privatization policy, the company was privatized and placed under Japanese management in September 1992. At the time of privatization, SMC increased its equity from 25% to 40%, and then to 73.09% by purchasing remaining shares from PACO. After privatization, the management expanded the existing plants capacity to 50,000 per annum. The expansion was completed in July 1994. 
The capacity was further increased to 80,000 vehicles in 2005, 120,000 vehicles in 2006, and 150,000 vehicles in 2007. The Company also set up a new plant for motorcycles at Bin Qasim, for which all the operations of motorcycles from July 2011.
Pak Suzuki has introduced such landmark brands in the Pakistani market, like the Suzuki Cultus, Alto, Bolan and Swift, to name a few. And it did well, mostly. Between 2014 and 2018, the company's production of motorcars rose from 80,384 cars to 143,239 cars, while the production of motorcycles stayed at around 24,000 annually. Similarly, the company sold 78,005 cars in 2014, climbing to 140,313 cars in 2018. 
Then, in 2019, the company stumbled. Production volume fell to 107,999 cars, and 22,737 motorcycles, and sales volume fell to 113,270 cars, adn 22,589 motorcycles. This was reflected in the year's financials as well. Where gross profit in 2018 stood at Rs7 billion, in 2019 gross profit stood at Rs1.9 billion. 
What happened? According to the company's annual report, "Massive devaluation of Pak rupee and multiple duty and tax increase levied from July 2019 budget ,resulted in increased imported material cost, consequently adversely affecting the profit margins. Company incurred net loss of Rs 2,921 million as compared to net profit Rs 1,298 million in last year. Beside decline in gross profits, another factor for adverse profitability was increase in financial charges by Rs 1,763 million in current year from Rs 185 million in 2018 to Rs1,948 million in 2019." In part, they were right. The auto industry in Pakistan went through a lot in 2019, with Suzuki, Toyota Indus Motors, and Honda Atlas motors all halting production after a massive increase in car prices led to a drastic fall in demand. Then, in 2020, the coronavirus pandemic struck and Suzuki ended up having two bad years in a row. 

At the time, Pak Suzuki had said that it would be taking countermeasures, initiating cost cutting measures, and improving efficiencies. The report also said: "The company also gradually increased the selling prices of its products to pass on the impact of increase in production cost. Prices are being increased in phases to maintain the sales volume."
One thing Pak Suzuki did not foresee is the pandemic of 2020. The Covid-19 months are highlighted in red on the data available from the Pakistan Automotive Manufacturers Association (PAMA), and one can see why. In February 2020, the company produced 97 Swifts, 1,107 Cultuses, 52 Wagon Rs, 94 Bolans, 1,502 Altos, 523 Ravis, 1,890 motorcycles. In April 2020, it produced and sold zero of those models. 
Indeed, Pak Suzuki has well and truly been saved by the last quarter results, when the pandemic somewhat eased, and the automotive industry experienced a rebound of sorts. The company posted profit after tax of Rs1 billion in the fourth quarter of calendar year 2020, compared to a loss after tax of Rs136 million in the third quarter. The gross margin stood at 8.2% in the fourth quarter, compared to 5.3% in the third quarter. 

According to analyst Ammar Javed, in a note sent to clients on March 22, the results were even 'above expectation'. "The improved margins resulted from favorable rupee dynamics and potential use of previous outstanding inventories. As part of cost cutting measures, the company was able to reduce administrative expenses by a significant 61% quarter-on-quarter and 71% year-on-year for fourth quarter. The finance cost declined 42% quarter-on-quarter, and 73% year-on-year," he added. 
Will Pak Suzuki have a better 2021 after all? As a February 2021 report from Taurus Research said, "We expect PSMC's volume trajectory to grow at a stable rate given its affordable product range, low-maintenance costs and availability of after-sales service." But Pak Suzuki will also have to consider the fact that because of the bad years that Honda, Suzuki, and Toyota had in 2019 and 2020, companies like MG, and KIA have managed to find a market so there will be more than the usual competition in the year to come.