Less than 60 kilometers away from the federal capital, a gang war between two rival real estate companies has left the once small area of Chakri devastated. For a long time now, Chakri has been considered a prime location for new housing societies to sink their teeth into. Currently, according to details available with Profit, there are at least 50 housing societies vying for space in the area around Chakri interchange, where they believe a new city extending out of Islamabad and Rawalpindi will attract investors. 
The only problem is that the land in Chakri is a quagmire of legal cases, feuds, and disputed ownership that now has multiple parties involved. In Pakistan, real estate development is a game of gambling. No single investor or group has enough money to buy thousands of kanals of land, develop it, and then start to sell the plots to people. So instead of doing all this hard work, they focus on marketing heavily, selling pre-registration certificates, files for plots to be allotted in the future, and by getting property dealers to hype up their upcoming housing societies. 
It is only after they have made enough money by selling files, certificates, and all kinds of marketing tools to gather the capital they need for these projects, that they actually start buying the land that they have promised a number of people in the form of files. The problem is, since the land has not been acquired completely as of yet, it either gets sold to someone else in the meantime or some legal issue arises over it, which means people that buy files in these societies end up having their money tied up for years on end. All of this they do without getting any prior permission from local authorities, so even if the land is successfully acquired, it may be a long time before they are given permission to build their society on it. 
On our radar this week is Blue World City, a supposedly mammoth undertaking in Chakri's real estate development game which is currently feuding with Abdullah City, another large real estate project in the area.  
Most of these societies in Chakri have no standing with the Rawalpindi Development Authority, which is the governing body on such issues. Despite this, they continue to inflict violence on each other and fight over disputed land, all the while fooling unwitting investors into giving them their money. Initially, when it was launched in 2017, Blue World City was only one of these small fish in a big pond. By 2018, however, they started appearing as a big name. Having presumably collected a decent amount from initial sales of files, they went on a massive marketing campaign that used all of the tactics mentioned above and then some. They even roped in Engin Altan, the Turkish actor that plays the lead role in the Ertugrul Resurrection drama series that has become a phenomenon in Pakistan, to be their brand ambassador. 

Since those early high flying days when Blue City became one of the hottest names in the Chakri real estate market, things have gone south. The society still does not have approval from the RDA and the land authority says it is not planning to give its approval any time soon. In fact, on recommendation of the RDA, Blue City is being investigated by the National Accountability Bureau (NAB), and has not bought a fraction of the land they claim to already be in possession of. This is how it all happened. 
Blue World's actions
In March 2021, Tahir Aziz called the Chauntra police station and complained that five armed guards had barged into the housing society of his brother on Chakri road named Abdullah City. The five guards overlooked the destruction of residential houses in the society. Who were these culprits? Tahir Aziz claimed that the guards said they had been sent by Nadeem Ijaz, Naeem Ijaz and Saad Nazir – the owners of Blue World City to demolish residential houses of Abdullah City. The intruders said they would kill anyone who tries to stop them. 
Shortly after this, the Chauntra police station received another complaint from Sawab Gul, an employee of the Blue World City, in which he stated that he and two other security guards of the housing society, Ahmad Shah and Mohammad Naseer Abbasi, were sitting in their camp when unidentified armed men attacked them. Gul alleged that armed men from Dera Mushtaq Anwar which is under the control of Abdullah City owners Asim Aziz and Tahir Aziz stormed in and opened fire.
" In the Chakri area, the armed guards of both societies have started a series of gang wars, which the police are also afraid of. Abdullah City, Blue World and Mavida City are located side by side on Chakri Road. The same claims made by Blue World regarding the land area are also made by the management of Abdullah City," explains a police official on condition of anonymity.  
This sort of attack and counterattack had become the norm in Chakri back in March. Here is what happened in a nutshell.  Blue World City bought 1534 kanals of land near Chakri, and went to the Rawalpindi District Council (local government) for verification of their land in 2018. They are then supposed to take the verification to the RDA, after which they are supposed to get their planning permission, and then finally an NOC from the RDA, after which they can begin selling plots.
The only problem is that Blue World City did not really buy all this land outright.  With the help of Nadeem Ijaz, a domineering figure in Chakri, they had made deals for a lot of this land with land owners in Chakri for 'token money' and then treated it as if the deal was done, and started collecting money from investors. However, when they finally went to finalise the deals, they found out that a lot of the land they had taken token money for was disputed or that other societies had also taken token money for it. This is where the dispute between Blue World and Abdullah City originated. "Since both the parties keep claiming that they have thousands of kanals of land but in reality it is the opposite. Lands in this area were not very expensive. Nadeem Ijaz, the owner of Blue World, is an influential figure in his area and even lower class people are afraid of him. So instead of buying plots from the people, Ijaz pays them a token and agrees that the people give him possession of their land," explains the police official. 
"The same is true of the people of Abdullah City. Of course, when developers buy people's land, where do they pay the full amount? Now most of the people in the area have taken token money from Blue World and Abdullah City in exchange for their plots."
One example was the ancestral land of PML-N MNA Rana Tanveer, who was going to sell to Blue World City. However, it was only later that Blue World found out there were FBR cases on the land that made it impossible to sell. The second reason is that Rana Tanveer, an MNA of PML-N in the area, also has thousands of kanals of ancestral land. On the one hand, Blue World intends to buy this land and on the other hand, Abdullah City is also trying to either buy a part of this land or this deal cannot be done between the two parties. However, due to some FBR cases on this land, it cannot be sold yet.

It is a classic case of having the cart before the horse. Any real estate developed should first acquire the land, get permission from the authorities, and then start marketing and selling the project. Instead Blue World, and indeed other societies like Abdullah City, began by marketing it first, then trying to (unsuccessfully) get permissions, and then trying to (unsuccessfully) acquire the land. In the process, gun battles have left one dead, Blue World City staged a protest on the motorway by blocking it, and had one of their directors, Chaudhry Naheem Ijaz, arrested in the process back in March. All of this, and they still neither have any land that they own there despite having sold thousands of files, and they also continue to get denied permission from the Rawalpindi Development Authority. 
In the process, they have turned Chakri into gangland. Getting young boys in at salaries of Rs 25000 to Rs 30000, as told to Profit by the police, to move around with guns and strike terror into the hearts of their opponents. Gun ranges have been established, and even the police are afraid of the consequences of what has become a quickly escalating and heavily armed situation. 
Two months ago, the police sent the owners of the both illegal housing societies to Adiala Jail on a court order. Chaudhry Naeem of Blue World City and Tahir Aziz of Abdullah City were summoned by the police for inquiry into the land dispute. During the inquiry, both parties started threatening each other with dire consequences in the presence of Rawalpindi police officers and district administration officers and there were quarrels between them. The situation has since been eerily calm, but with the RDA continuing to not give Blue World City the green light and Blue World City continuing to sell files despite this in clear violation of the law, it may only be a matter of time before things take a turn for the worse. 
The RDA's role 
Normally, the bigger housing societies do go through all of these hoops and then start selling more plots than they own. For example, if a developer has 500 plots, he may book 5,000 plots and then dodge the people. While this is illegal, the entire premise of the project is not illegal. In Blue World's case, they seem to have taken it to another level. On August 8th 2018, they got verification from the district council, which was only the first step. They sent this verification to the RDA and began selling plots and marketing their society as "approved", before it had actually been. But then four days later, on August 12th 2018, the RDA declared Blue World City an illegal housing society. Blue World has since gotten planning permission twice, but has still not received an NOC and is categorised as illegal. Despite this, they are continuing to sell plots. "Who cares about that. It will become legal soon enough," said one agent for Blue World when Profit called them pretending to be a customer. 
The transparency of any housing society is measured by how much land it has. That is, how much land the developer has bought and no disputes or lawsuits over the land. (Editor's note: This by the way is one of the main reasons for the success of DHAs. They, for some reason, are amongst the best at convincing people to sell their lands). The next important thing to look at is whether the society that is buying and selling the plots is approved by the relevant development authority in its area. If approved, it means there is less chance of fraud. Then there is the reputation of the housing society and the developer in the market. In the case of Blue World, none of these things are encouraging signs. 
Now, the management of Blue World claims that this is an effort by their competitors to try and conspire against them.They also claimed that they are not being issued an NOC on purpose, because the RDA is out to get them for some reason. This would be a reasonable explanation perhaps, and crazier things have happened. But the facts of this case are sensational. 
RDA takes a stand 
The RDA took a big stand against Blue World. Jamshed Aftab, then RDA's director of metropolitan planning and traffic engineer (MP&TE), also informed the press that Blue World City has been declared an illegal scheme and legal notices have been issued to its sponsors because the said housing society was not approved by RDA. Meanwhile, the RDA had warned the public in their own interest not to invest in the said housing scheme. However, an RDA official informed that despite being declared an illegal scheme, Blue World City continued its advertising campaign and sale of plots.
However, the RDA official believes that in fact, not only the housing society but also government agencies are to blame for such incidents. "If someone is doing something illegal, they should be caught immediately, instead of being cautious when they succeed in committing fraud. The problem with us is that the prices of clear lands are very high. If the housing society approves at all and if it starts selling after taking NOCs, then the price of the plots they are selling for Rs1.5 million go up to Rs5 million and it should be out of reach of the common man."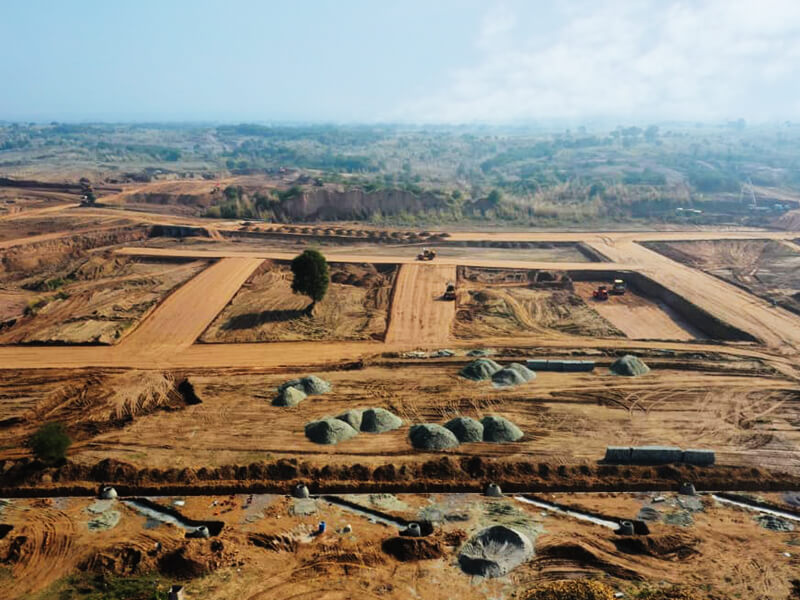 "Deception is always beautiful, that is why the people also want to be deceived. Why do people go to these societies when the law says that no housing society can sell plots without NOC? We also object to the media people publishing advertisements of such societies and doing them on air." 
The RDA official believed that since Prime Minister Imran Khan announced the Naya Pakistan Housing Project, many illegal housing societies have been trying to give the impression under the guise of this vision that they too are associated with government projects. "The reality is quite the opposite. How can any society which has no legal status do a government project. Blue World City is booking residential and commercial plots of five marla to four kanal areas in its various blocks without NOC for Rs500,000 to Rs 2 million. In the meantime, they also take money from people in the form of plot installments and I don't understand why they call this project a Pak-China friendly project. What does this project have to do with China or CPEC? Adding the name of an illegal housing society to such a big project like CPEC is tantamount to deceiving the entire public," he said.
"According to our estimates, they have also sold thousands of such files against which they have no land area and if the inquiries against them are conducted in a transparent manner, it is a scandal worth more than Rs 2 billion. We were informed that the owners of Blue World City are going to buy the ancestral land of Rana Tanveer, a PML-N MNA in the same area which covers thousands of kanals but some FBR cases are going on on this land and these cases don't seem to be resolved," he added.
The RDA official further complained that many real estate based web portals also market such projects as our cyber laws are not fully functional. "Why do these property portals market such housing societies or register their properties which have no legal status? People are trusting these web portals and these portals also play the same role in deceiving the public as real estate developers," he said.
Even in the case it was found out that the said society is neither registered with the concerned development authority nor does it have as much area as is being claimed. The second is that Blue World City is not selling plots but files.
Blue World tries to mount a defence 
Blue World City Chairman, Chaudhry Saad Nazir. tried to dispel the impression through a TV channel that he had an area of 30 to 35 thousand kanals in the process of mutation while an area of 25,000 to 27,000 kanals has been transferred to his name. Nazir said he had documents for all the items that could be shown to any institution. Apart from this, they have sale deeds of many other land areas with a volume of 60,000 to 70,000 kanals.
"Chaudhry Nadeem Ijaz, the partner and owner of Blue World City, has a good reputation in the area and is well versed in land acquisition. Due to the good reputation of Ijaz, people hand over the possession of their land to him for token money," he explained. This in itself is a huge problem, since he is admitting here that they do not own the land yet, a prerequisite to get the permissions they need for a project like this. 
He also claimed that when the Blue World City project was launched, planning permission for the project was obtained by the RDA in 2017. Later, another planning permission for an area of 1543 kanals was obtained in 2019 and earlier an NOC was also issued to Blue World City by the District Council. As mentioned earlier, the two planning permissions did happen. The problem is that no NOC was ever given by the RDA, and it was only a recommendation given by the district council to give them the NOC, which the RDA did not comply with. 
Nazir later held a press conference at the Lahore Press Club here in November last year and accused the RDA chairman and government figures of taking illegal action against the society. Nazir had alleged that RDA chairman Tariq Murtaza, who had a political post, was demanding large sums of money from him through his frontman and started harassing him through false cases and various means.
According to an official of RDA, Nazir held the press conference because the RDA had sought registration of an FIR against Blue World City at the Chontra police station, alleging that the society was involved in illegal marketing, advertising and sale of plots.
"Initially, the Chontra police station stayed the application and when the RDA approached the Additional Sessions Judge Rawalpindi under Rule 22-A, the Blue World City officials obtained a stay order from the High Court," the official said. They also said that without an NOC, Blue World City continued all kinds of advertising campaigns and also used social media for the campaign.
NAB gets involved 
Stung by the accusations of the owners of Blue World, the RDA and its chairman Tariq Murtaza decided to clap back. During this time, Blue World managed to bag Turkish actor Engin Altan as their brand ambassador. However, the RDA very quickly moved to declare Blue World illegal again, and the actor ended up cancelling on the deal because of the bad press that Blue World was getting. After this, the RDA Chairman also wrote a letter to the Chairman NAB, and an inquiry was initiated against Blue World. 
A press release was also issued by the NAB to inform the public through the media according to which, the Chairman of the National Accountability Bureau, Justice Javed Iqbal, had taken notice of the complaints of the Blue World Private Housing Scheme for allegedly extorting billions of rupees from the public through massive fraud and DG NAB Rawalpindi had ordered to conduct an inquiry. The Chairman NAB had directed the DG NAB to take all legal steps for the timely return of the money looted from the public apart from investigating the illegal activities of the Blue World Private Housing Scheme.
At this point, the explanations of Chaudhry Nazir began to sound a little hysterical. He said that Ertugral star Engin Altan did not end up coming to Pakistan because India did not want it to happen. He also cried foul on different platforms, claiming that the RDA Chairman was out to get him and his family and project because of personal grievances. He has also repeatedly claimed that the NOC was only a matter of time and that his society would get it, the same answer that all dealers for the society have been told to give as well. 
RDA spokesman Hafiz Irfan, while giving a clear answer to Profit about the legal status of Blue World City, said that this society is illegal. "For the last few years, we have been informing the people about their illegal status and have taken several actions against them. No matter what Blue World City says, they sold plot files to people without getting NOC which was an illegal act. Sometimes they say that the area of Blue World City does not fall within the limits of RDA, sometimes they ask us for NOC." 
"The reason for not getting NOC is non-implementation of layout plan, and there is nothing personal about it," he adds. "Let us say if this area does not come under the jurisdiction of RDA, then whatever development authority comes under its jurisdiction, do they have their NOC? They are working totally illegally and the NAB is also investigating them." 
On the other hand Assistant Director (Monitoring) at the Anti-Corruption Establishment Rawalpindi, Zahid Zahoor, believes that the society's management is befooling the people. The method of fraud is the same in almost all fake and illegal societies. "The first thing is that this housing society is not approved by the RDA and yet they are selling plot files to the people. The second thing is that only the files are sold to the people and then a long series of starvation begins. We had a lot of complaints against them and then we registered an FIR against the management as well," he said.
According to the FIR which was registered against Nazir, Ijaz and different government officials, the management of BWC encroached state land measuring 1250 kanals. "Reliable sources have confirmed that a housing society namely Blue World City has encroached state land measuring 1250 kanals land in Mauza Sangral in Tehsil and District Rawalpindi. Sources also informed that the encroached state land has been made a part of society and the developer is selling this encroached state land along with the actual land he owns in the shape of plots. It is also important to mention that the housing society is not approved, and all marketing and sale of plots is illegal. District administration is protecting the encroachers rather than reclaiming it from the illegal possession of Blue World City," the FIR states.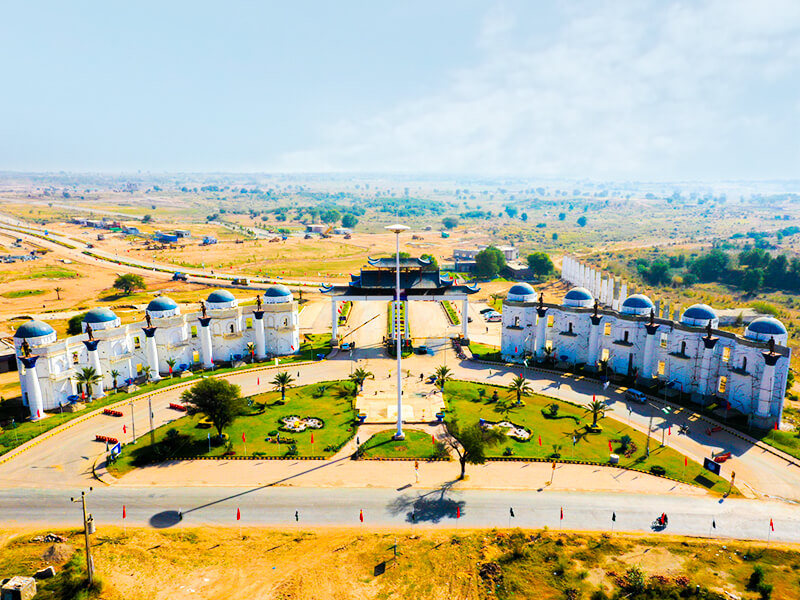 Now here is where it gets interesting. While the RDA is not giving Blue World an NOC, the district council did recommend that it be given. In the FIR, the very same officials of the district administration that played a role in that recommendation have been named. One of them is  Patwari Halq Anjum Rabbani, who has been working in league with said housing society, facilitating the said society in fulfilling their nefarious plans of encroaching state land worth millions of rupees.
"The district administration supported the Blue World Housing Society by inaction despite public voices against this criminal act and senior level of administration supported the Patwari Anjum Rabbani, by assigning him the additional charge of adjoining Patwar circles which were lucrative in terms of potential areas for a housing sector. This land was free from all encroachments till July, 2018, after which Patwari Halqa entered fake and bogus mutations enabling the society to encroach state land in excess of its shares. No efforts were made by district administration to stop these encroachments which shows involvement of officials as well," the FIR reveals.
Director MP&TE, Tahir Mayo, Deputy Director MP&TE, Samiullah Niazi, Assistant Director Planning RDA, Shehzad Mehmood Scheme Inspector, Patwari Anjum Rabbani, Saad Nazir and Chaudhry Nadeem Ijaz have been nominated in the FIR. Representatives of a firm named Sky Marketing, which also markets Blue World City and booked plots there, are unconcerned that the society is illegal.
Omar, a Sky Marketing representative, claimed that Blue World City had a land area of ​​about 100,000 kanals. While this claim is completely bogus, coming from the marketing agency, it gives us an idea of ​​how many bookings have been made so far. This would indicate that nearly a hundred times more than the amount of land they claim to have (1534 kanals), and even that is under dispute. "If it is illegal then what happened? The process of getting NOC from RDA is in process and NOC will be available soon. A large number of people are booking here and with the speed at which development work is going on there, construction of houses will start in the next few months," he claimed.
When Omar was asked if anyone wanted to get possession of the plot by paying the full amount directly instead of buying the plot file, he replied that society has some plots available which are also numbered and can be taken directly."The price of posessionable plots is a bit higher. There is going to be a draw soon for those who are booking, in which they will also know the number of their plots," Omer added.
When Chaudhry Nadeem Ijaz, who is a self professed expert in land acquisition and owner of Blue World City, was contacted by Profit about whether Blue World City was really cheating people and whether there was as much land as was being claimed, Ijaz flatly refused to answer these questions.
Why do people keep falling for the same thing? 
We have been through this before. In fact, very recently we went over the case of La Ville De Paris, a housing society in Gujranwala aggressively marketing themselves as the next big thing in Pakistan's real estate market. They too used pictures of the Prime Minister and the tag of the Nayya Pakistan Housing Scheme. They too have yet to get the go ahead from the GDA and have still not bought as much land as they have already sold off. They too have tied up the money of a lot of hardworking people for who knows how long. 
Somehow, real estate is the most dangerous investment opportunity in Pakistan tantamount to walking through a field of landmines. Yet people keep coming back for more. There are many explanations for this. One is that there either are no other opportunities for investment in Pakistan (blatantly false) or that there is very little awareness about them. The other is that there is something about the concept of owning land that speaks to the Pakistani middle and upper class. Something deeply ingrained from a culture that reveres land ownership. 
Whatever the case, we are unfortunately stuck with it, and real estate developers exploit this to no end. In their marketing campaigns they always appeal to this most basic instinct – that one can have a peaceful life in a home that one owns. That is how Blue World played it in 2017. As one consultant for a real estate marketing firm in Islamabad, who did not want to be named, informed Profit the project was introduced in 2017 with a very small area. The management then generated a huge fund by selling its files and later they started spending that fund on land purchase, but mostly on more marketing. 
"As real estate is considered a lucrative business around the world, including in Pakistan, there are also frequent complaints in it that many people complain about losing their capital. Pakistan has the highest investment in real estate compared to other sectors. This is the sector that is of the greatest interest to the public. Ask any poor, rich, or middle class person in Pakistan where to invest, then everyone from all walks of life will immediately answer that they should invest in real estate. A common observation is that no matter what the circumstances, no matter how dissatisfied the people are with the system, the buying and selling of property has been on the rise in every era and land prices have risen in every era," explain this consultant.