There is usually a very particular way you sell your car in Pakistan. You start off by mentioning that you're thinking of selling to a friend or a relative. They tell you they have a dealer or a website that has been successful for them. Slowly, the word starts to spread and different people inquire after the car, come to check it out, and offer a bad price. If that doesn't happen, you go on OLX or Pakwheels and put up an ad where the interested buyers on the platform will call, connect with you, schedule a visit and inspect your car, negotiate the final price and complete the transaction if things go smoothly. 
If neither of these two methods work, then you will reach out to a showroom or a car dealer where you will park your car and people visiting the dealership will decide whether they want the car or not. Once the right buyer is there, the transaction is completed and the middleman or the showroom owner will charge a commission.
There is a fourth option, however, where you can avoid the hassle of negotiations, time consuming visits to showrooms and of interested buyers coming to you, one after the other, to inspect your car and you having to negotiate with everyone individually. The fourth option are the platforms where you can simply go and the platform will buy it from you right then and there. 
Launched in 2020, VavaCars is one of the only two players from your fourth option that will purchase your car if you reach out to them. The other platform in the same space is CarFirst, which was founded in 2016. 
Headquartered in the UK, VavaCars has no operations there. Instead, the company chose to have operations in Turkey and Pakistan. VavaCars launched in Turkey in the mid of 2019 and in Pakistan, launched operations in January 2020. It is a little odd for a company that is headquartered in the UK to not have operations there, but in two emerging markets instead. 
"The UK is the hub of technology and leadership is based out of the UK. The parent investor, Vitol, is also based in the UK and so are the founding members. From a growth perspective, we saw potential in the growth markets," says Mujahid Khan, country manager at VavaCars. 
Article continues after this advertisement
Having operations in Turkey and Pakistan would further make sense if you know a little more about the company that backs VavaCars. It is backed by Dutch energy and commodity trading company Vitol which owns and operates retail petrol stations in Turkey and has a stake in Pakistan-based petroleum retailer Hascol Petroleum. 

The potential here is extraordinary. Imagine a VavaCars dealership at every Hascol pump in the country. So if you're thinking about selling your car, the next time you drive by a Hascol pump you go in for a quick fill and then ask for them to give you an evaluation. Even if you aren't thinking, the service simply being available might convince you to get an evaluation and that might get you thinking. Even if that doesn't happen, whenever you plan to sell, VavaCars will be on the top of your mind.  
The principal investment in VavaCars has come from Vitol, whose annual revenues run in the billions of dollars, and as Mujahid Khan, country manager for VavaCars in Pakistan tells us, they will be bringing in several million dollars worth of investment in Pakistan this year alone for VavaCars venture. 
Mujahid says that their presence in Turkey and Pakistan is along the line of the company's vision to focus on growth markets where it already has a presence. They started off with these two countries and as the venture grows, they will be scaling to other growth markets as well. 
The market
In an offline setting, the main pain point for both buyers and sellers is the time it takes to buy or sell the car. For buyers in particular, verifying car conditions is an issue as well. What VavaCars wants to do is take out the guesswork out of trading cars and create a system that is based on technology and transparency in terms of the company inspecting the inspecting cars, creating free inspection reports and based on that inspection reports, generating a price when a customer comes to sell. Alternatively, these reports and details are furnished when they are buying.
"In Pakistan, whichever segment you look into, the biggest opportunity lies in organising the unorganised sectors. From unbranded to branded. Similarly in the used car industry, the majority of the sector is unorganised. The opportunity is massive to organise this sector and brand it and give people a branded organisation which is based on the pillar of trust and transparency," says Mujahid.  
Normally, in an offline setting, used cars are traded with dealers who work in a cash-based economy. Even though the transacting parties might be making bank transfers for money matters, some of the transaction value is transferred in cash where the buyer would be making some payments, for instance token or advance payments, to the seller in cash while the remaining he might choose to transfer into a bank account. On the other hand, brokers would also prefer to operate in a cash-based economy over digital, preferring to receive their commissions in cash, and not reporting the transaction. On the other hand, if a car is sold to a family member, that transaction would also not likely be reported to tax authorities.
All this eventually means, and which adds up as Mujahid says that the sector is unorganised, there is no solid data to gauge the number of used car transactions in a year. "Normally, the ratio of new cars sold to used cars in any given year fluctuates between a minimum of 4x to a maximum of 7x. That is for each new car sold, a minimum of 4 and a maximum of 7  used cars are traded in the market," says Mujahid.  
According to numbers available from Pakistan Automotive Manufacturers Association (PAMA), 207,630 new cars were sold in the country in the year 2018-19. PAMA's year for this calculation is from June to July. Car sales declined steeply in the year 2019-20 because of the pandemic and sales were only 96,455 during the entire year.
According to Mujahid's estimates, for 207,630 new cars sold in Pakistan in 2018-19, the number of used cars traded would be anywhere between 830,520 cars to 1.4 million. If an average used car sale and purchase transaction is worth a million rupees, the used cars sector is a market that is $5.3 billion in size at the minimum and $9 billion at maximum, if we stick with Mujahid's assumption that used cars are traded between 4-7 times the number of new car sales.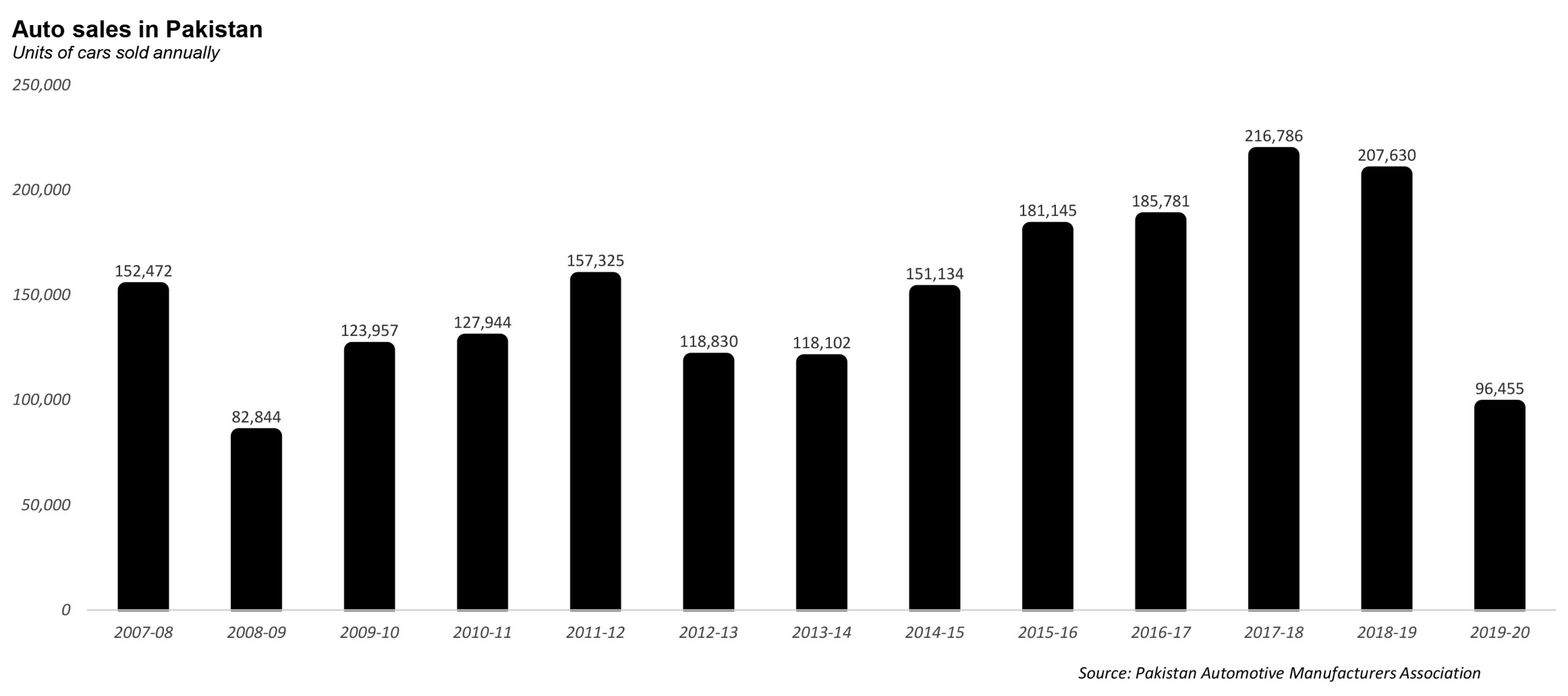 The actual number might be even higher if imported cars are also accounted for. This is the size of the market that VavaCars is trying to tap which is currently shared between dealers and brokers, marketplaces like OLX and PakWheels, and CarFirst and VavaCars. The size of the market is likely to grow further because of the recent government stimulus to decrease car prices and the new variants that are being introduced in the market. 
"As soon as a new car is purchased, it becomes a used car and is available in the used car trading pool. It is going to get bigger as new variants enter into the market," says Mujahid.
Selling on VavaCars
So here we are. You have a few options to sell your car. Friends and family, offline dealers, marketplaces and platforms like VavaCars. As a seller, you would be looking for the best price that your car can fetch and you would need some solid arguments to justify your car price, that you would base on the mileage of your car and how you kept it like a princess. For buyers, it is the price and the ability to verify if the car is actually worth the price it is being offered at. 
This is why sellers and buyers first reach out to friends and family because it is easy to sell or buy because you have seen the car, know how it has been driven over the years, know if it had any accidents, and trust the seller. This makes price negotiations also easy.
It is in the cases of dealers that a buyer has to get the car inspected, with the seller still lacking trust if the inspection was done right and he would get it done again if he has a doubt the buyer's inspection was ruining the price of the car. Similarly in the marketplace setting, where OLX and PakWheels connect buyers with sellers, trust is an issue which PakWheels has tried to mitigate by launching its own inspection service. People who trust the inspection service of PakWheels would know about the vehicle which would make it easier to negotiate. 
It is this trust that VavaCars is starting off to build in the Pakistani market. If you want to sell your car, VavaCars is going to be your trusted dealer that will do authentic inspection of your vehicle and give you detailed reports of your vehicle's condition and base the price on it. 
To be clear, VavaCars is not an inspection service per se, or a platform that connects buyers with sellers. It is not a classifieds platform like OLX and PakWheels where if a customer wants to sell a car, he posts the advertisement outlining the details of the car and putting up a rate that he comprehends is fair. VavaCars is also not an offline dealer that parks your car in its space until the right buyer comes and charges a commission on the transaction. No. VavaCars is a buyer itself. So when VavaCars does an inspection of your car, it is doing that as a buyer and it wants you to trust that inspection. 
After it buys the car, it might or might not add value to the vehicle by fixing any issues and refurbishing it, and selling it at a higher price, like many offline dealers themselves who purchase a car, make it look shiny, and earn windfall margins on it. The only difference is that VavaCars does it in an organised manner, as a brand.  
If you want to sell a car today on VavaCars, you can put an inquiry on VavaCars website and it will instantly give you an estimated valuation of the vehicle based on the information you put in like the make and model of the car and mileage, on the assumption that your car is in excellent condition and there is no major damage. If you are satisfied with the valuation, you can book an appointment to visit the VavaCars centre for inspection or you can call one of the mobile purchasing units at your home or your office, which will inspect the vehicle. 
The seller is provided an inspection report, along with the final price and all the paperwork which can be signed then and there and money transferred electronically. According to Mujahid, technically, the car can be sold in an hour if the price is agreed and the car can be handed over immediately. 
It's a great thing to have the inconvenience of going out from one dealer to another to park your vehicle for sale removed. It is also great to have the inconvenience of people calling you one after the other and then coming to your home to check the vehicle, sometimes coming again with some other member of the family to see the car before it is purchased, removed. 
But no matter how much you trust a seller, you are also not going to buy a car that is above the market rate. Likewise, a seller is also not going to sell his car if someone is offering a lower than market price. This is why both seller and buyer are most likely going to explore all options available to them to get the best price, and they are likely going to overlook the inconveniences associated with dealing with offline dealers and marketplaces as well. 
This is another value that the VavaCar brand claims to be giving to its customers. That it will give you the best price for your vehicle along with the trust that there was no shadiness in the transaction and that you as a customer were not ripped off. 
 "If you are trying to make money when you are buying cars, you would not be able to scale. We are in growth mode right now. We are chasing volumes, instead of margins," claims Mujahid. 
VavaCars itself is a buyer that makes money by buying cars at a low price and selling them at a high price. Mujahid claims that because they are in growth mode right now, they are ready to earn less margins for bigger volumes but from an individual seller's perspective, things might be a little dicey. 
VavaCars is itself a buyer and the trust it is trying to build for the seller is that it is going to buy the car at the price that it tells you and you should trust the brand that it is giving the right price, even if it is below the market rate. And it is below the market rate because from the market research done by Profit, for a number of makes and models of cars for the purpose of selling, VavaCars platform offers a substantially low price compared to the sale prices of cars on OLX and PakWheels, and CarFirst. For instance, for a 2014 Suzuki Mehran and a 2019 model Honda Civic that were researched on different platforms by Profit, VavaCars initial valuation of the cars was at least Rs100,000 short than on other platforms, for the same mileage.
Well, it could be that the final offer after inspection of the vehicle is better but a seller that receives an initial valuation that is less than what he can get from other places, even though his vehicle is in best condition, is likely going to stay away from VavaCars. Profit asked if VavaCars could share numbers pertaining to revenue of the company to see how they were growing with this arrangement in place. The company refused to share numbers saying these were only the early days of the company and claimed that the company was growing exponentially.
It could also be that VavaCars might be constricting its margins, that is selling cars at a lower than market price as well while selling the vehicles to new buyers. After all, Mujahid says that VavaCars right now would prefer to sell 50 vehicles at a profit of Rs10,000 per vehicle against selling 10 vehicles at a profit of Rs20,000 per vehicle. This however is difficult to ascertain since VavaCars is primarily selling to walk-in offline customers or dealers and businesses through auction. Its website for buyers is in the works and its online model concerns sellers at the moment.
For a price sensitive consumer, trust can be interchanged with price is the verdict here. So from a seller's perspective, then, we would ask you, the reader. Would you prefer to trade your car below the market price if you trust VavaCars?