The Ministry of Science and Technology (MoST) has finally developed safety standards for motorcycle helmets, and in doing so might have also highlighted an untapped market. 
Motorcyclists are mandated by law to wear helmets in all capacity whilst riding motorcycles. However, the market has largely been neglected. Options range from off-brand locally produced helmets that compromise one's safety to expensive imported ones that may be too expensive for most buyers. 
Profit inquired with the larger motorcycle manufacturers about their policy for the manufacturer and sale of helmets and the results were as follows: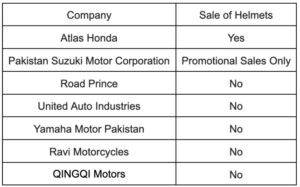 In conversation with various motorcycle accessory shops, Profit found that the most popular helmets were made by LS2, Shark, Shoei, and AGB. All of which are imported and with no local manufacturer garnering a local fan-base across the surveyed shops. 
The motorcycle helmet market presents a unique opportunity with the number of registered motorcycles standing at 17,465,880 in 2018.  
The industry has only grown since with motorcycles recording immense sales over the past few years: 

Whether or not All Pakistan Motorcycle Spare Parts Importers & Dealers Association (APMSPIDA) and Association of Pakistan Motorcycle Assemblers (APMA) take up the new opportunity is yet to be seen.