"A fly landed on my ravioli. I called the waiter to point it out. He took the dish back. Ten minutes later the manager walked in with a fresh plate and repeatedly apologised. I said it's okay, I understand. We're in Karachi, flies fly outdoors. He said, 'No ma'am. This is not Karachi, this is Aylanto,'" said Ayesha Ali, a connoisseur of Karachi's expensive eateries. 
Aylanto, though not a new restaurant, is part of a dizzying trend of new fancy eateries propping up in the country. Each place is trying to outdo the others with its branding and individuality, to stay relevant in this cut-throat market. Gone are the days, when the upper-middle class of Pakistan's metropolitan cities would go out for a simple pizza, burger or Chinese food. The dining experience is becoming increasingly stratified, unpredictable and, in Fuòco's words, a "rendition" of European and Italian cuisines.
You have everything from gourmet pizza, if one can ignore the obvious oxymoron present, to mouth-watering Korean restaurants. Such experiments obviously mean good news for the industry. According to a report by the Pakistan Institute of Development Economics (PIDE), the tourism and hospitality industry, of which restaurants are a major player, is rising significantly in Pakistan. In the year 2019, the industry contributed 5.9% to the national GDP and generated 3.8 million jobs and expanded by 3.5% in one year. Although the industry was hit massively by covid lockdowns in 2020, the industry is back to growing, although sluggishly, says the PIDE report. 
 The (near to) fine-dine experience 
Imagine entering a classically contemporary restaurant in an affluent neighbourhood. But as soon as one steps in, there is a seamless disconnect from the hustle and bustle of the city. Soft music, a personal waiter guide and fellow socialites chatting and devouring the meal, the experience is often more exquisite than the meal. The designated waitering staff sets your table and sommeliers and chefs help you decide with the selection of your seven course meal or four – doesn't always matter. The dishes are oftentimes small and the bill is massive, but you enjoy premium quality and exclusivity in your meal, a quintessentially fine-dine experience – something that is not found in Pakistan.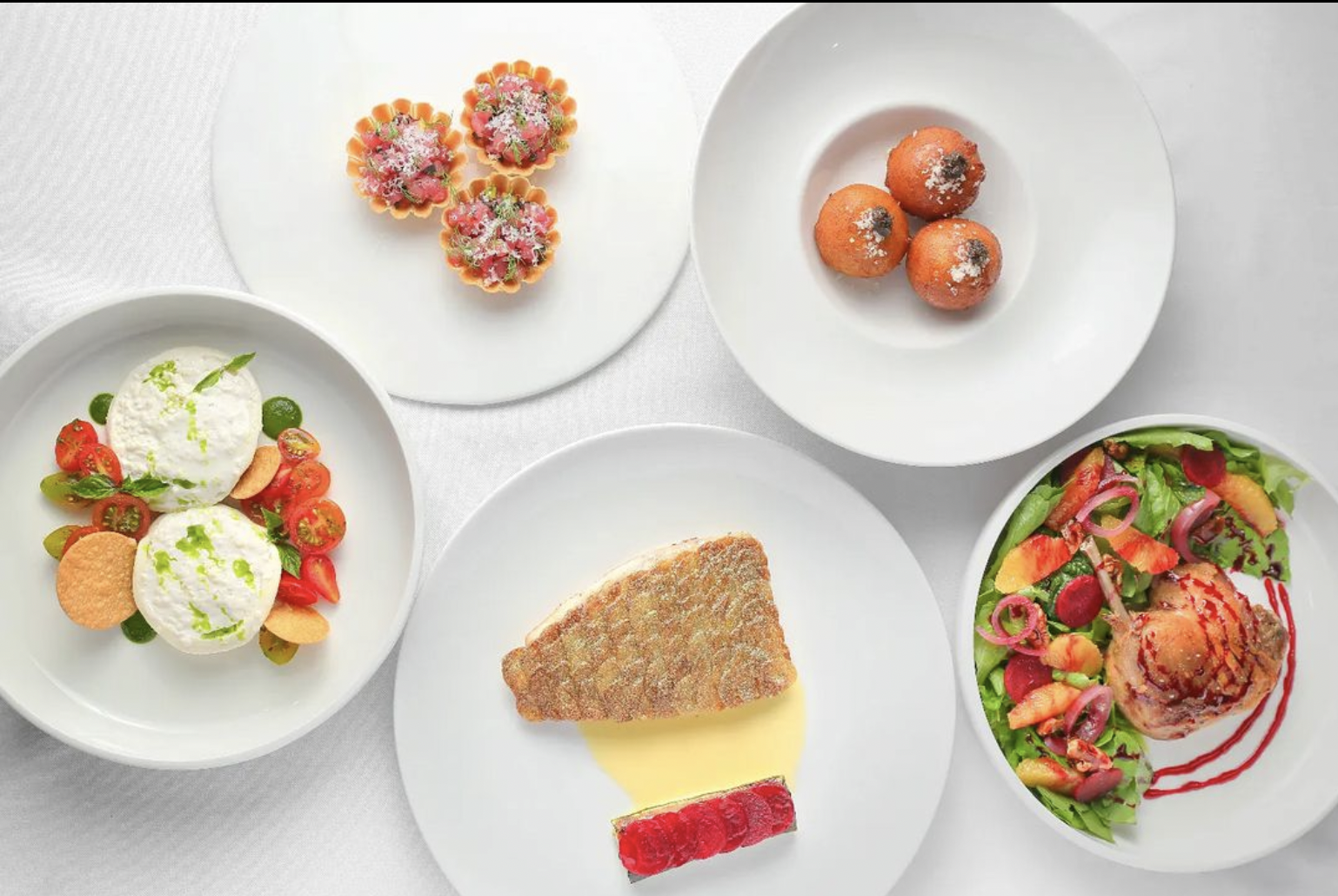 Article continues after this advertisement
That's right. No matter how expensive the meal is, or how fluently the staff speaks English, no restaurant in Pakistan qualifies as an actual fine-dine restaurant. "There is essentially no fine-dining in Pakistan. Fine-dine restaurants have certain characteristics like the number and training of waitering staff, a culinary school certified chef, the type and arrangement of cutlery. Crockery has to change with each course. Menus have to be printed in a certain way, and definitely not on paper. The closest we have is Okra, but it's basically a cafe and not a restaurant," said Arooj Abbas, a chef and restaurant consultant. 
However, we do have the second-best options; restaurants which charge typically a bit higher than the average. "Customer perception plays a very big part in a restaurant's image. Restaurants which charge Rs 3500+ per person with appetisers and drinks are considered fancy here. It's generally those restaurants that serve a foreign cuisine that you can't rusticate at home," added Abbas. That's what is essentially happening in Pakistan also. 
Profit reached out to several restaurants in Karachi, Lahore and Islamabad to understand how they have built the customer perception. 
Izakaya is a new sought-after dining experience located in Karachi that has sort of a non-conformist marketing strategy. Instead of attracting more customers, Izakaya is limiting. The restaurant keeps the experience exclusive by offering membership to its clients. Non-members can also visit but have to pay slightly higher than the members. Even the Instagram page is private, with access to only members or those who have visited the restaurant at least once. Upon various visits to Izakaya, Profit learned that the cheapest item on the menu for non-members is for Rs 15,000 per person. For members, there are various rooms available to choose from which makes this experience more private by demarcating it from the regular dinner hall.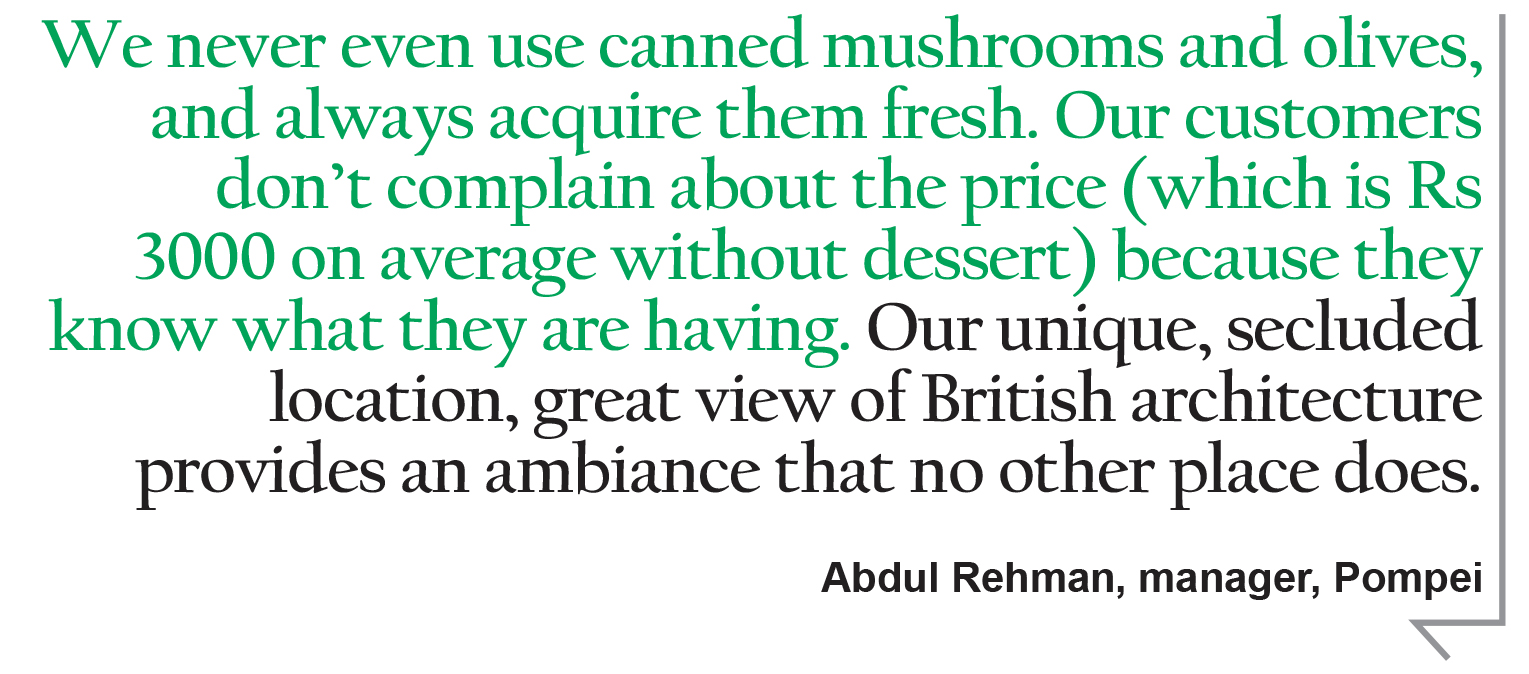 This kind of exclusivity from members creates a very particular image in the minds of many visitors. "I am allergic to seafood and my doctor had me off beef for a few days. The chef made all my courses in chicken for me. One of my friends kept thanking the chef for going out of his way and even told me off for not acting the 'appropriate way' with my order specifications," mentioned Ali, recalling the time she visited Izakaya for a friend's birthday. 
The manager at Pompei, a premium Italian restaurant in Karachi, said that they rely heavily on imported materials such as cheese and herbs. "We never even use canned mushrooms and olives, and always acquire them fresh," said Abdul Rehman, the manager. "Our customers don't complain about the price (which is Rs 3000 on average without dessert) because they know what they are having. Our unique, secluded location, great view of British architecture provides an ambiance that no other place does," he continued. "Because we are a fine dining restaurant we operate mostly on reservations, but we cater walk-ins  too." 
Anyone who has frequented Pompei, would know that the place doesn't get a great variety of people. It's the usual group of those who know the place well. "Our fine-dining customers are specific. But our Italian cuisine, which is available for all for walk-ins, makes up for the revenue," said Rehman.
Fuòco in Islamabad had something similar to say also. "Look, the kind of menu we have here is not an average Pakistani's cup of tea. When we first opened a lot of customers came in and we would often have dishes being sent back because they 'were not cooked well'. For example, one of our classic dishes is the aglio e olio pasta. Many people don't like it, but when foreigners come they love it, and come back for it," said Obaid, senior manager at Fuòco. "Now our customer base is normally the same 20-30 people who have the kind of exposure from abroad to like and enjoy our food," he added. 
When asked what their unique selling point is, Obaid mentioned the pasta. "We make our pasta dough ourselves to develop a unique and authentic taste," he said. However, upon asking Profit got to know that none of their chefs is internationally trained. 
Similarly, Gai'a Lahore's manager Qadeer Hussain said that they import their ingredients, especially the best selling ones such as sushi, and the Wagyu steak too. "See we specialise in Sushi but we are not the same as Wasabi, which has been established way before us. You know why? Because we train our chefs from international chefs. For example, a chef from Dubai came to Pakistan to especially train ours and so did a foreigner chef from Europe," he added. 
Food as a personalised experience
In a country such as Pakistan, there may not be a big audience for an expensive Rs 20,000+ meal, but that's the whole essence of such a meal; the limitation and exclusivity of it. "Of course, not everyone can afford such a pricey meal.  But it's not just for the rich elite, luxury food is a whole experience. Many times I receive orders from the salaried class who save up for my meals for their birthday or anniversary," said Haroon Sheikh, a premium home-chef based in Karachi.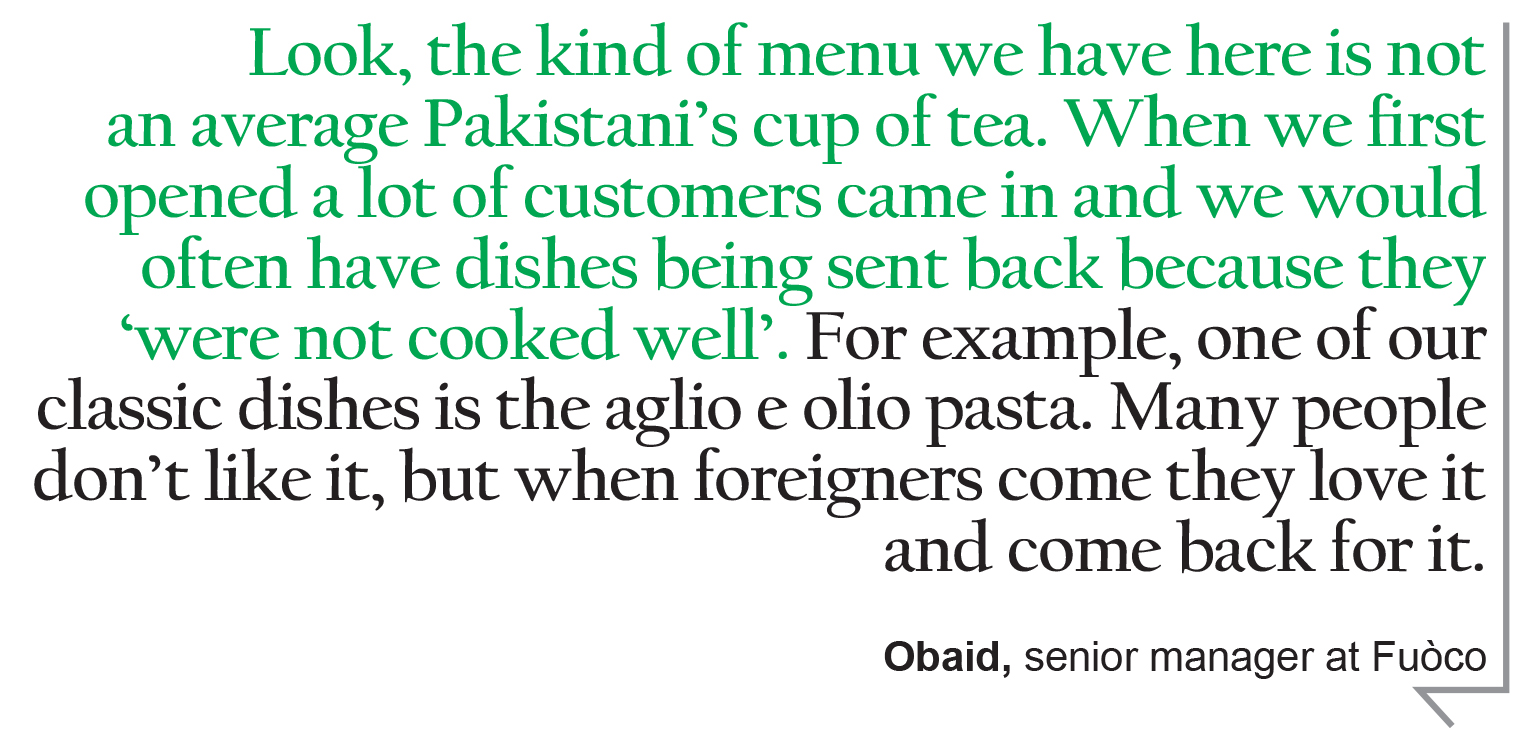 Sheikh does something unique in the Pakistani food business. He cooks premium quality multiple course meals, freshly prepared, cooked and served by him at the home of clients. "I change my cutlery and napkins with every meal and buy a new set of crockey when I introduce a new dish. Every meal has to be an experience. I take pre-orders so I have enough time to prepare everything and procure the right ingredients locally or internationally. Sometimes when needed I hire the waitering staff too, but that's just for assistance, I like to cook and serve myself," he said. Sheikh was not too keen to talk about the prices of the meals as he believed it would make those who can't afford it uncomfortable, or even bitter. 
But a premium meal also costs a lot. After conversing with multiple caterers, including Fuòco, Sheikh and OY steak, Profit learned that the popular dish premium meal is the Wagyu or Angus steak, each meat cut is imported from Japan or Australia and costs Rs 30,000 – 75,000. 
Sheikh was the first one to introduce the medium rare Agnus and Wagyu steak, and also hotpot in Pakistan back in 2015. He said now he's one of the very few caterers to specialise in truffle and caviar also. Upon insistence he mentioned a conservative number for his meals, "You can say the minimum price is around Rs 15,000 and the maximum is the sky," he chuckled. 
Similarly, Omer Yoon, owner of OY Steaks in Islamabad said that he imports the Wagyu steak on pre-orders only. The meal ends up costing around Rs 60,000 for one person. "This is the most pricey item in my menu and I have received only five orders till now since the last one-and-half year of doing business," he said. An average meal at OY steak costs around Rs 3,500-5,000. He mentioned that the most expensive ingredient is the meat which makes up most of the cost. That's why Yoon also only takes pre-orders and procures the meat the very day it is cooked. 
Like Sheikh, Yoon also personally cooks and serves the meal. For him, it's more a passion than a job. "It's not a steakhouse, but a love story," he said. Yoon's restaurant is not even close to a fine-dine experience, he agreed. It's not well maintained or decorated, but that's because he just started out and isn't making a surplus, he explained. His plan for next year, however, is focusing on the ambiance and making it a complete experience. 
The supply, demand and the impact of economic crisis  
Since many fancy restaurants depend on imported items, there has been difficulty in production since the economic crisis started. "We have temporarily removed the Wagyu steak off our menus because we can't import it from our usual sources, and the other options would be too costly for us and ultimately for the customer also," said Fuòco's manager, where the steak was usually served on simple walk-ins.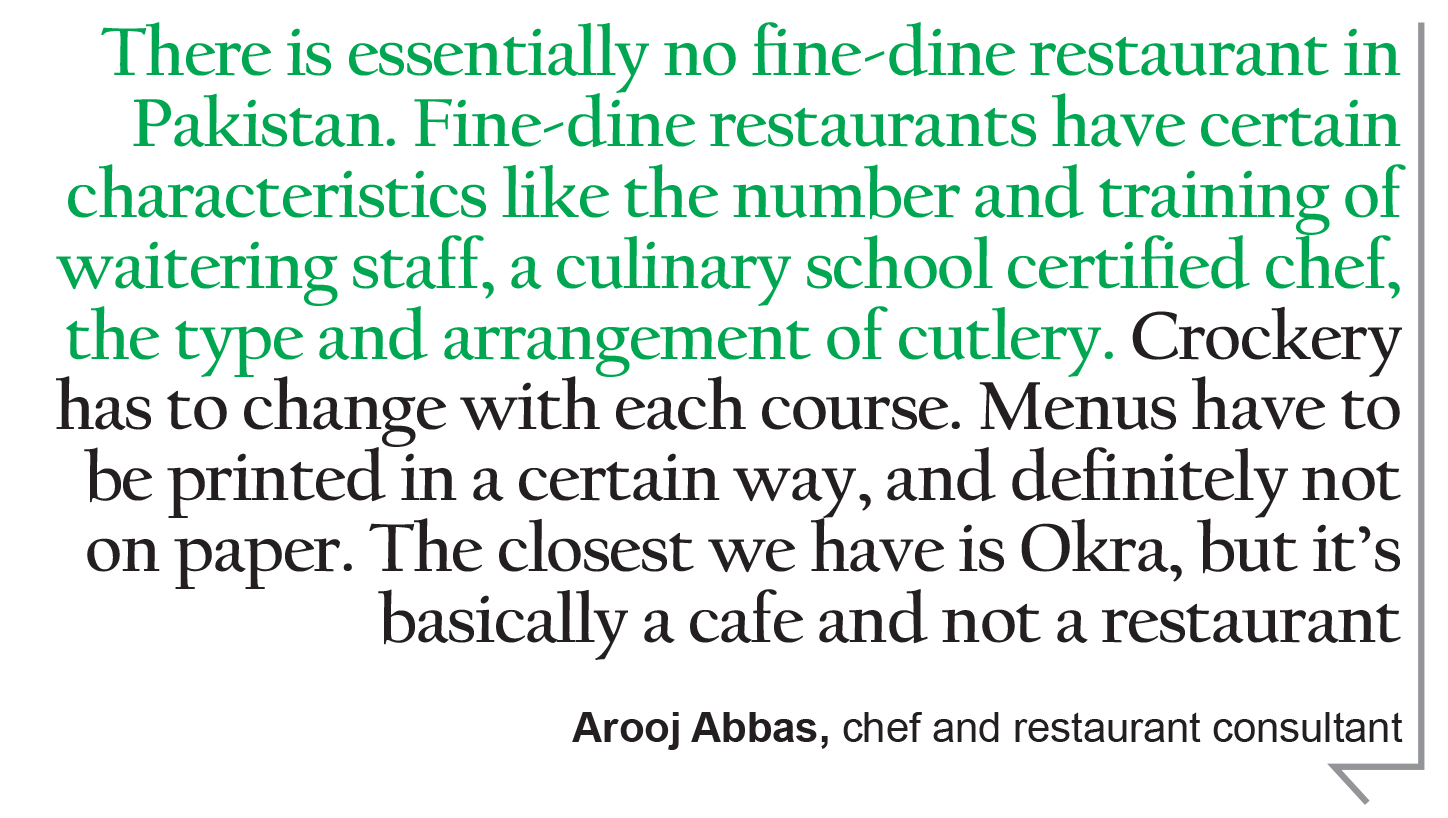 However, in a conversation with Ammar Khan, economist and founder of Karachi Food Diary, Profit learned about the city's process of acquiring items. "A lot of ingredients, and even protein is smuggled in through an informal network of smugglers, popularly known as khepiyas. Such a network ensures a steady supply chain of quality ingredients," said Khan. 
Pompei is doing something similar also. "The import ban has impacted the business terribly. We haven't had mushrooms in months so we have stopped serving stuffed mushrooms. But for other items we try to seek alternate vendors and avenues, and that significantly increases the cost. We aimed to change the prices on the menu just once a year but now that's not sustainable as we have to increase them more often," explained Rehman. 
"We import Wagyu steak from Australia, although it's a specialised meat of Japan, but for us it's easier to procure from Australia," added Hussain from Gai'a.
During times of economic crisis, one would assume the demand of premium products, including expensive food to generally decrease. But Sheikh had something different to say. He said his sales had not really dropped. In fact, the demand for fine dining has increased since he first started in 2015. He said that because his main customer base is the business community, price hikes don't really impact them as much. 
Similarly, Yoon joked that "black money kinda people come here," pointing out that his priciest steak, the Wagyu, can only be afforded by a certain class. So the concern of the import ban or inflation doesn't have a drastic impact on the business as such. Also, since he already operates on a small scale and procures essentially raw materials only upon order, there isn't much sunk cost. 
Capital
Building this kind of eatery cannot be done from scratch. It requires a huge investment, and a thriving social and cultural capital. An established restaurant consultant who doesn't wish to be named commented that, "most of the fancy restaurant owners in the three big cities of Pakistan come from wealthy families. They are young people who are well travelled, and try to recreate their experience in Pakistan, but not all of them have business acumen to run a fine-dine eatery."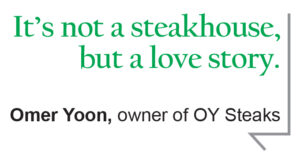 Sheikh said that he was only able to start and run the business because it's his hobby, a side thing. Sheikh's main source of income is his textile business. Being part of an establishment business community brings in major clients for his home-chef gig also. 
Similarly, Obaid said that the owner of Fuoco is based outside of Pakistan as he has many other businesses to look after also. The manager, who has had more than a decade of experience in various restaurants, mentioned that a lot of the items on the menu were introduced for the first time in the city. "The owner is specific about the menu and decides each item himself, perhaps based on what he personally liked from abroad," he said. 
The mushrooming of restaurants and the increasing culture of eating out is creating another element of class demarcation in Pakistan. As an Izakaya customer mentioned, "there is no point of going to Izakaya if you don't get a picture taken with the blue door," confirming that status and prestige is all about showing, not telling. 
Consumers now look for something more than just food, they want a complete experience, one that includes being waited on, devouring the sumptuousness that is placed before them, feeling special and then sharing it on their social media. Because if you don't show it, did it really happen? This is where the expensive eateries, and the burgeoning need to provide a unique experience comes in.