LAHORE: Prime Minister Shehbaz Sharif on Sunday March 19 announced the government's latest measure to combat inflation. On Monday, March 20, the Minister of State for Petroleum Musadik Malik increased the scale of the scheme in terms of the relief it aimed to provide. So, how much can beneficiaries expect to gain from this scheme?
The relief plan
The scheme has been expanded from a Rs-50 differential in the price of petrol to a Rs-100 differential. There have been rumours about proposed caps on vehicles, with potential limits of 17 litres per month, 21 litres per month, and 30 litres per month. As the final plan has yet to be unveiled, Profit examined all scenarios to determine the cost savings.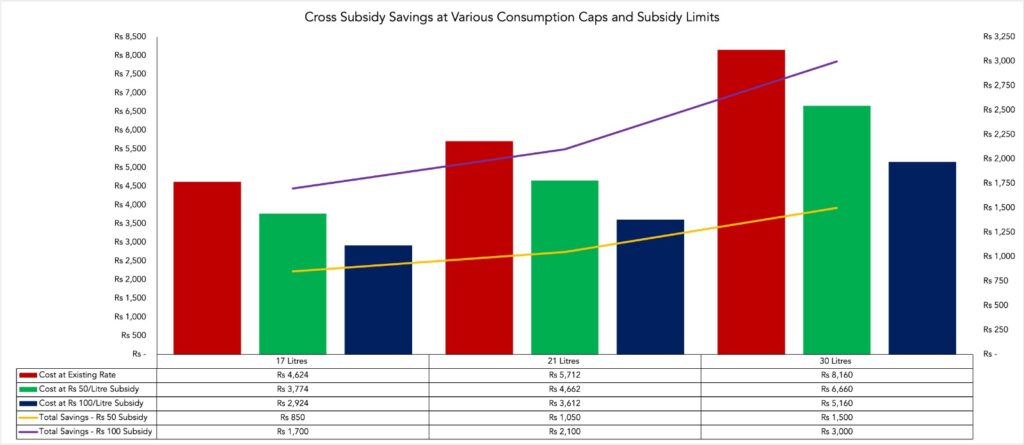 The subsidies on average lead to total cost savings of 18% and 37%, irrespective of whether they are levied on fuel caps of 17 litres, 21 litres, or 30 litres. If the fuel subsidy is set at Rs 50 per litre, it can create total savings of anywhere between Rs 850 to Rs 1,500 per month for beneficiaries.
If the subsidy is instead set at Rs 100 per litre, then the total monthly savings can range from Rs 1,700 to Rs 3,000. Is there more to the savings? Not really for now. However, when inflation peaks to 50-year highs, every last rupee counts.
The government's awareness on mileage
Now, whether or not the government knows this, vehicles themselves set different prices for the riders.
"The price savings in petrol consumption exist inherently based on the vehicle being used. A low-income individual already has lower fuel consumption. A motorcycle will give you many more kilometres to a litre than a Land Cruiser will. The motorcycle will already have a more affordable kilometre per litre because the vehicle has a smaller engine, and thus its per-fuel consumption per litre is better," says Khurram Husain, Former Editor of Profit and Business Editor of Dawn.
"With fuel, it's not an apples-to-apples comparison. It's not a matter of how much a lower-income individual will pay and how much a higher-income individual will pay. The lower-income individual will travel a lot further in one litre of petrol than the higher-income individual will. It's a matter of what the per-kilometre cost is," Husain continues.
A Honda CD-70, arguably the most popular motorcycle in Pakistan, has a mileage of 55 km per litre, whilst a Fortuner's mileage can dip to 9 km per litre. These amount to Rs 4.95 per km and Rs 30.22 per km, respectively.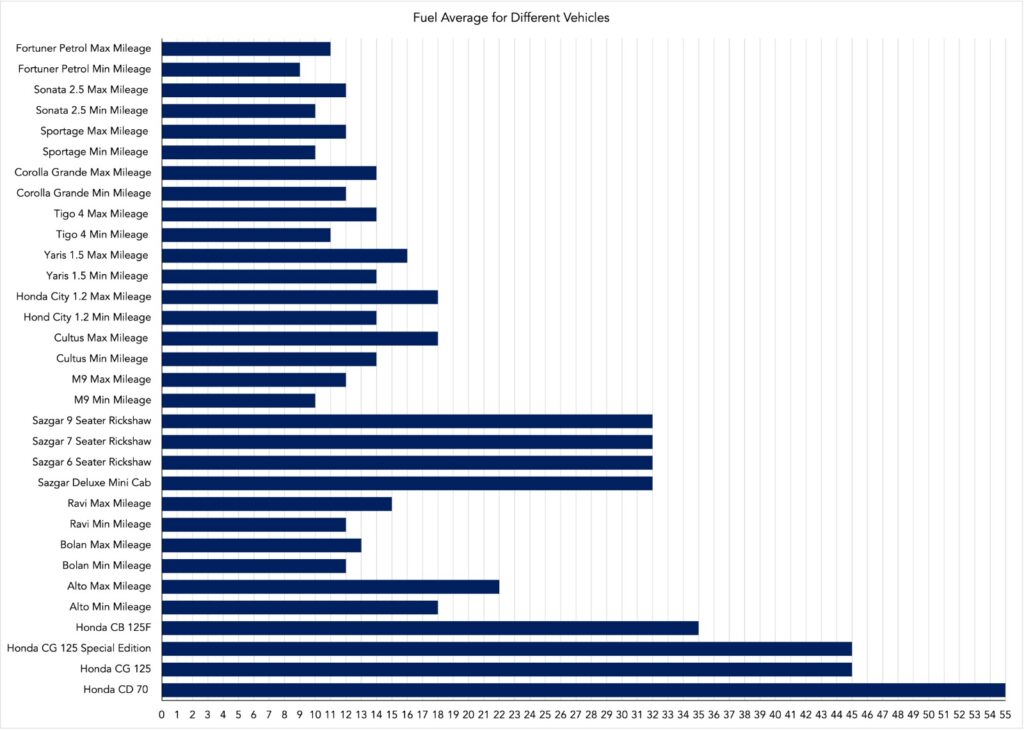 This relationship is generally true: The more expensive a vehicle is, the worse its fuel economy is likely to be due to the fact that it most likely has a higher engine displacement. Is this true for every vehicle? No, but the vast majority of vehicles with higher price tags in Pakistan are also petrol guzzlers. Therefore, the vehicles that the government has identified for the scheme – motorcycles, light commercial vehicles, sub-800cc cars, and rickshaws – already have set per-kilometre rates for petrol consumption.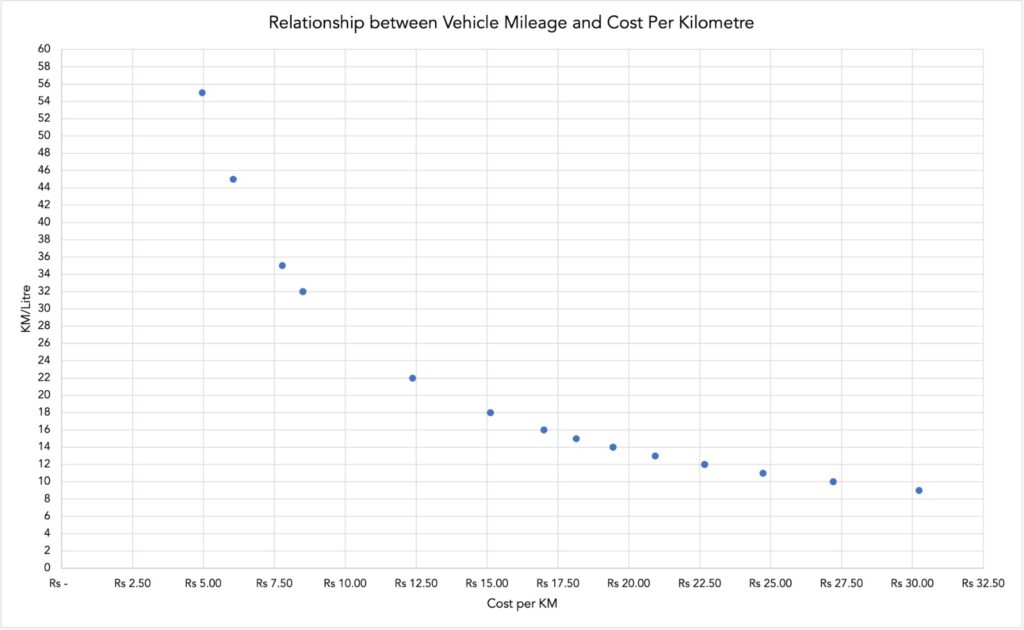 Maybe the government is then trying to minimise the cost per kilometre for every low-income motor vehicle owner? 
Maybe. 
The cost savings per kilometre for vehicles identified by Profit as meeting the criteria outlined by the cross-subsidy are 18% and 37%, respectively, whether the subsidy is set at Rs 50 per litre or Rs 100 per litre.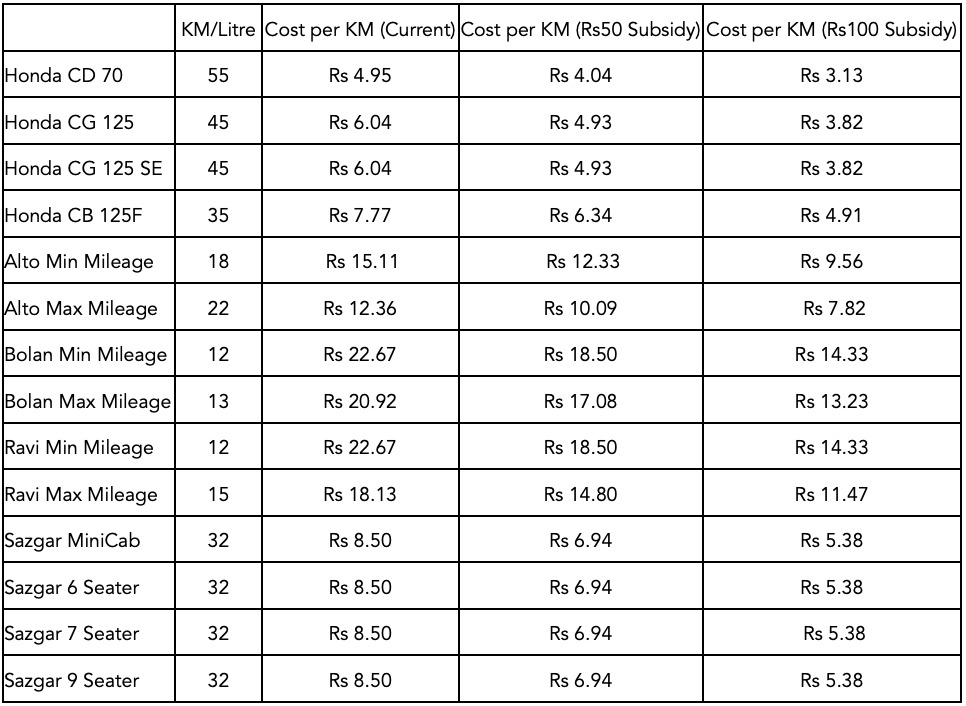 Will this work? 
Whether or not the cross-subsidy will actually be a success is anyone's guess, as the scheme itself has yet to be unveiled in its totality. However, after everything that has happened over the past year, the words "fuel subsidy" should terrify Pakistani governments like the boogeyman terrifies children. Profit spoke to industry sources and experts on the matter to understand how the cross-subsidy will fare.
Read the 238th issue of Profit Magazine for the week of March 27 to see our findings.