LAHORE: Honda on Monday notified the Pakistan Stock Exchange (PSX) that it will be recommencing production activities in the forthcoming weeks. This decision signifies the culmination of the company's lengthiest official plant shutdown, which lasted from March 9 to May 15. Nevertheless, as of present, the plant remains inactive and Honda has yet to disclose the precise date when production will resume.
The notification marks the termination of Honda's official 68-day plant shutdown. Profit reached out to contact Maqsood Ur Rehman Rehmani, Vice President and Company Secretary of Honda Cars, and Amir Nazir, General Manager of Sales & Marketing at Honda Cars, for commentary regarding the situation.
Regrettably, neither of them responded to Profit's request for comment, exacerbating the uncertainty surrounding when production will recommence.
Why did Honda shutdown production? 
Honda's car plant originally shut down from March 9 to March 31. This was later extended until April 15, then till April 30, and now then till May 15. This spell of non-production days (NPD) exceeds Honda's previous longest stretch of NPDs from March 24, 2020, to May 19, 2020 amidst the Covid-19 pandemic. 
Maqsood Rehmani, Vice President & Company Secretary at Honda Cars, informed Profit in an earlier conversation that the government has mandated that they obtain 365-day usance LC from their suppliers for completely knocked-down (CKD) kits and other parts.
A usance LC is a type of trade finance instrument that guarantees the confirming bank (exporter's bank) that the issuing bank (importer's bank) will make the payment by a specified future date. "We have been instructed to obtain 365-day usance LCs from our suppliers and make the payment in 365 days," explains Rehmani. 
"However, it is highly unlikely that any supplier would agree to provide us with materials for payment one year later. Furthermore, it is difficult to forecast the exchange rate one year in advance. It is not feasible to operate a business under such circumstances," he adds.
Profit had also approached the aforementioned two Honda officials to see if there had been an update in this particular situation, and if a solution had been worked out. The lack of a response leaves room for speculation. 
A year to forget 
Honda's total sales across FY23 are less than half of its sales during the same period last year. Based on data provided by the Pakistan Automotive Manufacturers Association, Honda's sales across all models during the first 10 months of FY23 (10MFY23) clocked in at 7,489 units, compared to its sales of 41,635 units during the first 10 months of FY22 (10MFY22). This represents a massive contraction of 82% in sales volume.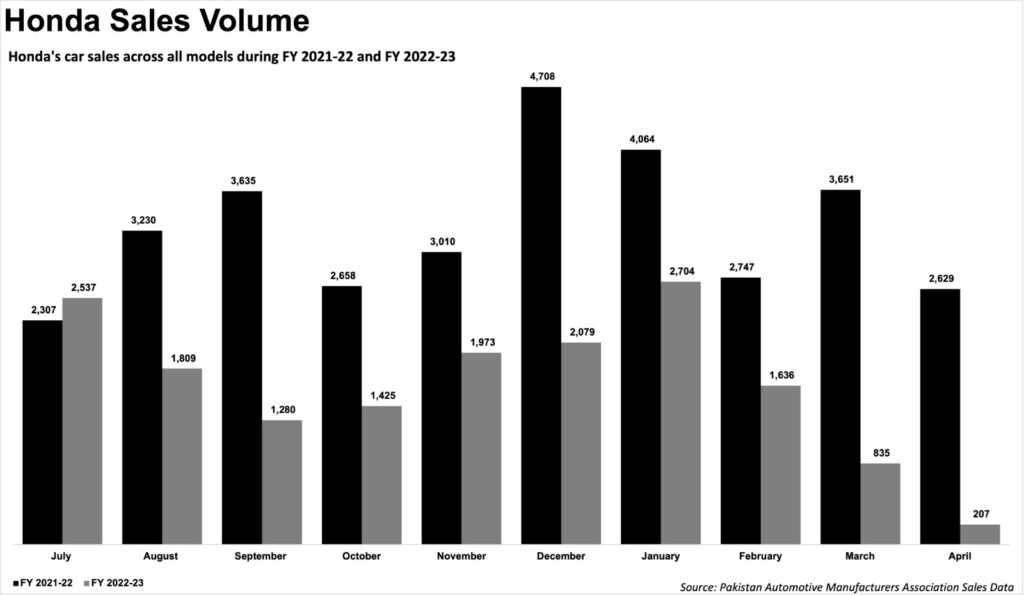 The average number of cars sold per month decreased from 1,623 units in FY22 to 824 units in FY23. The months of the production shutdown itself saw even significantly lower numbers than usual. Honda's average sales per month until February stood at 965 units but then fell to 261 units during the plant shutdown, with the May numbers yet to be revealed.