The Pakistan Automotive Manufacturers Association (PAMA) recently unveiled their sales data for the month of August, and the results, at least for the month, offer a glimmer of hope in an otherwise bleak landscape. Sales for both cars and motorcycles experienced a slight uptick from their corresponding figures in July. However, the most intriguing aspect gleaned from the data is that the combined sales of July and August (2MFY24) represent the most dismal start to any fiscal year (FY) over the past half-decade. In fact, total car and motorcycle sales during the pandemic-stricken months of July and August 2020 surpassed those of the past two months.
The 2MFY24 car sales clocked in at a mere 12,035 units — marking a five-year low. To put this into perspective, the pandemic-induced months of 2MFY21 witnessed sales of a staggering 21,910 units over the same period. Similarly, 2MFY24 motorcycle sales stood at a paltry 158,925 units sold — again, the lowest in five years and a far cry from the 282,190 units sold in 2MFY21.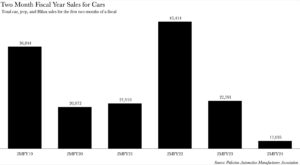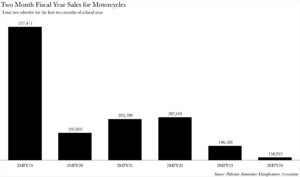 In essence, it appears that consumers were more inclined to purchase vehicles during a time when it seemed as though the world was on the brink of collapse and Pakistan was grappling with various stages of lockdown than they were over the past two months.
However, before we delve into what precipitated this decline in demand, let's cast our gaze upon the month-on-month (MoM) gains that the industry did manage to eke out from July to August.
Race to the bottom: looking at car sales 
On a month-on-month basis, all car brands across Pakistan experienced a surge in their sales. Chery, however, opted not to disclose their data to PAMA, leaving us in the dark about their performance. Furthermore, Profit decided to incorporate jeeps into our categorisation of cars. As a result, our car sales figures include the Hyundai Tucson, the Honda HR-V and BR-V, the Toyota Fortuner, and the Toyota IMV (the collective term for the Hilux and the Revo).
In absolute terms, Suzuki saw the most significant increase in MoM sales, selling 3,848 units in August compared to the 2,514 units it sold in July. However, when viewed in relative terms, Sazgar emerged as the frontrunner with a staggering 121% increase in its MoM sales.
The top-performing car was Suzuki's Alto, which clocked in sales of 2,769 units. In stark contrast, Sazgar's BJ40L was the least popular car of the month, managing to sell a mere 8 units throughout August.
Some intriguing insights from this section include how Hyundai has managed to sell more of its high-end cars rather than its more affordable option. Hyundai's Tucson and Sonata both saw MoM increases in sales while its Elantra experienced a contraction in sales on a MoM basis.
Speaking of high-end options, inflation seems to have had little impact on Toyota's Fortuner and IMV as they managed to actually increase their MoM sales.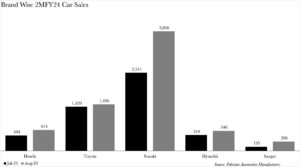 The collapse of Pakistan's favourite vehicle 
On a month-on-month basis, all motorcycle brands, with the exception of United, saw an increase in their sales in August compared to July. Ravi, however, did not manage to sell a single motorcycle. Unsurprisingly, Atlas Honda continued its reign at the top, selling a staggering 75,071 units — perhaps marking yet another month of dominance in the industry.
Atlas Honda also witnessed the largest nominal increase in MoM sales, managing to sell an additional 13,059 units in August compared to July. The highest relative increase was recorded by Qingqi, which saw an impressive 200% surge in sales. However, this figure is somewhat less impressive when considering that they sold only 6 vehicles compared to the previous month's 2. Consequently, Qingqi also had the lowest sales figures for motorcycles in the month of August.
Turning our attention to the outliers, United sold 482 fewer motorcycles in August than the 7,657 motorcycles it sold in July.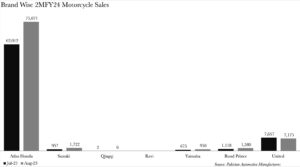 Where has all the demand gone? 
Now, one might wonder, how has the industry managed to perform worse than it did during a time when it seemed like the world was on the brink of collapse?
In a conversation with Profit, Syed Shabbir Uddin — Director of Sales and Marketing at Changan — pinpointed the escalating prices of vehicles, coupled with the general macroeconomic conditions and high interest rates, as the primary culprits for the slump in car sales. 
Echoing similar sentiments, Muhammad Salman, Director of Sales and Marketing at Road Prince, cited almost identical reasons for the downturn in motorcycle sales. Salman noted that motorcycle prices have skyrocketed by 130% from October 2020 till now.
Now, let's delve into the more interesting segment-specific downturns.
End of the road for sedans
"An intriguing shift in the automotive landscape has been observed," begins Shabbir Uddin. He notes, "The most profound impact has been felt in the mid-range segment – the realm of sedans and compact sedans." He further elucidates, "The demand for high-end cars and SUVs persists, albeit diminished; a similar trend is noticeable in the market for entry-level hatchbacks."
Shabbir Uddin's assertions gain credence when we scrutinise the figures from PAMA. Amongst the medium-sized sedan categories listed, only Honda's City and Civic, along with Hyundai's offerings, witnessed a month-on-month uptick in sales. In contrast, Toyota's Corolla & Yaris, and Hyundai's Elantra experienced a downturn.
If we were to include Suzuki Swift in this category due to its price point, the argument remains unscathed. Changan's Alsvin is presumed to have encountered a similar fate, despite the absence of specific data owing to its non-membership in PAMA.
Shabbir Uddin further elaborates on the market trends, "It appears that all customer segments have downshifted by one or two tiers. Concurrently, we've observed a trend of compromise among prospective sedan buyers who are now opting for used sedans aged between 3 to 5 years due to budgetary constraints."
The demise of the most favoured category is not confined to sedans alone
Rule of one 
Let's break down the collapse of the motorcycle segment into two parts: Atlas Honda, and everyone else. 
"The non-Honda motorcycle customer, predominantly from the lower-income stratum, has been disproportionately impacted by the macroeconomic turbulence. Their living expenses have skyrocketed, while their wages have seen a modest uptick," elucidates Fahad Iqbal, a Director at Ravi Automobile. 
"Their eroded purchasing power currently precludes them from even contemplating such an acquisition," Iqbal adds with a note of finality.
In essence, all brands barring Atlas Honda have seen their customer base decimated under the relentless economic onslaught besieging the nation. Iqbal also highlights the metamorphosis of informal lending and microfinance landscapes that were once accessible to non-Honda motorcycle buyers. "This was the primary propellant for growth over the past decade for non-Honda marques," Iqbal notes, "which is now being diverted into other sectors."
Salman points out a significant shift in investment strategies. "Owing to price hikes," he observes, "leasing firms and dealers have pivoted their investments from motorcycles to more lucrative sectors like agriculture and real estate." He also mentions that financing has become ensnared in more stringent terms and conditions. "With escalating prices," Salman elaborates, "most dealers and leasing firms have curtailed leasing durations from the erstwhile 24-18 months to a mere 9-12 months. This has inflated the monthly payment ratio, making it increasingly arduous for customers."
And what of Atlas Honda? Its sales trajectory has remained relatively unscathed over the past six to eight months. So, what precipitated the recent slump?
"In my opinion non-Honda customers who had the financial wherewithal to acquire an Atlas Honda motorcycle have become more discerning over the past year or so," Iqbal  states. He believes these customers opted to allocate a larger slice of their income towards an Atlas Honda purchase, thereby inflating their sales figures.
Iqbal continues his analysis, "Customers who previously owned affordable vehicles but could no longer sustain them for daily transportation began to downgrade to Atlas Honda as well." Iqbal concludes by saying, "These were one-time buyers at the end of the day, and we may be reaching a saturation point in terms of their numbers which could explain the more pronounced dips we're observing in Atlas Honda's sales."