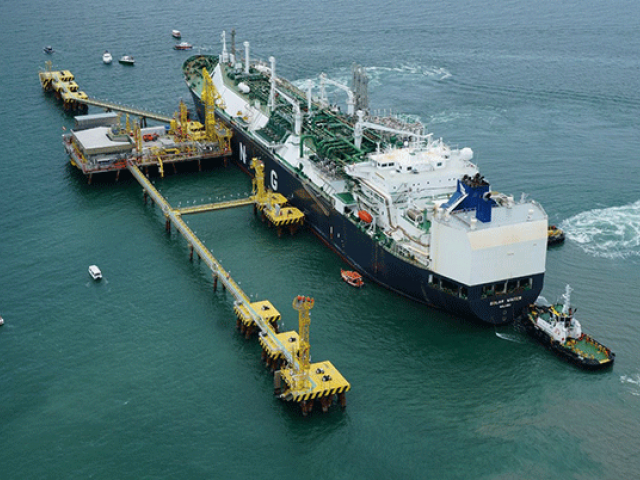 Islamabad: The efforts to finish Pakistan's second Liquefied Natural Gas (LNG) terminal has hit the snags and forced the government to defer the shipments secured in January from Gunver and ENI. This is attributed to a lack of accommodation for these LNG cargoes and the shipments have been rescheduled till October. The original commercial operation date (COD) of this terminal was supposed to be the 30th of June.
The shipments from ENI and Gunver were procured for three R-LNG based power plants in Punjab namely Bhikki, Haveli Bahadur Shah and Balloki of 1,200 MW capacity each. Bhikki is suffering from technical problems, while the other two plants are now undergoing trial operational testing. Due to delays in receiving shipments, Gunver and ENI have issued a warning to the government for supply off-take and told them to rescind the deal or be prepared to pay penalties.
The Petroleum Minister, Shahid Khaqan Abbasi has already changed the deadline of COD for this LNG terminal to September and he had originally said "Under the agreement, June 30 is the commercial operation date. We will talk about this on July 1." An official confirmed that Abbasi would be held accountable for any further delays in the COD of this LNG terminal.
Pakistan Gasport Company Ltd (PGPC) which is the contractor for this second LNG terminal will be liable to pay penalties on non-completion of this project after 30th of June to the tune of $272,000 daily. Due to payment delays, engineering, procurement and construction (EPC) contractor had stopped working according to sources. Fauji terminal took its up work despite a delay in payments.
According to Fasih Ahmed, spokesman for PGPC endorsed the delays in the LNG supply chain and put the blame on the government authorities for it. Ahmed mentioned that a 400m govt owned pipeline still wasn't complete and the three LNG power projects kept stalling which are going to be fueled by PGPC.
The Chief Executive of National Power Parks Company (NPPC), Rashid Mahmood Langrial mentioned that the two LNG-based power projects open-cycle operations are due to start in July, with the combined-cycle COD in December this year. Langrial added that both these power plants will receive LNG from the first terminal.