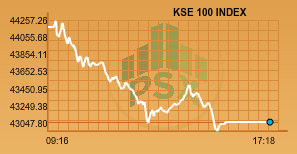 LAHORE
The Pakistan Stock Exchange (PSX) crumbled to a low of 2017, down 18 per cent from its peak. The benchmark KSE 100 has fallen around 10,000 points since it touched the peak of 53,127.24 not long ago in May.
The political situation has hit the market as hard as investors who are well known to dislike uncertainty continue to sell. Foreign investors have also shown low confidence in the best performing stock market in Asia in 2016.
The benchmark KSE 100 index fell short of breaking the 43,000 mark by just 44 points. The index recorded a low of 43,044.12 with a loss of 1,142.84 points. It landed 1,050.90 points in the red at 43,136.06. The KMI 30 index depreciated by 2.14 per cent while the KSE All Share Index shed 655.39 points. Only 50 scripts managed to record gains and 298 scripts closed lower.
The market volumes were lower too. Total traded volume went down to 167.27 million from 187.25 million of the previous sessions 187.25 million. Azgard Nine Limited (ANL -4.33 per cent) was highest traded with 11.44 million shares exchanged. The Bank of Punjab (BOP -2.74 per cent) followed with 11.07 million shares bought and sold.
Hub Power Company Limited (HUBC -2.19 per cent) declared financial results for the year ended June 30, 2017. The company registered 9.27 per cent growth in sales during the year to mark a gross profit margin of 11.86 per cent down from FY16's 14.51 per cent. Net profit margin declined to 10.69 per cent with net profit of Rs 9.60 billion. Earnings per share of Rs 8.29 was 17.07 per cent lower than last year. The board also approved a final cash dividend of Rs 2.50.
International Industries Limited (INIL -2.68 per cent) posted a 13 per cent increase in sales during the financial year 2017. Sales were reported at Rs 16.71 million and net profit extended by 134 per cent to Rs 1.84 billion. Earnings per share of Rs 15.37 was announced for FY17 which was Rs 6.56 in FY16.