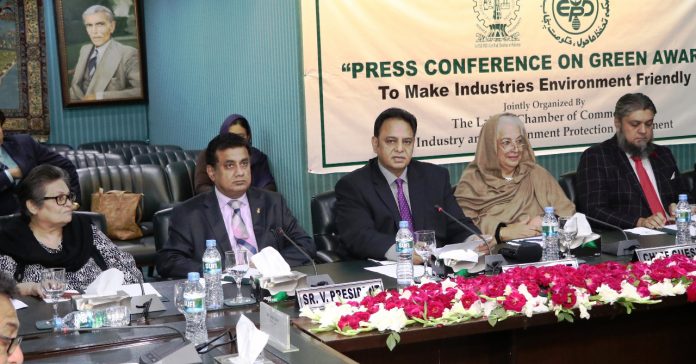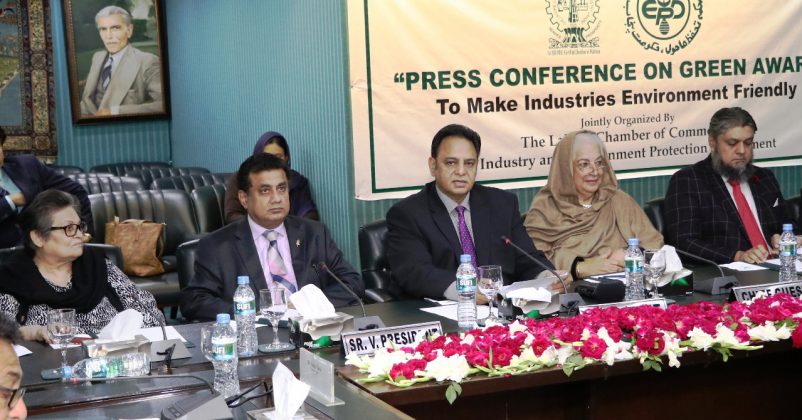 LAHORE: The Punjab Environment Department and Lahore Chamber of Commerce and Industry (LCCI) will jointly hold Green Award competition to encounter serious environmental issues.
Punjab Environment Minister Begum Zakia Shahnawaz and LCCI President Malik Tahir Javaid disclosed this in a joint press conference at Lahore Chamber on Wednesday.
LCCI Senior Vice President Khawaja Khawar Rashid, Vice President Zeshan Khalil, Tehmina Saeed Chaudhry and Environment Protection Director General Chaudhry Asif Iqbal also spoke on the occasion.
They said that at first stage, it would be held between Sunder Industrial Estate and Quaid-e-Azam Industrial Estate after those other sectors would be covered.
Provincial Minister Zakia Shahnawaz said that shifting of entire responsibility to the industry for pollution was an injustice because various other factors were also playing havoc in this regard.
She added that issue of environment could be tackled through joint efforts as it was harming all segments of society.
"Conservation and plantation of trees is our prime responsibility," she said and urged the industrial sector to avail the latest technologies for waste management, water treatment and to reduce gas omission. She also called for the separation of residential and industrial areas.
LCCI President Malik Tahir Javaid said that Green Award was a pioneering plan to 'Clean and Green' the industrial areas of Lahore, and main focus of the campaign would be to motivate industrialists to take ownership and responsibility to clean the environment around their place of work by beautification/landscaping in and outside of their factories on available spaces and by removing solid/industrial waste around.
He explained that removal and safe disposal of solid waste, wastewater, and plantation of trees, flowers and plants and improvement of the landscape would be main goals of the competition. He emphasized that beautification and landscaping which included planting trees in the industrial areas would be the first step towards providing a clean and safe environment.
"We, the industrialists and as citizens, play an important role and feel that it is every citizen's responsibility to take steps to improve and clean our environment and not just the governments. Planting trees are Sadqa-i-Jariya." he opined.
He added that it was a known fact that environment-friendly industries not only conserve environment but also promote their green image and enhance their profits. He was of the view that the industries only were not responsible for environmental pollution, as various other factors including rising number of vehicles, deforestation, digging of roads at vast scales etc. were playing a horrific role in this regard.
About forestation, he mentioned that Pakistan ranked 79 with around one per cent under-forest area while Russia and India stand first and 10th position with over 49 per cent and 23 percent respectively. He said that deforestation in Pakistan was not only leaving an adverse impact on the environment but also hitting the economy hard.
He said that forests were safeguarding biodiversity and acting as a shield against climate changes as well as equally important for the economic safety of the country, asserting that wood production, processing and the pulp & paper industries accounted over one per cent of the global gross domestic product.
Malik said: "We have to recognize that forestry is an integral feature of sustainable economic development. It should be the focus policy corridors for generating new economic opportunities."
On this occasion, Tehmina Saeed Chaudhry said that pollution in the environment was the presence of contaminants in the natural environment, which caused adverse changes and health hazards to human beings and nature. She said that by developing forestry as a commercially viable sector, the country could make the agriculture sector stable and valuable for the economy.