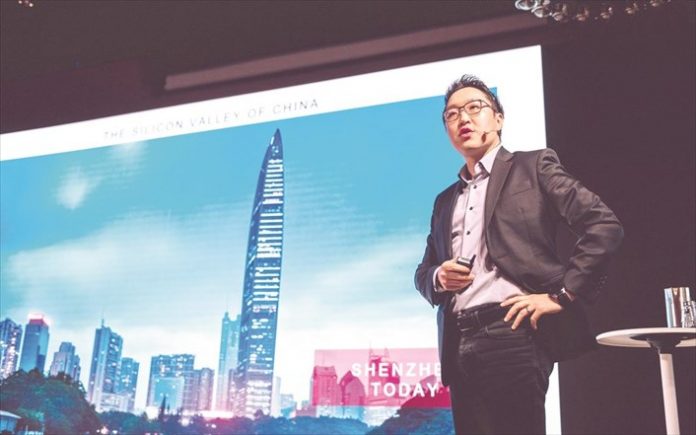 Huawei, constantly redefining the future of technology
Q: What has taken Huawei so long to become the brand it has? What is your take on Huawei? Kindly acquaint us in broad brushstrokes the phenomenon beyond handsets?
David Kim: Huawei's humble foundations were laid down by Ren Zhenfei – a 44-year old Chinese technology veteran in 1987 in the telecom equipment market. Over the years, the company grew and went from one strength to another making inroads in the fields of consumer, enterprise and carrier technology. Huawei ventured into research and development in 1990 and strived to transform fully into a technology company. Within two years, Huawei had created its first SPC Digital Switch product, C&C08, a milestone in the company's history which turned around the small-scale development dilemma, paving the way for the large-scale development it sees today.
Huawei has been, is, and will always be committed to building a better-connected world. Talking of consumer technology, Huawei is on its way to become a leading global technology company. On the handsets front, the company prides itself in producing innovative, premium and reliable products that have led us to climbing ranks in Interbrand's 2016 Best Global Brands Report, moving up from its ranking in 2015 and standing at 72.
It also ranks 49th on the latest BrandZ list of Top 100 Most Valuable Global Brands with brand awareness increasing from 76% to 81%, meaning at least eight out of 10 consumers in the world know and recognize Huawei, while it is ranked at 88 in the Forbes world's most valuable brands.
According to an Ipsos survey, Huawei products come out on top in Net Promoter Score (NPS) rating in the Greater China Region and its NPS rating outside China has also improved significantly. The brand is becoming more widely known and loved.
From top 500 to top 100 corporations worldwide, Huawei keeps challenging itself and promoting the progress of communication for all mankind. Our target is to survive in the long run.
Q: Was Huawei's planned signing with AT&T being aborted a kind of setback in having its say in the US market?
DK: As announced during CES, Huawei's latest flagship smartphone, the Huawei Mate 10 Pro, will be sold in the US through open retail channels. The product will be available via major electronics retailers including B&H, Amazon, Best Buy, the Microsoft Store and Newegg.
In the few months since its official launch, the Huawei Mate 10 Series has gained the love of global consumers outside the U.S. market. With its superior speed, long-lasting battery and phenomenal dual camera, the Mate 10 Series is redefining what consumers expect from a smartphone, and has been highly lauded by tech experts and media outlets both in the US and around the world.
We have the strongest confidence in our products and will continue to innovate and break new ground. At the same time, we believe that US consumers deserve equal opportunities to enjoy the best technology and more smartphone options through more channels, just like other satisfied HUAWEI users around the world.
At Huawei, privacy and security are always our first priority. We are compliant with the world's most stringent privacy protection frameworks, including all GAPP and GDPR privacy protection requirements. We have gained the trust of over 150 million customers in the past year alone, and now sell our devices through more than 45 of the top 50 global carriers.
Q: Huawei has always produced quality phones – at par with flagships of other brands, but only way cheaper. That meant the ability was there, yet, in the mould of a wide array of Chinese products, it did not gun for establishing its own persona, its own brand. Why not, and why now?
DK: Huawei under the garb of an important carrier partner, forayed into the mobile phone industry in 2003 in the production of OEM mobile phones. The initial model was quite simple as HUAWEI provided products according to the demand of the carrier and the consumers, and sold products via carrier channels. This model was a great success at the initial stage, which generated high volume shipments along with handsome profits compared with the early stage of carrier business.
However, because of the low threshold to entry, more manufacturers rushed into the market. Manufacturing without brand and cooperating with carriers drove down the price, while product specification continued to rise, resulting in meagre profit. This resulted in the need for transformation, and from then on HUAWEI launched its self-owned brand development route.
Q: With the slick Mate 10 and Mate 10 Pro, loaded with new features and AI technology, Huawei is entering Apple and Samsung territory. Would it be a success?
DK: The Huawei Mate 10 and Huawei Mate 10 Pro are powered by Kirin 970 – the first-ever smartphone processor designed with Artificial Intelligence capabilities at its heart. It has a neural processing unit (NPU) dedicated for AI tasks and computing. With the launch of the series, Huawei setup an industry benchmark, thereby redefining smartphones for all its competitors.
We also foresee a smart revolution, it is around the corner. In a smart society, with substantial acceleration of digitalization, human sensing and cognition will reach a new level, and man-machine interaction will be more human-centered. AI will bring unprecedented improvement in experience and upgrade smartphones to intelligent phones. By 2025, around 90% of device users will benefit from personalized and intelligent services of intelligent phones. Considering AI will come true one day, Huawei's consumer business will work on intelligent products and provide full-scenario intelligent life experience for consumers through its advantage of device, cloud, and chip coordination – thereby ensuring success.
Q: How long do you think it would take Huawei to overtake first Apple and then Samsung? Can Huawei do it without capturing the US market?
DK: We are confident of our ability and focus on innovative, consumer-centric approach to technology.  This market position is also obtained by keeping innovation and a customer-centric approach at its heart and to deliver its promise to stay focused on making brilliant smartphones.
Behind Huawei's rapid growth and expansion stands its long-term investment in R&D. As a leading technology company, Huawei invests 10% of its sales revenue in research and development, which is much higher than industry standards. During the last 10 years, we have spent $45BN in R&D.
As a result, our phones are state-of-the-art, and we are always incorporating pioneering technology like our Leica dual lens camera and Kirin chipsets, which guarantee that consumers will keep coming back to us for a premium experience.
Amidst today's challenging digital world, Huawei continues to grow because it never stops listening to its customers – their voice enabling to perfect a quality system that is by them, for them.
Q: Does it give Huawei energy and impetus to be cherished and celebrated by the Chinese people and government alike?
DK: Every brand has its own distinctive signature, which reflect the users' first impressions, and also the priority of that brand. Huawei's signature is its quality and we remain committed to delivering meaningful innovations that cater to consumers' needs while enriching their experience to a higher level.
Believing that today's intelligent world requires more advanced technologies, as well as daring innovations and products, Huawei has constantly been redefining the future of technology to usher in new waves of technological development.
Huawei's vision is to become a global iconic tech brand and our most important corporate value is to be customer centric. With this as one of Huawei's founding principles, we are committed to innovation and providing our customers with the latest technological solutions that enriches and brings comfort to their lives.