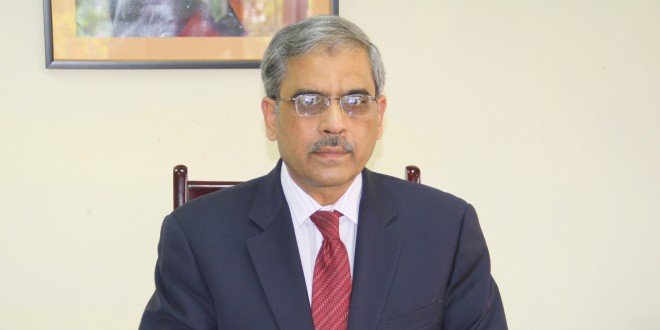 LAHORE: State Bank of Pakistan, Governor Tariq Bajwa in an interview said due to low inflation and solid growth there was no imminent devaluation of the rupee in the offing.
The central bank had allowed the currency to be devalued in two rounds by around 10 percent in December 2017 (5 percent) and March (5 percent) this year to address the worsening finances before forthcoming elections in July.
In an interview to Bloomberg, Mr. Bajwa said "Not at the moment, we just did one in March, so we are waiting to see its impact. If there is a requirement we will do it but I don't see anything imminent."
He said overall growth was on track and strong food supplies were assisting in keeping prices low.
The central bank governor said inflation being low was a very good news, however, the pressure is on current account front on which they are doing a balancing act.
Previously, Adviser to Prime Minister on Finance, Economic and Revenue affairs, Dr. Miftah Ismail in an interview to Bloomberg TV on Saturday said the rupee had attained its "optimal value" and won't require further devaluation.
The adviser to Prime Minister on Finance, Revenue, and Economic Affairs said with inflation not worrisome, the rupee didn't require any further devaluation.
The economic growth during the financial year 2017-18 stood at 5.8 percent, said Dr. Ismail and was slated to cross 6 percent in next financial year.
He added inflation was less than 4 percent, which provided the government with a lot of policy choices.
With new power plants under China-Pakistan Economic Corridor coming in, Dr. Ismail voiced optimism that Pakistan would be able to achieve its growth target of 6.25 percent for next financial year.
This follows a report in Express Tribune on Saturday in which a member of the Economic Advisory Council (EAC) claimed the government spent $7 billion in last few years to keep the rupee overvalued against the US dollar.
The member of EAC also sought action against those individuals responsible for this $7 billion spending and this assertion by Dr. Abid Hassan wasn't disputed by State Bank of Pakistan Governor, Tariq Bajwa or by Adviser to Prime Minister on Finance, Dr. Miftah Ismail.
In the current governments' tenure, over $41 billion of foreign loans have been obtained and taking Mr. Hassan's statement into consideration, 17 percent of these loans could have been utilized in shoring the rupee against the dollar.
International Monetary Fund (IMF) in its recent post-programme monitoring report said inflation-adjusted exchange rate had appreciated by around 19 percent from FY 2014-15 to FY 2016-17.