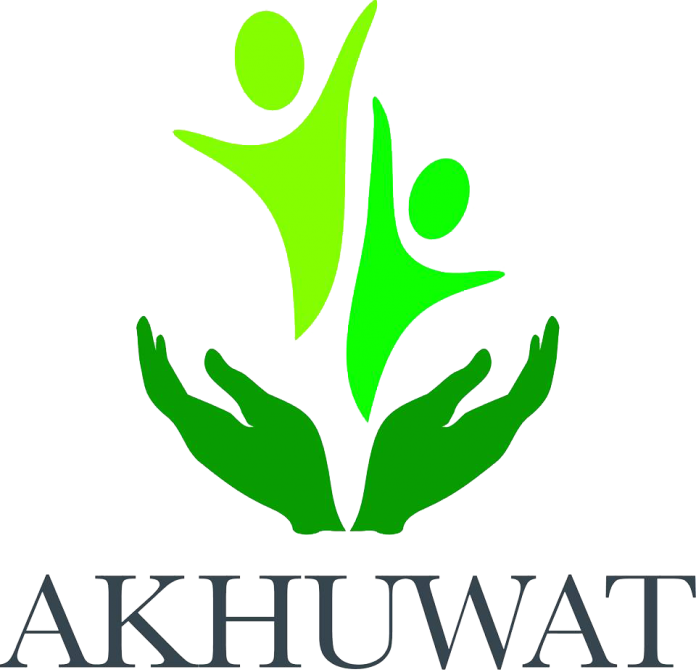 Dr Amjad Saqib, founder and chairman Akhuwat, an interest-free microfinance entity, said that increasing GDP was nothing but a mirage if it was not equitably distributed.
Other than having more than 700 branches in 350 cities of the country to conduct its operations of distributing Karz-e-Hasna – interest-free loans – Akhuwat also uses places of worships, like mosques and churches to disburse credit.
Dr Amjad Saqib, who has a celebrity status in the economic circles of Pakistan, said that Akhuwat has extended interest-free loans amounting to '$500 million to 2.2 million families' over a period of 16 years.
"If multiply the number to the average size of a family of seven then, 15 million people have been positively impacted by Akhuwat's interest-free loans," said Dr Amjad Saqib during a conference in Karachi.
He said, the loans were not asked for if the borrowers default. "The loans have been equitably distributed. These are not going into few hands," said he.
He further said, there were around haves and have-nots were about equal in Pakistan. So, if the haves share with the other 50% have-nots then everyone in this country would be living respectably.
According to Pakistan's first-ever official report on multidimensional poverty published in 2016, four out of 10 Pakistanis live in multidimensional poverty while the highest rates of poverty were found in the FATA and Balochistan.
Pakistan's Multidimensional Poverty Index (MPI) showed a strong decline, with national poverty rates falling from 55% to 39% from 2004 to 2015. However progress across different regions of Pakistan is uneven. Poverty in urban areas is 9.3 percent as compared to 54.6 percent in rural areas. Disparities also existed across provinces, according to an article published in pk.undp.org.
Profit had the opportunity to interview Dr Amjad Saqib through email to learn and disseminate on how Akhuwat operated, what its inspirations were, and also what its future plans included.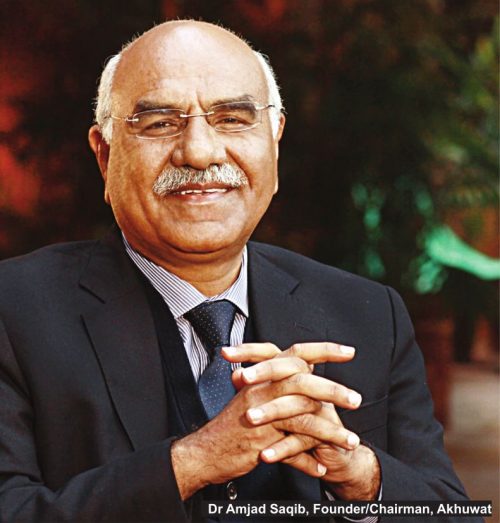 Profit: How did you come up with the idea of Akhuwat?
Dr Amjad Saqib: Akhuwat was conceived over the years, shaped by my experiences as a civil servant. Belonging to the District Management Group (DMG) gave me the opportunity to work with different segments of the society very closely and observe the problems faced [by them], especially by the poor. It was during my tenure as the general manager of the Punjab Rural Support Program (1998-2003) that can be said to be the final phase of shaping Akhuwat as an idea.
As we worked on community development and supporting the marginalised, I found the charging of exorbitant interest rates a direct contradiction of the mission of poverty alleviation. I often asked myself, how can poverty be truly alleviated till our financial system is unjust?
That is how the idea of Akhuwat developed – we set out to create a poverty-free society based on the principle of compassion and equity. By using interest-free microfinance as a tool, we are creating a bond of solidarity between the haves and the have-nots, assuring the poor that they aren't alone in this.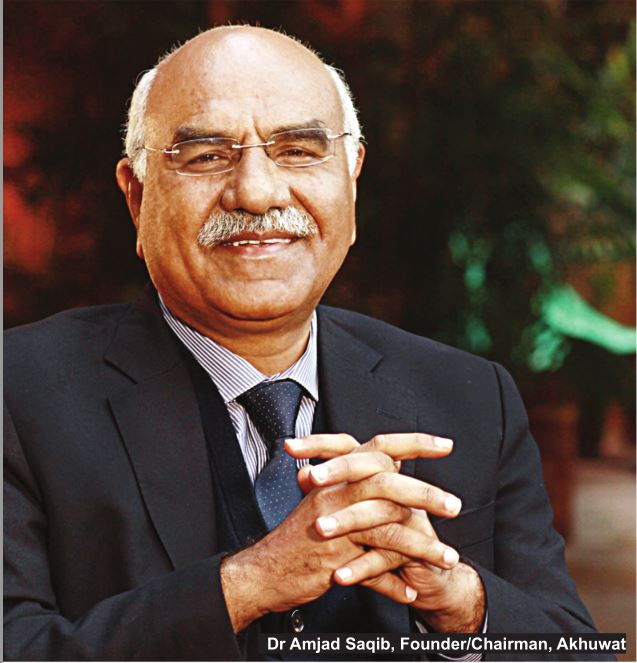 Profit: Please briefly tell us how Akhuwat works?
AS: I'm humbled to share that Akhuwat is the world's largest interest-free microfinance institute, Alhamdulillah. The primary tool being used is micro-credit in a shariah-compliant manner, that is we give interest-free small loans to the unbanked, underprivileged families. Since 2001, we have disbursed Rs56 billion among 2.5 million families through our network of 770+ branches all across Pakistan. It is important to mention that the recovery rate is an astounding 99.93%, something unheard of in conventional banking.
Profit: Is Akhuwat a welfare organization or a social enterprise?
AS: Akhuwat is a non-profit institute so you may call it a welfare organisation. However, since we are managing a 'revolving fund' and have an extremely high recovery rate, it leans towards social entrepreneurship too.

Profit: Some people criticize welfare trusts like Seylani, which mainly provide food to poor people. They are of the view that such organisations make poor people inefficient by making them idle, since they can get food without making any effort. How do you see this?
AS: Poverty has different levels of measure. In Pakistan, the Benazir Income Support Program (BISP) has developed a Poverty Scorecard Index that is essentially a scale of 1 to 100, categorizing families according to their financial status.
People who fall on the scale as 'extremely poor' or even 'chronically poor' are those worst-affected by poverty – without financial resources, a skill-set or a safety-net. Therefore, this segment qualifies for a socio-economic safety-net, even if it is in the form of access to a food bank.
Profit: Akhuwat is widely praised for its innovative ways. What, if anything, has it done differently?
AS: Akhuwat is a philosophy, a mission. Our belief in this forms the basis of our core pillars. As Michael Harper says, we are essentially breaking the rules of microfinance with these. First, all our operations are interest-free. We charge neither any interest on the micro-loans we disburse nor any service charges from the borrowers. Secondly, local places of worship, mosques and churches, are being utilised by Akhuwat for disbursement of loans.
On the one hand, where it minimizes our operational costs, the sanctity of the place also adds more value to the commitment of timely repayment of the loan. Third, to make our mission more inclusive and attainable, we promote the spirit of volunteerism. As our employees feel a stake, they work with utmost commitment. In addition, our network of global volunteers helps us in multiple ways including fundraising. Fourth, our belief in making our borrowers self-sustainable led to the development of our Member Donor Programme (MDP), which transforms our borrowers into donors. It gives me satisfaction to share that in the last financial year, the MDP contributed $2.3 million to Akhuwat.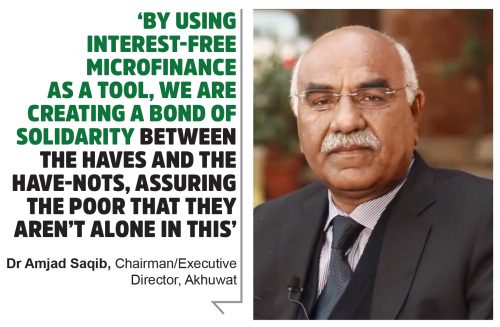 Profit: What are the demographics of donors of Akhuwat? And what is your relationship with the Punjab government?
AS: Our donor-base is very wide and encompasses people from various backgrounds. It definitely transcends geographic boundaries as we are supported by individuals from all across Pakistan and the world over, including Canada, the US, Europe, the UK, the Nordic Region, and the Middle-East.
As I've mentioned MDP earlier, it shows that people from even the most marginalized financial segment are supporting us. On the other end of the spectrum, some of the leading members of the business sector have been ardent supporters from initial days.
The Punjab government launched its Chief-Minister's Self-Employment Scheme (CMSES) in November 2011. The Punjab Small Industries Corporation (PSIC) is the administrative body of the scheme and Akhuwat is its implementing partner.
Profit: Do your borrowers use the loans to invest in business or to fund their consumption needs?
AS: Our borrowers can be categorized on a scale of 16-40 on BISP's Poverty Scorecard and belong to around 350 different cities from all provinces of Pakistan, including Gilgit Baltistan. It's of interest to note that 47 percent of our total borrowers are women.
Profit: Why financial inclusion of underprivileged people is important?   
AS: Unless the underprivileged are financially included, they are being deprived of sustained access to basic needs. They don't have access to services such as formal loans, savings plan or even insurance. So in a nutshell, financial inclusion is important for that social segment to plan for the future and have a better standard of living.
Profit: How many people are employed by Akuwat?
AS: Alhamdulillah, Akhuwat has 6,300 full-time employees

Profit: What else needs to be done to achieve or reach what Akhuwat has set as its vision?
AS: Akhuwat's vision is to create a poverty-free society, a society that is embedded in a strong bond of solidarity between the affluent and the marginalized. A society where all have an equal socio-economic opportunity to sustain and grow. To achieve that, much more has to be done. Irreversible policy measures have to be taken – and education is that long-term policy tool that will confine poverty to the museums.
That's exactly why Akhuwat has ventured into education services as well. We've adopted 298 schools of the Punjab government that are providing free education to above 40,000 students. Akhuwat has established a free residential college for boys in Lahore and a bio-tech research facility in Faisalabad. But the goal is much larger – Akhuwat University, the first-free university, is under construction and is planned to be inaugurated in August this year.
Akhuwat is taking steps towards fulfilment of its vision. However, as long as there is one poor person or an uneducated child in Pakistan, we are all poor.
Profit: Does Akhuwat have some religious inclination or is it only using religious terminology to have its ends meet as a marketing technique, as many banks nowadays do?
AS: The philosophy of Akhuwat, originating from Muakhat or brotherhood, is embedded in Islamic history – it relates to migration of Muslims from Mecca to Madina where Prophet Muhammad (PBUH) established a bond of solidarity between the locals and the immigrants.
In a similar manner, Akhuwat works to create a bond between the haves and the have-nots, with the privileged class assuming 'responsibility' for the well-being of the underprivileged.
Our core tool is shariah-compliant microcredit – if a loan worth Rs100 is taken, that's all you repay. There are no hidden costs or service charges in any form. Akhuwat only charges Rs200 as the application fee. In addition, insurance (takaful) equaling one percent of the loan amount is voluntary.
It is important to mention here that though Akhuwat practices Islamic microfinance and ensures shariah-compliance, our work is for humanity, and not exclusively for the Muslims.
Profit: There are reports that Akhuwat receives 'preferential treatment' from Punjab Government when it disburses loans under CM's Self Employment Scheme-Punjab because Akhuwat's key official is CM Shahbaz Sharif's close associate. Is this true?
AS: I'm a former civil servant and was last positioned as the GM of Punjab Rural Support Program in 1998. But that doesn't have any link to the CMSES.
It is true that CM Shehbaz Sharif observed the Akhuwat model of microfinance and that is what led him to development of a self-employment scheme. However, Punjab Small Industries Corporation (PSIC) was given the role of the administrative body of the scheme. It is the PSIC that selected Akhuwat as the implementing partner after a rigorous process and filing an application against a public advertisement and meeting all TORs (Terms of Reference).
To ensure transparency in the process and the scheme at large, the Government of Punjab has appointed third party evaluators and internal auditors as well that are responsible to oversee the scheme.

Profit: If it's true, then can this be defended considering that this attitude from government may kill fair competition, which is considered good for a given industry and subsequently for economy and society?
AS: The success of the CMSES reflects an opportunity for the microfinance sector. If practitioners work together and develop innovative microfinance products that cater to local needs, we can collectively persuade the government to join as a stakeholder to promote the cause.  
Profit: Other entities may also be interested in disbursing government loans against a premium, less than that of Akhuwat, which it charges from the government as its administrative expense?
AS: It would be excellent and it implies that the administrative cost of revolving funds, other than the government-backed, has been lowered, therefore, providing the end borrower access to microcredit at a lower rate.  
Profit: It has been learnt from credible source that Akhuwat charges 7% of the total loans it receives from government to extend to borrowers. Is this per cent justified?
AS: A global average of costs incurred by a microfinance institute is anywhere between 15 to 20 percent.Akhuwat has been successful in reducing it costs substantially to 7-10 percent as it does not have to bear an interest on its funding sources (conventional institutes raise funds for on-lending from commercial financial entities).
Secondly, Akhuwat minimizes its operational costs by cutting down on office expenditure and transaction costs. Our branches have a 'farshi' setup, eliminating the need for furniture expenses and other costs.

We are a non-profit organization, not charging any additional cost from the borrowers. So this 7% under the head of service charge is justified.
Profit: Also what will happen if there is a change in government and the new people want to work with someone else? Is there a contingency plan in place for Akhuwat having expanded its operations multifold based on the money it receives from this one large entity?
AS: Akhuwat is a philosophy, it is now a mission of millions who support Akhuwat. And till a poverty-free society has been created, we won't let go. As long as there is an element of 'good' and 'empathy' in the society, Akhuwat will continue.
You may want to see it like this – Akhuwat would not have been an ardent believer in collaboration and cooperation, speeding up the process of outreach by encouraging model replication, had we ideally not been working towards a poverty-free society where Akhuwat does not need to exist.
Coming to the CMSES and Akhuwat's role as the IP, it would certainly be great news and would be considered Akhuwat's success, if another institute grows to an operational capacity to take over the project's implementation.
Yes, we do have a plan to self-sustain Akhuwat for a given time period.
Profit: As per our sources, NAB has also been reviewing your contract with the Punjab govt. Have they contacted you in this regard?
AS: No, the NAB has not contacted Akhuwat directly. Relevant government departments have requested for required documentation in the past though.