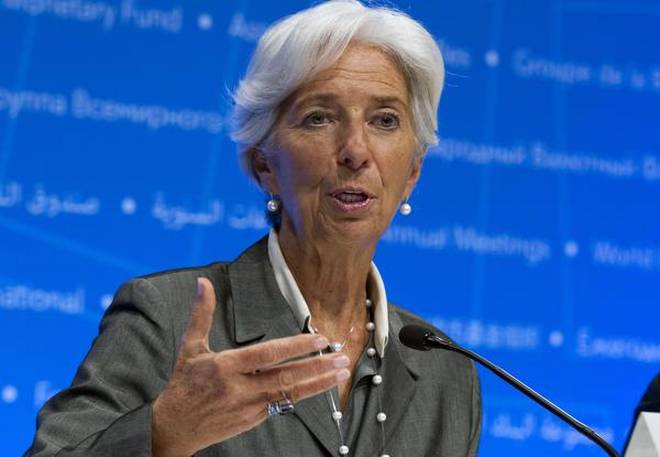 WASHINGTON: International Monetary Fund Managing Director Christine Lagarde said on Monday that trade disputes and tariffs are starting to dim the outlook for global growth, calling on countries to resolve their differences and reform global trading rules.
Lagarde, in a speech ahead of the IMF and World Bank's annual meetings next week in Indonesia, said growth was at its highest level since 2011 but had plateaued, with fewer countries participating in the expansion.
"In July, we projected 3.9 percent global growth for 2018 and 2019. The outlook has since become less bright, as you will see from our updated forecast next week," Lagarde said, without providing new figures.
"A key issue is that rhetoric is morphing into a new reality of actual trade barriers. This is hurting not only trade itself, but also investment and manufacturing as uncertainty continues to rise," she added.
While the United States is growing strongly because of tax cuts and easy financial conditions, there are signs of slowing in the euro area and Japan, she said. China is also showing signs of growth moderation, a trend that will be exacerbated by its trade disputes with the United States, which has imposed tariffs on $250 billion worth of imports from China and is threatening duties on $267 billion more.
The trade war, along with higher interest rates and a stronger U.S. dollar, is starting to affect some emerging market countries, Lagarde said, citing new IMF research that suggests emerging market countries excluding China could potentially face debt portfolio outflows of up to $100 billion. That's a level that would broadly match outflows during the global financial crisis a decade ago.
"To be clear, we are not seeing broader financial contagion — so far — but we also know that conditions can change rapidly. If the current trade disputes were to escalate further, they could deliver a shock to a broader range of emerging and developing economies," Lagarde added.
The IMF and World Bank meetings in Indonesia come 20 years after the Asian financial crisis, in which the archipelago suffered massive capital outflows and had to turn to the IMF for a bailout package that brought painful austerity.
Lagarde praised Indonesia's efforts to build a more resilient economy and said the IMF would provide financial assistance where needed.
REFORMING TRADE RULES
Without specifically naming the United States and China, Lagarde called on countries to "de-escalate and resolve the current trade disputes" and start to work on building "smarter rules" for the global trading system, including reforms to the World Trade Organization.
"The immediate challenge is to strengthen the rules. This includes looking at the distortionary effects of state subsidies, preventing abuses of dominant positions and improving the enforcement of intellectual property rights," she said, citing issues affecting both Chinese practices and U.S. technology company dominance.
But if agreement among all countries cannot be achieved, she said she would encourage them to work on more flexible trade deals by "like-minded" countries to work within WTO rules.
Particular attention needs to be focused on e-commerce and tradeable services, such as engineering, communications and transportation, Lagarde said. IMF research shows that reducing trading costs by services by 15 percent could boost total gross domestic product of G20 countries by more than $350 billion this year — the equivalent of adding another South Africa to the group.
Lagarde also warned about the risks of a growing debt pile that has reached a record $182 trillion, about 60 percent higher than at the start of the financial crisis in 2007.
She said emerging economies should take action to rein in the growth corporate debt and to make government borrowing more sustainable, while advanced economies should cut deficits and put public debt on a "gradual downward path."
Better management of public assets could help generate more revenues, she said, citing a new IMF analysis showing that 31 countries have total public assets of $100 trillion, well over twice their GDP.