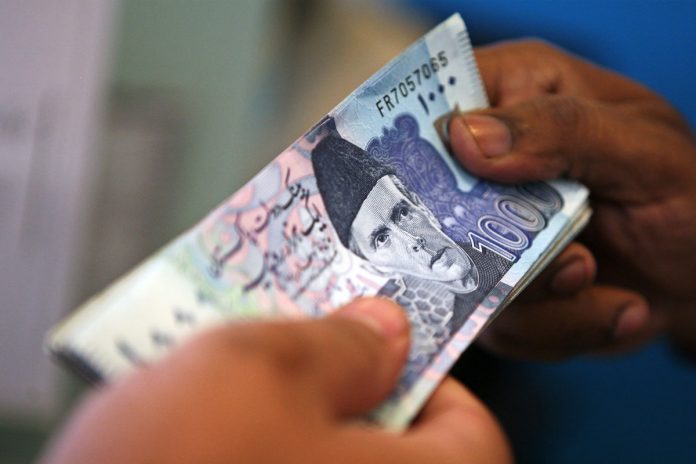 — Chamber president says rupee devaluation will result in skyrocketing inflation that would eventually lead to higher interest rates
KARACHI: Karachi Chamber of Commerce and Industry (KCCI) President Junaid Esmail Makda on Tuesday expressed deep concerns over the record devaluation of rupee against the dollar, saying that the sharp rise in the dollar would to sky-rocketing inflation in the country.
"The dollar has risen to an all-time high of Rs134 and it must be controlled come what may, as it could have a devastating impact on all segments of society, particularly the middle and lower segments," he said in a statement issued by the chamber.
The KCCI president said that the rupee plunged terribly against the dollar on Tuesday in response to the government's decision to rush towards the International Monetary Fund for a bailout. He noted that the State Bank of Pakistan (SBP) had devalued Pakistani rupee several times in the last six to eight months.
"We fear that the rupee may fall further in the coming months, keeping in view Pakistan's dwindling foreign exchange reserves," he said, adding that such abrupt devaluations in the past also brought with it an economic distress that lasted for several years.
"Currency devaluation for a country like Pakistan will have negative economic implications in the long run," he opined.
Makda said although exporters of Pakistan will be happy to see the rising value of the dollar and economic indicators will also display some improvement in exports, but "this increase can only be attributed to the dollar as the export volume will remain the same."
In fact, he added, Pakistan's exports have descended sharply around the world because of the rising cost of doing business.
"It must be kept in mind that the rising value of the dollar would lead to costlier imports while exporters will also have to bear the brunt due to rise in the cost of imported raw materials," he cautioned.
The KCCI president said despite so many measures taken to discourage the imports, including the imposition of regulatory duty on many items, Pakistan's imports remain inelastic and "a weaker rupee will certainly not help".
He said exports from Pakistan mostly consists of raw materials (petroleum, chemicals and metals), intermediate goods or machinery, adding that any devaluation would increase their cost which would subsequently make local exporters less competitive.
Makda said that it took almost 10 years to rebuild investors' confidence to an extent that foreign investors were gradually making a comeback. "If the currency is devalued, it would send a negative signal to our potential investors."
The KCCI president warned that the depreciation of rupee will terribly affect the lives of the masses as it will increase the prices of all essential items and result in skyrocketing inflation that would eventually lead to higher interest rates.