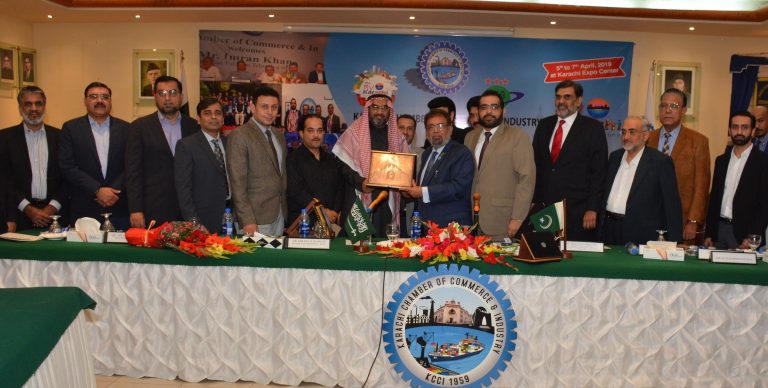 Saudi Advisor Ahmad Al Ghamdi says businessmen of his country are more than willing to invest in Pakistan if govt guarantees them complete security 
KARACHI: Saudi Advisor for Energy and Mineral Resources Ahmad Al Ghamdi has said that Pakistan was not just a foreign country for Saudi Arabia, but "a brotherly country with strong relations based on similar religion, traditions and cultures".
"Pakistan and Saudi Arabia have historical relations but unfortunately these relations had become stagnant until lately, as both countries are now making consorted efforts to strengthen their ties. The opportunities for mutual collaboration are in abundance but it will require some time to materialize," he stated during his visit, as part of a Saudi business delegation, to the Karachi Chamber of Commerce and Industry on Friday.
Commercial Attaché of Saudi Embassy in Pakistan M Ahmed Asiri, KCCI President Junaid Esmail Makda, Senior Vice President Khurram Shahzad, Vice President Asif Sheikh Javaid, and the Saudi delegates attended the meeting.
The Saudi advisor suggested that the business communities of both countries would have to meet more frequently and participate in trade promotional events being staged in Saudi Arabia and Pakistan, which would result in further strengthening the relations.
He said that the Saudi private sector was unaware of Pakistan's business potential and they were scared of making investments in the country due to security concerns.
"If we keep saying Pakistan is safe and secure, they will not believe us, but if someone from the Pakistani government comes and guarantees about safety and security, Saudi investors will certainly not hesitate to oblige and make investments," he added.
Ghamdi said his country was interested in undertaking renewable energy projects in Pakistan, adding that hopefully, a Saudi company, Aqua Power, would soon be visiting Pakistan to introduce its renewable energy technologies.
"We have also discussed the investment opportunities in Pakistan's mining sector and in this regard, a memorandum of understanding would be signed soon between both the countries," he informed.
Referring to the recent visit of Prime Minister Imran Khan to Saudi Arabia, he said the PM was particularly focused on the visa constraints that Pakistanis face in acquiring the Saudi visa.
"Saudi Arabia is now going through a transformation as many new rules have been introduced which will hopefully benefit both Pakistan and Saudi Arabia. The ease in the issuance of visas is being discussed between the two governments, particularly the tourist visa, so that people could be encouraged to explore tourism in Saudi Arabia," he added.
The Saudi advisor mentioned that the Saudi ambassador in Pakistan was doing an excellent job by frequently holding meetings with all Pakistani leaders.
Referring to his meeting with Prime Minister's Advisor Abdul Razzak Dawood around two months ago, Ahmad Al Ghamdi said, "During the meeting, we asked about some importation and exportation issues which were resulting in lower than expected trade volume. We are trying to resolve these issues and have already formed a committee, comprising Saudi and Pakistani representatives, to identify the obstacles and devise strategies on how to resolve the same with a view to make things easier. Hopefully, we will finish that exercise soon and these obstacles will be removed for the benefit of both countries."
He said, "We would like to get some of the very best Pakistani products in Saudi Arabia and would also like to improve Saudi exports to Pakistan as we want to create a win-win situation for both countries."
Earlier, KCCI President Junaid Esmail Makda, in his welcoming address, informed that a delegation from the Karachi chamber, being led by himself, would be departing for Saudi Arabia on January 12 to explore opportunities of enhancing bilateral trade.
He stated that Pakistan and Saudi Arabia share healthy bilateral relations based on cooperation in different economic spheres, particularly in trade and investment. In recent years, he added, both countries have exchanged high-level delegations and developed plans to expand bilateral cooperation in trade, education, real estate, tourism, information technology, communications and agriculture.