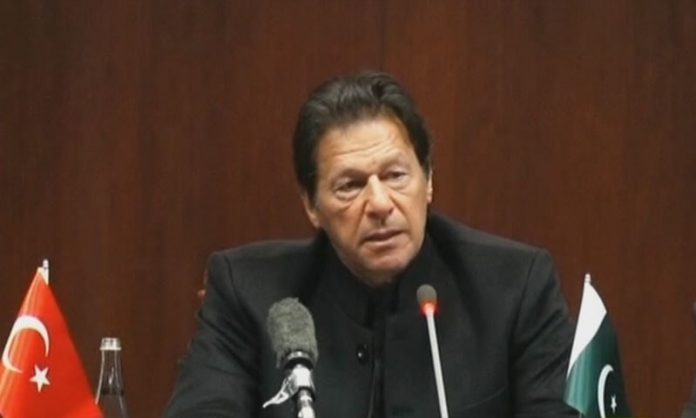 'Pakistan in the 1970s went wrong because we had a socialist mindset which became a deterrent to wealth creation'
ANKARA: Prime Minister Imran Khan on Friday met with a delegation of the Turkey-Pakistan Business Council of the Foreign Economic Relations Board of Turkey.
Addressing the delegation, the PM said that Pakistan in the 1970s "went wrong because we had a socialist mindset which became a deterrent to wealth creation".
Although the socialist regime stepped down in the subsequent decades, the mindset prevailed among the bureaucracy, he noted, adding that the Pakistan Tehreek-e-Insaf government, however, supports investments and is taking measures to create money-making opportunities.
He assured the Turkish business leaders of an investor-friendly environment in Pakistan under the PTI government.
"We, as a government, are now making consorted effort to remove impediments in the way of investments," he said, adding that a separate cell has been established at the Prime Minister's Secretariat to monitor the process.
He said the government has already discussed the issues being faced by Turkish investors in Pakistan. "The current government's top priority was the export sector."
The prime minister referred to the Chinese model as his inspiration for governance. "They (China) have taken 700 million people out of poverty in the last 30 years. Our main concern is also to take people out of poverty," he asserted.
Prime Minister Khan, accompanied by his economic team, is on his first official two-day visit to Turkey. He will meet President Recep Tayyip Erdogan today.
It is expected that the prime minister's visit to Turkey would bring some respite in the prevailing economic crunch in Pakistan as some memoranda of understanding on trade and investment are likely to be inked between the two sides.
The prime minister is accompanied by Foreign Minister Shah Mehmood Qureshi, Finance Minister Asad Umar, Planning Minister Makhdoom Khusro Bakhtyar, Adviser to the PM on Commerce Razak Dawood and Special Assistant to the PM on Overseas Pakistanis Zulfikar Abbas Bukhari.