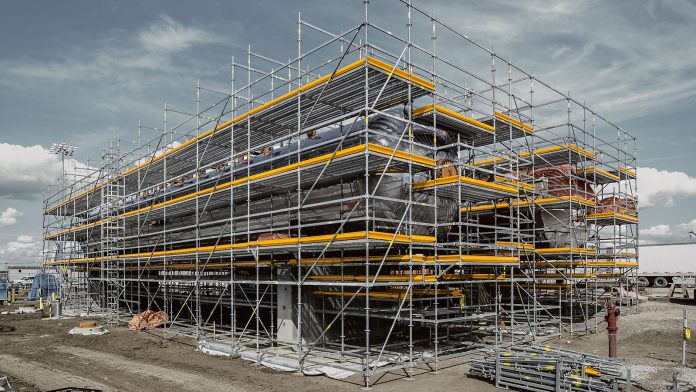 The research agency believes risks associated with CPEC projects have diminished since the 2018 Pakistani general election and these factors will reduce the overall risk profile of CPEC
LAHORE: A report released by Fitch Solutions on Monday said improved transparency regarding China-Pakistan Economic Corridor (CPEC) will continue fueling the growth of Pakistan's construction industry over the course of the next decade.
The research agency highlighted that since the execution of CPEC in 2013, the megaproject has various challenges emanating in huge downside risks to many projects.
Notwithstanding, these challenges eleven CPEC project termed as early harvest projects have been finished so far, said the report.
It said despite major media and political scrutiny regarding CPEC, this progress on projects highlights Beijing's improving track record in project execution and its dedication towards infrastructure development in Pakistan.
According to Fitch Solutions, CPEC projects have exhibited good progress in terms of implementation; since a total of 3,240MW of capacity had been added to the country's national grid, constituting for over 11% of total installed capacity in Pakistan.
Additionally, the research agency highlighted the 392-kilometre Multan to Sukkur section of the Peshawar-Karachi motorway, a key CPEC project is over 80% complete and is slated to finish by August this year.
Fitch Solutions believes continuing Chinese involvement in the country's construction market will be positive in the shape of timeliness and implementation and will continue to enhance the growth of the construction industry in the near future.
Talking about the debt related concerns to CPEC projects, the research agency said they will start to decrease on the back of improving transparency.
It highlighted a media report published in December 2018 pertaining to Pakistan's governments' debt to China purportedly given to be in the region of $40 billion.
In response to this, Pakistan's Ministry of Planning, Development and Reform followed by the Chinese embassy in Islamabad released statements clarifying the total value of the above-mentioned 22 early harvest projects finished and under construction to be around $18.9 billion, said Fitch Solutions.
Moreover, $6 billion of loan which accounted for 32% of total value were provided by the Chinese government and will be repaid over 20-25 years from 2021 at an interest rate of around 2%, said the report.
In an emailed response to Profit, James Su, Infrastructure Analyst, Fitch Solutions said, "According to official sources, Chinese government lending to the Pakistani government is currently estimated to be around $6 billion.
The arrangement is for Pakistan to repay the debt over a 20-25-year period, starting from 2021, at a composite interest rate around 2%."
When asked how he saw Saudi Arabia's and United Arab Emirates (UAE) financial assistance on the external front for Pakistan, Mr Su said, "From an infrastructure perspective, the injection of financing by Saudi Arabia and UAE will help Pakistan to diversify its sources of funding.
However, Pakistan is still heavily reliant on Chinese funding and there is a lot more room to diversification its funding sources for infrastructure projects"
According to Samiullah Tariq, Head of Research at Arif Habib Limited (AHL), the report from Fitch Solutions has clarified a lot of doubts regarding transparency of CPEC financing and would help take the project forward besides making it more sustainable.
"Transparency is good for all stakeholders, financiers, government media etc.
However, the data was already available in bits and pieces, it's just that it has been provided in a collective form and disseminated," he added.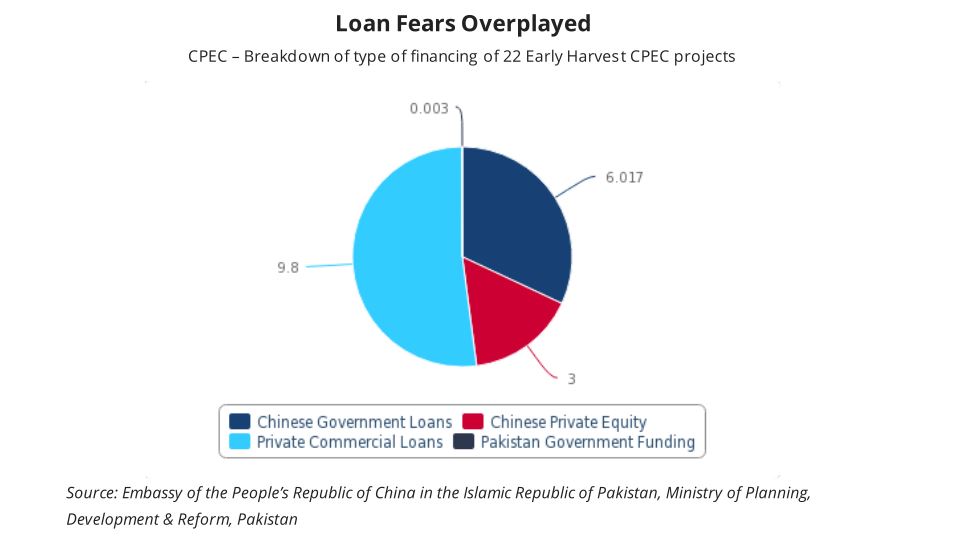 As per its assessment of the Chinese embassy and Ministry of Planning statements, Fitch Solutions said it observed an improvement in terms of transparency of CPEC projects considering China also shared a breakdown of the type of financing and the projected investment for each project.
It noted this was a welcoming sign for the country's construction industry as demands for greater transparency over CPEC projects are now being addressed by authorities.
Also, the research agency feels this would provide assurance for potential investors in the country's construction industry.
It said the improved transparency regarding CPEC projects will aid Pakistan's efforts in the renegotiation of an IMF bailout, which if sanctioned could provide its struggling economy with much required economic relief.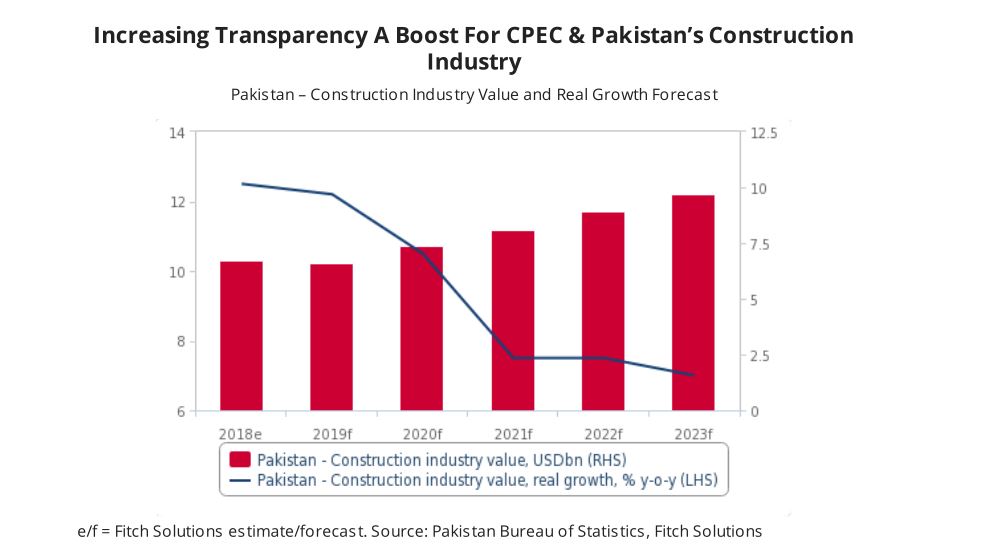 As per the research agency projection, the real growth of Pakistan's construction will average at 8.9% over the next five years.
Fitch Solutions indicated it would revise their projections to include possible positive ripple effects across the economy, including the construction industry, in the event an IMF bailout is secured.
Furthermore, it shared that political risks linked with CPEC projects have decreased.
"Previously, we note that the transition in power from Pakistan Muslim League-Nawaz (PML-N) to Pakistan Tehreek-e-Insaf (PTI) posed a downside risk to the Pakistani construction industry as new Prime Minister Imran Khan pledged to review Chinese backed projects, which could potentially have led to project delays and cancellations," said Fitch Solutions.
But it said the political situation in Pakistan since then had stabilized and Prime Minister Imran Khan has shown an inclination to cooperate with China on various issues including CPEC.
It concluded that the downside risks arising from political uncertainty were falling and bilateral project lead by CPEC will get a boost in terms of policy implementation and project continuity.