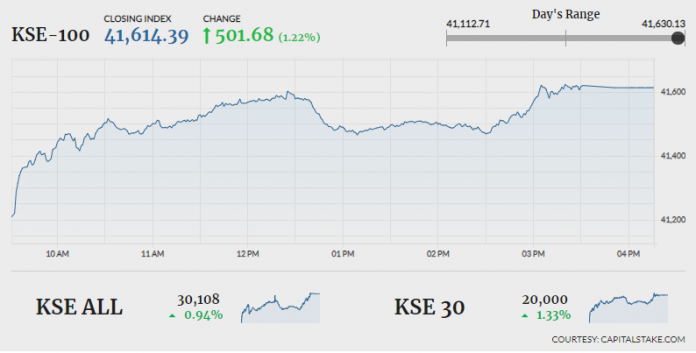 Cement sector manages to add 4.58pc in its cumulative market capitalisation
KARACHI: Bullish sentiments prevailed at the Pakistan Stock Exchange (PSX) on the first trading session of the week, as indices traded in green all day long while volumes surged significantly. Foreign investors ended as net buyers in the outgoing week with a net inflow of $12.82 million.
On the economic front, S&P Global Ratings downgraded Pakistan's long-term foreign currency rating from B to B- maintaining a stable outlook for the long-term rating. The rating agency also stated that its stable outlook for Pakistan reflected its expectation that the country will secure adequate funds to meet its external financing need for the next 12 months.
The KSE 100 index reached its intraday high of 41,630.13 after accumulating 517.42 points. The index, in the end, settled higher by 501.68 points at 41,614.39. The KMI 30 index appreciated by 1.75pc (1,198.57 points) to close at 69,798.65, while the KSE All Share index went up by 281.81 points to end at 30,107.80. Out of 362 traded scripts, 228 advanced, 116 declined while prices of 18 remained unchanged.
Trading volumes were recorded at 228.92 million. The Bank of Punjab (BOP +1.84pc) led the volume chart with 19.84 million shares exchanging hands, followed by K-Electric Limited (KEL +3.25pc) with 17.60 million traded shares and Azgard Nine Limited (ANL -0.52pc) with 12.01 million shares swapping hands.
Ending as a major gainer, the cement sector managed to accumulate 4.58pc in its cumulative market capitalization. DG Khan Cement Company Limited (DGKC +5.00pc), Maple Leaf Cement Factory Limited (MLCF +4.99pc) and Kohat Cement Company Limited (KOHC +4.98pc) touched their upper-circuit breakers, while Lucky Cement Limited (LUCK +4.71pc), Fauji Cement Company Limited (FCCL +4.96pc) and Bestway Cement Limited (BWCL +4.05pc) also bagged handsome gains.
The engineering sector (+3.38pc), pharmaceuticals sector (+3.01pc), woolen sector (+2.96pc) and paper and board sector (+2.73pc) all ended as gainers. On the other hand, tobacco sector (-2.64pc), jute sector (-1.70pc) and automobile parts and accessories sector (-0.43pc) closed the session as losers.