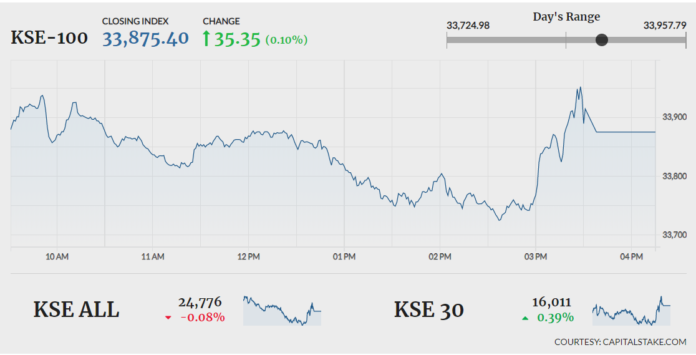 KARACHI: Amidst lack of positive triggers and times of economic uncertainty, the investors of Pakistan Stock Exchange endured another range-bound session on Thursday.
Meanwhile, keeping up with their recent trend, foreign investors ended as net buyers on Wednesday with a net inflow of $1.22 million.
The KSE-100 Index recorded its intraday high of 33,957.79 soon after the session began. It then drove in the opposite direction to touch an intraday low of 33,724.98. The index finally settled flat (+35.35 points) at 33,875.40. The KMI-30 Index gained 127.71 points to close at 53,841.59, while the KSE All Share Index ended lower by 19.31 points at 24,775.91. Out of total traded scripts, 103 advanced and 141 declined.
The overall market volumes remained low and were recorded at 39.49 million. Dost Steels Limited (DSL +7.03pc), Maple Leaf Cement Factory Limited (MLCF -0.39pc) and Hub Power Company Limited (HUBC +0.24pc) were the top picks of the day. The scripts had exchanged 4.39 million shares, 2.72 million shares and 2.21 million shares respectively.
The pharmaceutical sector lost 1.72pc from its cumulative market capitalization. GlaxoSmithKline Consumer Healthcare Limited (GSKCH) was down by 4.40pc, GlaxoSmithKline (Pakistan) Limited (GLAXO) by -2.05pc and Abbot Laboratories (Pakistan) Limited (ABOT) by -1.95pc.
The automobile assembling sector also chipped off 1.03pc from its total market capitalization. Honda Atlas Cars (Pakistan) Limited (HCAR -2.43pc), Atlas Honda Limited (ATLH -1.33pc) and Indus Motor Company Limited (INDU -1.18pc) all ended in the red zone.
Efoods Limited (EFOODS) traded with its new name of Frieslandcampina Engro Pakistan Limited (FCEPL +2.50pc) for the first time on Thursday. The stock closed at Rs53.64 with a volume of 51,000.