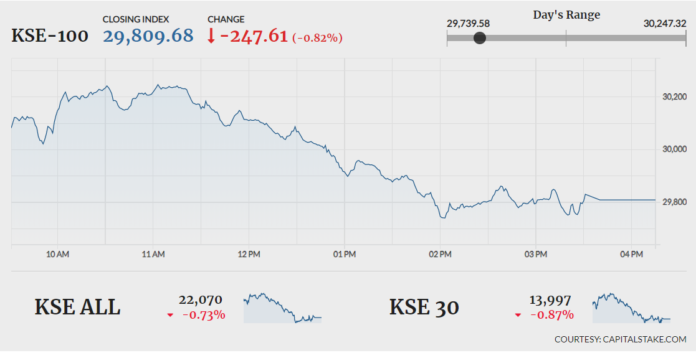 KARACHI: After a relatively smooth start to the trading session on Tuesday, the Pakistan Stock Exchange (PSX) succumbed to selling pressure, closing the day in the negative territory.
Foreign investors were net sellers on Monday with a net outflow of $1.54 million.
On the economic front, the Sensitive Price Indicator (SPI)-based weekly inflation for the week ended on August 29 decreased by 0.18pc as compared to the previous week.
Meanwhile, the government on Monday tried to justify the waiver of over Rs200bn for business tycoons, saying it was not a 'free lunch' and that the move was taken 'in the best interest' of the nation.
Moreover, the government has allowed the import of life-saving medicines from India in order to provide relief to patients amid bilateral tensions with New Delhi over the illegal annexation of Indian-occupied Kashmir last month.
Shedding 190.03 points, the benchmark KSE-100 Index recorded its intraday high of 30,247.32. It then took a U-turn and lost 317.71 points to touch its day's low at 29,739.58. The index finally ended lower by 247.61 points at 29,809.68. The KMI-30 Index plunged 395.13 points to settle at 46,341.83, while the KSE-All Share Index sunk by 161.72 points, closing at 22,069.75. Out of the total traded shares, 87 advanced and 192 declined.
The overall market volumes declined from 77.45 million in the previous session to 64.04 million (-17pc). Maple Leaf Cement Factory Limited (MLCF -2.66pc) was the volume leader with 6.19 million shares exchanging hands, followed by Worldcall Telecom (WTL -2.44pc) and Unity Foods Limited (UNITY -2.42pc) with 4.55 million shares and 4.19 million shares respectively.
The banking sector (-69.93 points), cement sector (-49.38 points) and power generation and distribution sector (-40.57 points) steered the KSE-100 Index into the red zone.
Among the companies, Hub Power Company Limited (HUBC -34.68 points), Lucky Cement Limited (LUCK -30.74 points) and MCB Bank Limited (MCB -26.26 points) dented the index the most.