It started, as things often do in Pakistan, with a WhatsApp forward. On Thursday, December 5, a group of Pakistanis living in Singapore received a WhatsApp message from one of their fellow expats: Tania Aidrus. It was a link to the official YouTube channel of the Prime Minister's Office Pakistan. At 5pm PKT, the Prime Minister was expected to deliver a speech on and inaugurate the 'Digital Pakistan' ceremony in Islamabad. 'Folks, watch this space', the message read. 
That link spread to others in the Pakistani diaspora, to tech people, bankers back home, and even the 'Uncle' WhatsApp groups in Pakistan. Shortly before 5pm, news channels in Pakistan began asking: who is Tania Aidrus? What's the prime minister calling her on board for?
Clad in a formal maroon shalwar kameez, Tania Aidrus delivered a 13-minute speech on her vision for a digital Pakistan in front of the who's who of the state: the Prime Minister, the State Bank Governor, even de facto Punjab Chief Minister Jahangir Khan Tareen (yes, we know technically it's Usman Buzdar, but come on… who are we kidding here?). That speech was almost designed to be viral. It had all the right ingredients to be blasted on TV and forwarded again on Whatsapp: woman, expat, Google, Naya Pakistan. 
Seemingly overnight Tania Aidrus went from a competent but definitely unknown Google employee, to a public figure and the chosen messiah for Naya Pakistan's digital vision. There isn't much on her – ironically for someone leading the digital initiative, her own digital footprint is quite small. By her own account, she does not use Instagram or Facebook, is only really active on LinkedIn, and rarely tweets: she tweeted 12 times in 2018, and 8 times in 2019 prior to December 5. 
That has all changed. She has now amassed over 60,000 followers on Twitter. People online are debating everything about her: from her Urdu, to her resume, to even what is up with that weird spelling of her last name.
So who is she – and can she deliver on what she has promised?
Aidrus who?
Tania Aidrus is, in her own words, a "Pakistani at heart" first and foremost. 
"I am here for something very specific. I believe in the absolute potential of this country and its people," she says in an interview with Profit.  
A native of Karachi, she completed a Bachelors in Science from Brandeis University in the United States, and holds an MBA from the MIT Sloan School of Management. 
This is not the first time she's worked with a government: previously she consulted for the US government, and Fortune 500 companies at her job at the consulting firm Booz Allen Hamilton in the suburbs of Washington DC. She also co-founded ClickDiagnostics, a startup that helped connect rural patients in emerging markets to doctors globally.

She then made the pivotal shift to Google in 2008, working in the Global Business Organization at Google in the United States, and then 7 years ago, switched to Singapore.
It was in Singapore where Tania could finally concentrate on matters a little closer to home. She was in a unique role as the Country Manager for South Asia Frontier Markets, which allowed her to focus on Pakistan. Her responsibilities included expanding the internet ecosystem, production adoption amongst consumers and accelerating innovation. 
Google Singapore, as indeed most tech offices indeed around the world, has few Pakistanis. There are no special or controversial reasons for this, just perhaps a smaller pool of talent to choose from than other countries. 
The effect of this is that while few in number, Pakistanis in the tech space abroad are a close-knit bunch. While Profit could not print comments from current Google employees due to contractual obligations, it can definitely be said that Tania is considered somewhat of a leader among her peers, and there is widespread admiration for her executive vision. 
She eventually rose to the position of Director, Product Management for Payments and Next Billion Users (NBU) at Google. The NBU team focuses on helping build new products and services which address emerging trends and the needs of users in growth markets. One of her roles was also to help launch Google Pay in India, formerly known as Tez. 
"I have been at Google for over a decade but the past three years I've been working on the Next Billion Users team with a focus on payments," Tania explains. "I also spent time understanding digital infrastructure in countries and how countries have made the leap from cash to digital economies."
It was around this time last year that a member of the PM reform team cold emailed her asking her about a potential role in the Pakistani government. This led to a back and forth over a period of months, involving phone calls and trips to Islamabad, and also included meetings with Jahangir Khan Tareen and the prime minister himself, culminating in that speech on national TV.
The Digital Initiative
In her speech at the Digital Pakistan event, Tania spoke about five pillars that need centrally-planned strategies to enable innovation.
Tania spoke about the first pillar, access and connectivity, as the greatest democratising force of our times, stressing that 'roti, kapra, makan' in our times needs to be revised to 'roti, kapra, makan, aur internet.'
Coming to the second pillar, Tania emphasised that Pakistan already has the foundations for a digital infrastructure with NADRA, under which the entire country's biometric information exists as a government database. Aidrus spoke of the potential to use NADRA to link services across sectors and build public goods such as payment systems, on which private players could then come innovate.
On the third pillar, Tania focused on procurement – of which the Pakistani government yearly does Rs3 billion worth, almost entirely on paper – emphasising just how much Pakistan would have to gain by digitising this process.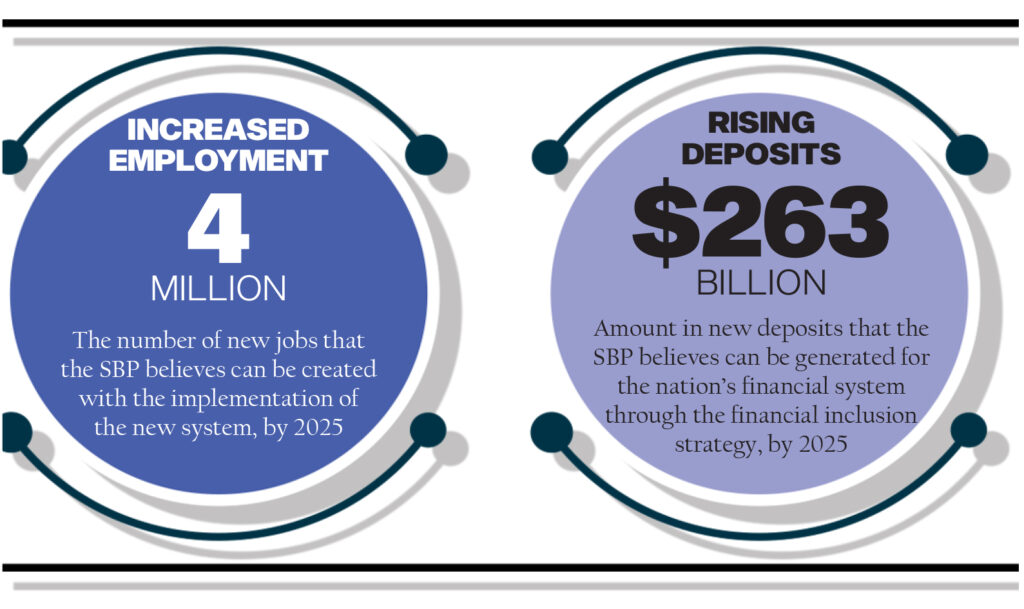 Her fourth pillar emphasized preparing the future generation for transitions, saying, "our children are not ready to participate in the digital economy." 
Finally her fifth pillar – Tania spoke of the need to create a comfortable environment for investors to invest, making it easy for small start-ups to open, set up accounts and access money when they need to in order to scale up. 
The speech was an interesting combination of Pakistani patriotism, Silicon Valley optimism and old-fashioned corniness (i.e., the 'Siachen Jawan without internet' made an appearance). But some mild military pandering aside, it was easy to appreciate what Tania is trying to do. In a country that thinks digital means an increase in the number of computers, she is instead trying to forge a digital narrative in a Pakistani context at a national scale. 
The question she is asking us to consider is this: what does a digital Pakistan even look like?
Digital Pakistan
There are two ways of answering that question: the slightly abstract national long-term pivot required, and the more tangible tools that Pakistan has, or will have, at its disposal. 
To the first point: Digitally speaking, Pakistan is not really a unique country.  What's applicable in India, Indonesia, Thailand, or the Philippines is just as applicable in Pakistan too. 
Pakistanis in the tech world have some gripes: essentially that Pakistanis themselves are so caught up in the narrative of Pakistan being unique in its problems. Those problems are often geopolitical: say Afghanistan-Pakistan relations, the Middle East, Iran, etc. 
Why is this relevant? It's such a common narrative that we forget that instead of looking at the  west at our problems, we could look east at what a potential future could look like. 
People in the tech world confirm this view, with some saying while there was a lot of interest in Pakistan as potential market, it was difficult to disassociate Pakistan from these dominant geopolitical narratives. And even when foreign companies are genuinely interested in the country, they are often lost, and rely on a government narrative to guide them. 
The problem is the current government, and the governments before it, also have not been able to provide that narrative themselves. 
When is the last time you heard a Pakistani government official talk about what we could learn from Southeast Asian countries?  Tania, in her speech, actually addresses that head on, saying "Pakistan is now where Indonesia was 8-9 years ago. In the last decade, 5-billion-dollar-plus companies have been created in Indonesia. There is no reason that 5-billion-dollar-plus companies can't be created in Pakistan in the next five years." 
And yet, the development model that persists in the popular Pakistani imagination is either Dubai (obscene wealth) or some place in the West, like London (colonised wishful thinking). 

What is required is instead a radical shift in reimagining a digital future. Especially when it comes to digital transformation, many trends are similar across emerging markets. You see the same tech companies popping up in Asia, Africa and Latin America: ride sharing, democratizing transport, ecommerce, digital wallets. (Pakistan has: Uber/Careem, Airlift/SWVL, Daraaz, Easypaisa/Jazzcash). 
That long-term digital future will also include tough conversations about what it means to be a digital citizen. In India, Aadhaar, introduced in 2009, is often touted as a model for biometric tagging, that has has helped digitize the country. Aadhaar has also faced vehement opposition in the years from citizens concerned about data privacy, now that companies have access to sensitive citizen data (with companies not accountable the way a government is). 
That conversation in the public imagination about such a system's adoption does not yet exist in Pakistan. That is despite the fact that Pakistan already has an identification system in place, which it in fact introduced nearly 20 years prior: NADRA. It is just that till now, no one in the government or tech sector – or indeed someone in NADRA itself – has considered the implications of NADRA or how to best integrate it with the existing banking and fintech structure, healthcare, or education.
It is when those conversations happen that Pakistan will have moved beyond its current nascent stage in digitization. A digital Pakistan does not just mean an influx of apps, or internet connectivity – it is about creating a fair and free digital economy in Pakistan, where everyone is cognizant of their rights as a digital citizen.
To the second point about tools at our disposal: It has been an interesting few months in the digitization space in Pakistan. Though this initiative was launched in December, earlier in November the State Bank of Pakistan launched the National Payments Systems Strategy. 
To understand what that means, it actually helps to look across the border at India's UPI, or the Unified Payments Interface system. Coincidentally, Tania worked on Tez (now Google Pay) in India at her time during Google, which works off of the UPI system. 
The UPI is a form of a Real Time Payments (RTP) system, which is one that facilitates bank-to-bank transactions at low cost.
As per a November 2019 white paper from Google, creating an RTP is actually pretty difficult. 

"Governments must rework regulations, define technical standards and protocols, invest in technology, and align financial institutions with the needs of merchants of — in particular small businesses — and consumers to deliver a trustworthy system that can drive innovation and growth." the paper says.
But it is worth it. The paper cites the statistic that a cashless model adds more than 3 percentage points to the annual GDP of emerging economies.
According to Google, at least 54 countries have rolled out RTP systems, and by 2020, that number is projected to grow to 70.
In India, the UPI was introduced in 2016. This created the foundation on top of which a digital economy can be fostered and thrive. It was wildly successful, with an eightfold increase in transaction volumes in 2019. In fact, by 2025, digital transactions in India could be worth $1 trillion annually.
This is the kind of success that the State Bank of Pakistan is considering mimicking. As per the SBP report, Pakistan's stats are abysmal: in 2019, only 21.3% of all adults in Pakistan own a transaction account, of which only 7% are held by females. And cash continues to dominate the economy as it is considered  "safe" by almost all the retailers and suppliers.
Pakistan already has an existing RTP: 1Link. But 1Link was made and is managed by banks, and their primary motive is profit. 
Instead, the SBP is planning on making a seperate, coexisting RTP, with the underlying premise not profit but financial inclusion. That RTP is the Micro Payment Gateway for branchless banking transactions. 
According to the SBP report, "By expanding the market and the legal/regulatory environment, approximately 69.3 million adults can be provided with transaction accounts, while an additional 9.2 million adults can obtain access to transaction accounts through the implementation of a financial inclusion strategy in Pakistan." 
This is in turn (or so the SBP hopes) will "boost Pakistan's GDP by 7%, creating 4 million jobs, resulting in $263 billion in new deposits, representing a potential market of $36 billion, all by 2025."
That is one potential future. However, the real question is how will the SBP and Tania collaborate? The State Bank's job is to provide the RTP – it is Tania's job to figure out how to link it and connect it to her goals. 
So why now? 
Speaking to Tania, one is instantly aware of how committed she is. "Technology and Pakistan have always been a passion, and I feel like in the last couple of years, a lot of the pieces in the ecosystem have really come together. The country is really poised for phenomenal growth," she says, adding, "Every sector has a role to play. The government's role is to facilitate that growth." 
Another important point to consider is how much of being an expat matters. When she referred to expat and diaspora talent in her speech, the camera panned Dr Reza Baqir – another highly educated Pakistani now working in his home country.
When asked why she came back now, she replies: "To be honest, would have I considered it earlier? Maybe not?"
"With this government, I felt that there was a desire to engage Pakistanis like me. There was a willingness at every level. I also genuinely feel that this government cares about the future of every Pakistani and wants to do something for the average person, not the select few. That deeply resonates with me. That has to be the starting point when you begin with anything." 
"The PM has seen the power of technology in driving transparency, accountability and efficiency in the hospital he built, Shaukat Khanum, and he knows about the transformative power [of technology]"
Does it all sound explicitly pro-PTI? Tania is extremely clear in stating that creating a digital Pakistan is beyond party lines. "This is not a one-woman or one-man show… And we can't change things overnight, but I am clear on what we need to do and what I can bring to the table."
What the ruling Pakistan Tehrik-e-Insaf (PTI) had managed to do, however, is create excitement among the diaspora – and it is important to not that this government, while perceived very differently in some quarters of this country, still carries massive weight among its supporters abroad.
Tania says she has received not hundreds, but thousands of resumes from all over the world since her speech "…and it's just day 3".
The future 
So what is next in the future for Tania? For one, she plans on visiting a lot of cities across Pakistan. She consistently reiterated that she wants to build an inclusive model, and one in which all provinces are equally paid attention to. "It's really important to get a pulse of the entire country, not just the big three cities," she says.
Secondly, she plans on building up her team. Currently, the team is made up of around 3-4 people, and is essentially the PM reform team that brought her on to begin with. 
"We have to first identify the right type of people – passionate, driven and incorruptible and have to identify the kind of structure we want to create that will allow us to execute nimbly. We have to identify the key stakeholders in those 5 pillars. There has to be a 3-month and 6-month plan before we can develop longer term roadmaps for each of the pillars that we will be working on." Tania says. 
She also hopes that her future team not only features representation across genders, but also to be socioeconomic classes: "you can't solve problems for every Pakistani without having people who can relate to those problems."
And third, Tania and her future team will hope to introduce the digital version of fireside chat: a monthly live-stream where she shares what her and team have been up to, and what her thoughts are moving forward. 
But for now, Tania says she wants to be able to 'put her head down' for the next 3 to 6 months to be able to work efficiently. If she gets what she wants – we might actually have a digital economy similar to other developing countries – and all the concerns, problems, and challenges that come with it. Are we ready for that collective digital future?