KARACHI: Investors of the Pakistan Stock Exchange (PSX) witnessed bloodbath on Thursday, as the indices nosedived right from the word go, triggering a 45-minute 'market halt' (at 2:13p.m.) for the second time this week.
A 'market halt' is a standard protocol for risk management purposes which is triggered when the KSE-30 Index moves 4 per cent either way and remains there for five consecutive minutes.
Shedding 1,777.48 points, the KSE-100 Index touched its intraday low at 35,895.77. Amid lack of triggers, it settled lower by 1,716.56 points or -4.56pc at 35,956.69.
Among other indices, the KSE-30 Index lost 936.44 points to close at 15,992.37, while the KSE All Share Index lost 816.70 points, settling at 25,310.97. Of the total traded shares, 42 advanced and 240 declined.
Article continues after this advertisement
Top losers of the day included The Bank of Punjab (-6.76pc), Fauji Cement Company (-6.93pc), Maple Leaf Cement Factory (-6.70pc), K-Electric Limited (-4.28pc) and Pioneer Cement Limited declining (-6.50pc).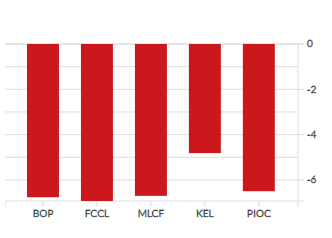 While the market sentiments were on the low, it was interesting to note that the cement companies were performing strongly on the stock market off late. Analysts believe that this was due to the cyclical benefits that the cement sector will witness due to the global plunge in oil price.
Hamza Kamal, an investment analyst from AKD securities, commented that the decline posted by the PSX was in line with global market trends and also due to a strong cool off in cement.
Speaking on the drop, Arsalan Soomro, Managing Director KASB noted, "The globalization of coronavirus is belatedly taking a toll on Pakistan stock market as well. The risk-off mode – coupled with PKR depreciation coinciding SCRA outflows – is turning the mood sombre."
The rupee witnessed its third successive day of decline on Wednesday to settle at Rs158.42 per dollar after the greenback gained 98 paisas in interbank market. Over the span of the last three days, the value of PKR has gone down by 2.6pc owing to a Rs4.05 rise in the price of the dollar.
Adnaan Sheikh, Assistant Vice President Research at Paki Kuwait Investment Company, however, said this was not an isolated event with regard to Pakistan. "Foreign outflows in India have topped $7 billion over March, while in Pakistan, the outflow during March has been just over $400 million."
Soomro further commented, "Although the discount rate cut and oil prices plunge more than off-set the negative impact, it would take time for the dust to settle. We saw massive profit-taking in growth stories along with pressures on blue-chips. Next week should see the index bottoming out."
OPEC has recently revised its global demand to rise by 60,000 barrels per day in 2020, as opposed to previously expected 920,000 bpd. With the OPEC+ disintegrated and a price war between the two major oil exporters, Saudi Arabia, and Russia, prices are likely to lie low.
Today's bearish trading was in line with Monday's pattern whereby a market halt was imposed for risk management purposes due to the KSE-100 Index slashing by nearly six per cent during intraday trading.
Monday had marked the largest day slum in PSX's history.
GLOBAL FIASCO
Financial markets around the globe have been witnessing sharp declines in their stocks. With US President Donald Trump announcing travel bans, global economy is likely to feel the heat in terms of international trade. With the World Health Organization naming the coronavirus outbreak as a pandemic on Wednesday, the markets have responded accordingly.
US S&P futures nosedived by 4.9pc in Asia following the S&P losing out on 4.89pc a day before. This leaves the market just shy of entering the bear territory.
Umer Farooq, an analyst at AKD noted, "The KSE-100 plunge was in line with the moves in global markets, as the domestic market continued to track global equity indices. Black swans generally lead to convergence of all correlations to +1."
TECHNICAL SUPPORT LEVEL
Naushad Chamdia, CEO of Standard Capital said, "I see a support zone at 34,500 which is about 61.8pc down on Fibonacci level from its previous gain from 28,500 to 43,500."