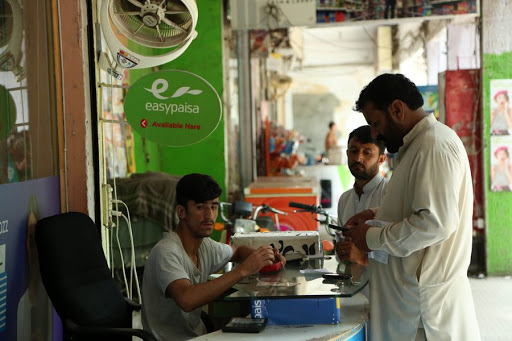 ISLAMABAD: In a bid to facilitate the general public, particularly those who remit money to their native areas after receiving salaries, the Islamabad Capital Territory (ICT) administration has allowed mobile banking merchants to operate for another five days (up till April 7).
The extension has been made keeping in view the difficulties faced by the government employees and the private sector workers as the operational time was limited to three hours only.
The earlier directive made on March 30 expired on Thursday April 2, but a large number of requests were received by the deputy commissioner office that government employees, especially those executing security and law & order duties, were unable to take time to visit the mobile banking merchant as they were operating from 12:00 pm to 04:00 pm only in Islamabad territory.
"There are a number of police personnel who belong to other provinces. Similarly, rangers and other army personnel remit money at the start of every month after receiving salaries to their families residing in native areas," said an officer of the ICT administration.
The notification for the extension of this service has also allowed the money changers as well as the mobile banking merchants to operate their businesses at usual working hours that are from 9am to 8pm.
Islamabad Deputy Commissioner Hamza Shafqaat said that the decision has been taken after taking all stakeholders into confidence and that all the precautionary restrictions already implemented in the city such as maintaining social distance by the customers etc. will have to be strictly followed.
There are around 900 micro banking merchants of mobile companies belonging to Easy paisa, U-paisa, Jazz Cash and other online payment services in Islamabad, while there are more than 2,000 retailers in federal capital who provide only the mobile and internet service top-ups.
Apart from the remitting money, the other issue faced by the residents due to market closures was recharging their internet and mobile phone accounts.
There are up to 165 million cellular subscribers belonging to four cellular companies in the country with more than 98pc using prepaid services. Only 7-10pc customers have accounts with Jazz Cash, Easypaisa and Upaisa, and they can recharge their accounts themselves.
The recent report by the Pakistan Telecommunication Authority (PTA) highlights that the internet traffic has increased by more than 15pc increase in internet usage since the markets have been closed.
"The internet and mobile usage has increased not only due to online classes and work from home scenarios but also because thousands of shopkeepers and their employees, auto mechanics etc. have nothing to do but linking at digital forums and remain online," said an executive of a cellular company.