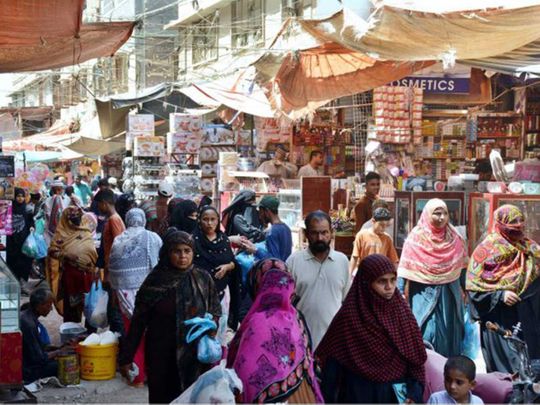 –Compared to 11-14 May last year, consumer traffic in Rahim Yar Khan, Multan and Gujrat rises 60pc, 30pc and 15pc, respectively
–Data shows restricted market timings resulting in congestion in stores, thereby increasing coronavirus threat
LAHORE: As markets reopened this week after coronavirus lockdown was eased by the government on Monday, retail stores saw a sharp recovery as consumer traffic to retail stores crossed last year's count as consumers rushed to markets ahead of Eid.
Shopper Value, a platform developed by Confiz Limited to help retail brands scale operations and optimise conversions through person counting cameras, gathered data from a sample of over 350 stores across 40 cities and 30 brands in Pakistan to analyse consumer behaviour post lockdown.
The platform had compiled data from May 11-14, 2020, and compared it with data collected from May 22-25 last year. Both sets of dates represent Ramadan 17-20 for a more rational comparison due to the high demand around Eid. Furthermore, May 25, 2019 being a Saturday was statistically adjusted to account for Ramadan 20 being a Thursday in 2020.
The data revealed that though consumers were somewhat cautious in visiting markets, resulting in 17 per cent less consumer traffic on Monday compared to the same day (lunar calendar) last year, the footfall in stores steadily increased till Ramadan 19 (May 13, 2020), registering a 19 per cent increase compared to the same day last year. On Ramadan 20, this year, traffic was 4 per cent less than last year. Footfall on Ramadan 20 might also have been higher than last year but the government had shut down markets again in various cities for violating the SOPs.
Overall, for the four-day period this year, aggregate traffic was 2 per cent less than last year.
The insights revealed that while there was a general increase in traffic across the board, the population in some cities had been more cautious than others when it came to visiting markets.
Consumer traffic across retailers in Lahore, Faisalabad, Islamabad and Peshawar registered over 10pc per cent decrease as compared to last year, whereas Sialkot's consumer traffic fell over 20pc compared to the same period last year. For the cities that saw an increase in traffic, Rahim Yar Khan's differential was the highest where consumer traffic was roughly around 60 per cent more than last year. Meanwhile, Multan had a roughly 30 per cent increase in traffic, Gujrat around 15 per cent, whereas the increase in traffic in Sargodha and Abbottabad was found less than 10pc.
The data reveals an interesting picture that while the lockdown has been lifted with shop timings being restricted between 9am to 5pm, it has increased a lot more congestion in stores as they serve the same or higher level of traffic while operating for only two-thirds of hours as compared to last year, thereby increasing the chances of spreading the coronavirus among these consumers.
The congestion is all the more evident from the fact that 45 per cent of the retail stores are still closed despite an ease in the lockdown, implying that the same or more consumers are crowding a smaller number of shops compared to last year.
Islamabad and Karachi have a considerable number of stores that are still not open primarily because retail stores, at least in the sample, have a very high tilt towards Malls, which have still not been open for business.
Another interesting observation from the data was that the conversion of visitors into buyers was 46 per cent higher than the same period last year driven by two main factors: a) people who are visiting are doing so in smaller groups to avoid the risk of contracting the disease b) there is a significantly higher intent to purchase due to the needs that have not been met during lockdown.
Consequently, retailers have seen a 43 per cent growth in same store transactions. However, given that over 40 per cent of the stores are still shut down, retailers have seen an overall drop of 25 per cent in transactions compared to last year.
Furthermore, the overall impact on the retail business is anticipated to be even more since retail businesses can only operate four days in a week due to the government issued SOPs.
Based on the above observations, the company suggested the government that if operations are to continue with a better balance with public health, all brands should be allowed to open all their stores for the traffic/buyers to spread across locations instead of congesting in the limited number of stores that are open, thereby decreasing the risk of spreading the virus.
It was further suggested that the authorities should consider allowing somewhat longer hours and perhaps more number of days during the week for retailers to stay operational so that the number of visitors at any given time and location can be spread across the increased number of hours and days, which would lead to lesser congestion in markets and eventually curbing risk of spreading the virus.
Moreover, Shopper Value also encouraged brands to track occupancy of their stores through automated counting of visitors and limit entry into the stores based on the capacity of the store and make this information clearly visible inside their stores.