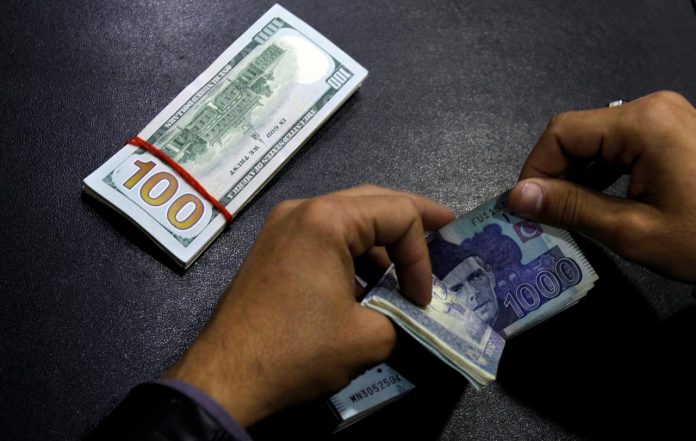 LAHORE: The Pakistani rupee declined to an all-time low of Rs168.3 against the US dollar in the interbank market on Monday, falling by 0.6 per cent or 97 paisas from its close of Rs167.3310 on Friday.
In the kerb market, the buying and selling rates of US dollar to a rupee were recorded at Rs167.15 and Rs167.85 as per Forex Association of Pakistan.
The Pakistani rupee has declined by 8 per cent this year and a report released earlier this month by the Institute of International Finance (IIF) stated that the local currency was trading close to its fair value.
In June, the local currency had exhibited volatility against the greenback and remained under constant pressure before the downward slide was reversed courtesy of timely financial inflows of around $3 billion received by the State Bank of Pakistan (SBP).
Consequently, it helped the currency to stabilize and had traded around Rs166-167 levels against the greenback since then.
Speaking to Profit, Malik Bostan Forex Association of Pakistan President said, "There is pressure even though reserves and remittances are improving."
He explained that the trade gap has improved but it is not in surplus territory yet. According to Bostan, Pakistan was importing COVID related goods and has seen a surge in the import of furnace oil.
Regarding monetary policy expectation, Bostan said when there is a cut in interest rates, the rupee should strengthen, however, due to the fear of outflows it tends to weaken in our case.
"While travel has not fully opened, there is inter-market demand for dollars when people are travelling along with a rise in air fares of international airlines making up for PIA's ban," he shared.
According to Khadim Ali Shah Bukhari Securities Managing Director Arsalan Soomro, it could be the pent-up demand from imports as the economy opens and inventory gets replenished.
"Secondly, the IMF review talks haven't been moving at a great pace either. Prompting the currency to find equilibrium. The balance of payment is not in the red zone at all," he added.
Maha Jafer Butt, Director Research Capital Stake told Profit, "The rupee has continued to remain under pressure as foreigners continue to divest.
According to SBP's figures, a net outflow of US$ 49 million has been recorded in equities and US$ 26.67 million in T-bills during the month until July 17. Furthermore, the rise in demand for petroleum products has increased the import bill."
However, Adnan Sheikh a senior market analyst said that it was smack on the face of people who were getting happy over the ten to twenty paisa daily appreciation.
He shared that this shows the situation is still fragile, pressure on the rupee is more than the recent support.
"Despite debt relief and a net inflow of around $2 billion over the past few weeks, there is still pressure on the rupee," he added.
"With lower discount rate and resumption of imports along with higher oil prices there will be more pressure to come," he concluded.
In a report last week, Fitch Solutions predicted that the value of Pakistani Rupee will remain at an average of Rs163 against the greenback in 2020.
"However, the Pakistani rupee will be weakened to an average of Rs171.15 in 2021 and this is because the demand for Pakistani assets is low," according to its analysis.
During recently concluded fiscal year (FY) 2019-20, the rupee depreciated 4.8 per cent year-on-year (YoY) against the 24 per cent experienced in FY19.
Since 2001, the rupee has on average depreciated 5.4 per cent YoY and since July 2017 it has cumulatively depreciated by around 58 per cent against the greenback.