SINGAPORE: In the next few weeks, Munchies is set to become its own separate and legal entity, with its own CEO, cross-functional teams, employee stock options plans, and support in technology and growth hacking from VentureDive, while Unilever Pakistan will support the supply chain and operations.
The snacking app follows an asset-light hyperlocal model that selects the best fit retailer or warehouse and pairs it with the relatively evenly positioned dedicated delivery fleet member, for a quick turnaround between an order being placed and fulfilment.
According to Saad Fazil, co-founder and managing director at VentureDive, the snack delivery app will soon offer exclusive products that will not appear or be available on any other physical retail store, online marketplace or e-tailer partner of Unilever Pakistan. He said the legalities for doing this are in the pipeline and expect finalization within a few weeks. The business is currently working hard to fine-tune the delivery pairing algorithm and conducts a reverse auction connecting an order with the best proximity fit retailer or warehouse with the best proximity fit delivery person, in order to reach the end customer within ten minutes of placing the order.
The statements were made during a webinar with The Nest I/O, which was announced less than two weeks after Profit broke the story that the snacking delivery app Munchies was in fact a joint venture between VentureDive and Unilever Pakistan, which executives from both businesses initially denied when asked about it. The webinar confirmed many of the salient findings from the Profit report, with Fazil admitting that the product roadmap does in fact mention subscriptions.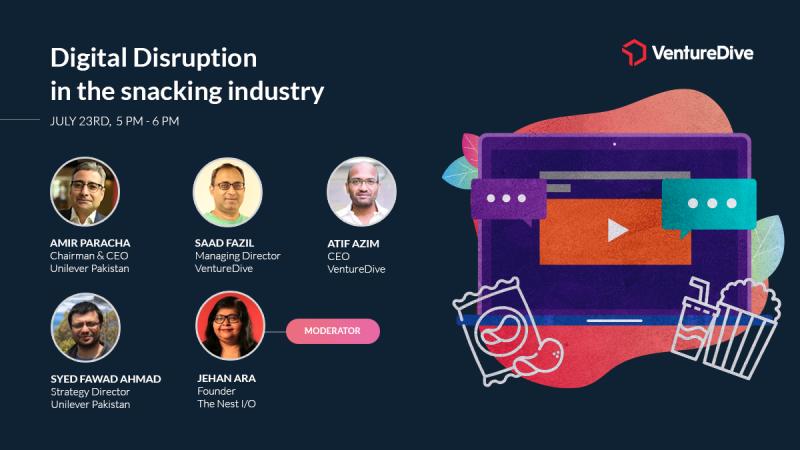 Syed Fawad Ahmed, the newly promoted director of digital transformation at Unilever Pakistan, said that Munchies seeks to provide instant gratification, adding that subscription models are well placed for low involvement product categories within groceries instead of being applicable fr pure impulse products. He said that Munchies was considering looking into pre-bookings for large gatherings such as parties, which he stated would be more relevant that subscriptions.
"Unilever Pakistan has the lions share of ice cream," said Amir Paracha, CEO of Unilever Pakistan. "So there's not much activity in this area, neither is anyone wanting to do it. So we thought why not we start our own channel and overtime [it has] morphed into the munching platform starting online from ice cream and then we said let's take chocolates on board and let's take confectionary on board."
Paracha said that for him, the north start metric within Munchies is delivery time, due to the impulse nature of the product, adding that this is the basis of using a dedicated fleet. He cited the need to be able to control the temperature from the point of pick up to delivery and the need for fleets having polar bags to being critical variables in making this happen within the hyperlocal model. 
"So the entire ecosystem is worked around how we continue compressing time," said Paracha. "And that's the reason we went for our own fleet because had we gone for the shared fleet we wouldn't have been able to really crack this north star that we have been gunning for."