With over five million app downloads in Pakistan, Twitter has spent over a decade struggling to break its way into the Pakistan market. Represented in Pakistan by Connect Ads, only 29% of Twitter users are female, with 31% of users between the ages of 18 to 24, 39% between the ages of 25 to 34, and 30% over the age of 35. 
According to Sensor Tower, the app is ranked in the Pakistan top 25 on the Apple App Store while it is only in the Pakistan top 100 on the Google Play Store. Across both app stores, it is ranked number one in the category of news, beating Reddit, Dawn News, Quora, and even Google News. As a result, the app is perceptually considered to be a niche platform akin to how Dawn News has been able to charge similar rates to Urdu newspapers with better circulation. 
In speaking with Profit, advertising and media executives shared that Twitter is perceived to be a platform of the literate and the elite, reserved for high level conversations that influence policy. 
"Twitter has a very specific [and] niche audience – although mostly key opinion formers –  the people generally using this platform belong to a perceived higher [socio economic class]; are opinionated and educated," said Naveed Asghar, the chief executive officer of GroupM Pakistan. "But it certainly helps capitalize on trending issues in a more effective way vis-a-vis any other platform, thus making it a choice for those specific brand needs/objectives."
According to Google Trends, the popularity of Twitter in Pakistan spiked in May 2010 (along with Facebook) and peaked in September 2014, with the American microblogging and social networking service gradually dwindling in popularity ever since.
Speaking to Profit, former Connect Ads head of sales Nabeel Khan said that in 2012, Twitter had 0.7 million users in Pakistan and is now at over 5 million daily active users. By comparison, Facebook has 40 million users according to its self-serve advertising tool while TikTok has nearly 30 million users.
Article continues after this advertisement
According to a pitch deck seen by Profit, Twitter segments its Pakistan audience primarily based on their interests, which range across literature, travel, fitness, fashion, cinema, music, investment, automobiles, cooking, and gaming. Unlike TikTok, users of Twitter have a limited number of characters – and no visual tools – to express themselves. So the lack of traction akin to that of a video sharing service is understandable. 

This slow growth has not gotten in the way of Connect Ads, which is the authorized sales partner for Twitter in the MENAP region, including Turkey and Italy. QuratulAin Rashid, a Twitter client partner at Connect Ads, told Profit that leading media agencies such as Starcom, Mindshare, Synite Digital, IO Digital, and OMD have turned to Twitter to amplify their client campaigns. According to Khan, the top advertisers on Twitter for the Pakistan market are Telenor, HBL, Unilever, Samsung, PepsiCo, KFC, Huawei, CMPak, Engro, and many more.
Telenor Pakistan sent ripples of awe in the advertising ecosystem when it paid $50,000 for a branded emoji on Twitter, creating a unique identifier around its 2015 "Share Your Meal" Ramadan campaign, which was being used by other brands across different verticals on digital years later. According to Twitter internal data from 2018, this campaign generated 16.5 million impressions, 3.6 million video views, and nearly 600 thousand engagements.
"[The] #ShareYourMeal [initiative] has been a constantly growing platform for Telenor Pakistan which keeps our brand essence at the core of its strategic direction," said Yasir Yasin, the brand manager for the youth segment at Telenor Pakistan. "It banks upon a real consumer insight where the people of Pakistan want to make a meaningful difference in Ramadan coupled with their increased data usage."
Other notable campaigns include
Lay's Pakistan, Hum Sab Ka Favorite (2019) by Mindshare in Lahore, utilizing the 'Tweet to Unlock' product to introduce Fawad Khan as their brand ambassador.

Knorr Pakistan, Aik Zaroori Baat (2018) by Mindshare in Karachi, utilizing the voice of their two animated characters to introduce the conversation of child safety. To further amplify the reach & engagement of the campaign, Knorr brand ambassadors were Whitelisted, and their content was promoted.
"The platform is strong on delivering high net worth individuals," said Raihan Merchant, chairman of Z2C Limited. "They are educated, well-travelled, enlightened with a high disposable income. Any brand that leverages Twitter to create a longer term relationship with socio economic class A-1, would be the 1st one to do so in its category."
Merchant told Profit that a niche platform like Twitter may be low on cost efficiency key performance indicators in the short term, but with the right content strategy used over multiple budget cycles would generate a high growth and a return on investment. He said that product in the high value and high involvement categories would benefit most from such platforms.
"Back in the day, Dawn newspaper had a lower circulation than Jang," said Umair Saeed, chief operating officer at Blitz Advertising. "The circulation of Dawn newspapers was primarily with decision makers so Dawn was in some capacity charging the same rates as Jang. When you're doing a campaign which requires some level of influencer – policy maker influence, some level of lobbying – then Twitter comes into play."
With roughly 10% the audience size of Facebook and the endorsement of the media executives controlling 75% of the media investment market, why is it that advertisers in Pakistan are to tap into the highly affluent, literate, and liberal crowd on Twitter? Profit spoke with media professionals at advertising agencies and leading brands to understand the five factors holding back direct engagement. 
Traction
There is no getting around it – advertisers and agencies want a platform with traction and a large user base tends to be more attractive than a niche platform. In an ecosystem where a single digital traffic conversation rate is considered the norm, spending digital media budgets on a niche platform is perceptually considered to be low on returns on investment.

"Each medium and platform needs to be dealt with respect to specific brand objectives," said Asghar. "Mostly, the brand or campaign objective is to build reach, but given the low penetration of Twitter in Pakistan, it becomes a hindrance, in comparison to regular buying on platforms like Facebook & YouTube."
Speaking with Profit, media planners spoke of the difficulties in communicating the value of reaching qualified audiences instead of mass targeting, with advertisers preferring platforms that offer the latter. As reported by Profit, like advertisers around the world, marketers in Pakistan are also chasing large traffic metrics, without much reflection how relevant the reached audience has been.
"Advertisers in Pakistan play it safe when approaching communications planning," said Merchant. "Large audiences [and] safe content are KPIs set up for any campaign. Any niche platform, therefore, would struggle. Twitter is considered a more serious, old age audience with about 3.5 million audiences in Pakistan. Any allocation of advertising dollars on Twitter would happen after the audience delivery curve flattens out on other social platforms."
A symptom of misaligned incentives, where marketers chase outcomes that have little to do with driving business results, platforms such as Twitter are relegated to being hijacked by government organizations, non-profits, political parties, and media personalities in Pakistan. Media executives added that these types of organizations use their engagement on Twitter as a basis for signalling their relevance in the country and for tracking sentiment.
Creative
According to Sehar Raothar, the director of strategy and design at Markline Communications, Twitter doesn't offer as many creative options for engagement as a platform like Instagram or Facebook. She said the platform is focused on conversations: replies, mentions, and cinema-worthy tweet threads.
"However, one exception to this format is Twitter polls," she said. "Twitter polls allow us to pose questions and offer up to four answers to choose from. Polls are a great way to engage our audience, because they're simple and fun. And if there's one thing people love to do on Twitter, it's express strong opinions about minor topics."
The sentiment has been echoed throughout by campaign planners and digital strategists, adding that the ad formats on Twitter are not as diverse as those of Facebook and Google, adding that the platform needs to create formats that compliment the two largest digital advertising inventory owners in the world.
"If the brand has an amazing engagement idea or a campaign and wants to have an instant noise within a limited time frame with maximum curious minds on what's happening, sure Twitter can be a useful platform," said Sundus Shahid, a digital marketing manager at WeUno Agency. "McDonalds had posted about how due to no internet package, the social media post couldn't be uploaded. There, Jazz came in and initiated the conversation which eventually brought major curiosity among the audience with multiple types of interesting guesses."
While the activity cited above by Shahid generated buzz and speculation on both Twitter and Facebook, including some spillover on niche Instagram and YouTube pages, it lacked the same impact had it originated on a YouTube or Instagram account.
Trolls
Speaking with Profit, media executives shared that the open nature of Twitter, with relatively low private accounts, means that users are in the line of fire from trolls and hashtag armies at a moments notice. 
Commentators told Profit that unlike Facebook and Google, a hashtag can be amplified by an army of bots with relative ease and the added manpower of social media 'armies' only propels corporate or political propaganda further. On any given day, users of Twitter see hashtags to do with the army, the ruling political party, a media personality, or a brand in the trending column, sometimes above paid promotions.
These armies, marketers shared, have been used to amplify a minor crisis out of proportion. They added that the problem is so prevalent that in some cases, fake profiles of brands or products are mistaken for authentic profiles, with the microblogging and social networking service accused of being slow to either take down fake accounts or verify authentic ones.
Speculating on the slow response from Twitter on this issue, a media executive told Profit that one of the reasons the platform fails to remove trolls and bot accounts at the same speed as it does in the West may have to do with the possibility of losing a considerable amount of users, accounts, and the advertisers that fund them.
Imran Ghazali, the general manager of the Digital Media Wing (DMW) at the Ministry of Information and Broadcasting, recently arranged a communication channel with Twitter office in the region to address such issues, the outcome of which is that 45 official accounts were verified. These included the president of Pakistan, the deputy speaker of the National Assembly, the chief minister of Khyber Pakhtunkhwa, and many federal ministries & ministers.
Ghazali said that getting 45 official accounts verified is a small but important step as part of the overall strategy to strengthen the digital presence of the Pakistan government. He said that due to the menace of disinformation, fake news, and fake accounts, it was critically important for the Government to have verified accounts to disseminate authentic information, news and updates.
Certification
"When a platform empowers advertisers or agencies, through free training for instance, it gives them the confidence to run test campaigns on that platform and expect success," said Danish Ayub, chief executive officer of MWM Studioz, a performance marketing agency. "Take a leaf out of the Google and Facebook playbook and make marketers feel special with fancy belts and awards. In the absence of a Campaign Asia or The Drum, train marketers, give their campaigns traction, and pass around awards to your best glorified salespersons."
Ayub is referring to the Facebook blueprint training program which equips marketers with an understanding of all ad formats and products including targeting tools in the Facebook ecosystem across the social network, Instagram, and WhatsApp.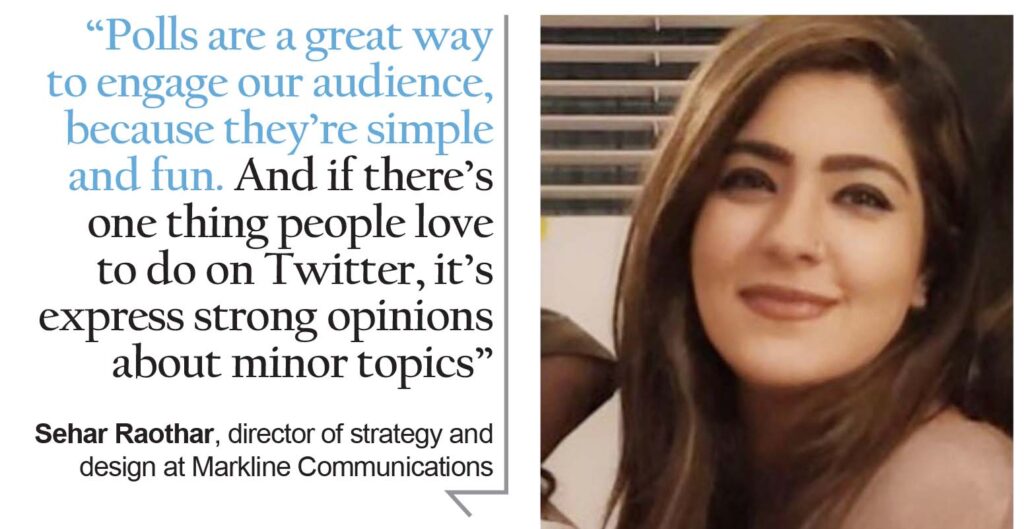 He is also referencing the Google Garage, a training program that is invite-only for marketers and digital media planners that have either been part of a featured case study on Google or have spent a sizable amount of money either search or YouTube.
Incentives
Executives at media agencies said that Twitter works with one reseller in Pakistan and is unclear on the types of rebates and commissions it offers, creating a barrier between the platform and all the advertisers it could potentially work with. 
"Aside from a training service which helps marketers in Pakistan build their own in-house digital media agency, I don't serve advertisers in Pakistan anymore," said Ayub, who teaches a crash course in creating a digital media agency. "And if I did – in the current climate – I would need a sizable rebate from the platforms recommended. Recognizing that SME agencies cannot meet the bare minimum spend requirements of Google and Facebook to qualify for rebates, Twitter has the perfect opportunity to swoop in and offer incentives & commissions to SME agencies."
With large media agencies reluctant to work with resellers they are unfamiliar with, Profit is told that a commission-based model or a rebate structure akin to those offered by Facebook and Google in Pakistan is the only way forward if Twitter wants digital media budgets sent its way.
Industry suggestions
Commentators suggested that Twitter needs to do more in the realm of having a physical presence in Pakistan, starting with engaging key decision makers at the advertiser and media agency side of the equation. These conversations need to cover an effort to grow the Twitter audience in Pakistan, offer better pricing options of ad formats, improve ad viewability on the app and desktop experience, and improve media planning incentives.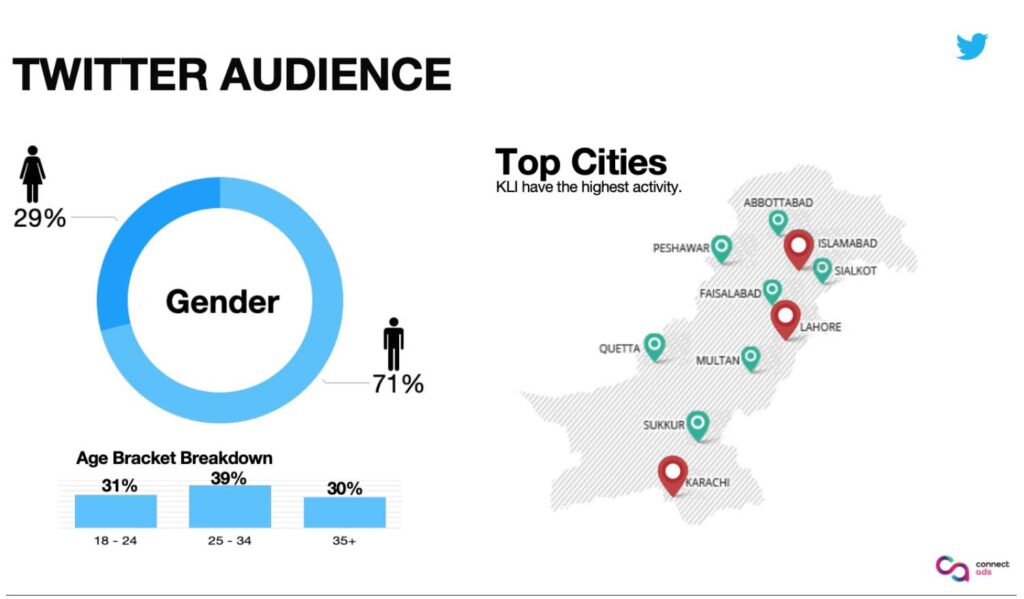 Speaking with Profit, marketers shared that similar to Google's Digital Garage and Facebook Blueprint, Twitter needs to initiate a series of training sessions in Pakistan so marketers feel empowered and confident to use the platform for campaigns. 
Commentators said that the American microblogging and social networking service needs to up its game in the B2B marketing space, publishing locally relevant case studies so marketers that have in-house digital can make the case within their teams or boards, without having to wait for a local reseller to revert. By offering a test budget akin to Google and Facebook, Twitter can encourage marketers to experiment with the platform, which can prompt true organic spending after traction is achieved.