FAISALABAD: Prime Minister Imran Khan has said the government will fully support wealth creation and industrialisation in Pakistan to promote economic activities in the country.
Speaking to the business community in Faisalabad, the premier maintained that places like Faisalabad and Karachi were industrial hubs of Pakistan and the government will help uplift these cities.
PM Imran inaugurated the Kashmir Underpass on Canal Road, Model Police Station Civil Lines and community kitchen outside the railway station during his visit to Faisalabad.
Emphasising the need to impart training to labourers for value addition of Pakistani products, the PM asked Punjab Chief Minister Sardar Usman Buzdar to work on the establishment of textile skills' institutions, besides urging the business community to take care of labour class' interests with the growth of their businesses.
Article continues after this advertisement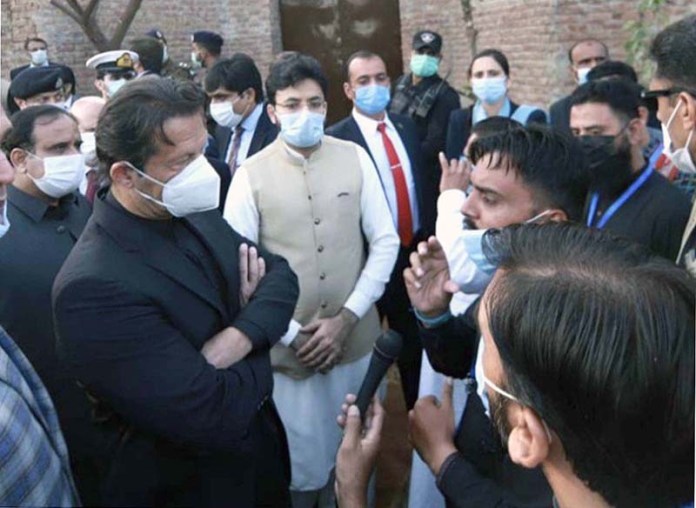 Talking about people's demand for the establishment of a high court bench in Faisalabad, Imran Khan agreed that there should be a high court bench at every divisional headquarter. "The government believes in solving people's problems at the primary level. For this ourpose, a new local government system is being introduced in the country, under which every urban centre will have its own directly elected mayor."
The premier said that cities will be made more empowered to resolve their problems at the local level, without looking for any help from the provincial or federal government.
He also shed light on the problems the PTI government faced when it came to power in 2018. Noting that Pakistan faces a historic debt, he said wealth creation in the country will help the government pay off its debt.
He lauded his economic team and the State Bank of Pakistan (SBP) governor for their policies to bring the country's economy out of corona-induced sluggishness. "As the world faced an unprecedented crisis brought on by the pandemic with countries like India imposing lockdown, the PTI government saved the poor and industries."
The PM said the second wave of the coronavirus is rearing its ugly head, due to which a small gathering was held in Faisalabad. He urged the people to wear masks and follow SOPs to keep the virus at bay.
"Economy will suffer and poverty will increase if pressure [of increasing patients] piles up on hospitals," the premier stated.
He said they are bringing reforms in the Federal Board of Revenue (FBR) to purge it of all ills.
Earlier, Punjab CM Usman Buzdar announced a development package worth Rs13 billion for Faisalabad.