In 2012 there was news about Fauji Cement Limited looking into acquiring Askari Cement of the Army Welfare Trust. That, however, did not go through at the time. Instead, this month, Fauji Cement Company Limited merged with Askari Cement.
Askari Cement, however, is now a subsidiary of the Fauji Foundation, a Pakistani conglomerate active in financial services, fertilizer, cement, food, power generation, gas exploration, LPG marketing and distribution, security services, amongst many other sectors. Established in 1954 as a charitable trust, the conglomerate has grown over the years.
It made very little sense for the conglomerate to have two separate cement companies within its portfolio, especially given the fact that the management of the two was the same. Keeping that in mind, the group decided to amalgamate the two.The pattern of shareholding of Fauji Cement shows that it has a free float of 55%. 48% stake is owned by associated companies and 28% by the general public.

After this, FCCL is set to become second biggest cement player in North after amalgamation of Askari cement with and into FCCL and expansions of 2.05mn tons each at D.G Khan and Nizampur site. Furthermore, FCCL market share in North would increase from current 6.7% (11.9% including Askari) to 13.2% which would be second highest after BWCL market share of 19.2% in north region. To highlight, they have only incorporated the impact of FCCL Greenfield expansion of 2.05mn tons as we wait for further disclosure of Askari amalgamation transaction to incorporate this in our valuation. To highlight, post amalgamation synergies would provide further upside to our FCCL Jun-22 TP of Rs27.6/sh.
The timeline
Article continues after this advertisement
The buildup to the amalgamation was quite calculated. In April 2020, Waqar Malik, a civilian joined Fauji Foundation as the managing Director and also joined Fauji Cement as Chairman. A month later in May, the company announced to the PSX that a resource sharing agreement had been signed with Askari Cement. This was announced following approval from the Competition Commission of Pakistan. A year later in February, Fauji cement announced Greenfield expansion of 2.05 million tons at DG Khan with a CAPEX of Rs 32 billion, and Askari Cement announced Brownfield expansion of 2.05 million tons at Nizampur Site.
On 28 October, 2021, Fauji Cement board was directed to proceed with the amalgamation of Askari Cement within Fauji Cement.
What does this merger mean?
Through an amalgamation with Askari Cement, Fauji Cement Company is now set to become the second largest cement player in the North Region. As a result of this expansion, the output will increase to 10.5 million tons making it bigger than Lucky Cement which currently stood 2nd. This will stand true even after Lucky Cement expands capacity at its Pezu Plant resulting in a capacity of 10.2 million tons. Bestway Cement, however, retains its spot as the biggest player in the north. This also means that the current market share by Fauji Cement would increase from 6.7% to 13.2% following expansion at D. G Khan and Nizampur Site.
Moreover, this also gives the company greater negotiating power within the All Pakistan Cement Manufacturers Association given its collective stake.
The impact 
"With increased market share FCCL would benefit from higher demand from private/public sector as we expect domestic demand to increase by 7.7/10.0/6.1% YoY in FY22/FY23/FY24. However, post COD of 4.1mn tons option to export cement production would depend upon economic recovery of Afghanistan," says Usman Arif, Analyst at Foundation Securities.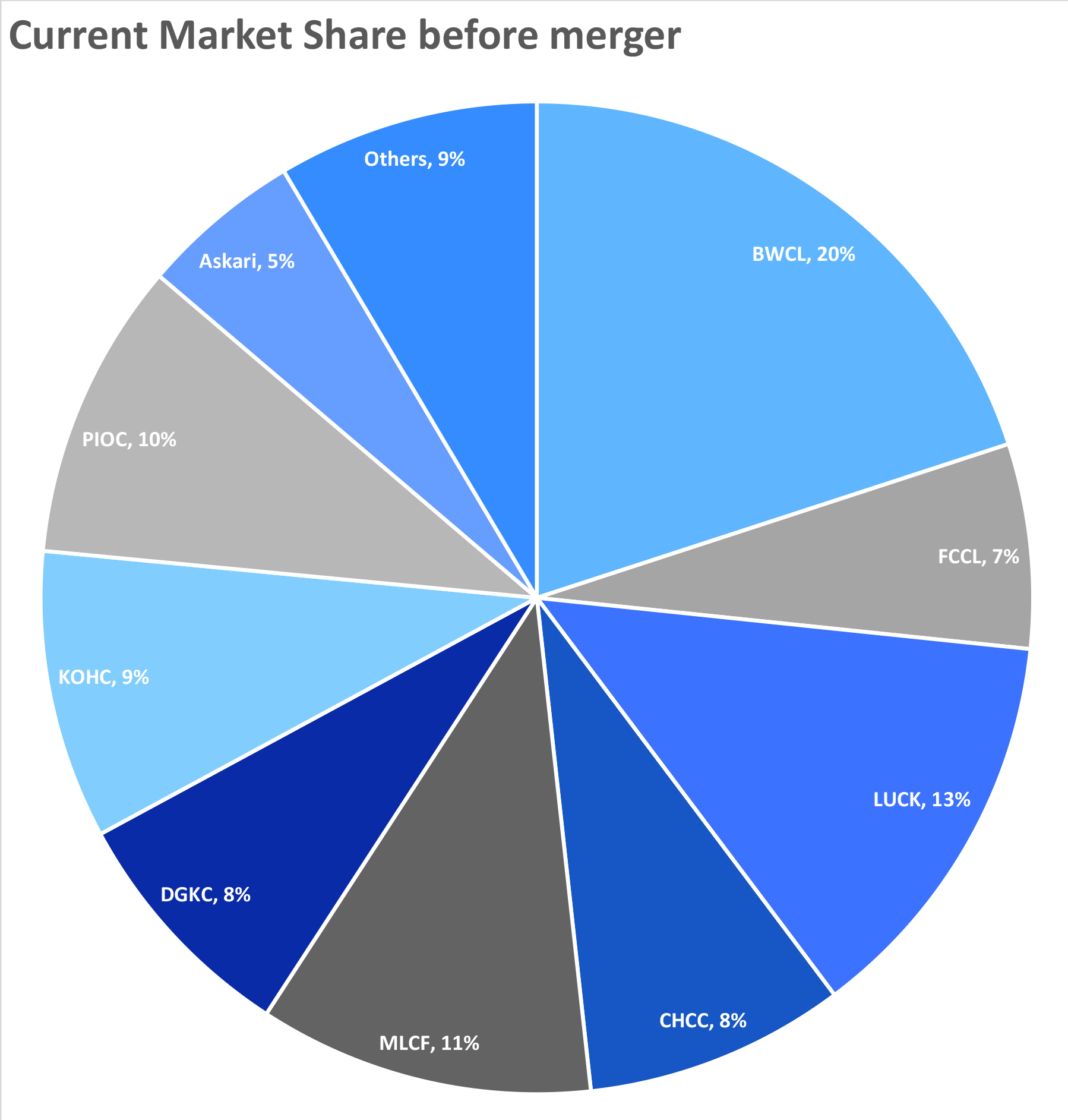 In addition to this, the company will be able to enjoy its debt free balance sheet and TERF/LTFF facility. This helps keep the interest rate low. "On current debt matrix, FCCL has the lowest debt/ton that would allow it to avail debt at lower markup rates. Company total debt stood at Rs1.1bn at the end of Sep'21 and would increase to Rs20bn in FY24 due to 2.05mn Greenfield expansion (Rs32bn expansion cost). To highlight, FCCL has already secured a Rs10bn TERF/LTFF facility to finance its Rs20bn debt component of the expansion," says Arif.
Moreover, this will also enable the Fauji Cement to rely on its internal power generation which gives the company a competition edge. "FCCL reliance on internal power generation to meet its ~70% energy requirement would hold positive for the company as national grid rates are expected to increase due to resumption of the IMF program." While it is true that energy tariffs will increase, it is important to note that the power costs for Fauji Cement will also rise as they rely on coal. "Company fuel cost would remain on a higher side as coal prices are expected to remain elevated till 4QFY22," says Asif.
Askari Cement is a private limited company so not much can be said about its financials. However, Fauji Cement has an earnings per share of 2.5. Profit After tax stands at Rs 3,471 million. The company has assets worth Rs 32,080 million and a debt to equity ratio of 5%. The EBITDA margin stands at 27%.