Away from the glamorous highs you read about on glossy pages and fashion sections, the Pakistani fashion industry is gritty and unforgiving. At stake in this vast jungle of intertwined interests, connections, rivalries, and friendships are billions of rupees. And in the past two decades, perhaps no one has better embodied the intricacies, the ingenuity, and the controversy of this country's fashion industry than Khadijah Shah. 
Universally acknowledged as a creative genius, she is admired by some and derided by others. Unabashed, open, and well-spoken, in her time in the fashion industry she has been a part of many successful partnerships, launching successful collection after successful collection making her one of the most sought after names in both retail and high end fashion. One of her greatest achievements, perhaps, was putting the brand Sapphire on the map, and growing it to the heights that it has reached today. Yet more than anything else she is known for Élan — Shah's own design house that, in her own words, she has imagined and curated as a citadel of style, confidence, and elegance. In short, it is her baby. And that baby, or at least a big part of it, is now up for sale. 
Well placed sources in the fashion industry have told Profit that half of Élan's ownership is being sold off for Rs 800 million to Sefam, a manufacturer and retailer of fabrics that owns well-known brands such as Bareeze. Why would Khadijah Shah, who first started developing Élan in 2004 with her mother, want to sell such a big stake in the brand that is known by her name? Mostly because of the Rs 700 million in debt that the company is saddled with. Those close to the negotiation have claimed that Élan started facing serious cash flow issues because of a lavish, high-rolling company culture coupled with an overly ambitious growth strategy. Matters were made worse when Élan went to informal and expensive financing sources, and despite its collections regularly being critically and commercially successful, the brand kept bleeding money.
At the end of the day, it is a question of how far Shah is willing to go to save the brand that is synonymous with her own name. Sefam buying shares would inject some serious money into Élan and also absorb its debts. For Bareeze, which has primarily been catering to a more senior clientele, with a bigger focus on chikan fabric, it is an opportunity to piggyback on Élan's brand positioning to enter younger market segments with lawn and prét wear. Shah will be paid Rs 100 million in cash to hand over half of the equity and full management control in her brand to Sefam. 

What are the details behind the dizzying zeniths and crushing nadirs of Élan? In an interview with Profit, Khadijah Shah responded vaguely. "Nobody will invest in Élan at a depressed price. They will invest in it, or in any brand for that matter, at exactly what its deserved valuation would be. Having said that, I want to clearly state that Élan is now at a stage in its growth trajectory where we are now open to considering external injection of finances to help us grow rapidly," she tells us. In short? She very calmly said that while she cannot confirm anything at this stage, it is definitely on the cards. "We can't confirm or deny any news or any figures relating to Sefam partnering with us. If and when we do partner with someone, we will announce it officially ourselves." Profit's sources, meanwhile, have confirmed that not only is the deal a certainty, but that Sefam will also take over management control given the reputation for poor corporate governance that Élan has developed. 
Article continues after this advertisement
She does, however, add that if in the past, had a credible company such as Sefam shown interest in Élan, she might have considered it, because such an established and revered giant is the kind of partner that is worth Élan's salt. To her credit, despite the crippling debts facing Élan, Shah still stands by and regards highly the value of the brand she has created. And she has a point. While the best business foundations may not have been laid for the company, behind it is a story that captures the boom Pakistan's fashion industry has seen in the past 20 years. And to understand Élan's story — to understand Khadijah's story, we must go back to 2004.
The origin story 
This is a Lahori story. Over the past two years the fashion industry in Pakistan, particularly women's fashion, has boomed. The female labour force participation rate rose from under 16% in 1998 to a peak of 25% in 2015 before declining slightly once again to 22.8% by 2018. The total number of women in Pakistan's labour force – earning a wage outside the home – rose from just 8.2 million women in 1998 to an estimated 23.7 million by 2020, representing an average increase of 4.9% per year. 
This 20-year increase in women's participation in the workforce has seen a simultaneous growth in  the retail fashion industry. Lahore has been at the centre of this boom. An educated guess might have placed Karachi as the fashion capital of the country, and while it has a pretty big role to play, by and large the world of fashion with all its glitz and glamour is based in Lahore. That is where Shah got her start. 
Coming from an old, well-connected, wealthy family (her maternal grandfather is former Chief of Army Staff General Asif Janjua and her father is former finance minister Salman Shah), Shah was not in Pakistan when this shift in the fashion world took off. She was completing a bachelor's degree from the London School of Economics, but when she got back to Pakistan she hit the ground running. Shah's mother was a fashion designer as well, and as a child and young teen, she would help her out. Her mother, Aneela, mostly pursued fashion design as a hobby and was known to her friends as 'Ela' — which is where the name and brand Élan came from when it was finally launched in 2004. 

Élan catered to a niche market segment of luxury couture. For the first few years, Shah took few but high-end clients and made a name for herself. However, she always had a mind that focused on the bigger-picture. Her dream was to revolutionise Pakistan, or at least Lahore's, fashion landscape. In 2012, she got a chance to spread her wings when she successfully debuted in the lawn market via a collaboration with Hussain Mills Ltd. The venture into lawn was, in Shah's own words in a 2013 interview, "fantastic for Élan". In the exhibition held at Palm, Emerald Marquee, Karachi, on March 15, 2012, Shah launched Élan lawn, which was a complete and swift sell-out. 
She was quickly regarded by her peers and customers alike as one of the country's most successful creative forces, as she continued working with Hussain Mills until the next year. It sure helped to take Mahira Khan on as Brand Ambassador for the 2013 spring/summer Élan lawn collection. Élan's continued success soon brought it to a point in its journey where it was eminent that it could and should transition from being a niche to becoming a household name. And that is where Sapphire enters the picture. 
Glittering Sapphires  
A little note on the business model here. Pakistan has some pretty big textile mills, and the entire cotton industry from field, to ginning, to mill sets the stage for the fabric that is used in different industries. One of the most in-demand fabrics is lawn, which is why it makes sense for textile mills to partner with and provide fabric to design houses like Élan. And there are no mills bigger in Pakistan than Sapphire Mills. 
Shah partnered with Sapphire Mills in 2014, in the contractual capacity of creative director, while continuing to work on her own brand. This partnership would help Élan cater to larger markets, while Sapphire would benefit from Shah's creative impetus. For the time that it lasted, it was big. Within a few years Sapphire was the hot new fashion retail brand on the block, and in another year or so it became one of the biggest. Despite the success, the partnership did not last too long. 
Shah took Sapphire to heights it hadn't seen in the past five decades. She not only designed unique products in both the ready-to-wear and unstitched categories, but also gave the brand a new life. While Sapphire Textile Mills has existed for around 50 years already, it was the addition of Shah as creative director that put them on the map. According to a 2014 interview, it was upon Shah's suggestion that the brand take on the name of the parent company, Sapphire, after which it became a household name. Add to this mix is the fact that Sapphire Textile Mills being the oldest textile giant of Pakistan producing quality cloth, enabled the brand to take a strong foothold in multiple customer segments.
Shah's position as creative head meant she also came on as a stakeholder, getting a share of the revenue. The entire creative department was, in a way, her own company, and according to insider sources, her department's monthly budget including salaries was a staggering Rs 25 million per month, being paid by Sapphire. While Shah could not confirm this figure, she built the brand from scratch and turned it into a juggernaut. 
But something went wrong. Despite the huge impact she had in the little time at Sapphire, Shah's time with the ancient mill lasted all of three years, ending in 2017. She walked away from the association a seasoned veteran of the retail fashion world with a mixed reputation. On the one hand, everyone hailed her for her creative work. On the other hand, she was rumoured to be a big spender. Shah has always liked to go big and spend money to make money. This was possibly not the right fit for the more conservative approach that the management at Sapphire believed in. 
Shah told Profit very candidly that it was a little painful that the partnership came to an end, as she had begun to treat it like her own brand. "It came as quite the surprise. In the past, Sapphire had been quite vocal about how they would not want me to ever leave, and that is what led me to make a couple of tough but necessary decisions. One of them was to focus all that energy into Élan."
Near the end of the association, one source tells us that Shah tried to extract more than her fair share from the partnership, going as far as to claim that she, Khadijah Shah, was Sapphire, and that Sapphire was nothing without her. Eventually, she was let go, so to speak. But not without a supremely generous package of Rs 351 million. And since she had complete control over the creative department, she took the entire design team with her as well.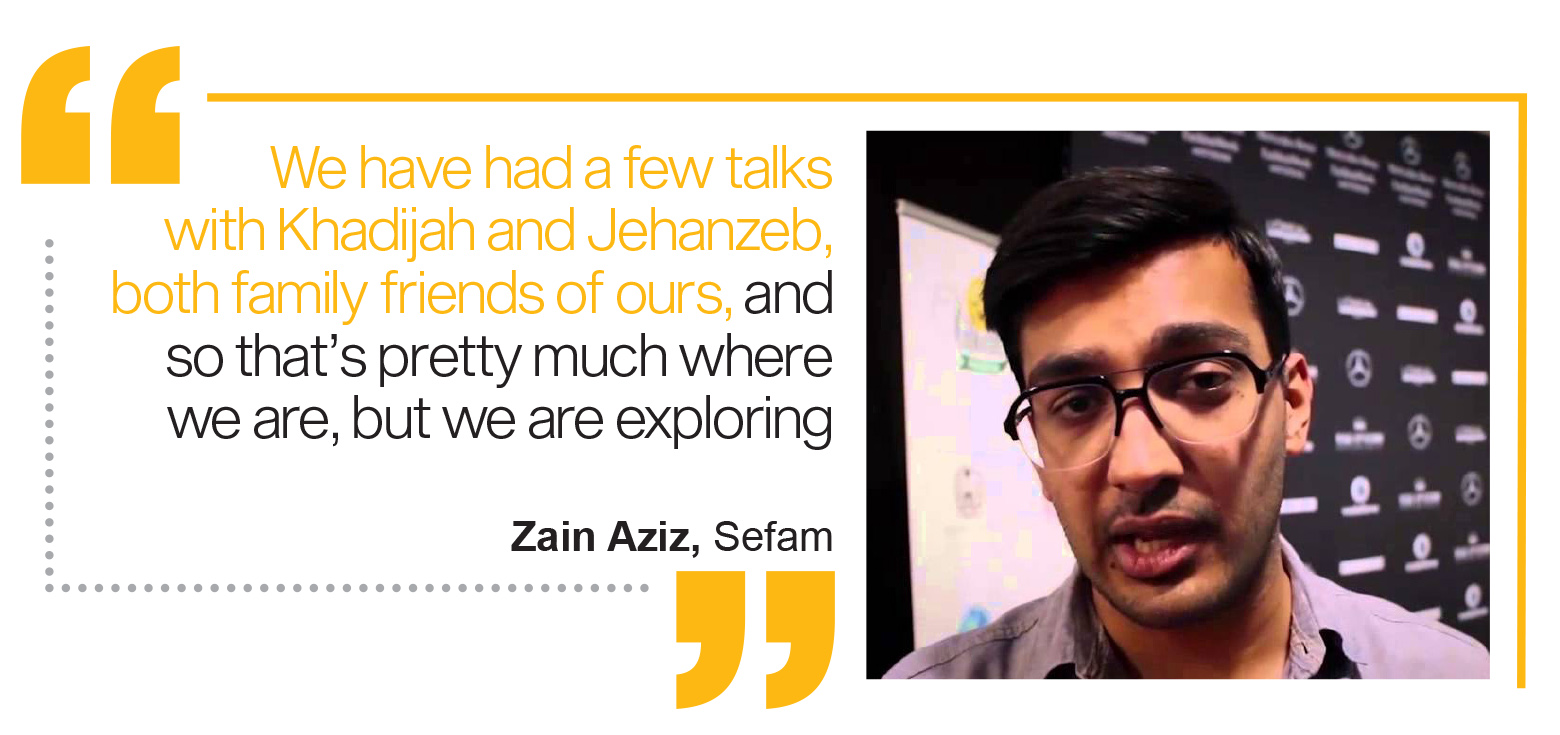 Sapphire's owner and director, Nabeel Abdullah, told Profit that while there definitely was a settlement they could not confirm the amount. "There was definitely some settlement of course, but I wouldn't want to comment on the exact amount of the severance package and all, since it's a matter that's not only in the past but also a legal one. But I will say this about Khadijah's contribution to Sapphire and her parting with us: we respect her a lot, and give her a lot of credit for what she did for Sapphire; but just like any other business, there was a difference of vision for the brand, due to which our partnership came to its natural end in 2017."
The spiral 
By the time Shah left Sapphire, one would have thought she would be set to put Élan on a rocket ship to the moon. After all, with Rs 351 million in her pocket she could afford to. But things weren't so simple. Shah openly admits that retaining her team along with marketing efforts at par with the established textile giant cost her more than she could have imagined. On top of this, the rumour mills were churning out gossip that to maintain a certain lifestyle and a brand image, both of which were supposed to feed off each other, she made costly investments.
Right after leaving Sapphire, she also started another brand by the name of Zaha. This is where she first began spending beyond her means on her brand. The team that she brought from Sapphire consisted of the hottest young talent and they were paid hefty salaries. However, even a giant like Sapphire had found it difficult to maintain this team and Khadijah Shah found it even more difficult. All of the bills started to pile up and Zaha was not a success. 
As a result, within the industry Élan earned a reputation of high debts and disturbing financial cycles that preceded their efforts to enlist new investors. All of these are difficult questions. To her credit, Shah answered them all with patience. In the course of this story, most of the sources spoken to were fidgety and reluctant to speak on the record. The only person that presented themselves and stood by their guns with conviction was Shah. 
"I think all this information is deliberately spread by people who are deeply negative, hateful, and competitive with Élan – I think there's an attempt to sabotage or foil any potential partnership Élan might enter into. They're scared like they were back at the time of Sapphire," she tells us. If there is one thing about Shah, it is that she believes in Élan and the work she has curated there.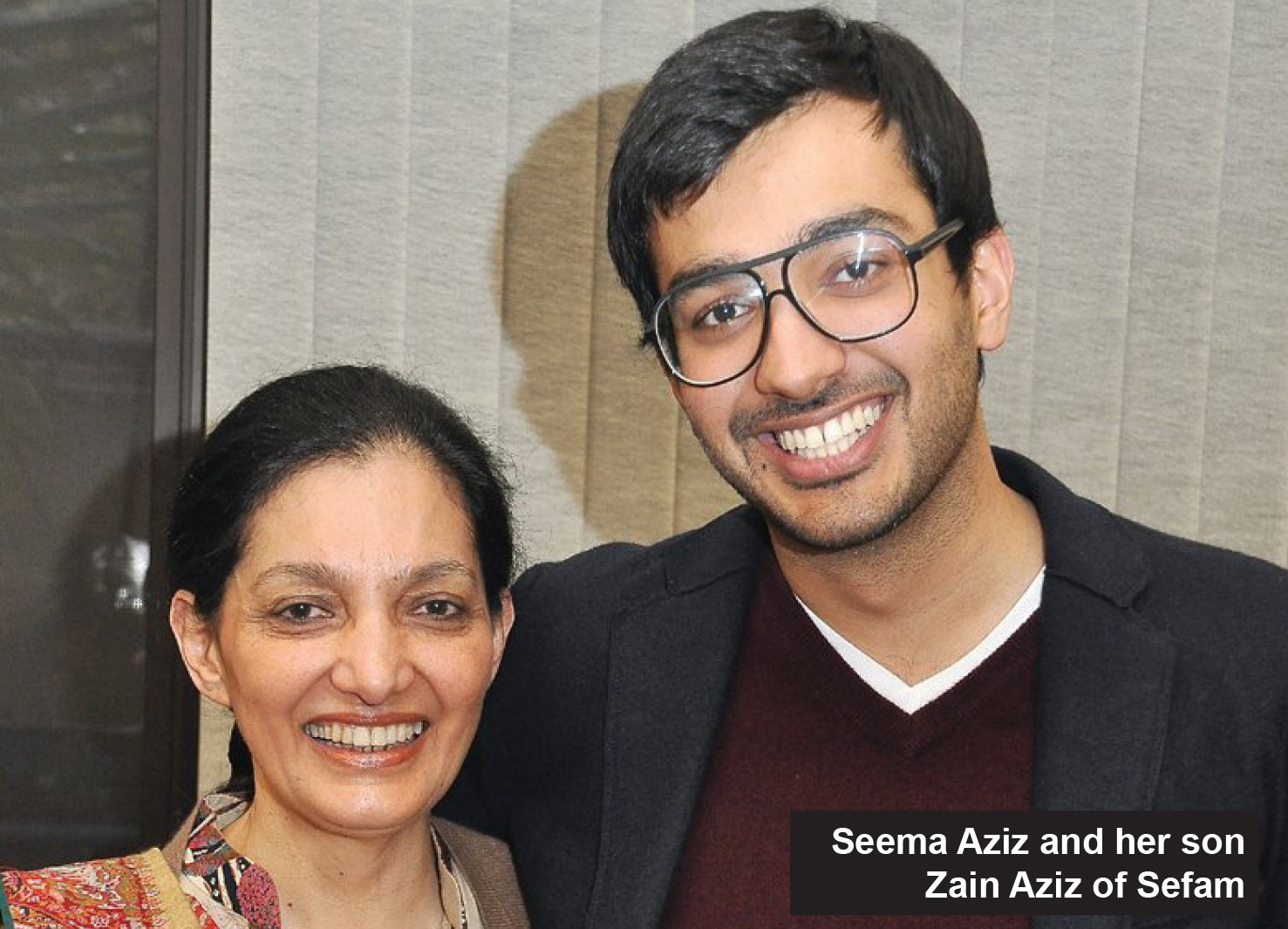 "Back when I started out with Élan in 2004, and later during my time with Sapphire, the fashion industry wasn't as established in Pakistan as it was elsewhere in the world. Retail giants such as Gul Ahmed, Nishat, Khaadi and the like had long been established, but didn't become as active as they are now until after the Sapphire partnership created a brand in a manner never before experienced by the Pakistani market."  
"As an outsider, I shook up an industry that was quite set in its ways, and that rubbed wrong on several people… many of whom we have now built strong relationships with, though it has been a tough and long journey to reach this stage," Shah adds. 
It is important to remember here that Shah has been a big kahuna in the fashion world for a while now. Despite the rough landing from the high-flying Sapphire days, Élan made quite the name for itself. Along with her husband Jehanzeb, who comes from a textile family, she managed to create one of the most sought after brands in Pakistan. And other than Élan as well, the name Khadijah Shah has plenty of brand recall. Élan maintained its reputation for a few years since then, with a loyal clientele ready to slurp up her designs year after year, especially the annual lawn collections. Among many other accolades, the most prominent one Shah has to her credit is that Kate Middleton chose to wear an Élan outfit during her November 2019 visit to Pakistan, especially designed for her. But none of this could quite wipe away the stains and pains of debt, and the many controversies that have come her way. 
The debt problem — why didn't they go to the banks? 
It is a typical debt-trap situation. There are very few businesses that can be bailed out financially without the risk of a debt-repayment loop developing. The textile industry, especially when it comes to the desi lawn sector, is not one of them. Several insider sources comment that Shah's generous severance package should have been invested in something less fickle than (desi) fashion, in a country very susceptible to power outages, political turmoil, and religious holidays. Instead she went ahead and made two crucial mistakes: She did not cut down on her design expenses, and she turned to less formal channels of borrowing. 
At the peak of the problem, according to one source, Elan was sourcing their material from the Azam Cloth Market at very high rates. While these are not loan sharks by any stretch, the vendors here were charging Elan 20-35% more than the market rate. Shah also had not other option. At their lowest, when the orders were pouring in and Elan didn't have liquid cash to spend on material, they had to buy on credit from places like Azam Market. Here, the vendors charged higher simply because if they were selling on credit, they would have to charge higher in lieu of the risk they were taking. This was a serious issue for Elan, since the extra charges were nearly equal to the margins they had on their products.
But how did this happen? How did a major business in Pakistan have to turn to other means of financing with 31 banks available in the country? Was there not a single bank in the country that could give Elan a loan so they could buy cloth in cash instead of on credit. The reason is that banks in Pakistan don't lend easily to the services sector. They expect collateral for loans in the terms of tangible assets such as machinery and real estate. For a company like Élan, which has a brand that is worth something but does not necessarily have factories to give in exchange for loans. 
"Banks don't readily lend to businesses in the absence of collateral. Traditionally, banks all over the world support businesses as long as the business shows promise and potential. But in Pakistan, banks like to be extra risk averse," she tells Profit. 
Despite having the means, she also decided that her family's money and assets would not be used as collateral for her business. "I have never asked my parents for any money for my business," she says. "This is my business, my work, and I don't believe in offering as collateral my parents' property or assets. Sure, I have invested everything I own and earn personally, including whatever inheritance I may have had to part with, but that's the extent to which I'm willing to go. And that's my prerogative."
"Élan has never approached loan sharks. Yes it's true that working on a credit basis is more expensive than working on a cash basis, but any investment we've ever had in our projects has always been by people whom we trust and who are already part of our friends and family circles." Whether loan sharks were involved or not, Shah does agree that perhaps the huge financial hit she took in maintaining her design team was something that could have been done differently had her parting not been so sudden.
"It's not that I took them with me. According to their contract, they could not work with Sapphire for another two or two-and-a-half years in such a case. And I didn't want to just let them go and leave them high and dry – I had trained these people, and while we could have worked out some sort of NDA if we were to let them go, I chose to keep them onboard so their training and experience could be utilised for Élan," Shah said.
But with all this going on, Shah continued to take a head on approach and tried to expand. Élan was not a small brand working on 15,000-20,000 suits per collection that could continue to work on manageable cycles throughout the pandemic and bounce back once things started settling down. It was also not a very large, established brand that could enjoy cushions during such catastrophic times. Being a medium-sized company with over 50,000-90,000 suits per collection on average, and on its way to expand, Shah acknowledges it was probably too ambitious too soon. 
Things did not help when several partners that Élan was working with, started switching to advance cash payments from a previously more acceptable credit line basis. This isn't specific to Élan, or to the textile industry. This is a trend shift across the board, and it hit Élan the hardest. With all its money stuck in production and expansion plans, and production being halted, to the extent that one of their major vendors eventually shut down in 2021, Élan seemed to be stuck in troubled waters. This caused them to fail to deliver orders to their customers on time, or even with minimal delays, as compared to other brands that found it relatively easier to adapt to the new normal of regular lockdowns. Additionally, with credit being squeezed every which way, Élan started struggling to maintain a healthy cash flow, which rendered them unable to swiftly refund customers for orders they were cancelling.
Old customers, and a prominent fashion journalist add to this by saying that in true Pakistani jugaar fashion, Shah went to the extent of securing pre-orders and getting customers to finance her operations when textile mills weren't willing to work with Élan. With no regards to the needs of long-term brand equity, Shah's actions supposedly hit where it hurts the most. Customers did not hesitate to publicly bash the brand and Shah herself. Several customers, who had placed orders for formal wear for important occasions said they cancelled their orders, but had to wait more than a year for their advance payments to be reimbursed. Some are still waiting. Others received their orders months later, despite having strictly opted for refunds.
For customers, it's a simple matter of placing an order and receiving it, paying upfront or with cash on delivery. For the brands and businesses working on so many aspects of production, the equation is more quadratic in nature. Clearly, this was not working out. And even before the current scenario, Shah was looking for partners. In the industry, it is very well known that the holding company which partially owns the fashion brand Maria B, amongst others, had financed one of Élan's collections as a 50% partner on a one-off basis. Later they were in talks to buy Élan, but the deal did not eventually come to fruition. 
The partnership equation 
The murmurings in the industry right now are that Shah has had to seek out Bareeze for investment because she has no other option. The line she is taking, however, is that this is simply a continued part of her business expansion plans and that Élan is in a place where it could be ready for equity injection. According to her, things are being blown out of proportion. 
"What people are quick to label as (high) debts, is the normal business practice of maintaining credit lines, or rolling debt, and every brand in the textile industry, or even any other industry, will have a certain credit line they work with. Élan is a unique product, which is also at a very unique point in their journey, which is why their credit lines or credit window is longer than the average lawn business. Whether a brand allows external investment to come in, or continues to run on self-financing basis like Élan, the only time they would want to close credit lines is when they stop working with a certain partner in whatever capacity, be it fabric sellers, printers, embroiderers and the like." 
"We have never been banned by anyone. Yes, rolling debt with different partners exists, and some have had to be closed down, but it's not always due to a negative reason. For example, when we recently shifted from print to embroidery, we had to close the rolling debt or credit lines with our printing vendors, and we now do not have as many print vendors as we have embroidery ones. Another time, one had to be closed down because a very large textile mill that we were working with, shut down and went out of business in 2021. Also, it's important to note that closing a rolling debt line is not an overnight matter. This is Business Finance 101."
Shah further elaborated that while she has not been interested in long-term collaboration with anyone, at this point Élan can allow external injection, if any. "I wouldn't want to wait like other design and retail brands that spent 30, 40, 50 years to reach where they are now in a gradual fashion. Élan has the product, the experience, and the customer to take on any partnership if at all, especially in this age when businesses don't operate in silos anymore. Gone are the days when people inherited established businesses and continued to run and milk them until they dried out."
In any case, a partnership would be wise for Élan right now in both the narratives being spun by the industry and by Shah herself. This is especially true since Élan and Shah have at times garnered a reputation for scandal. While there have also been issues such as  employing black models in Kenya, the bigger concern has been the liabilities Élan has gained from its treatment of workers. 
Reports of the brand locking in and torturing workers spread in 2019-20, and Shah gained a reputation of toxic and abusive working conditions at her offices and factories. When she denied these, many came forward with personal experiences (including non-payment of salaries for as long as six months) upon condition of anonymity.
As if the brand had not been hurt enough yet, the same year, in July 2020, an ex-employee took to social media with a video that went viral within a few short hours, claiming Shah hadn't paid around a 100 of her ex-employees their salaries for the previous two months, and was also holding her employees hostage in their warehouse since the past six days. Shah, however, was quick to take to social media herself to debunk these claims, clearing the air with details that the employee in the video was fired for having stolen a product worth Rs 700,000 from her. By evening, the man in the video came out with another statement, claiming that he had made a mistake. The controversy did eventually die down, but amidst doubts as to the truth of the matter.
The controversies do not stop here. In January – February 2022, there was uproar from artists taking to social media to oust Shah for non-payments to models, videographers, and ex-employees. Models such as Abeera Riaz, Atika Gardezi, and Mydah Raza claimed that Élan/Zaha hadn't paid them for three years. Upon this hue and cry, they received some disbursement, but were still not paid fully. All of these issues once again pointed back to the serious cash flow issues that Élan has had in recent times, and which can only be solved with the injection of some serious capital. 
Whatever anyone might say, Élan is here to stay 
And that, in nutshell, is why Élan will survive and possibly even grow bigger. Despite the debts, the high-spending, and all of the controversy, Shah has built a fashion brand with a truly unique style. That is something that cannot be taught and cannot be replicated, and makes it worth some serious money. It is also why a brand like Sefam/Bareeze would be justified in taking keen interest in the opportunity.
Sefam has not been able to manage to penetrate some markets on their own, and Élan and Shah could give them just the boost that they need. And it has been on the cards for a while, so it does not seem like Shah is selling quickly or in desperation either. 
Profit dug deeper into the mystery that eludes most in the business circles. Apparently, this was not a sudden move on either party's end. Zain Aziz, Business Development Manager at Sefam Pvt. Ltd. (Bareeze), son of Seema Aziz, (Owner, Sefam), told Profit that while he is, at this stage, in no position to comment, what he can tell us is this. "We've been discussing with Élan, nothing's concluded so I can't give any more details, but we have been exploring the possibility of this, and I think it's one of Pakistan's great brands. Sure, they've seen some hard times, and with COVID, what business hasn't, COVID has been tough on everyone, but Khadijah Shah has worked very hard. We have had a few talks with Khadijah and Jehanzeb, both family friends of ours, and so that's pretty much where we are, but we are exploring."
It's not fair to label a brand a "troubled horse" or a "lucky mule" so offhandedly, especially not with a lioness of a business woman such as Shah pulling the brand up every time it seems to stumble. It is extremely difficult to bounce back from a tarnished reputation – the bigger the brand name, the longer it will take to clear allegations. And when it comes to a brand, dwindling brand equity based in factually corroborated business mishandlings is sure to put an end to securing future investments to sustain the brand. Shah does have a simple point to highlight for all those willing to believe the worst of her brand though: any potential partnership between Élan and someone as credible as Sefam speaks volumes about the former. 
That said, the deal must also be taken with a grain of salt by Élan. Yes, Sefam is about to take over their debt and the Élan name will remain, on top of which Khadijah Shah will continue to have the platform for her designs. However, she is going to be giving over management control to a company that also has several other brands to manage. Some of these brands could even be considered Élan's competitors. How Seema Aziz and her sons, who are managing Sefam at this point, decide to run Elan along with the rest of their portfolio is for anyone to guess. Their management style, as per industry observers, is much more meek than the way Khadijah Shah has been running Élan. How they deal with and manage their portfolio now will determine whether or not Élan will diminish as a brand presence or increase.