A festive cake cutting at the Islamabad airport has concealed a rather dismal event — Virgin Atlantic has flown its ultimate flight in Pakistan. The airline had launched its operations in 2020 with a grand total of seven weekly flights, only to slash them down to three, and now bid adieu to the country with its last flight, VS379 soaring for London Heathrow at 01:08 pm on April 9.
This marks the end of Virgin Atlantic's short-lived venture in the Pakistani market. The airline  served 249,207 passengers up until June 2022 based on the latest aviation statistics made available by the Pakistan Civil Aviation Authority (PCAA). Profit has previously talked about the various reasons as to why Virgin Atlantic might have left. However, we will do so again and in greater detail this time. 
Before that, let's look at Virgin Atlantic's short lived stint in Pakistan. 
Virgin Atlantic's Foray into the Pakistani Market
In 2019, Virgin Atlantic announced its bold entry into the Pakistani market, with plans to offer non-stop flights from London and Manchester to Lahore, Islamabad, and Karachi. The airline set its sights on capturing the visiting friends and relatives (VFR) market, which was one of the first sectors to bounce back from the pandemic. Virgin Atlantic also seized the opportunity presented by the absence of Pakistan International Airlines (PIA), which was barred from flying to Europe and the UK due to safety concerns in May 2020.

Article continues after this advertisement
On December 10, 2020, Virgin Atlantic operated its inaugural flight to Pakistan from Manchester Airport, the United Kingdom's busiest non-London airport. Virgin flight VS362 took off from Manchester at 13:06 and touched down in Islamabad at 01:34 am. With a significant portion of the UK's Pakistani diaspora residing in the Manchester region, it was an ideal location for Virgin Atlantic to capture the VFR market.
Rivalry with British Airways
While no direct competition existed on the new route from Manchester, Virgin Atlantic faced stiff competition from its rival British Airways (BA) on flights from London to Pakistan. In response to Virgin Atlantic's route announcement, BA launched its own connection to Lahore.
BA has had a long-standing history of serving Pakistan. For instance, it flew to Islamabad from Gatwick (typically via Manchester) using B747-400s, and then non-stop from Heathrow between 2003 and 2008. After a hiatus of over a decade, it resumed its service to the country in 2019.

BA and Virgin's interest in Pakistan stemmed from various factors, including enduringly strong point-to-point demand, generally robust freight demand, and – significantly in recent times – a large and clear opportunity following Pakistan International Airlines' (PIA) ban from the UK, US, and EU. In 2019, PIA commanded 95% of the non-stop UK-Pakistan market, according to OAG schedules data.
According to booking data, Heathrow to Lahore had an average one-way fare of $260 in 2019, excluding a 20-30% fuel surcharge (retained by the airline) and taxes. In contrast, Heathrow to Delhi is 7% farther, yet achieved a 21% higher average fare due to a stronger traffic mix. Freight demand provided an additional boost to revenue. 
The route already seemed low-yield based on BA's decisions. Their return to profitability indicates that they were on the lookout for more lucrative routes which clearly did not include Pakistan.
Virgin's ambitious expansion plans
After British Airways' exit from Pakistan, Virgin Atlantic announced ambitious plans to ramp up its operations in October 2022. The airline intended to operate five two-way flights from Lahore to London and four flights from Islamabad on weekdays — providing passengers with more options and greater convenience.
Sudden departure from Pakistan
However, in a surprising turn of events in February 2023, Virgin Atlantic announced that it would suspend its services between London Heathrow and Pakistan. The airline cited its plans to expand its existing network and optimise its resources as the reasons for its decision. It also joined the SkyTeam alliance, opening up new avenues for code-sharing and cooperation with other carriers.
In April 2023, Virgin Atlantic bid farewell to its service between London Heathrow and Lahore. The final flight, VS364, soared into the night sky from Lahore on the 30th of April 2023 at 9:55 pm. Its Islamabad service remained as the last connection until the fated aforementioned VS379. 
Virgin Atlantic's financial woes 
Virgin Atlantic — synonymous with its eccentric nature in the industry — boasted its glamorous image and luxurious cabins, bringing novelty to a stagnant sector. However, it failed to generate profits even before the pandemic. 
Its business centred on long-haul flights, which were highly susceptible to travel bans in 2020. The airline revised its profitability estimates. It stated on 10 May that it aimed to make a profit in 2024, after previously forecasting that it would be profitable by 2023.  It recorded a pre-tax loss of £342 million. The announcement underscores its enduring challenges and distinguishes it from its competitors, which returned to profitability after Covid-19 travel restrictions were eased last year.
Virgin Atlantic's financial position has been dubious as far back as 2017 with the company averaging a net loss of $399.7 million from 2017 to 2021.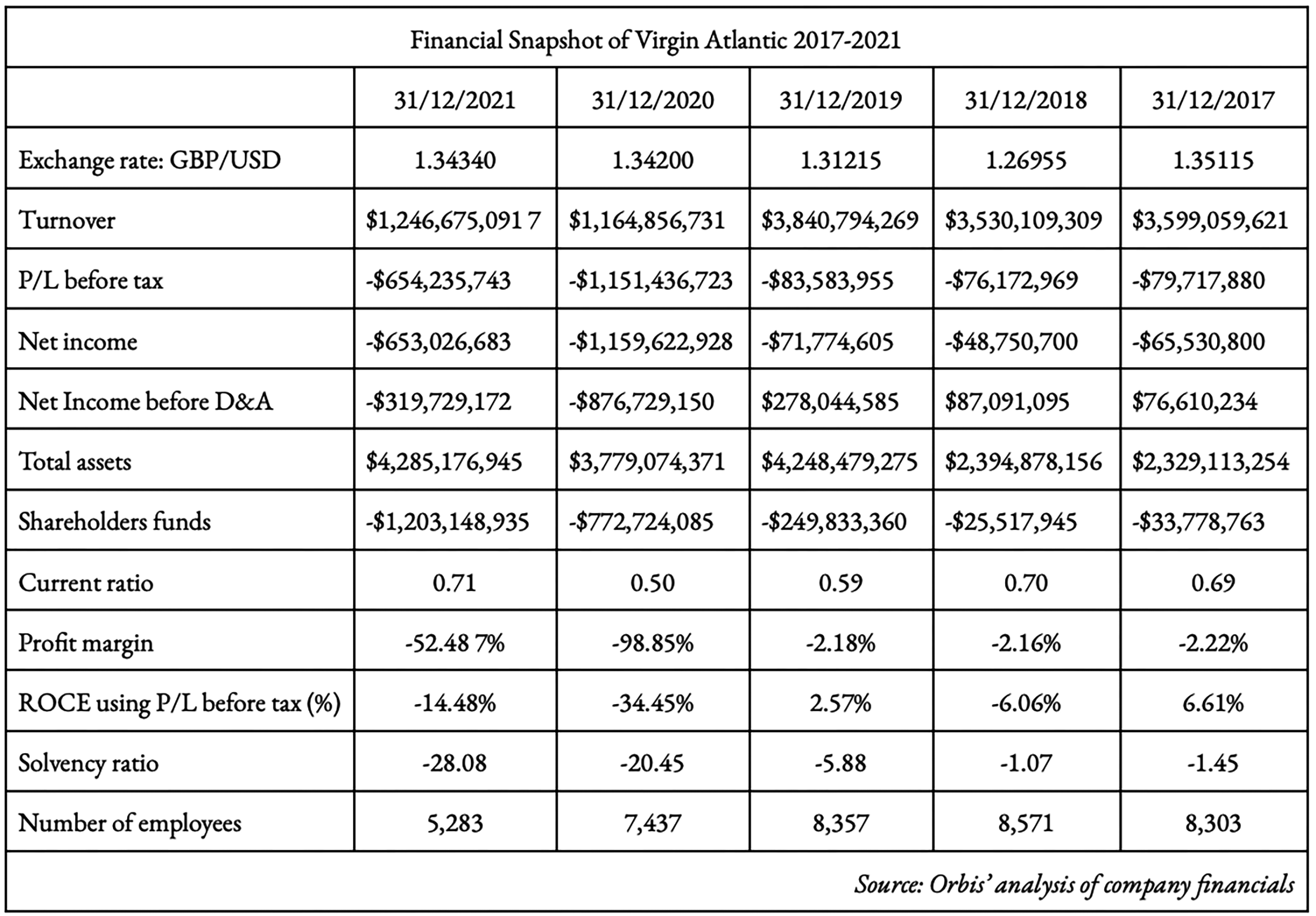 Method to Virgin Atlantic's madness in 2023 
Its decisions in 2023 are part of its bid to stem these losses, if not obtain profitability, in 2024. As restrictions have been lifted, it has rebuilt its UK-US network, adding new routes to Austin (AUS) and Tampa (TPA). In May 2023, Virgin also relaunched its flights from LHR to Shanghai (PVG), China after a hiatus of three years. 
The company has also made other strategic decisions in 2023 such as expanding its route network across three continents. The carrier is set to fly to São Paulo (GRU) in Brazil, its first appearance in South America. In Asia, the carrier will add its third destination in India with flights to Bengaluru (BLR), make a long-awaited return to Dubai (DXB) and begin new services to the Maldives. In North America, the carrier is planning to resume seasonal Manchester to Las Vegas, begin serving the island of Turks and Caicos in the Caribbean, and expand connections from Barbados to move islands.
The icing on the cake, or perhaps the tipping point in Pakistan no longer being a strategic market for the airline, was its entry as the nineteenth member of the SkyTeam Alliance. It already had joint ventures with popular members such as Air France, KLM, and Delta (who own 49% of the carrier), making its integration into the alliance a smooth one. Membership will enable Virgin to benefit from its peers through a myriad of benefits, most important of which is the potential for additional codesharing. 
All the while, Pakistan has become less, and less of a strategic market for them owing to developing factors in the country's aviation industry. 
The declining appeal of the Pakistani market for airline  
Pakistan is not the highest yielding market for airlines globally, however, the opportunity cost for an airline starved of funds like Virgin Atlantic is heightened because of unique factors to Pakistan's aviation market. 
The International Air Transport Association (IATA), the trade association for the world's airlines representing some 300 airlines or 83% of total air traffic, accused Pakistan of disallowing foreign airlines from repatriating their earnings. IATA alleged that Pakistan has blocked $225 million in airline funds, making it the second largest market, after Nigeria ($551 million) and before Bangladesh ($208 million), to do so. 
Feroze Jamall, IATA's Country Manager for Pakistan, shed light on the situation: "At present, airlines are unable to repatriate their sales earnings from Pakistan due to the country's foreign exchange controls, which hinder the ability of foreign companies to transfer their funds out of Pakistan."
He further elaborated that "Airlines are encountering lengthy delays before they can repatriate their funds, with some airlines still having funds trapped in Pakistan from sales made in 2022." 
According to Jamall, "A considerable portion of an airline's operational expenses, such as maintenance, over-flights and fuel, are denominated in US dollars and settled through their head offices. As a result, the challenges in currency repatriation affect airlines' prompt access to their collection proceeds to fulfil payment obligations and increase their exposure to unfavourable foreign exchange movements."
Jamall also emphasised that "the procedure for applying for currency repatriation is burdensome. Airlines are mandated to provide an auditor's certificate with each remittance indicating the amount to be transferred. This compels them to undergo a monthly audit process (instead of an annual one), adding to their operating expenses in Pakistan and prolonging the process."
So, apart from Virgin Atlantic not being able to get its money out of Pakistan while making no money globally, there was the perceived threat that it would face competition from a resurgent PIA.
The PIA question 
Virgin Atlantic's foray into Pakistan was a game-changer, particularly in light of the major setback faced by PIA, the national flag carrier of the country. In May 2020, a scandal erupted when it was revealed that 150 pilots had fraudulent licences, leading to a ban on PIA flying to Europe and the UK. This gave Virgin Atlantic a distinct advantage over its competitor, as it was one of only two airlines offering a direct route at the time.
However, in 2023, PIA made a remarkable comeback when it successfully passed an audit by a team of experts from the UK CAA. This paved the way for another audit by EASA and raised the question: is PIA a threat? The answer is open to debate, and depends on who you ask. It's no secret that PIA already dominated these routes, and is a favourite to do so again even if BA and Virgin stuck around. PIA, however, has a different opinion on the matter. 
According to Abdullah Khan, Head of Marketing and Corporate Communication at PIA, Virgin's departure from the market may not have been due to PIA's re-entry. "From a marketing perspective," he elucidates, "you become more aggressive and competitive when you see that a new player is entering the market."
"PIA has cleared back-to-back audits and is now awaiting a physical audit to fulfil EASA's requirements," Khan continues. Additionally, he mentions that "the UK Department for Transport has a separate condition that will be resolved on a governmental-governmental level."
"The general rule of thumb," asserts Khan, "is that if you see competition entering into the market, you essentially become more aggressive in your marketing mix rather than unilaterally leaving the market."
He also underscores the potential of the UK to Pakistan route, comparing it to routes such as UK to India, UK to China, and UK to Bangladesh. "The allure of a route," he expounds, "is based on the number of people travelling to a destination, the customers' purchasing power, and the actual supply of flights available in the market."
With a substantial Pakistani diaspora in the UK and robust purchasing power among consumers, Khan believes that the market could easily operate 50 direct point-to-point flights per week, based on current equipment deployed by different careers. 
The verdict? 
A combination of all the aforementioned factors is perhaps the likely reason for the exit. Virgin Atlantic's abrupt decision came a mere four months after its statement that it sought to double down on the Pakistani market due to the future potential it saw in it. Maybe, like BA's constant spells, Virgin too will make a comeback? Who knows. Until then, more layover flights to the UK until PIA returns.