What comes to your mind when you think of syrups? Most likely Rooh Afza or Jam-e-Shirin. But have you ever heard of Quice Sharbat or Quice Ice Cream Syrup? What about Quice Ice Cream Soda, Quice Perfect fruit drink, or Quice Little Master fruit drink? Chances are, you haven't. Despite its diverse product range and a history dating back to 1990, Quice Foods Industries Limited remains a relatively obscure name in the world of beverages. 
The reason for its lack of recognition becomes evident once you delve into the company's turbulent financial performance. For a company that specialises in crafting concoctions like syrups, fruit-based drinks, and soft drinks, Quice Foods has been facing a long-standing struggle to turn a profit. In this story, we explore the intriguing journey of Quice Foods, the challenges it has encountered, and the recent glimmers of hope that may hint at a brighter future
History of Quice
Quice Foods Industries Limited (Quice Foods) was incorporated in Pakistan on 12 March 1990 as a private limited company, and was converted into a public limited company on 13 December 1993. Quice Foods was listed on the Karachi and Islamabad Stock Exchanges on 2 August 1994 and 18 July 1995 respectively. Its registered office has been transferred to Karachi with effect from 15 November 2011. 
According to the financial statements of Quice Foods, they specialise in "crafting delicious treasures" like jam, jelly, syrups, custard powder, pickles, essence, juices, and aerated drinks. Or so we thought. Their website tells a slightly different story, listing three main products: syrups, fruit-based drinks, and soft drinks. 
In the syrup category, the company has two products: Quice ice cream syrup (green syrup) and Quice sharbat (red syrup like Rooh Afza or Jam-e-Shirin). 
Article continues after this advertisement
In the fruit-based drinks category, the company produces a range of products under different brands. These include Quice Little Master fruit drinks, Quice Perfect fruit drink, and Quice fruit drink. Flavours offered include mango, apple, orange, pineapple, lychee, pomegranate, orange mango and fruit punch.

In the carbonated soft drink category, the company offers Quice ice-cream soda (like Pakola ice cream soda), Quice fresh pudina (a mint-based soft drink), and five other fruit-flavoured soft drinks namely: Quice perfect apple, anaar, peach, lychee, and red grapes. 
Currently, the company operates its manufacturing units in Swat and Hub. 
Concentrates and Syrups: an overview
Before we look into Quice Foods' financial performance, let's provide some context on the industry it operates within. According to the Euromonitor "Concentrates in Pakistan" report of 2022, off-trade volume sales of concentrates (syrups) rose by 2% in 2022 to 35 million litres and will continue to increase at a CAGR of 2% over the forecast period of 2023 – 2027 to 38 million litres. The category includes liquid concentrates and powder concentrates (such as Tang). For the sake of this story, we will focus on liquid concentrates only.
According to the Euromonitor report, although the category continues to face strong competition from carbonates and juice, concentrates remain widely popular, enjoying a traditional appeal among the local population. Concentrates remain particularly popular among rural and low-income consumers, who account for the majority of the population in Pakistan, as these drinks can be diluted to taste or in response to cost concerns. Low prices have also made concentrates popular among lower middle-class consumers, with the ease of variation in terms of dilution appealing to people focused on cost-effective options.
Laal sharbat ("red drink syrup" products) is expected to continue to dominate sales of liquid concentrates due to a traditional appeal and distinctive flavour.  Most households keep at least one bottle of the laal sharbat in stock. According to the Euromonitor report, sales of liquid concentrates spike in Ramadan and Ashura. 
According to the Euromonitor report, high inflation encourages consumers to shift their package preferences towards value and economy sizing. In general, affluent consumers prefer bigger packs, while the large population of lower-to-middle-income consumers choose single-serve sachets. Single-serve sachets of Tang registered positive sales growth as this pack type appeals to price-sensitive consumers.
Increased unit prices have forced consumers to shift to cheaper options and substitute one product for another. Before the sudden increase in inflation in the first quarter of 2022, consumers had slowly moved away from liquid concentrates and towards carbonates and juice, but inflationary pressure brought a notable shift back to liquid concentrates. 
According to the Euromonitor report, concentrates are projected to see further off-trade volume and value (constant 2022 prices) growth over the forecast period.The category is set to benefit from population growth, moves towards packaged products and widening distribution,as the retail landscape continues to modernise and expand. Many consumers are predicted to gain access to a wider range of concentrates, as the presence of modern grocery retailers widens across the country and low-income consumers look for affordable products. 
Financial Performance 
Ok, so a growing sector, with sales increasing in spite of the high inflation rate: surely Quice Foods would have latched on to the industry's success? 
It is what makes Quice Foods financial performance all the more unusual.  Their financial performance is no less than a rollercoaster ride. Back in 2015, they managed to turn a profit, but even then, operating in the red remained a bitter truth. The following years echoed the same sombre tune, with losses trailing them right into 2023. The profit margins remained stubbornly low despite increasing sales, leaving us with eight long years of no net profit.
But why? Profit reached out to the company for comments but received no response. In fact, Profit  called the company's landline, the irate assistant company secretary said they "are very busy and cannot entertain our queries", and to go find answers in the financial statements. 
Which is exactly what we did. 
The lost years of 2017 – 2019
While Quice Foods have been making losses for the last seven consecutive years, the years 2017, 2018, and 2019 were particularly quite bad. That is sales declined during these years. 
In 2017 sales plunged by around 34%. According to that year's financial statement, this was due to a decline in the syrup category. The company decided to diversify and launched the fruit-based drinks segment. While the company was able to make strides in the juice market, it came at a high cost, eating into its profit margins. 
The sales decline trend persisted in 2018 and 2019, hovering around 17% and 8%, respectively, due to economic slowdown and increased costs.
In 2018's financial statement, the company attributed low sales to the decline in the purchasing power of the public. It further added that the sale volume of syrup declined due to strong competitors. It attributed its high cost of sales to an increase in the exchange rates and commodities prices. 
In 2019's financial statements, the company attributed low sales to economic slowdown. Overall sales declined by 8%. Local sales declined by 4% while exports declined by 45%.  It was during this year, the company launched carbonated soft drinks. According to the financial statement, multiple brand-building activities were undertaken to generate trial and awareness to penetrate this segment. However, the statement does not specify the kind or scale of activities.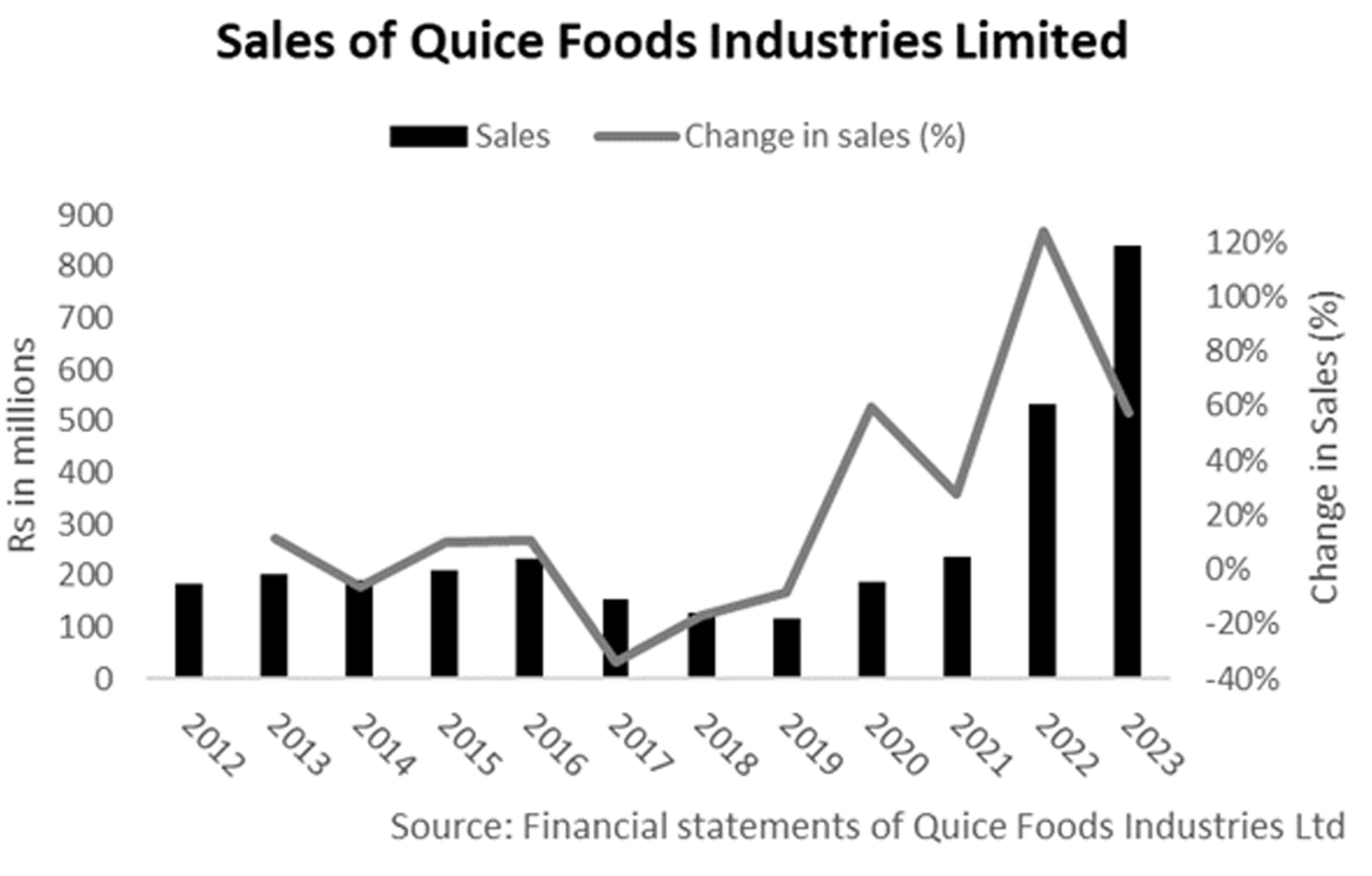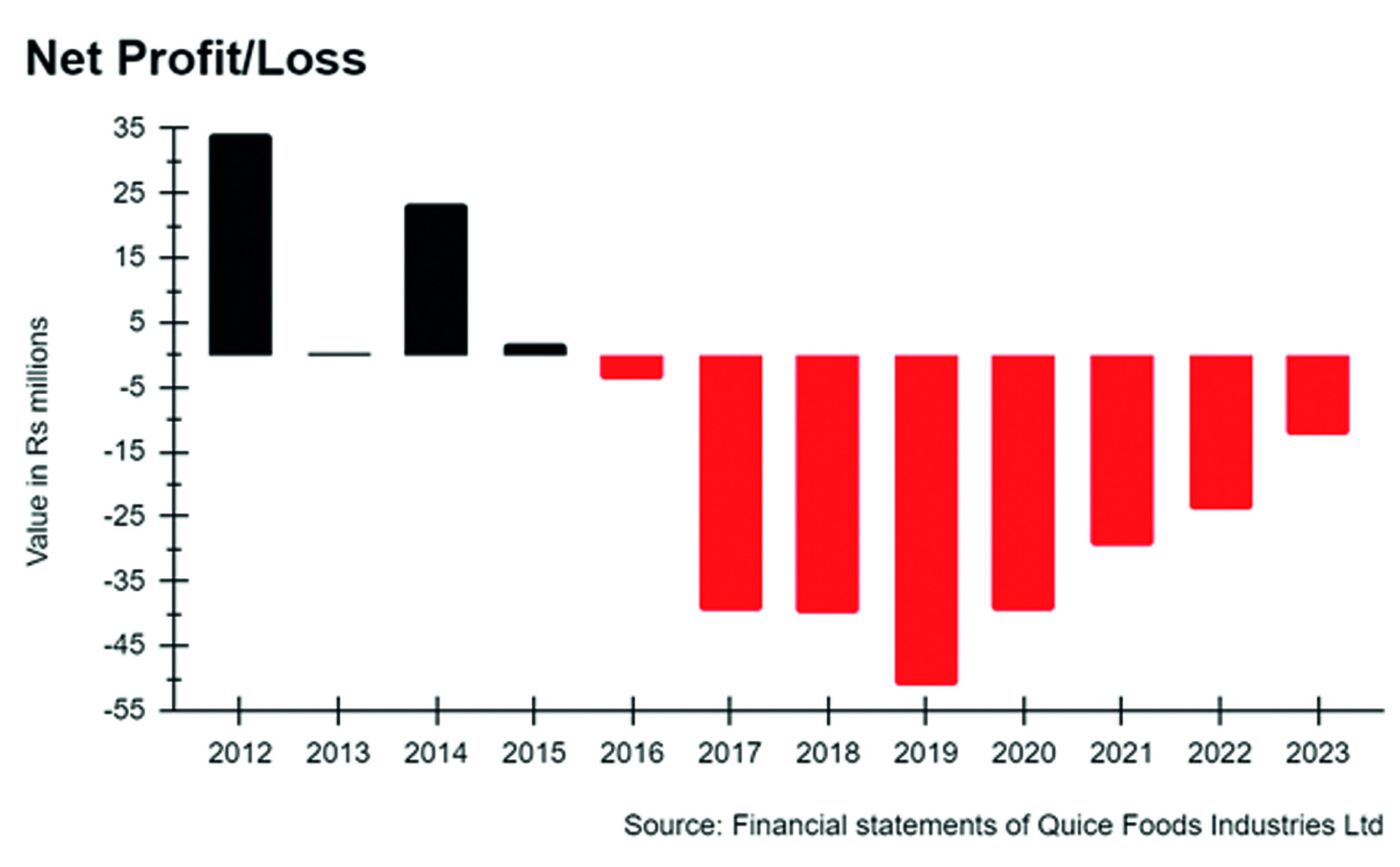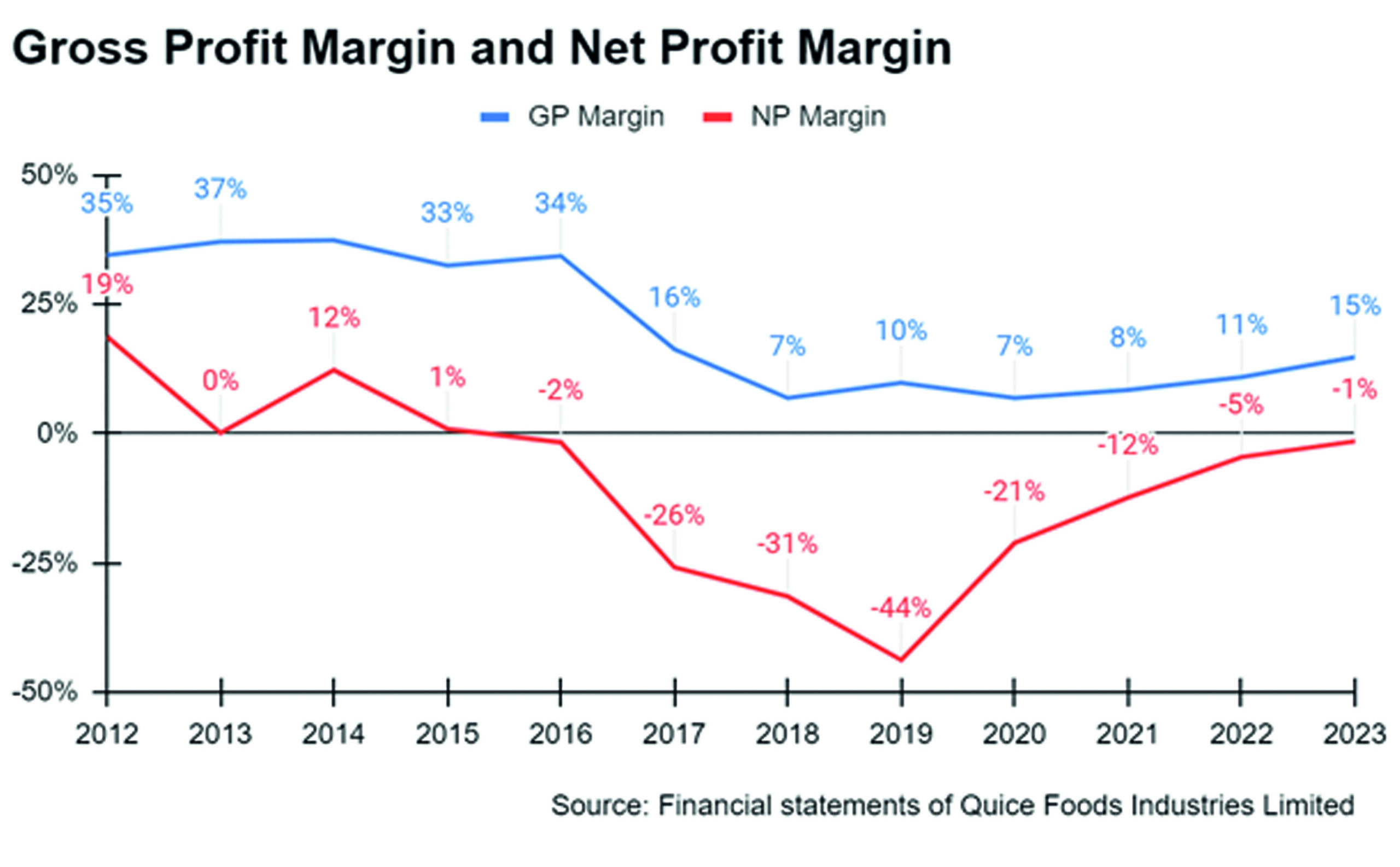 The year 2020: sales increase
In years between 2020 and 2023, the situation slightly improved at Quice Foods, as sales started increasing.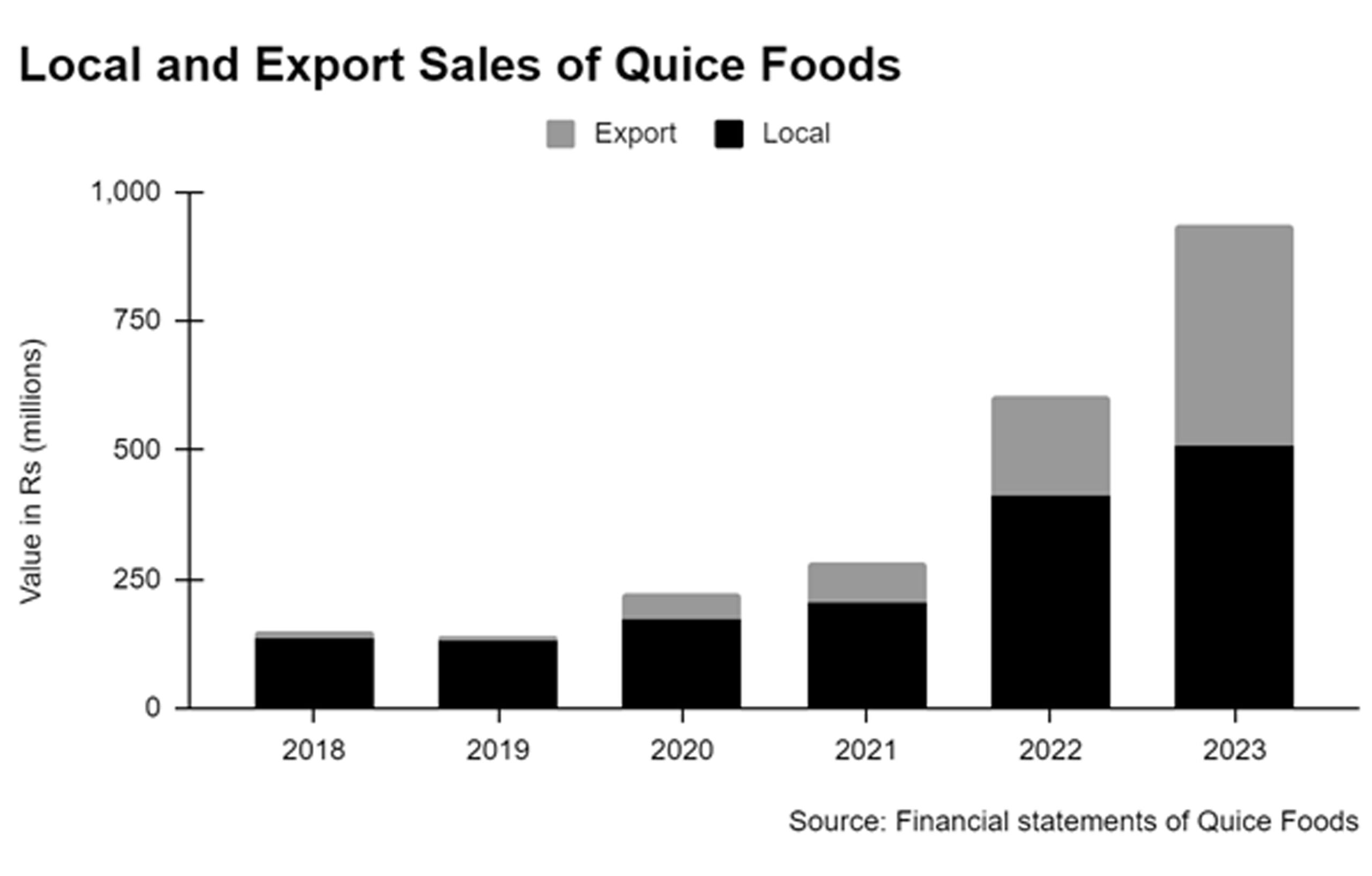 The graph presented above illustrates how Quice Foods' successful foray into export markets significantly bolstered the company's total sales. According to the financial report, the primary export destinations for the company were the United Kingdom, South Africa, and the Mauritius region. 
It's worth noting that the United Kingdom, with its substantial Pakistani diaspora, stands out as a key market. South Africa and Mauritius, being warm countries, offer ideal conditions for Quice's production of cold beverages, which are typically in high demand during the summer season. 
Although the percentage growth of export sales has been positive, it's important to note that local sales continue to surpass export sales in terms of overall value. This growth in sales is attributed to factors such as increased export sales, the expansion of local sales, and specific product segment growth, notably a historic 62% rise in the syrup segment in 2021. 
However, despite soaring sales, the company remains plagued by persistent financial losses, year after year. The reason behind this paradox is the substantial increase in various costs, notably driven by rising commodity prices and rupee devaluation, which undercut the company's gross profit margins. Additionally, distribution costs experience a staggering year-on-year increase, fueled by substantial marketing expenses, outward freight, and handling charges. As a result, Quice Foods reports net losses throughout these years, creating a stark contrast between impressive sales figures and the company's overall financial health.
According to the Q3 2023 Pakistan Food & Drink Report from BMI – A Fitch Solutions Company, "Several inflation drivers are on the supply side, meaning that contractionary monetary policy will have little effect. This is the economic reality for consumers in 2023. Inflationary pressure started to rise globally in 2021, as localised shortages were created by base effects, higher commodity prices and supply chain challenges. The Ukraine-Russia conflict has also significantly impacted the global supply prices of key commodities, such as oil and gas; fertiliser; wheat; corn; and barley. The commodity price increases are already feeding through into higher consumer prices and this will continue into 2023….The (Pakistan) market's declining foreign exchange reserves has also limited its ability to import foods, driving up the costs of food and non-alcoholic drinks in the market."
Importantly, while there is a marginal improvement in gross profit margin over these years, owing to enhanced pricing strategies and increasing export proceeds during currency devaluation, the company still records an overall net loss. Furthermore, external factors such as high input costs, minimum wages, and freight charges negatively impact profit growth. 
Nevertheless, there is a glimmer of hope on the horizon, as evidenced by 2023, where Quice Foods achieves its lowest net loss in seven years, suggesting a potential trend toward financial recovery amidst the backdrop of continual sales growth.
Profit spoke to Arfa Syed, the senior vice president at brand consultancy Oula, who offered her expertise in understanding the Pakistani consumer landscape. "Inflation has hit the common Pakistani consumer like never before and with growing inflationary pressures consumers are adapting by showing three distinct behaviours: they (consumers) trade-off, trade down and sometimes even reduce the moments of consumption. Since we are a very collectivist society, our stoic beliefs always push us to cut on moments of personal indulgence when our pockets come under pressure", said Syed.
The Q3 2023 Pakistan Food & Drink Report from BMI forecasted that household spending on non-alcoholic drinks in Pakistan will slow slightly in 2023 to 8.9% y-o-y, from 9.4% y-o-y in 2022. It further forecasted that consumer spending on non-alcoholic drinks in Pakistan will average annual growth of 7.6%, to Rs 608.9 billion ($1.8 billion) by 2027. As inflation remains elevated over the year,  households weighed down by weakened purchase power, will trade down price points and shift consumer spending away from discretionary spending to stretch disposable incomes. 
Lack of marketing
While inflation has affected people's purchasing power, the low price point of syrups as compared to other categories like carbonated drinks is likely to increase demand for syrups as highlighted by the Euromonitor report.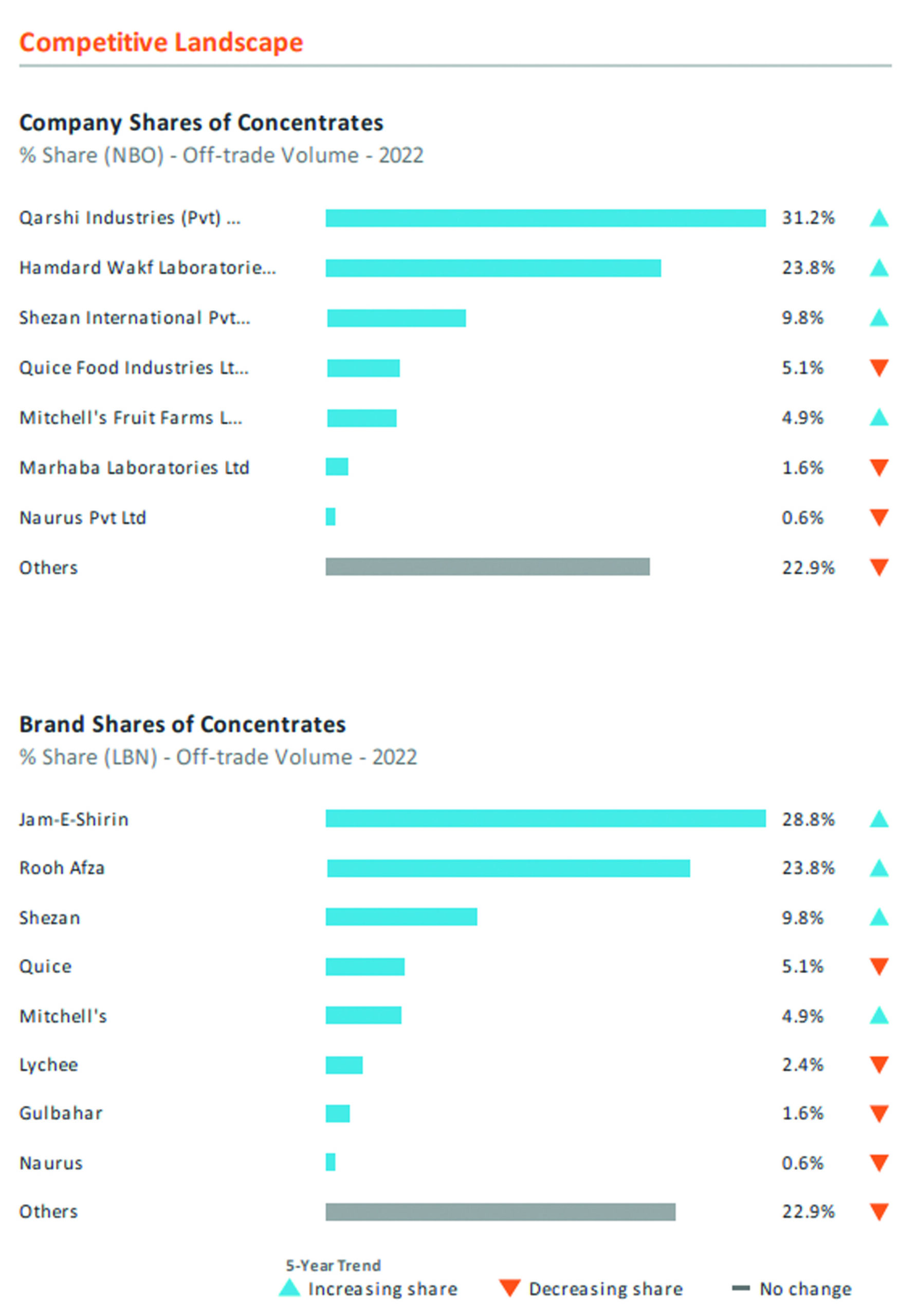 But for Quice foods to tap into this opportunity, it needs to improve its marketing efforts. According to the Euromonitor report, Quice is the fourth largest player in the syrup category. Yet sales and brand share for Quice has been on a decline as compared to other brands like Rooh Afza (Hamdard), and Jam-E-Shirin (Qarshi) and Shezan (Shezan). This decline is particularly concerning, as one senior marketing official, contacted by Profit for comments, admitted to being unaware of Quice Foods and its product offerings.. 
While Quice Foods has mentioned in its financial report that it has undertaken brand-building activities, the details of these efforts are not elaborated upon. In fact, the last TVC produced by the company was in 2017. It has been six years since then. 
Future outlook
As mentioned earlier, Quice reported the smallest net loss in seven years. This situation might be improving. The impact of inflation on consumer behaviour, and the need for cost-effective options, could potentially benefit the low-cost syrup category as highlighted by the Euromonitor report. Quice Foods, as a player in the syrup category, may find opportunities to tap into this shifting consumer demand. 
However, it is crucial for the company to enhance its marketing efforts, as it faces strong competition from well-established brands. The Euromonitor report also underscores the efforts made by established brands like Jam-e-Shirin and Rooh Afza in creating emotional connections with consumers for special occasions, which has contributed to their market dominance. These leading brands are expected to continue promoting the consumption of concentrates throughout the year, expanding beyond seasonal summer consumption to encourage constant demand.
Quice's recent progress, with decreasing net losses, offers a glimmer of hope, but the company needs to address its cost structure and improve its brand visibility to carve a stronger presence in the competitive beverage industry. As the Euromonitor report suggests, the ability to create emotional connections with consumers and diversify consumption occasions could be the key to success in the evolving market landscape.