As I make my way to meet Dr Omar Chughtai, Director Operations at Chughtai Lab, I am guided inside a small and densely populated office at the first floor of the Chughtai Lab's collection centre and laboratory at Lahore's Jail Road. As we begin to talk, voices in the background are jarringly overwhelming and we decide to move to someplace quieter. A few minutes later, we make our way towards a gigantic under construction building that looks like a hospital, two blocks away from the office where we had just met.
"A lot of people think this is a hospital, its not. It is only a lab," he informs. The state of the diagnostic industry in Pakistan has seen constant improvement and growth in the last few years, and from how things seem at present, it is set to grow and improve further in the years to come.
The diagnostic industry in Pakistan, like many others, is evolving, with consumers becoming quality conscious and willing to pay more rather than just treating diagnostics as a mere necessity. "I think over the last 10 to 15 years, there has been a gradual shift towards quality… There's more of an understanding that diagnostics when done right can really save a lot of time, money and pain," said Dr Chughtai.
A booming market
Healthcare spending in Pakistan in general is on the rise. Total consumer spending on healthcare has risen at an average rate of 9.2% year-on-year between 2002 and 2017, reveals analysis of data from the Pakistan Bureau of Statistics. Consumer spending on healthcare in 2017 was estimated at Rs418 billion ($3,983 million). Of that, about one fourth, an estimated Rs114 billion ($1,087 million) was spent on outpatient services, which includes things like physician offices, hospital outpatient departments, and diagnostic services. And these numbers do not include government spending on healthcare, which, though inefficient, is by no means insubstantial.
Diagnostics meanwhile appears to be attracting a considerable amount of interest. Big names such as the Agha Khan, Shaukat Khanum, Chughtai, Shifa and others are all set to benefit from this shift. "There is general overall awareness, people want to eat better, wear better, and want opinion from better doctors. So it's not just in the lab or the radiology space, it's just a general behavioural trend in our economy," he adds excitedly.
Dr Ahsan Malik, Director Health Services at Shaukat Khanum, on the other hand, attributes the growth to technological advancement and an increased influx of international and local investment in the healthcare sector. "Technologically, there has been advancement…And in the last three to four years, a lot of new local big groups, which run different businesses have started coming into health care industry, by setting hospitals and diagnostic centers… and then there are international investors also, who have earmarked Pakistan as an ideal destination to start off their health care businesses," said he.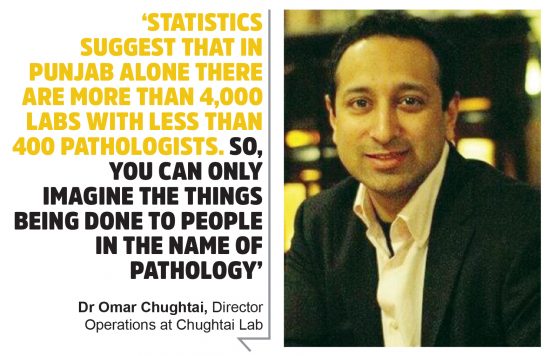 It also helps that diagnostics is an industry that has relatively predictable revenue models, and is easier to control for quality. Small wonder then, that Abraaj Capital made its first investment in Pakistan's healthcare sector in the diagnostic laboratory space, with the acquisition of Islamic Diagnostics Center in January 2017 for an undisclosed price. IDC operates 20 labs across the Islamabad metropolitan area. [The fund that invested in IDC though has since become the subject of a dispute between Abraaj and its investors, and Abraaj has agreed to withdraw from managing that fund. The San Francisco-based private equity firm TPG is in talks to take over the management of that fund, according to a reporting in The Wall Street Journal.]
The 'informal' competition
On the competition front, it seems that big players in the industry rather than competing among themselves are more concerned about the existence of a whole other unregulated diagnostic market in the country.

"At least as far as pathologists are concerned, we really see ourselves, at least I see our community more as collaborators rather than competitors," said the Chughtai Lab director operations. Their competition is with all of the other thousands of labs out there that have no pathologists, no trained human resource, no proper equipment and no protocols to collect samples and no quality controls, said he.
Dr Chughtai rough estimate is that of the major formal sector players all combined do not have more than a 15% to 20% share of the market.
On that score, the diagnostic lab companies may be about to get some help from the Supreme Court, already seized with the incidence of unqualified professionals running medical facilities.
According to Dr Chughtai people who are not pathologists and are running labs are no different. "Statistics suggest that in Punjab alone there are more than 4,000 labs with less than 400 pathologists. So, you can only imagine the things being done to people in the name of pathology," he adds.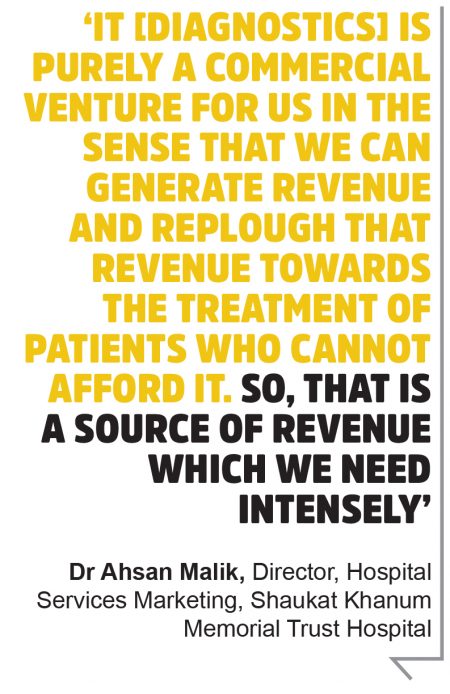 The money spinner for hospitals
Private players have been prominent in diagnostics for decades, with Dr Zeenat's among the pioneers of the lab space in Pakistan. Diagnostics to this day seems to be a lucrative investment. Shaukat Khanum, the biggest cancer hospital in the country, makes a major chunk of its revenue selling diagnostics services, while it offers cancer patients who cannot afford it free treatment. The three sources of revenue for the hospital are fundraising/donations, treating cancer patients who can afford to pay, and the diagnostic services.
The contribution of revenue from diagnostics has literally gone through the roof. In 1997, the annual budget for the Shaukat Khanum Hospital was around Rs700 million with Rs500 million coming from fundraising/donations and the remaining Rs200 million being generated through its own revenue. Today the same model is still being followed, but the proportions and volumes have changed, with the annual budget standing at almost Rs11 billion. Out of this, Rs5 billion is generated by the hospital's revenue from providing services, almost 80% (Rs4 billion) of which comes through selling diagnostic services, according to Dr Ahsan Malik, the director of hospital services marketing at Shaukat Khanum hospital.

"It [diagnostics] is purely a commercial venture for us in the sense that we can generate revenue and replough that revenue towards the treatment of patients who cannot afford it. So, that is a source of revenue which we need intensely," Dr Malik insists.
The hospital now aims to reduce its dependence on donations/fundraising and fund cancer patients through the revenue it generates itself.
The diagnostics industry indeed has optimistic expansion prospects.
For players like the Chughtai Lab, the road is wide and clear. Starting off as just a lab in 1983, until the end of 2016, Chughtai stayed as it was. In 2016, it started limited radiology facilities in some places. About a year ago, Chughtai opened its first two medical centres, where pharmacy, lab, radiology and clinic all work under one roof. However, it is still only offering outpatient services and has no inpatient treatment facilities.
"Whether we will (offer inpatient treatment facilities) or not remains to be seen," says Dr Omar Chughtai.

For now, the company is satisfied with its business model and wants to keep on replicating it. "If you believe that you have a team in place, and have systems in place and are delivering good quality at a reasonable price, and you feel that you can deliver this quality to more patients… that's what drives it. Then of course, just like any other business… volume helps, scale helps and implemental costs are less compared to starting off on day one," he adds.
However, such endeavours are seldom undertaken if they don't offer an ample return, and in Chughtai's case they seem to be doing just that. Recently, the company sponsored the Faiz Festival, an event generally sponsored by large corporates. Its owners are also members of the, Entrepreneurs' Organization (EO) whose membership can only be attained if one owns a business that has annual revenue in excess of $1 million. Such expensive sponsorships and elite memberships give a good insight into the massive scale Chughtai Lab is operating on and the positive cash flows it is generating through it.
Kickbacks and copycats
In an industry as competitive as diagnostics, legal and ethical considerations gain the utmost importance. However, it seems that some players in the industry at the very least are involved in unethical, if not totally illegal, practices.

A doctor, speaking to Profit on the condition of anonymity, alleged that some diagnostic labs, in a bid to attract more patients, offer commissions to doctors for referring patients to them. Dr Malik of Shaukat Khanum, categorically denies such reports.
"I would not like to comment on that because it is very unauthenticated," he says.
On the other hand, Dr Chughtai has different views. "There are labs that offer kickbacks to doctors. It's just unethical," he confirms, adding that he himself would much rather offer discounts to patients from the same funds than indulge in such unethical and illegal practices. "On average one of our location is giving 15% discount, while another location is giving 21%. That eats into our margins significantly, but you know what? We would much rather do this, and facilitate the patient in front of us," he insists.
He also goes on to complain regarding the copycats in the industry. Some labs copy our name and have put a cross sign in front of it claiming that they are Chughtai Lahore Lab Plus and there is a lab that uses the name Chughtai Lahore Lab 'Salman' with 'Salman' written in a very small font, he says. "He is a cousin of mine by the way," he stresses, referring to the name 'Salman'. "But I will tell you this, that none of those players, will ever gain scale, because its a downward spiral," he concludes.

However, as a whole, despite such practises and allegations, the diagnostic landscape in the country looks promising. With the affordability of the population increasing and a general trend towards quality coupled with the increased investment in the healthcare space and young entrepreneurs coming up with tech startups aimed at disrupting the traditional model of healthcare delivery, it seems that the industry has nowhere to go but up.