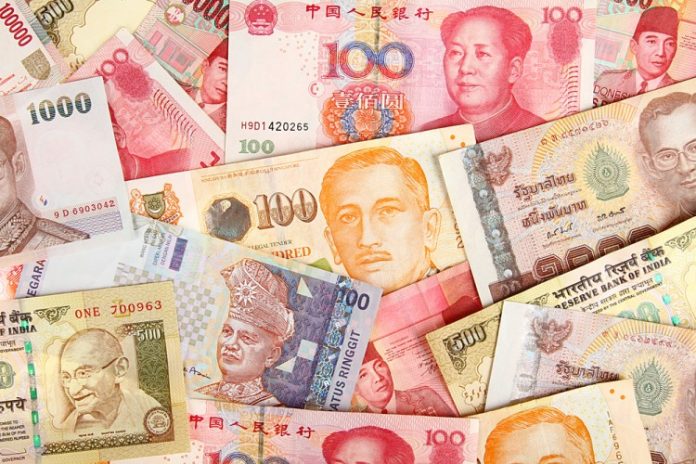 HONG KONG: Most Asian currencies struggled for traction on Tuesday as the backdrop of an U.S.-driven international trade war and the absence of positive catalysts kept investor sentiment largely in check.
The Philippine peso, which has been hovering around 12-year lows, came under more strain as the nation's trade deficit widened further in May.
The dollar's index against a basket of six major currencies hovered around June's lows, up just a touch on the day at 94.181, mainly capped by disappointing wages growth in an otherwise solid U.S. payrolls report on Friday.
The Chinese yuan pushed higher for the second day, up 0.1 percent to 6.605 on the dollar, helped by the combination of a firmer official yuan fixing, a broadly softer greenback and some easing of Sino-U.S. trade tensions.
While both China and the United States hit each other's goods with tariffs on Friday, the focus now is on whether the dispute would ratchet up further or if officials in Beijing and Washington will find a way to ease off the tense trade relations.
Data earlier in the day showed China's producer inflation, a gauge of industrial profitability, rose by a stronger-than-expected 4.7 percent in June. The worry is that an uptick in factory-gate prices could put more pressure on the country's exporters as trade dispute with the U.S. prolongs.
The Indian rupee eased 0.1 percent to 68.790.
A Reuters poll showed inflation is likely to rise to a near two-year high in June, a development that would strengthen calls for more monetary tightening by the central bank.
DEFICIT WOES HIT PHILIPPINE PESO
The Philippine peso gave up 0.2 percent to 53.483 after data showed the country's trade deficit widened in May to a five-month high as exports shrunk.
The Import-driven trade gap is expected to worsen the country's current account deficit this year, and cast further pressure on the peso, which is one of Asia's worst performers so far this year.
Goh tips the peso to weaken to 54 on the dollar by year-end.
Ringgit outperforms before Central Bank meeting
The Malaysian ringgit rose to 4.009 per dollar, a day ahead of Bank Negara Malaysia's policy meeting, where interest rates are expected to remain unchanged.
Analysts say that with the abolishment of the goods and services tax, there's little inflationary pressure to trouble Governor Nor Shamsiah Mohd Yunus in his first policy meeting, even as other regional central banks hiked rates to bolster their respective currencies.
The ringgit has outperformed its Southeast Asian peers in the region, amid an exodus from emerging markets as rising trade tensions have turned investors risk-averse.