Something different is afoot in Pakistan, and if you know where to look and where to be, you can feel it. While much of the country continues to muddle on as though nothing much has changed, a few bold dreamers dare to envision a country that is different: more optimistic, more future-oriented, more technology-friendly, more connected.
It is no secret that Pakistan's technology startup ecosystem leaves much to be desired. The country got its very first venture capital fund last month. The number of startup incubators can be counted on the fingers of one hand, and the number of coworking spaces and service providers to startups is very limited. And this is before we even get into things like an enabling legal and accounting infrastructure, effective networking and mentorship opportunities, and other avenues of the kind of collaborative competition that defines the startup culture in Silicon Valley.
Talk to any Pakistani entrepreneur or venture capitalist attending 021Disrupt, and you will hear that litany of complaints about what Pakistan lacks and what Silicon Valley has. But here is what those people complaining to you won't notice: five years ago, they would not even have thought about complaining about any of these things. Because five years ago, Pakistan's startup scene were the beggars who did not dare dream of palaces, but were grateful for any crumbs from the rich man's table.
The complaints, in other words, are a sign of progress. They represent elevated expectations.
But whereas once the phrase Silicon Gali was only occasionally – and usually not seriously – used, there is now no doubt that Pakistan has a vibrant enough startup scene that needs a name, much like Silicon Valley in the United States.
But where exactly is Silicon Gali? The heart of the US tech industry is unquestionably in the corridor of erstwhile sleep California towns between San Francisco and San Jose. Is there a similar clustering effect in Pakistan? The answer to that question is yes, though with a few caveats.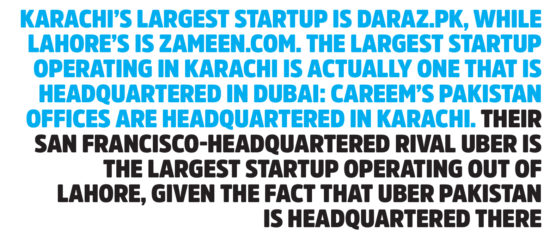 Silicon Valley: what is it and why clustering matters
To understand why having a tech startup cluster even matters, it helps to look at the original cluster and how it came to be so dominant.
Silicon Valley began in part through a combination of historical accident and purposeful decisions on the part of both private entities and the United States government. The San Francisco Bay Area originally became populated as a result of the Gold Rush of 1849, when people from all over the United States rushed to the area after an initial discover of gold in the area in 1848. Hence, the area always had an appeal to people who were willing to risk tremendous odds for the chance at monumental wealth.
Somewhat by coincidence, in the early 20th century, the area also became a hub for research and development by the United States Navy, particularly when it came to communications technology. Some of the world's first radio companies were created in San Jose and Palo Alto, cities that are now more commonly known as the headquarters of software and internet companies.
It also helped that nearby Stanford University always had a strong engineering program that encouraged its graduates not only to become innovators and stay in the area to build out their businesses. Two of the earliest such graduates were named William Hewlett and David Packard, after whom the now gigantic computer manufacturer Hewlett-Packard is named.
And sometimes luck was involved. The only reason Shockley Semiconductor Laboratory moved to Mountain View, Californian (also where Google has its headquarters) is because William Shockley moved there to be close to his ailing mother, who lived in nearby Palo Alto.
By the late 1950s, the nascent semiconductor industry was headquartered in Silicon Valley, through a combination of government policy and private individuals making their own decisions. And then came the venture capital, when men like Arthur Rock and Tom Perkins moved from New York to California to begin offering financing to the new companies being created in this entirely new industry.
Once the venture capitalists moved in, the virtuous circle started running and has not stopped since. Venture capital moved in originally because an interesting group of entrepreneurs were there. Once the venture capitalists moved there, more entrepreneurs moved to Silicon Valley to be closer to the venture capitalists. That higher number of entrepreneurs attracted yet more venture capital, and so on the circle goes.
Today, Silicon Valley is the dominant centre of global technology and is reshaping human life at a scale and speed never before seen in history.
Here are just a few numbers that show just how dominant Silicon Valley is: the region attracted more than $140 billion in the six years between 2012 and 2017 inclusive; the next highest region was Beijing with just $72 billion during that same period. That money was spread across 12,337 deals; the next highest region was the New York City metropolitan area, with 5,252 deals. Of the 298 tech startups valued at more than $1 billion – also known as unicorns – 57 are located in Silicon Valley; the next highest region is Beijing, with 29 unicorns, according to data compiled by CBInsights.

The companies spawned by Silicon Valley are names the whole world knows and uses: Google, Facebook, Apple, Netflix, Intel, Oracle, Visa, etc. China may now have massive technology companies, but hardly any of them are well-known brands outside China.
The cluster that Silicon Valley has created now has a virtuous circle that includes not just entrepreneurs and venture capitalists, but also research universities, mature corporations, service providers, and above all, a culture that lives and breathes disruptive change and generates massive wealth and economic growth as a result.
In short, it pays for an economy to have a tech startup cluster, and while Pakistan does not have a fully developed one yet, it should actively seek to create one. The only question at this point is which part of the country has the strongest claim to play host to such a cluster.
So where is Silicon Gali?
In Pakistan, there are two top contenders for the prize: Karachi and Lahore. We will not keep you in suspense much longer: if there is a single place that can be described as Pakistan's Silicon Gali, it is Lahore. Karachi has a lot of strong attributes going for it, but ultimately Lahore wins out. How? Here are some of the numbers, which we have compiled using data from Crunchbase, a global database of tech startups and venture capital.
Our evaluation is based on the following five metrics: the total number of startup headquarters in any given city, the amount of venture capital funding attracted by startups headquartered in a city, the number of venture capital deals attracted by startups headquartered in the city, the number of venture capital funds headquartered in the city, and the number of successful startup exits by companies headquartered in the city. Lahore wins on four of these five metrics, though Karachi wins the fifth, and is not too far behind on one of the first four.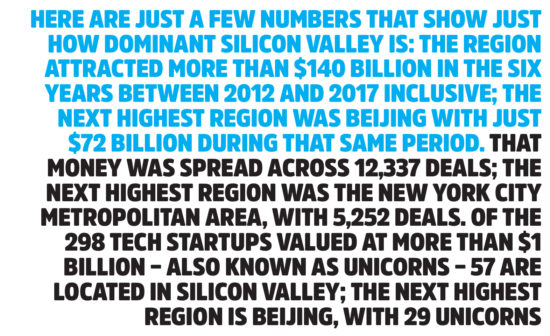 Number of startups: On this metric, the numbers are not even close. Profit was able to compile data on 762 startups using Crunchbase data, of which 311 are in Lahore, meaning nearly 41% of Pakistan's startups are in the Lahore metropolitan area alone. Karachi was the next highest, but the number is not close: 228 startups, or about 30% of the country's total.
When it comes to the types of startups in each city, both Karachi and Lahore have a considerable diversity, with each having a mix of web portals, e-commerce companies, and other tech or tech-enabled startups as part of their ecosystem. This does not appear to be a situation where one city has a comparative advantage over the other in a specific type of startup. Neither city has a startup ecosystem large enough to allow for that kind of specialization.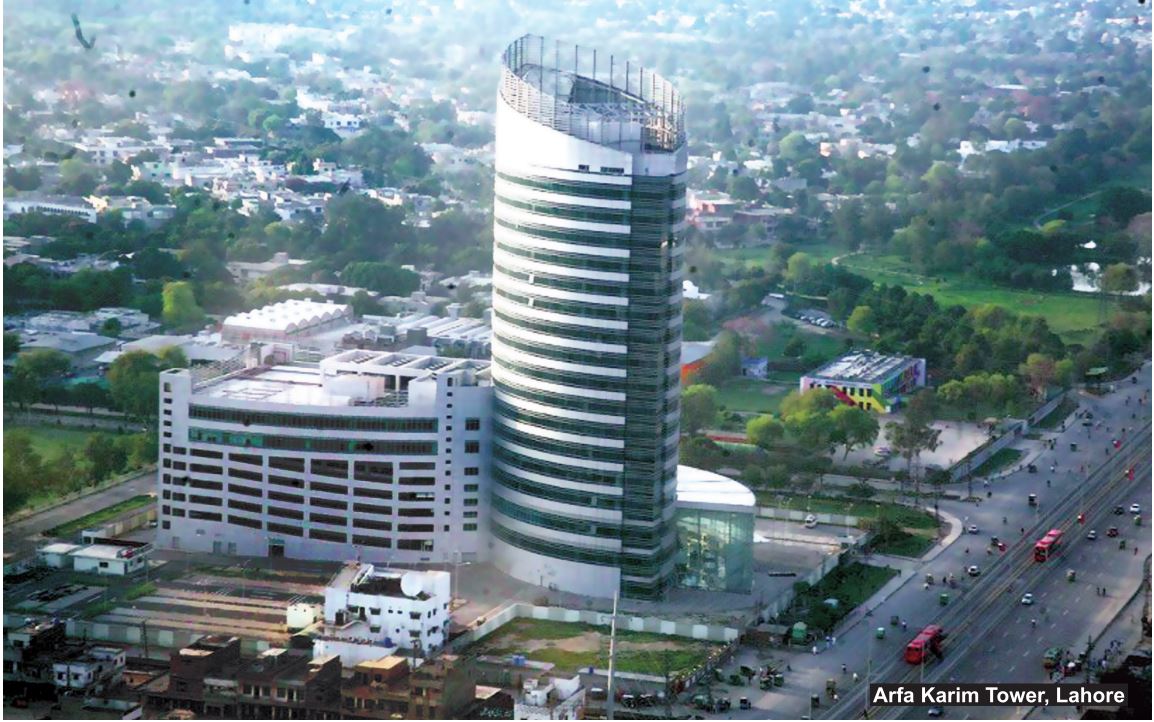 Nonetheless, there are some interesting themes: Karachi's largest startup is Daraz.pk, while Lahore's is Zameen.com. The largest startup operating in Karachi is actually one that is headquartered in Dubai: Careem's Pakistan offices are headquartered in Karachi. Their San Francisco-headquartered rival Uber is the largest startup operating out of Lahore, given the fact that Uber Pakistan is headquartered there.
And some of the trends are the ones that do not emerge from the data: given Karachi's status as the financial capital of the country, one would expect to see most of the FinTech startups located in that city, but a majority of those startups are in fact located in Lahore.
Amount of venture capital funding: Over the past 15 years, Pakistani startups have attracted a total of $162 million in venture capital funding, mostly from funds around the world. Lahore has the lead in this category, with $69.3 million in funding going to startups based in that city, or about 42.9% of all venture funding to Pakistani startups. Karachi, however, is a close second, with $67.3 million in funding going to startups headquartered in the country's financial capital, or about 41.6% of the total.
A few notes about the data here: we excluded from our list the $184.5 million investment by Ant Financial into Telenor Microfinance Bank. Our reasoning: that investment represents more of a private equity investment than a venture capital investment, and Telenor Microfinance Bank is not really a startup so much as a subsidiary of a mature company.
The count for Karachi also includes some unannounced transactions that the Profit team is aware of and expects will be announced by the end of this month.
Karachi's largest startup – Darak.pk – accounts for the bulk of the count for startups in that city: $55.6 million. By comparison, Lahore's biggest startup – Zameen.com – also accounts for a plurality of the funding attracted by startups in that city, but not quite a majority. Zameen.com has thus far raised $31.1 million in disclosed rounds of funding.
Of the 15 startups that have raised at least $1 million in disclosed rounds of funding, nine are headquartered in Lahore, and only four in Karachi. Of the seven startups that have raised $5 million or more in disclosed rounds of funding, four are headquartered in Lahore and two in Karachi.
Number of venture capital deals: Once again, the data on this is not even close. Since 2006, there have been 111 venture capital transactions involving Pakistani companies that have been disclosed. Of those, 52 involved companies headquartered in Lahore, and only 28 involved companies headquartered in Karachi. Lahore's advantage on this has largely been consistent over the past decade and a half, with the number of transactions in Lahore outstripping those in Karachi in all but one of the years for which data is available. The one exception: 2018, when there have been nine deals in Karachi so far this year, and four in Lahore, though it is unclear if that recent shift portends a change in trend.
Given the fact that Karachi has a small number of deals and a smaller number of startups, that implies that the average investment size – and thus the average valuations – for startups in Karachi is higher than that of startups headquartered in Lahore. This could be a harbinger of change in the future: if Karachi startups are consistently able to command higher valuations and absorb larger amounts of capital, ultimately, more venture capital will seek to fund startups in Karachi and Lahore might lose some of its edge.

Number of venture capital funds: There is only one dedicated venture capital fund in Pakistan – Sarmayacar Ventures – which is headquartered in Lahore. This is not even a close contest. Karachi may get a venture capital fund some day, but it simply does not have one there now.
Number of successful startup exits: Again, there has only been one major startup exit in Pakistan's tech industry and this is one where Karachi wins out over Lahore: Daraz.pk's $150 million sale to China's Alibaba is the only recorded exist thus far for Pakistani startups and Daraz is headquartered in Karachi.
Why are exits important? The answer to that question can be summed up in a quote from Lou Kerner, a partner at CryptoOracle.io, a New York-based venture capital fund: "Without big exits, the ecosystem is like a roach motel, money can come in, but it doesn't get out. And that's not a good thing for anyone."
While some of Pakistan's leading startups have been around for a long time (Zameen.com was founded in 2006), the broader culture of entrepreneurship in Pakistan did not take off until 2012 or so, largely in anticipation of the boom on mobile internet connectivity that would come with the auctions of 3G and 4G spectrum to the cellular telecommunications companies.
It as not until April 2014, when those licences were actually auctioned off, that Pakistan's entrepreneurial cycle began to take off. Hence it has not been long enough for most of Pakistan's tech startups to begin offering exits to their initial venture capital investors.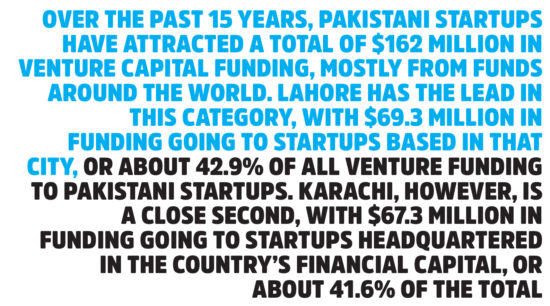 Why is Lahore ahead?
The answer to that question is completely straightforward: the Lahore University of Management Sciences (LUMS), and the Punjab government, specifically the Punjab Information Technology Board and the incubator it runs called Plan 9.
The LUMS factor: In addition to being indisputably the best university in Pakistan, LUMS also has the best computer science department in the country (and it is not even close – sorry GIKI). The university has by far some of the best faculty in the country, and it is able to continue attracting highly qualified professionals to teach there by institutionalizing its faculty recruitment, which actively seeks to hire quality professionals, as opposed to most other universities in the country, which tend to fill their teaching slots with the best available candidates rather than actively recruiting for the most qualified ones.
LUMS also tends to attract some of the best talent in the country, both in terms of students seeking to pursue careers in business and management as well as those who are pursuing careers in the hard sciences and engineering. In theory, the Ghulam Ishaq Khan Institute of Engineering Sciences and Technology (GIKI) as a specialized engineering institution should have a better quality of science education, and perhaps in some areas it does.
But when choosing between two universities that both have an active campus life centered around dorms, where do you think the most talented student – who can choose either of the two – will want to go: Swabi, or Lahore? (Although given the recent trend of unbreathable air in Lahore in the winter as a result of smog, maybe Swabi is not so bad.)
By comparison, the vast majority of Karachi's higher educational institutions are public universities, with only one high-quality private institution with a long history: the Agha Khan University, which is a medical college. (Perhaps that is why there are slightly more health-related startups in Karachi than in any other part of the country.)
Of course, the public universities in both Karachi and Lahore produce a few high quality engineers and computer scientists every year, but it is not definitively possible to say that UET Lahore is better than NED University Karachi or vice versa. The difference for Lahore really does seem to be the existence of LUMS, and a lack of any serious competitor in Karachi. (Habib University has potential, but is too new to have any impact yet.)
PITB and Plan 9: The high quality of the LUMS education is then supplemented by the PITB and Plan 9, the Punjab government's incubator, which offers high quality infrastructure to its incubates, in addition to providing them access to a high caliber of venture capital funding that the government has been able to attract by virtue of its own investment in the incubator itself.
A sizeable proportion of Lahore-based startups that have received funding are ones that were first incubated in at Plan 9, which gives the city an enormous advantage over its rivals in terms of an enabling startup ecosystem.
Karachi does have startup incubators, including the Nest I/O, which has a strong track record of helping its incubates attract venture capital. And perhaps Karachi's incubators have a slightly better long-term prospect, given the fact that they are all private sector initiatives and thus not dependent on government largesse or subject to the whims of a new chief minister.
But a lack of government support does appear to be at least somewhat of a handicap for Karachi thus far. It is unclear if the PITB will continue to perform as well as it did under Dr Umar Saif, who was widely regarded as a capable head of the department. However, the advantage the PITB has built up for Lahore is likely to last for at least a few years into the future.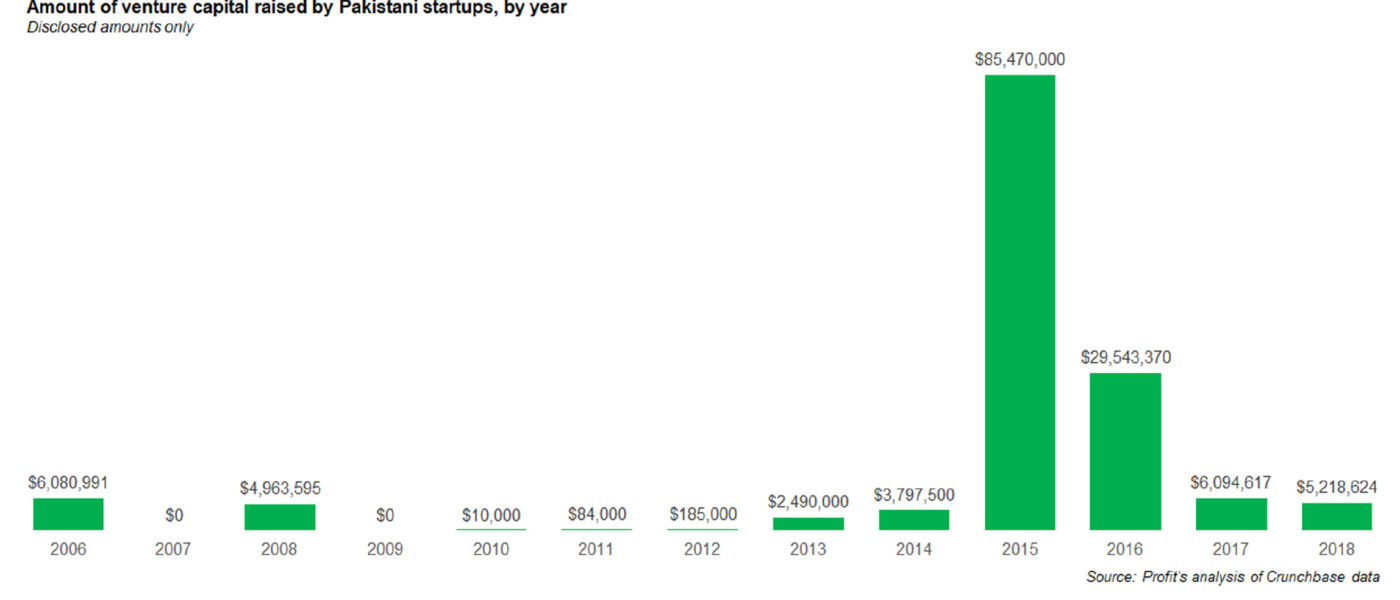 Honourable mentions in the race for Silicon Gali
Unsurprisingly, the third largest area for startups in Pakistan is the Islamabad metropolitan area, with the twin cities accounting for 140 startups, or 18.4% of Pakistan's total. Unfortunately, most of the transactions involving Islamabad / Rawalpindi startups did not have disclosed amounts so it is not easy to determine exactly how much of the country's total venture capital inflows were captured by startups located close to the federal capital.
One surprise in the data is Sialkot, which had 18 startups, including one that had nearly $22 million in venture capital funding. That startup is Bag Tech, a company that makes all sorts of bags and attracted four separate rounds of venture capital funding from Auriga Partners, a Paris-based venture capital fund.
Peshawar, Faisalabad, and Hyderabad each have more than 10 startups for which data is available on Crunchbase, though unfortunately none of these three cities has significant data available about the amounts of funding raised by those startups. The rest of Pakistan accounts for less than 3.5% of the total number of startups in the country.