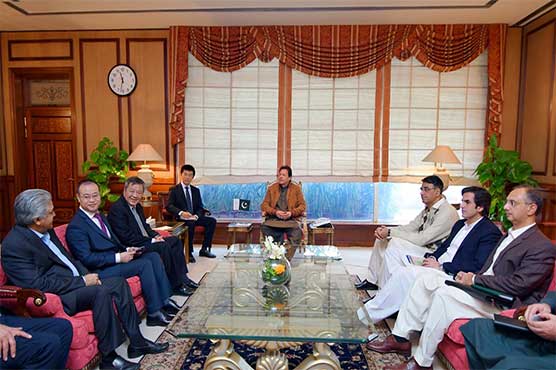 LAHORE: K-Electric's divestment to Shanghai Electric Power (SEP) which has remained stalled and been in limbo since a while, has rekindled hopes of a conclusion after Prime Minister Imran Khan's meeting with a delegation of SEP on Friday.
In October 2016, Abraaj Capital sold its majority 66.4% stake in K-Electric to SEP for $1.77 billion and the consummation of the transaction has been stalled for various reasons.
The government's stake stands at 24.36% in K-Electric, foreign shareholders hold 3.09%, public 2.69%, mutual funds 1.67%, public-sector company's 0.13%, financial institutions 1.48% and others' 0.18%.
On Friday, a delegation led by Chairman Shanghai Electric Power (SEP) Wang Yundan met with Prime Minister Imran Khan in his office.
Mr Wang apprised the PM about Shanghai Electric Power and exhibited great interest of the company to invest in Pakistan's power sector.
The premier appreciated the decision of SEP to invest in the country's power sector and stated the government's commitment to providing full assistance and an enabling environment to the investors to take advantage of huge investment opportunities existing in Pakistan.
In this meeting, Abraaj Capital founder and owner of K-Electric Arif Naqvi was also present.
On Friday, the news of SEP's delegation meeting with the PM led to the capital market expecting that the sale might finally go through.
It led to a surge in selling and buying of K-Electric shares and it ended Friday as the market volume leader with 13.90 million shares (+6.76%).
However, this spark of enthusiasm must be a relief for K-Electrics' majority shareholder Abraaj which has been extremely eager to close the deal with SEP.
On Thursday, SEP and K-Electric also held a meeting with the Privatisation Commission (PC) and a no objection certificate (NOC) is required for the sale of the power utility to the Chinese entity.
Abraaj, once amongst the leading Middle East North Africa (MENA) region private equity firm filed for provisional liquidation in June this year after investors accused it of misusing its funds.
At its peak, it oversaw $14 billion in emerging market investments.
Since February, the company's owner Arif Naqvi has remained in the spotlight and seen Abraaj dissolve into the abyss after a wave of accusations tarnished his and the company's reputation.
The media probing into Abraaj's and Naqvi affairs has continued unabated as Wall Street Journal accused him of 'heavy embezzlement.'
However, Naqvi denied media reports that he was involved in corruption surrounding the sale of the embattled private equity fund stake in K-Electric and any misuse or appropriation of Abraaj funds.
The financial troubles of Naqvi have intensified due to non-closure of K-Electric's sale to SEP and resulted in Abraaj's cash position to erode.
The proceeds envisaged from the consummation of this transaction could likely resolve Abraaj's liquidity issues and help pay off its creditors.
In end-November, Reuters reported that Naqvi had approached limited partners and creditors in a desperate bid to get their backing for supporting a plan to restructure the debt of Abraaj Holdings and some of its older funds to avoid liquidation.
For the deal to be concluded, K-Electric requires an issuance of National Security Certificate from the government represented through the Privatisation Commission in accordance with the original sale-purchase agreement (SPA) signed on November 14, 2005.
Disputes and hindrances in the sale of K-Electric
Various factors have been at play that stalled the K-Electric deal including disputes with Sui Southern Gas Company (SSGC) regarding payments owed to the state-owned company for gas supply and other wranglings with National Despatch and Transmission Company (NTDC) and CPPC.
On October 2nd, the Economic Coordination Committee (ECC) of the cabinet established a committee under the chairmanship of Adviser to the PM on Commerce, Textile, Industry & Production and Investment Abdul Razzaq Dawood to look into the issues of K-Electric in a holistic manner and submit viable recommendations for their solution to the ECC for consideration by 25th October 2018.
It held four meetings on October 11th, 16th, 26th and November 28th, 2018, respectively, wherein, it was discussed that, finalization of TORs for settlement of outstanding receivables and payables by the KE in relation to GoP entities i.e. SSGC, NTDC/CPPA and KWSB, Karachi by the Power Division, Petroleum Division with the support of Finance Division.
K-Electric receivables stood at Rs65 billion owed by several public departments and companies and payables of around Rs50 billion were owed to the government in different heads, its management told the Senate Standing Committee on Power last month.
Moreover, during the committee hearing last month it was proposed that a debt swap be carried out to clear-off pending dues on all sides.
The bureaucracy opposed the suggestion, although the committee members seemed receptive to the idea.
The Secretary Power Irfan Elahi told KE owes dues to the National Despatch and Transmission Company (NTDC), CPPC and Sui Southern Gas Company (SSGC), which are linked to the federal government.
Mr Elahi added, "On the other hand there are some subsidy amounts that the Ministry of Finance has to clear. There are pending bills of Karachi Water and Sewerage Board (KWSB) but why should the federal government clear such bills."
Responding to a query on how a crisis-like situation could be avoided, Mr Elahi stated the best solution was to reach a bilateral agreement between KE and government entities.
The power secretary said they recommend a bilateral agreement be agreed between KE and SSGC for settling books and similarly with each entity.
"But I suggest that is possible only if the Senate Committee takes the initiative and directs the finance ministry to hold a joint meeting of KE, Power Division, and the Petroleum Division to resolve the issue. This matter cannot remain on stay order forever," said Mr Elahi.
K-Electric has been sitting on its annual financial statements for the financial year 2016-17 and 2017-18, which haven't been made public.
The latest financial statement available on its website is for the financial year 2015-16.
Shanghai Electric Power initially wanted to acquire the stake through a special purpose vehicle (SPV). But the original agreement didn't include a provision to acquire the stake through the SPV.
Likewise, the transaction couldn't be concluded due to legal interpretations, and delay in settlement of financial liabilities that caused the sale of K-Electric to be stalled.
As earlier reported by Profit, officials said the delay in KE-SEP deal was affecting the overall confidence of foreign investors in the country and early conclusion of the deal could boost the confidence of investors.