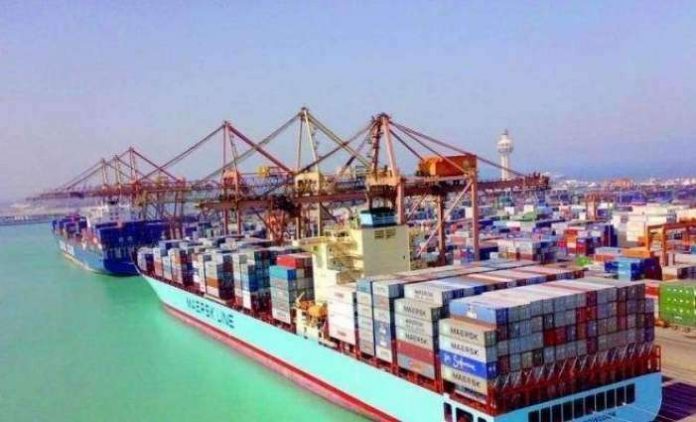 KARACHI: Major projects of the Karachi Port Trust (KPT) have been put forth for likely addition in the China-Pakistan Economic Corridor (CPEC).
According to a report in Dawn, official sources stated that the Secretary Maritime Affairs Amir Khawaja attended the 8th Joint Coordination Committee (JCC) meeting in Beijing last month and put forth KPT's mega projects for inclusion in CPEC.
An official belonging to Ministry of Maritime Affairs, who preferred anonymity stated the mega projects tabled before the JCC included multi-billion-dollar freight corridor from KPT to Port Qasim for forward movement to upcountry of cargo and Special Economic Zone (SEZ) on the outlets of Karachi port.
The source said the Sindh Chief Minister who was part of the Pakistani delegation to Beijing last month had endorsed this proposal.
And during the second phase, these projects will be considered for go-ahead by the appropriate Joint Working Group (JWP) during their meeting in March.
The officials voiced optimism that the addition of freight corridor project under the CPEC ambit would assist Karachi Port which has grappling to attain connectivity for Pakistan Deep Water Container Port (PDWCP) at Keamari.
Currently, much of the port traffic goes through the city, adding to worsening traffic and increasing congestion.
The inability to build road connectivity Karachi port and its own frontiers is a major obstacle in the way of rising traffic volumes there.
This latest recommendation to put the freight corridor under the umbrella of CPEC is the latest effort to overcome this dilemma.
The other project that Khawaja suggested being added under the CPEC umbrella was the internal connection of East and West wharves of KPT to keep the movement of heavy vehicles confined within port perimeters.
Since the inauguration of the deep-water terminal, connectivity has remained a major hindrance.
Over thirteen years ago, KPT envisaged a harbour crossing to directly connect the port to the Northern Bypass for transport link for the upcountry, however, at a projected cost of $1 billion, it was deemed expensive.
An alternative Plan B envisioned an elevated expressway to take off from Keamari to the Northern Bypass and over Jinnah bridge, whose projected cost was $500 million.
However, Plan B was also shelved due to a shortage of funds.