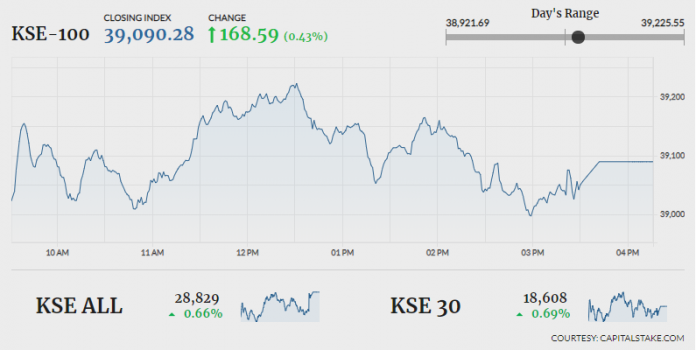 KARACHI: Despite thin volumes, the Pakistan Stock Exchange witnessed a positive session on Thursday as indices traded in green all day long. Foreign investors ended as net buyers on Wednesday with a total inflow of $0.48 million.
Crossing the 39,000 points mark, the KSE 100 index benchmark reached its intraday high of 39,225.55 after gaining 303.86 points. It finally settled on the upper side at 39,090.28 after gaining 168.59 points. The KMI 30 index appreciated by 466.83 points and closed the day at 66,152.07 points, while the KSE All Share index ended higher by 189.98 points at 28,828.54. Out of total traded scripts, 134 advanced while 186 declined.
Trading volumes declined from 133.85 million in the previous session to 112.05 million. The Bank of Punjab (BOP +1.03pc) topped the volume chart with 11.43 million traded shares, followed by Worldcall Telecom (WTL +14.18pc) and Pak Elektron Limited (PAEL -0.76pc). The scripts had traded 7.96 million shares and 7.90 million shares respectively.
The oil and gas marketing companies sector gained 0.62pc in its cumulative market capitalization. Sui Southern Gas Company Limited (SSGC +4.97pc) and Sui Northern Gas Pipe Line Limited (SNGP +0.90pc) ended the day with decent gains.
As per news reports, managing directors of the above-mentioned companies have been removed over failure in resolving the prevalent gas crisis. Attock Petroleum Limited (APL +0.39pc), Hascol Petroleum Limited (HASCOL +0.43pc) and Shell Pakistan Limited (SHEL +0.31pc) also ended slightly positive.
The banking sector, largest by market capitalization, managed to gather 0.39pc in its cumulative market capitalization. MCB Bank Limited (MCB) was up by +0.88pc, Habib Bank Limited (HBL) by +0.41pc and United Bank Limited (UBL) by +1.13pc.
The woolen sector (+4.89pc), oil and exploration sector (+2.33pc), tobacco sector (+2.23pc), insurance sector (+2.18pc) and modaraba sector (+2.03pc) were the major gainers, while refinery sector (-2.98pc), miscellaneous sector (-2.96pc), and vanaspati and allied industries sector (-2.54pc) ended the day as losers.