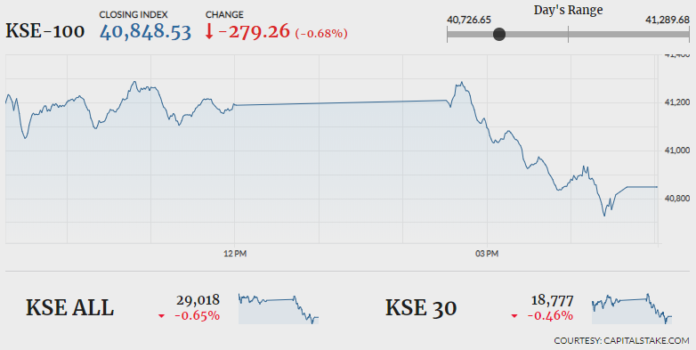 KARACHI: Pakistan Stock Exchange (PSX) witnessed a volatile trading session on Friday, with the KSE-100 Index failing to sustain gains and closing in the red.
Foreign investors turned out to be the net sellers of $2.34 million (Monday-Thursday), whereas local mutual funds and insurance companies bought equities worth $6.52 million and $3.20 million, respectively.
On the economic front, Pakistan's foreign exchange reserve remained flat for the week ended Dec 20, 2019. Total liquid reserves of the country were recorded at $17,595 million, as against $17,656 million in the previous week.
On Friday, the KSE-100 Index managed to gain 62 points before the midday break, but collapsed in the late hours to mark its intraday low at 40,726.65 (-401.14 points). It settled lower by 279.26 points at 40,848.53. The main culprit behind the fall was the commercial bank sector, which pulled the index down by 89.38 points.
Only five sectors managed to withstand the storm; power (+33.54 points), fertiliser (+32.03 points), close-ended mutual funds (+5.82 points), textile spinning (+1.14pts) and leasing companies (+0.41 points). The trading volumes were recorded at 146.61 million, above the five-day average of 124.53 million.
Meanwhile, among other indices, the KSE-30 Index toppled 86.17 points with Habib Bank Limited (HBL -23.44pts), MCB Bank Limited (MCB -21.85pts) and Oil & Gas Development Company Limited (OGDC -20.46pts) among the major negative contributors; while the KMI-30 index dropped 584.94 points with only the fertiliser sector (+187.13 points) participating positively.
Overall market participation was recorded at 265.97 million, the highest of the week. Worldcall Telecom Limited (WTL +8.50) led the volume chart with 31.80 million shares exchanging hands, followed by Unity Foods Limited (UNITY -2.16pc) with 8.51 million shares swapping hands.
The refinery sector lost 3.25pc from its cumulative market capitalization. Paper & board sector was next with 2.64pc fall in market capitalization.