When Abdul Razzak Yaqoob arrived in Dubai in 1968, it was not for work. It was a rather begrudging visit to meet someone that owed him money. Yaqoob wanted to show up in person and request them to pay up. The scene on which he walked in must have been a concrete jungle in the making, and an unattractive sight.
But instead of turning his nose up, Abdul Razzak Yaqoob found a city that he instantly fell in love with. It was without much hesitation that he decided to move to Dubai, and bring his brothers with him.
Years later, Salman Iqbal would be born to Haji Iqbal, the younger brother of Abdul Razzak Yaqoob, in Dubai where the family would be settled. By the time of Salman's birth, Abdul Razzak Yaqoob had established a significant trading company importing Pakistani goods to Dubai, as well as a gold exporting business that brought top quality, international standard gold from the Middle East to Pakistan. The family business – which would come to be known by its founder initials 'ARY' – has since continued to grow and become one of the largest business entities in Pakistan with Salman Iqbal as the CEO of most of the group companies.
Whether it got there through always fair means, however, is another question.
Today, ARY brand is more than just a gold trading company. It has interests ranging from entertainment, news, real estate, sports, immigration advisory, and a host of other ventures. 
Yet despite its decades of flying high, the ARY Group has never been able to shake off the suspicions that something is awry, that their rise is not entirely above board, and that they are not only good at business but probably also good at ingratiating themselves to those in power as a means of gaining unfair competitive advantages.
Article continues after this advertisement
From the gold bribery scandal that involved Abdul Razzak Yaqoob himself to the more recent controversies at ARY News, there is much more to the group than meets the eye. This is their story.
Gold trading in the Gulf
When Abdul Razzak Yaqoob made the decision to move to Dubai, he came with a not so solid plan about how he would make a living and what line of business he would go into. What he relied on, however, was a large Pakistani expatriate population. These Pakistanis offered a sense of familiarity and home, but also offered a market. But what could Abdul Razzak Yaqoob offer them? Exactly that: a sense of home. 
You see, if you were a Pakistani working in Dubai during the late 1960s and early 1970s, the chances are you were making a good deal of money and sending it back home. But Dubai was still being made, and much like Rome, it did not happen in a day. Away from their families and with little to do outside of work, Abdul Razzak Yaqoob saw that these workers needed a slice of Pakistan. So he started importing and promoting Pakistani brands and products.  
Through his Pakistani connections, Abdul Razzak Yaqoob was able to popularise a number of Pakistani brands outside of the Pakistani community as well, creating an organic demand for them in Dubai. "Back then we had brands, things like Ahmad Achar were famous not just in Pakistan," Salman Iqbal tells Profit in an interview.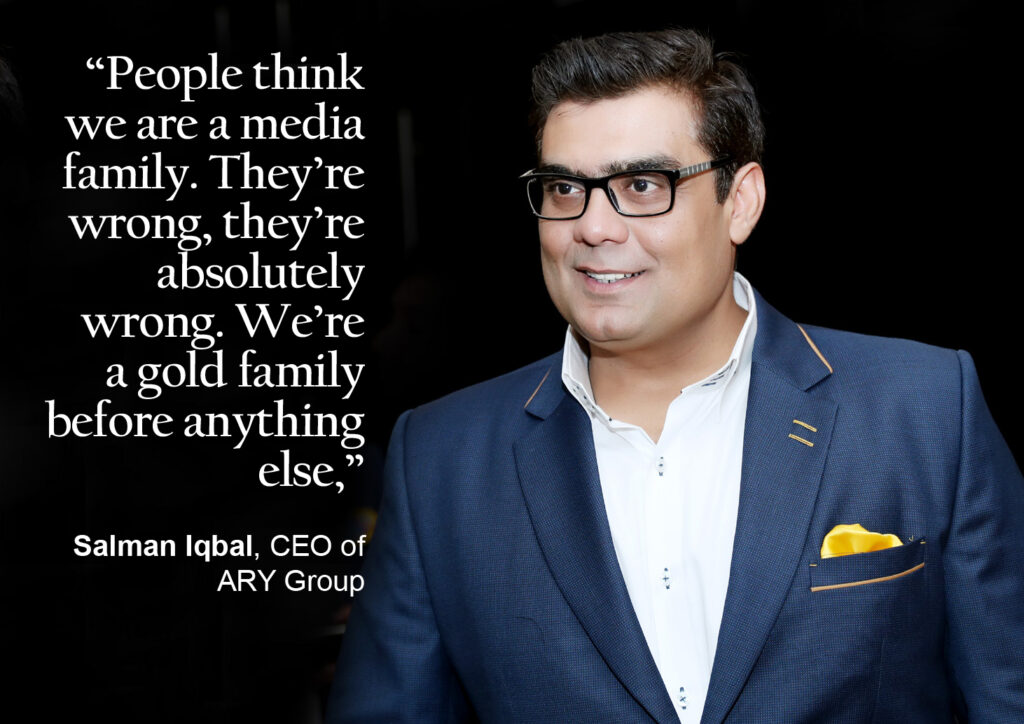 What began as a business that traded Pakistani cigarettes, textiles, pickles, rice, amongst many other things in the Middle East, however, had a lot more to it. Abdul Razzak Yaqoob and Haji Iqbal realised that while they were importing Pakistani goods, there was one Dubai product they could export to Pakistan: gold.
Pakistan does not have large reserves of gold, but it does have a population that is overly obsessed with the yellow metal. Therefore, the country needs to import its gold needs, especially since gold is not just considered an investment in Pakistan, but the demand for gold jewellery is typically high, as it is across most of South Asia. However, people buying gold need to have certain assurances that the gold is real and of high quality. 
Gold biscuits and coins that people buy as investments are generally 24 karat, which is the purest form of gold, while jewellery is generally made from 22 or 18 karat gold since it is more malleable. The best gold for both purposes comes either from the Americas or the Middle East. In Pakistan, people going on pilgrimage to Saudi Arabia traditionally bought their gold there, and would often be hounded by relatives to bring back authentic gold from there. Similarly, people returning from America were often asked to bring jewellery with them for relatives as a favour. 
Even as Dubai became a center for trade and commerce, the Haji brothers decided they would take up gold trading in addition to their import of Pakistani products. This would, for lack of a better phrase, be a gold mine for them. The ARY Group was thus formally founded in 1974 with Dubai as its base. "My father managed to continue to work as a general merchant and my uncle used to manage the gold business," Salman Iqbal explains.
The Haji brothers expanded both sides of the business, but it would be the gold exports that would take off more than anything. Abdul Razzak Yaqoob started off trading for third parties, but would eventually go on to start his own brand of ARY gold more than a decade later in 1986. Another decade later, when Dubai was moving from its trade identity to becoming a tourist resort, ARY gold would mint the official gold coin for the first Dubai Shopping festival in 1996.
Its gold business is what ARY would eventually use to diversify into media, sports, real estate and other businesses. It would also be gold that brought ARY into the center stage of scandal, both with its own branded gold and the bribery scandal worth $10 million that Abdul Razzak Yaqoob would find himself personally embroiled in.
The ARY innovation
For anyone that has bought any form of gold, be it in the form of coins, biscuits, or the obvious jewellery, the reputation of the seller and the assurance of authenticity are of utmost importance. If you can trust the seller, you can trust the gold. And that trust is precisely what ARY built its business on. 
The idea to brand gold under the name of ARY did not come immediately. At first ARY would trade in third party gold. Back in the mid-1970s, when ARY began trading gold and exporting it to Pakistan, it was enough for consumers to know that it was coming from the Middle East to be happy about authenticity. Middle Eastern gold was also a more dull, richer colour compared to the brighter, yellow gold that would come from the Americas, making it more desirable for jewellery designing.
"In the 1980s, we were the largest importers of gold from the Middle East and were exporting to India. We were representing big brands like Suisse, Johnson Matthey, etc. But by the end of the decade, my father came up with the idea that we should no longer trade in third party gold. He said that for the first time in history, we should brand gold!" says Salman Iqbal.
Backing his brother Haji Iqbal's idea, Abdul Razzak Yaqoob decided to go for it. The way the brothers decided to push this was by pitching their gold to smaller customers. "ARY came up with gold bars with "ARY Gold 999, Dubai" marked on them," explains Salman Iqbal. "What made these bars attractive was that they catered to smaller consumers. Not everyone can afford 10 tolas (116.6 grams) or a kilogram of gold. Back then, the concept of small bars did not exist. So we made small bars, weighing 1 gram, 2.5 grams, etc."
What this did was offer safe investments for relatively small amounts of money for people in Pakistan. Gold was something you could actually hold in your hand, and even if its price was slow to rise, people think it never loses its value in the long run (in reality, it can). Add to this the branding, and the small investor felt safe buying a few grams of gold, particularly since it came marked with both the words 'ARY' and 'Dubai.' Gold was tangible, perceived to be secure, and offered easy liquidity. And now with ARY, you could invest small amounts in it as well.
This is what Salman Iqbal calls phase one of ARY's branding. Phase two was the earlier mentioned gold coin at the Dubai shopping festival that ARY minted in 1996.
Again, it is important to understand the Pakistani market to understand why such a high premium is placed on trust. The problem is, fake gold or low-quality gold passed off as higher-grade gold has historically been a problem. The cultural fear of this duping is what ARY was able to capitalise on. "Fake gold was very common back then. Silver coated in gold."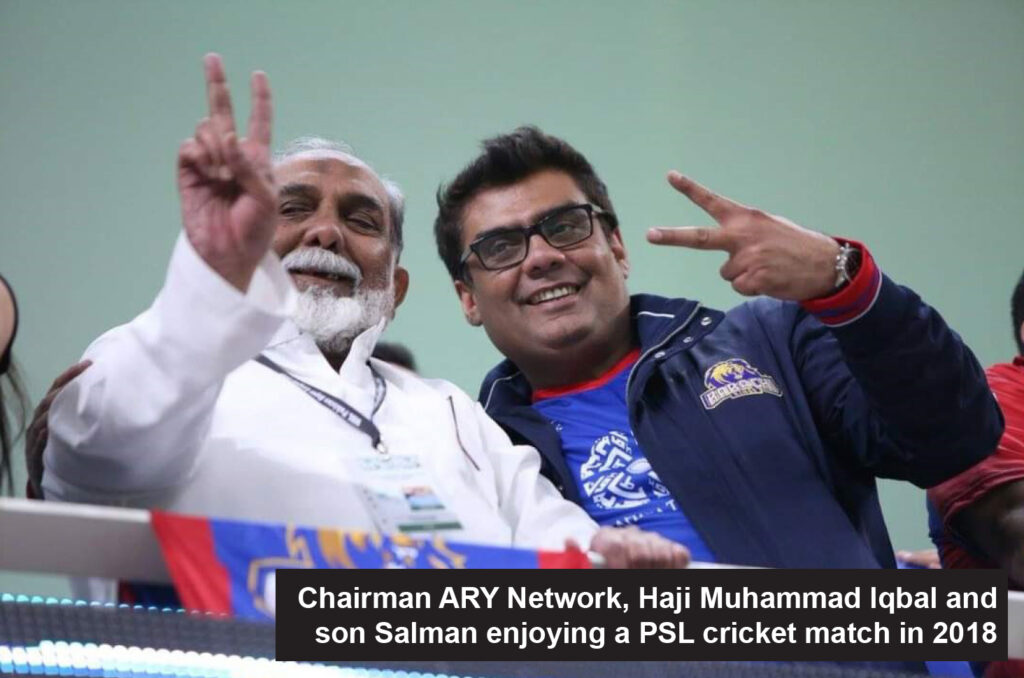 It is no surprise that the group kept the ARY name even when it was moving into the media business and founding its first television channel, ARY Digital, in 2000 under the watchful eye of the then up and comer of the family, Salman Iqbal. But for all that gold has given the family and the group, it has also embroiled them in controversies on a national level.
There was the time in 2005, when the London Bullion Market Association (LMBA) – where ARY was an associate member – revoked its license. In 2006 Asia Times Online published an article in which it accused the ARY Group of charges ranging from money laundering, to alleged terrorist financing, and even drug trafficking. The article also claimed that the group's LMBA membership and British bank accounts were closed in the face of an investigation into its finances. However, ARY group promptly sued the online publication in a Hong Kong court and with Salman Iqbal testifying on behalf of his uncle won the defamation case against the online newspaper which was unable to substantiate the accusations it had made in the article.
But somehow, it was not even the biggest scandal that the ARY gold brand has been involved with. That distinction goes to the gold bribery scandals that Abdul Razzak Yaqoob and his group found themselves entangled in during the 1990s.
Bribing Zardari
Let us take ourselves back to the 1990s, a more 'freewheeling' time in a shaky democracy. Back then, Pakistan's coast on the Arabian Sea was largely unguarded all the way from Karachi to Iran, and the center of a large gold smuggling operation. Planes and boats that traveled to and from the Persian Gulf smuggled hundreds of thousands of dollars worth of gold into the country. 
This, of course, was the competition for the ARY Group. The gold coming in from the Gulf and sometimes from Africa was the very reason that so many people were wary of buying gold. Yaqoob decided to use the power of the government to put his competition out of business.
In 1993, during former Prime Minister Benazir Benazir's second term in office, Abdul Razaq Yaqoob approached the government in an attempt to get the government to crack down on his competition. He made it seem like he was just trying to help the government 'regularise' the gold trade in Pakistan, and put an end to the gold smuggling operations happening along the Makran coast. 
Yaqoob offered money and resources to the government, giving them leads and helping them crack down on the gold smugglers. But, of course, there was a catch to this help: he demanded exclusive rights to import gold into Pakistan.
In November 1994, the Bhutto administration granted ARY what they wanted, and the Ministry of Commerce gave them the license to import gold into Pakistan exclusively for the next two years, authorizing them as the only gold importer in the country. As a result, ARY was able to import upwards of $500 million in gold into Pakistan.
Needless to say, getting such a lucrative licence during the notoriously corrupt 1990s raises a lot of suspicions. For starters, what kind of help could ARY possibly offer the government that they would give them such a good deal? More importantly, this was an instance of the government giving its blessing to a company to form a monopoly. Why would the government use regulations to form a private sector monopoly?
We do not have the answers to these questions, and the courts have been regularly baffled by the license granted to ARY as well. The ARY Group has not been convicted of any crimes on the matter. 
What cannot be ignored, however, is a bank transaction that says a lot. Former President Asif Ali Zardari, the spouse of Benazir Bhutto, was serving as a federal minister in the second Bhutto administration as the minister for investment in a specially created ministry. According to records released by Citibank as part of subpoenas issued by the United States Congress, $10 million were deposited in Zardari's account in October 1994, only a few months after ARY was granted the license. The money was transfered from ARY Gold to Capricorn Trading, an offshore company owned by Zardari. 
There may be no criminal conviction in a Pakistani court, but that looks and smells like a blatant bribe, and a hefty one at that.

In Pakistan, a corruption reference was filed in the Ehtesab Court. Zardari was accused of accepting bribes and kickbacks in exchange for granting ARY permission to create a government-sanctioned monopoly for importing gold. In addition to Zardari, Benazir Bhutto, then commerce secretary, retired Army Brigadier  Aslam Hayat Qureshi and Haji Abdul Razzak Yaqoob were also indicted as conspirators in the case.
The case went nowhere, with the Bhutto administration ending before anything became of it and both Benazir Bhutto and her husband going into exile a few years after that and being tried in absentia. 
Decluttering the scandal
To this day, however, the ARY family vehemently denies the allegations. "The basic crux of that scandal was that we apparently created a monopoly. But that wasn't the case at all. We simply were the first ones to get a license at a time when nobody thought it was necessary," says Salman Iqbal.
That, however, still does not explain the money paid by ARY to Zardari's off-shore company. And Salman's answers about the timing of that alleged bribe are unconvincing.
"We followed all the rules," Salman Iqbal insists. "I remember my father telling me that he had applied for a gold importing license during Zia ul Haq's regime. It was pending from that time, and stayed pending during the first Bhutto administration and the first Nawaz administration. It was just a coincidence that it finally happened when it did."
"The government of Pakistan asked for applications. I'm sure there were three or four applicants. The reason why ARY was chosen is fairly simple: Name one other gold trader? Name a domestic gold producer in Pakistan? Tell me the name of another gold company in Pakistan that is the biggest name in gold or a big name in gold in the world? You cannot."
"The gold duty earned by Pakistan that year was almost $50 million. Bribing someone for $10 million dollars would not make sense. I would rather not pay taxes than bribe somebody."
The argument he completely absurd. Just because ARY paid $50 million in taxes does not mean that it is not worth it for them to bribe a government official into giving them an exclusive licence and using the power of the establishment and law enforcement agencies to crack down on their competitors. Note, by the way, that Salman has yet to explain what that $10 million transaction was, and why it was made. Though to be fair to Salman, he wasn't involved in the family business back then, and probably not the best person to defend his late uncle.
"The courts cleared this matter up," he says. While it's true that the case has been dismissed, the fact that Transparency International felt uneasy about the proceedings in July 2016 and wrote to the then Chief Justice of Pakistan about the case's dismissal certainly raises some eyebrows. And, of course, there is conclusive evidence that the company did pay Asif Ali Zardari $10 million mere days before receiving a licence and still has no explanation for that payment. Also if you're wondering who else applied for a license, there were at least two other companies: Al- Raheem and Sons and Al-Romason Traders. This was revealed by Salman Farooqi's counsel, the principal secretary to Zardari, and also a prime accused during his acquittal plea.
Entering the digital age
"People think we are a media family. They're wrong, they're absolutely wrong. We're a gold family before anything else," says Salman Iqbal. The confusion that people may have is because ARY is currently one of the largest electronic media channels in Pakistan today, having regularly clocked in among the top three among both news and entertainment channels in television ratings over the past decade.
With stakes both in the entertainment and news media industries on television, ARY is big. What has made Salman Iqbal bigger in recent years has been his association with the Pakistan Super League (PSL) team, Karachi Kings. It would be an understatement to say that ARY's media presence has grown, but Salman Iqbal does seem insistent on keeping the gold family identity.
It is, after all, a family affair. Abdul Razzak Yaqoob passed away in 2014, his funeral prayers were led by his spiritual leader and then political maverick Dr Tahirul Qadri, and condolences poured in from major political figures from across the country, including current Prime Minister Imran Khan, whose party ARY News unabashedly supports in its political coverage.
Haji Iqbal, while not as active as he once was, still regularly goes to the ARY offices. He is not in charge of big decisions, but his voice is an important one in the company. The current chief of the ARY clan, however, is Salman Iqbal, who as CEO rules the roost.
Salman Iqbal owns 19.05% of ARY Communications limited, and solely owns ARY Digital FZLLC, thus making his cumulative shareholding in ARY Communications 64.59%. In addition, his father, Haji Iqbal owns 15%, followed by his uncle, Muhammad Yaqoob with 8.95%. 
According to sources in the company, both the late Abdul Razzak Yaqoob and Haji Iqbal were in agreement that Salman Iqbal was the most capable person in the family to run the business. And how did they reach that conclusion? With Iqbal's work on the ARY Group's media entities. Back in 2000, when he was still only 26, Salman Iqbal convinced his father and uncle to launch ARY Digital. 
The group began by acquiring the Pakistan Channel, an 8-hour television company in the UK. However, through a slow process of expansion and experimentation, it turned into one of the biggest media houses in Pakistan. ARY was the first network in Pakistan that began to operate a portfolio of channels, launching entertainment, news, and even a religious channel separately, prompting other media companies to do the same.
Strictly business
The media is far from an easy business. In recent years it has been flouncing and floundering and has found itself in all kinds of trouble. Mass lay-offs, more cautious coverage and a sense of dread has prevailed both among the journalist community and media owners. The biggest reason for this is that the media as a business has a fatal flaw: it is dependent on advertisers. 
Under the current administration, a reduced government ad spend has choked media into submission, with many toeing establishment lines. However, ARY has avoided such troubles in the media industry. There have been no mass lay-offs, no major shake-ups, and ARY news over the year has climbed the ratings, reaching a steady close second to Geo. Their lead anchors remain loyal to them, and by all means they appear to be good paymasters, a rare feat in journalism. 

Today, ARY is part of the small club that defines the electronic media in Pakistan. How it has gotten there, however, goes against every kind of instinct that traditional news media holds dear. Perhaps one of the reasons for this is that unlike most media group's in this country, including the one that manages this publication, the owners of ARY do not have a longstanding loyalty to the news business. 
Salman Iqbal's regard for journalistic convention is clear enough when he talks about the freedom of the press. For the owner of one of the largest news networks in the country, it is shocking, but from a businessman, it makes sense, even if it may not be a principled stance. 
"Freedom of press should not be to the extent that it damages one's country. Your own publication for example is Pakistan Today, it has Pakistan in the name. I don't think it would do anything to harm the country, and neither will ARY, Pakistan must always come first," says Salman Iqbal. "It is very important that Pakistan comes first for us. The media needs to ensure it does not hurt Pakistan's culture, economy, or the nation as a whole."
ARY's detractors in media claim that this kind of attitude towards the media – one that chooses jingoism over journalistic ethics – is a vapid ideology that has spread throughout the country. And it is also exactly what allows ARY to rake in the ratings, and as a result, pay the bills. 
The particular tilt that ARY has been accused of is being pro the Pakistan Tehrik-e-Insaf (PTI), and in turn pro-establishment. From its flagship anchor, the infamous Mubasher Lucman, giving speeches from a container to the crowds taking part in the sit-in demanding the resignation of then Prime Minister Nawaz Sharif, to the now notorious footage of Sabir Shakir announcing the disqualification of Nawaz Sharif,  ARY has been blatant in its leanings far beyond simple editorialising. 
But for all the queasiness most journalists might feel at the thought, it makes business sense for ARY to have such a quisling attitude toward journalism. While their rivals lose business for fighting the good fight at a time when journalism is under attack, ARY simply sees an opportunity to expand. And it is not simply an equation of being the King's channel, it is about doing the news a certain way. It is also not all that ARY has done in its quest to attain media royalty status. 
They have also been at the forefront of some of the more unfortunate trends in the Pakistani media. Their lax, often rude 'whodunnit' style talk shows and their vigilante 'gotcha' journalism where they enter milk shops and knock things over has become widely emulated, and not for the better. In fact, this publication has in the past referred to this style of journalist as "Reporter-man: The brash and the badtameez," perfected by the likes of the ARY's own star reporter, Iqrar ul Hassan Saeed. 
"People are now scared of committing a crime because of the fear of getting caught. Sar-e-aam and of course the age of mobiles. If something goes wrong, it is captured immediately," says Salman Iqbal. "The news industry is still evolving, we're a very young industry. India has been in the news business for 40 years, Pakistan has been in the game for 20 years. We're half their age."
Such statements make one wonder if Salman Iqbal wants the anchors at ARY to emulate Arnab Goswami. However the bottomline, of course, is that while this kind of sensationalism is not necessarily good for journalism, it has allowed ARY to be a financially successful media entity at the very least. 
But this has also gotten ARY into a lot of trouble, and in more direct competition with its competitors than anyone ever could have expected.
The Geo wars 
In December 2016, ARY became the first television channel ordered by a British judge to broadcast the summary of a legal judgement against it. Judge Sir David Eady ordered that ARY will have to say in Urdu: "On Dec 2, 2016, the High Court of Justice ordered the UK broadcaster of ARY News… to pay £185,000 in libel damages to Mir Shakilur Rehman, the Editor-in-Chief of Jang/Geo Group, in relation to seriously defamatory allegations broadcast in 24 programmes which the judge said simply had no foundation."  
So, what exactly was ARY doing being ordered by a UK court to air the summary of an order against it? Well, it was a result of ARY's techniques that had thrown a spanner into the unspoken rules by which the Pakistani media industry operated. For years, there had been an unsaid agreement that channels or newspapers would not come after each other and question their credibility. In fact, all channels operated as if other channels did not exist at all. 
[Editor's note: This is partially due to a convention first started by Dawn in its print edition of not naming names of companies for fear of being accused of unfairly providing publicity. That convention has since been dropped by most newspapers, including Dawn.]
That was all thrown to the wind by – you guessed it – Mubasher Lucman, who made claims against ARY's main competitor, Geo News. Libel cases in Pakistan usually last forever and if decisions come there is a tilt towards the defendant.
However, what Geo News did was to file the case in London, arguably the most friendly jurisdiction in libel lawsuits. As mentioned before, ARY began its media footprint by acquiring a small channel in the UK, and so the case proceeded outside of Pakistan. Realising what had happened, ARY also went rogue, unleashing Mubasher Lucman and their news anchors on Geo. 
This was a low-point for the Pakistani media industry, as its two leading lights were caught in a mud-slinging match against each other. While it is no secret that a proxy war had been going on through ARY and Geo, ARY News went a step ahead and made the situation personal by accusing Mir Shakilur Rahman of taking money from Indian intelligence and using it to defame Pakistan.
The prime accusation was based on Aman ki Asha, a media collaboration between The Times of India and the Jang Group for peace between India and Pakistan. Geo claimed the funding was all self-financed, while ARY continued to make claims that Indian intelligence was involved in Aman ki Asha.
As a result of their loss in the UK, the ARY Group had to shut down their channel in the UK to avoid such incidents in the future. "We had a legal dispute with Geo group. A lot of people think our license was revoked but this never happened. We did have to close down the company," Iqbal tells us. 
"The programs by Mubasher Lucman that were aired on ARY discussing Geo were the reason behind this. We couldn't prove it in the courts of the UK. We had to translate every single word of every single program to prove what Lucman said was right. Something went wrong in the translations, that is the only reason we lost the case."
Right. Because translating Urdu into English is so difficult.
And Geo is not the only media entity that ARY has managed to aggravate. There was the time they managed to annoy the normally placid Pakistan Broadcasting Association.
Tax evasion?
The list of controversies ARY has been in the middle of since entering the media industry have been far too frequent. One of many such altercations was with the Pakistan Broadcasters Association (PBA), where allegations of unfair advantages were rife. 
"It's a love-hate relationship with the PBA. Sometimes it loves us, sometimes it doesn't. These days it doesn't but it's okay," says Salman Iqbal. 
The PBA had written a letter to the government hinting at possible favoritism amounting to approximately Rs1 billion, uncovered by government investigators in 2013. It was about an illegal exemption certificate on airtime/content claimed by the Federal Board of Revenue (FBR). The FBR alleged that ARY had evaded this tax through the misrepresentation, concealment, and misuse of exemptions.
However, ARY claimed that the correct costs comparisons were not made, citing a different business model to be the reason behind the inflated costs in comparison to other media companies. "The calculation was wrong. That is what the whole case was about."
ARY COMM, ARY Films and TV Productions (Pvt) Ltd used an offshore company, through a tripartite agreement allowed the three companies to settle their receivables and payables for ARY FZ LLC, a Dubai-based offshore company.
And according to Salman, people have it backwards. ARY did not form offshore companies, they are an offshore company from the get-go. ARY Digital FZLLC was incorporated in the UAE. "Like I said, I was born in Dubai, we began business in Dubai. We didn't make an offshore company. We were an offshore company. We invested in Pakistan. Gold business was shifted to Pakistan, we invested money from our businesses into the television business into Pakistan."
"Dubai has always been the home of the company and still is," Salman explained. "I could have made a statement when the PBA made a statement, but I have avoided doing so considering it is in the courts. All I can say is that it is a decade year old case. It was getting outdated. As for the rest, I'll wait for the courts to give a decision and then talk about it."
The neverending expansion 
Having built up a massive business – fairly or otherwise – ARY has continued to expand, moving the company from television production and into films. 
While people often think that television competes with movies, Iqbal thinks the decision to expand into films enhances his channel. "It gives a better edge, after all who is better suited to revive the film industry than the television industry?"
Iqbal proudly mentioned how Waar, Jawani Phir Nahein Ani, Punjab Nahein Jaongi, Jawani Phir Nahein Ani 2 are the top four movies in Pakistan. "We have always broken our own records!"
The rationale, however, for entering the movie industry for Iqbal was the fast pace at which India had captured viewer attention and diverted it from Pakistani films.
"Back in the day, Star Plus and Sony were widely watched. They aren't anymore. People do not want to watch them. They would rather watch local content, like for instance [ARY's controversial television show] Meray Paas Tum Ho."
And much like the controversy in the war against Geo was brought down to Mubasher Lucman's claims not being the network's responsibility, Iqbal says that the controversy was all due to the show's writer and director Khalilul Rehman Qamar and nothing else. 
"As they say in the media, no publicity is bad publicity, the controversy again spurred a source of revenue for the team. Due to the controversy, it got more attention, as a result, the group made a business decision to air it in cinemas."
Other than cinema, Salman Iqbal is also part of a very exclusive club of PSL team owners. His Karachi Kings being one of the two original teams that have not won the title does disappoint him, but being at the dugout for each match has made him a household name and a recognisable name in Pakistan. 
"I love challenges. We were the first company to create a gold brand, the first television channel to start from overseas, the largest movie makers in the country, so I said, why not sports?"
"We spent more than Rs5.5 billion in five years so youngsters could be proud of the fact that our stadiums get filled."
The interest in venturing into film and sports is, of course, accompanied by a string of acquisitions that continue making ARY bigger. The group continued its tradition of dealing with shady figures when it acquired Bol TV from the infamous Shoaib Sheikh, the owner of Axact, the fake degree mill.
However, the deal went sour. "I ran Bol for 43 days. Shoaib changed his mind upon returning from jail. The business deal went bad."
When asked if Iqbal regretted the deal, he said it was all business as usual and nothing to fret over. "Regret? I think it was a business decision for the both of us. I could have taken him to court but I didn't think it was worth it."
"This was not a soulless decision. I do care for journalism and the industry, and I wanted to save so many journalists that would lose jobs. Bol had hired so many people. A thousand journalists would have been on the streets," Iqbal said. 
Profit asked Iqbal about the news of ARY looking into acquiring WorldCall Telecom Limited. "We're still very interested in WorldCall. I think it's a good company, but it's dying, and that is the kind of challenge I like. It's the age of the media, and we're looking to acquire majority shareholding into the company."
As for a timeline on the deal, Iqbal optimistically chirped, "You'll hear from the PSX very soon. It's happening. We're going through with it." They indeed did go through with it. 
On August 7, 2020, ARY Communications Limited and ARY Digital FZLLC again reiterated an intention to acquire more than 51% shares in WorldCall through AKD Securities. This is in addition to the 76.6 mn shares Iqbal already holds in WorldCall. Interestingly enough, Mubasher Lucman is one of WorldCall's directors. 
However, when asked about the prospects of any new acquisition, he simply noted that we'd hear of it very soon, implying there is something he has his eyes on.
For Iqbal himself, he will be marking 20 years of ARY Digital in September 2020. While he regrets that the celebrations may happen under the cloud of the ongoing pandemic, it still marks a remarkable and controversial journey that has, if nothing else, been entertaining.