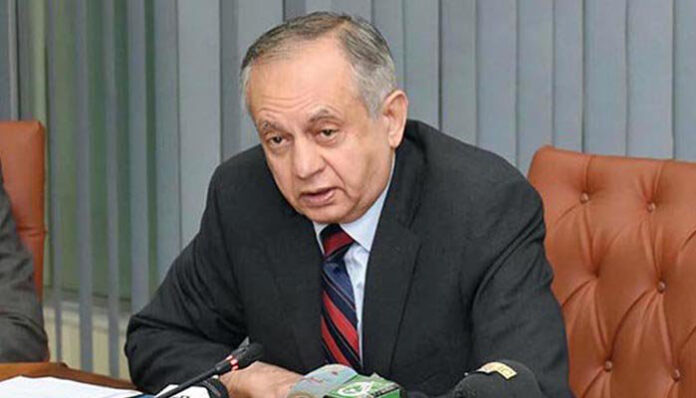 ISLAMABAD: Adviser to the Prime Minister for Commerce, Textile, Industry, Production and Investment Abdul Razaq Dawood on Saturday gave credit to the former prime minister and leader of the Pakistan Muslim League Nawaz (PMLN) Nawaz Sharif for ending the power crisis in the country.
The adviser while talking to media said that the former prime minister installed power plants during his tenure which led to a decrease in load-shedding in the country.
He said that the power plants had been set up during PMLN's previous tenure under the China-Pakistan Economic Corridor (CPEC).
The adviser said that work on CPEC is going on in full swing adding that CPEC remains one of the top priorities of the Pakistan Tehreek-e-Insaf (PTI) government.
He said that the next phase of CPEC will focus on the development of industries and agriculture in the country.
Earlier on Friday, Prime Minister Imran Khan said that the government has signed a new agreement with the independent power producers (IPPs) under which the cost of electricity generation would be brought down and circular debt would be reduced.
"I congratulate the nation because we are fixing the damaging structure we inherited in our power sector," he said in a series of tweets.
The prime minister promised that he would soon introduce a package that would focus on improving the distribution system by tackling line losses and theft.
On Thursday, the government and IPPs had finally reached an understanding on reduction in the rate of return on equity and late payment surcharge (LPS), and sharing of savings on account of plant efficiencies. A memorandum of understanding (MoU) containing 13 points was signed between the two parties.
"The IPPs which were set up under the 2002 Power Policy have now agreed to alter their existing contractual agreements and to ink new power purchase agreements," an insider said.
Once National Electric Power Regulatory Authority (NEPRA), federal cabinet and IPPs' Board of Directors approve this MoU, the documents and procedures of these understandings would be completed preferably within 30 days, after which the same will be submitted to NEPRA and Central Power Purchasing Agency (CPPA) to be followed by legal documentation to reflect the amendments needed in the relevant agreements.
Sources said this MoU is valid for six months and it will stand terminated on the signing of the detailed agreement.
According to the MoU, the two parties have, in the larger national interest, voluntarily agreed to provide concessions considering the fact that a significant period has been passed since its Commercial Operation Date (CoD). It was agreed that all projects will convert their contracts to take-and-pay basis and until then, the existing take-or-pay will continue.
The return on equity (ROE) including Return on Equity During Construction (RoEDC) for local investor will be changed to 17 per cent per annum in rupee terms without dollar indexation, while for foreign investors registered with the State Bank of Pakistan, ROE will be 12 per cent per annum on NEPRA approved equity at CoD.
Similarly, any saving in fuel for oil-fired projects would be shared on a sliding scale starting from 70:30 in favour of the power purchaser for the first 0.5 per cent efficiency improvement while any future savings in O&M of oil-fired projects will be shared 50:50 after accounting for any reserve for major overhauling which would be by power purchaser or NEPRA as mutually agreed and the power purchaser will not share in any efficiency losses.