Using women as a prop to sell products is not a recent phenomenon. It is an age old tactic used by all types of businesses, usually in advertising campaigns but sometimes also in actual conditions of employment. The images of scantily clad women have been used to sell all manner of products in the past, and sadly, continues to happen today.
Perhaps it should not be surprising to see, then, that Islamic banks in Pakistan agree and have jumped on the bandwagon. It is apparent from their very usage of women to sell the notion that a bank is indeed Islamic.
Oh, to be sure, the women are dressed quite the same way as a Coca Cola commercial from the 1950s. But you can rest assured that the way women dress is very much a marketing tactic that the Islamic banks are not above using. It is the same old objectification, just with a different style.
If you are a Pakistani, you must have heard the phrase, "Islamic banking is just a window dressed version of conventional banking." This is a common held belief despite the vastly different names used to describe the technicalities regarding Islamic finance. It is also not, in the strictest sense, fair to Islamic banks: many of their lending and deposit products really are materially different from their conventional counterparts, if only in the kind of very deep technical details that a lawyer or theologian would be interested in.
Banks cannot really change the way banking looks and feels or how services are provided to their customers. They can, however, make their banks look more Islamic. For Islamic banks in Pakistan, the obvious solution is to dictate what their employees can wear. This is exactly what Faysal Bank is doing to show how it is moving from conventional banking to Islamic banking, in effect following in the footsteps of the trail blazed by Meezan Bank, the leading Islamic bank in the country.
We must clarify: the policies we speak of at Faysal Bank – or Meezan Bank, for that matter – are nothing new. What is new is the social conversation around them, particularly as Faysal Bank's Islamic banking hits more scale, and as Islamic banking continues to rise as a percentage of the banking system.
Article continues after this advertisement
As we will lay out in this story, this dress code policy at Islamic Banks is discriminatory in that its most stringent elements only target women and not men. And it is not just women who get discriminated against: people of religious minorities who apply for jobs at these banks report an explicitly discriminatory attitude in their job interviews, and even non-religious Muslim men get questioned about their personal religious practices.

Islamic banks, in other words, only want a 'certain kind' of person working for them, to the exclusion of everyone else in Pakistan, a practice that is clearly discriminatory. 
But is it relevant to our readership, you may ask? Very few people work in Islamic banking and most do so by choice. So what is the harm? Well, Islamic banking is small now, but it is growing larger and larger every year, and if it begins to influence employment policies in the overall banking system, that matters a great deal. 
Banks are some of the most desirable employers in the country, with benefits available to bank employees (heavily subsidised mortgages, and auto loans) that allow one to build wealth and a comfortable upper middle class life in Pakistan in a manner that few other industries can. As of the end of 2019, more than 186,000 people worked at banks in Pakistan. It is perhaps the single biggest sector of the economy as far as middle class employment is concerned. What happens there matters a great deal. 
Let us start with dress codes
Since the advent of Islamic banking in Pakistan, women working at these banks have been seen wearing abayas and headscarves. The men, on the other hand, are seen in suits and ties, occasionally in crisp shalwar qameez and waist coats.
Men are expected to wear the same clothes they would wear as employees at a conventional bank or any multinational company. It is a dress code that borrows almost directly from  the one found in the government of Pakistan: collared shirts and slacks, or suits, or a semi-formal shalwar qameez. Women, however, have it different. 
In Pakistan, dress codes for women are often vague and usually just mean presentable shalwar kameez. Sometimes companies state specifics in their dress codes, such as no flip flops, sleeveless shirts, capri pants, and sometimes go as far as to restrict them from wearing western clothing.
However, a general observation across the corporate sector in Pakistan is that women are expected to wear shalwar qameez to work. The fabric and prints, however, are their discretion. This is also because of the fact that the Islamic Republic of Pakistan does not mandate women to wear an abaya or headscarf by law nor does it ban them from doing so.
Officially, women are not required to adorn a specific piece of clothing like they are in the Kingdom of Saudi Arabia. Other than the fear of what people are going to think, women have the choice to wear what they deem is appropriate and decent.
Islamic banks, however, are taking away the very right from women to determine what they want to wear at their place of employment and to use their clothing as a means to make a statement or express their personality. Instead, the banks want to use the clothes of their female employees – but not their male employees – as a marketing tool.

While speaking to Profit, an employee of Meezan Bank who wished to remain anonymous said: "While the dress code does not explicitly state the color of the abaya, it is expected that we choose dark colors like black or navy blue. The only way I can try to express my sense of style is my headscarf."
The employee further adds that she is expected to wear shalwar qameez under the abaya in case her clothing is visible through the buttons on her abaya. That is the extent at which Meezan has gone to ensure they look like an Islamic bank.
However, men are not required to wear any kind of 'Islamic' clothing, pants above their ankles, loose clothing, caps, or grow a beard. 
"Female employees should dress elegantly with a Headscarf and Abaya, without being ostentatious," reads the Meezan Bank Standards Of Ethics, Business Practices & Code Of Conduct document.
"While the Code of Conduct says women are given discretion regarding their makeup, it is far from that as we are encouraged to avoid being 'ostentatious'. I do not understand why they think I put on makeup to please or impress the other gender. I do it for myself," states a frustrated employee.
On this note, Profit would also like to add that Meezan Bank furthers this divide between men and women by having separate lunch times for them at the head office. Sources at the head office explain that while the bank says this is due to the limited seating in the cafeteria, the real reason is to discourage mingling between the two genders. 
Despite attempts by Profit to seek comment from the bank, Meezan Bank had not responded to a request for comment at the time of publication. 
Where does the dress code come from?
"It is not mandatory for an employee at an Islamic bank to wear an abaya or headscarf. In fact, it is not enforced in a number of countries around the world, except those that enforce dress codes in their constitution," said Dr Jamshaid Anwar Chattha, former assistant secretary-general at the Kuala Lumpur-based Islamic Financial Services Board (IFSB), an international advisory body that sets standards for Islamic financial institutions. Chattha currently works as an advisor for Islamic Banking Supervision at the International Monetary Fund (IMF). 
"Legal, standard operating procedures, Islamic banking Shariah boards, and global best practices- exploration of all four of these dimensions is enough to come to the conclusion that Islamic banks are not mandated to decide dress codes. None of the rules governing Islamic banking and finance mandate a certain dress code for employees. Banks in Pakistan are choosing to do so out of their own will."
"There is already cultural pressure on women in Pakistan regarding their clothing. There is no need to breach personal privacy and independence by dictating what they can or cannot wear," adds Chattha.
However, Chattha also adds that in the absence of official dress codes or any laws regarding corporate entities deciding dress codes, a private bank has the liberty to ascertain what their employees can or cannot wear.

Mirza Moiz Baig, a Harvard-educated lawyer whose practice primarily involves constitutional disputes explains, "A bank is a private employer. An employee signing an employment contract agrees to adhere to the policies instituted by a bank. While the bank is, of course, required to ensure its policies adhere to a law, no law that precludes employers from instituting a dress code."
"If the courts were to stop banks from doing that, where do you draw the line? If the employee were to argue that the policy violates their constitutional rights, such as the right to expression, how can they sue a private employer? Article 199 of the Constitution only provides remedies against government bodies."
For its part, Faysal Bank does not deny the discriminatory effects of its policies, but appears to believe it is justified for a variety of reasons, foremost of which appears to be that it is industry standard practice at this point. "The dress code has been in place since our first Islamic banking branch. Women are expected to wear abayas and headscarves because it is in line with the Islamic banking industry practice," said one senior executive who declined to be identified by name. "It is in the media now. We haven't invented the wheel. The dress code was in practice across all Islamic banks… This isn't an overnight decision."
As for why the policy is in place, Faysal Bank believes it helps with its brand. "Customers appreciate this change… The dress code helps with our corporate image," said the senior executive.
The executive went on to claim that female employees – whose employment is conditional on agreeing to and maintaining compliance with the dress code – appreciate the dress code. "A lot of employees have even appreciated the policy internally," said the senior executive.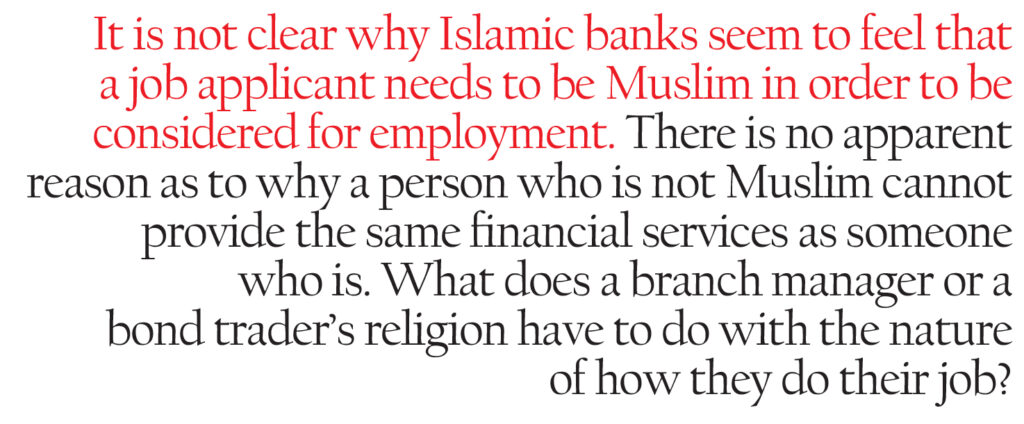 The person did say that the bank does not seek to eliminate the ability of female employees to express themselves. "Women are encouraged to wear whatever colors they want as long as it is suitable for the corporate world. Jewelry and makeup is allowed too," said the senior executive.
Religious discrimination: because objectifying women is not enough
While we have already established how the act of deciding what one is to wear as an employee at an Islamic bank is more discriminatory towards women than men, the discrimination does not stop there.
Islamic banks in Pakistan are notorious for their prejudice towards non-Muslim job applicants.
A female, non-Muslim applicant recalls her experience of interviewing at a leading Islamic bank, "I was called for an interview, but the interviewer repeatedly asked if I knew I was at an 'Islamic bank' and why I wanted to be at one considering I am not a Muslim. He further asked if I was comfortable wearing an abaya and headscarf. I said I was not and was hoping there is an exemption. That is where the interview ended abruptly. Needless to say I did not get the job."
A male non-Muslim applicant while applying to the treasury department said that the attitude during the interview made it obvious that he was just wasting his time.
It is not clear why Islamic banks seem to feel that a job applicant needs to be Muslim in order to be considered for employment. There is no apparent reason as to why a person who is not Muslim cannot provide the same financial services as someone who is. What does a branch manager or a bond trader's religion have to do with the nature of how they do their job? The design of the products they deal with are at the level of board of directors and Shariah Advisory Board.
And even at that level, some of the world's leading experts in Islamic finance are not Muslim. Chattha points out that some of the world's leading authorities who work with IFSB are people who are not Muslim now nor were they born and raised Muslim. Experts such as Professor Simon Archer have been working as an advisor to the IFSB in addition to lecturing on Islamic Finance at Henley Business School for 13 years. There are numerous such examples, including  Samuel L Hayes, Frank E Vogel, etc.
Sometimes the discrimination does not stop at non-Muslims, but kicks up a notch when interviewers try to ascertain the level of "piety" an applicant possesses.
"I was asked if I was a Muslim during the interview and whether I prayed. The interviewer went on to ask if I had memorised the dua-e-qanoot," says an applicant that decided not to accept a job offer extended by one of the Islamic banks.
For its part, Faysal Bank denied that it discriminates against religious minorities. "We believe in diversity and inclusion and our employees come from various backgrounds. In fact, in rural Sindh, a number of our employees are minorities," said one senior executive who declined to be identified by name.
Is the discrimination legal?
Baig, the constitutional lawyer, argues that Islamic banks do have a right to discriminate in their employment practices. "If you were to argue that your constitutionally protected right to equal treatment (Article 25 of the Constitution) is violated, how do you sue a private employer given Article 199."

"Moreover, the Islamic bank could argue that people only approach them because they're confident their finance and banking practices are Islamic. Thirdly, courts wouldn't want to overly regulate who employers can recruit. Fourthly, is there a law that bars private employers from discriminating?"
However, the law always has room for exceptions. The Supreme Court recently, in Pakistan Olympic Association's Case (2019 SCMR 221) said a writ under Article 199 may lie against private companies in exceptional situations where the private company/person exercises some public functions."
"In this case, however, this exception isn't met either so my humble view would be that the employees are without a remedy."
The changes are particularly tumultuous at Faysal Bank, which is seeking to convert its conventional banking operations to Islamic and has started handing out a Rs5,000 per employee allowance for the dress code change. If you are an employee at Faysal Bank that has been handed over an allowance of Rs5,000 to buy yourself abayas and head scarves, you cannot really protest the change other than by resigning or adding abayas to your wardrobe.
"Ironically, my colleague used to wear an abaya to work. Our head of department used to frown upon it and tell her to avoid wearing one. Now, at Faysal, we're told the dress code policy has changed," said a source to Profit. 
That is because there is no law that bars a corporate or private entity from deciding the dress code at their office. As an employee, once you have signed your employment contract and agree to adhere to company policies, you are liable to follow through.
There is no legal platform on which you can raise your concerns and protest. While the option of discussing and engaging in debate with your employer does exist, it is evident that as employers these Islamic banks know how easy it is to find replacements, especially in a country that does not have rules in place to save one from workplace discrimination.
Will this spread to other parts of Corporate Pakistan?
It is no secret that religion is an important part of public life in Pakistan, especially Islam. However, what that means in terms of practice means very different things to different people, and freedom of religion and conscience would dictate that employers should not be allowed to discriminate against employees on the basis of religious practices. That then begs the question: how far will this spread? Will the Islamic banks begin to influence practices in other parts of the banking system? Will the banking sector's practices influence other parts of Corporate Pakistan.
The answer to both of those questions, in our view, is likely no. Firstly, Islamic banking is likely to remain a large niche rather than becoming the dominant form of banking in Pakistan.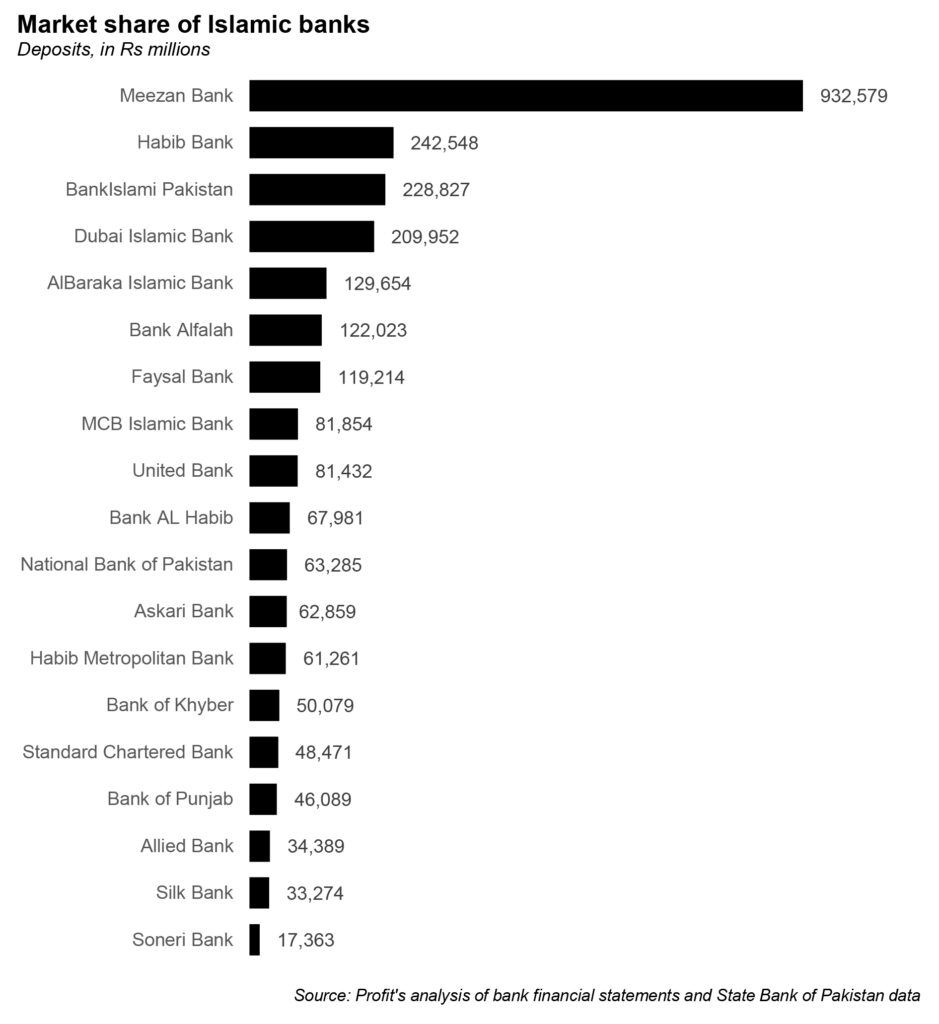 While Islamic banking currently accounts for 18% of total deposits as of the end of 2019, according to data from the State Bank of Pakistan and Profit's analysis of the financial statements of every single bank in the country, it accounts for about 20% of net new deposits between 2002 and 2019. Crucially for the industry, net new Islamic banking deposits hit approximately 30-35% of total industry net new deposits, and have failed to go higher since then.
That seems to suggest that Islamic banking likely has a limit on its growth: approximately one-third of all deposits at some point in the future will be Islamic banking deposits, if current trends do not materially shift. That is a substantial portion, but by no means a dominant share. 
And if Islamic banking will not even be able to dominate the banking sector, its influence beyond the banking sector is likely to remain limited.
That, of course, is not the only factor influencing freedom of religion in the workplace in Pakistan: the war for talent. Most people do not like the idea of their employer telling them what they can and cannot wear, and the most talented job applicants have plenty of job offers to choose from.
"I have often found exemplary applicants that I am eager to hire. However, due to them not agreeing with the hijab policy, they do not want to work for us. I feel that as a bank, that is a loss we do not take into account," says the head of investment banking at an Islamic bank.
That, more than anything else, is the factor that will decide the future of personal freedom in Pakistan's work environments. Employers, in competing for talent, will realise that you cannot treat employees like props to be used for marketing, but rather as thinking, breathing minds whose talents are necessary for the success of their organisations. 
And the best minds, even if personally religious, do not like having religious practices dictated to them. The sooner Islamic banks realise that, the sooner they will stop losing the war for talent.