A lot changed for Pakistan after 2008, when the restoration of democracy took place and operations against terror began bearing fruits, there was hope that among other things, the economy would improve. One particular way many hoped this would take place was through the tourism industry. 
Because of the war on terror, Pakistan in the minds of international tourists was as bad as Afghanistan – all rock and sand and danger. However, much has been done to rehabilitate the country's image and provide tourism infrastructure, which has in turn improved the amount of local tourists visiting different areas in the country, particularly up north, but also spots in Balochistan, Sindh and Punjab. 
In 2017, the travel and tourism direct contribution to the GDP was Rs931 billion which was 2.9 percent of the GDP and is expected to grow by 5.8 percent per year to Rs1,728 billion (3 percent of total GDP by 2028). Apart from direct contribution, the travel industry also influence related industries which made the total contribution of Travel and Tourism industry to GDP of Rs 2,349 billion (7.4 percent of GDP) which is expected to rise by 5.4 percent per annum to Rs 4,200.4 billion (7.4 percent of GDP by 2028).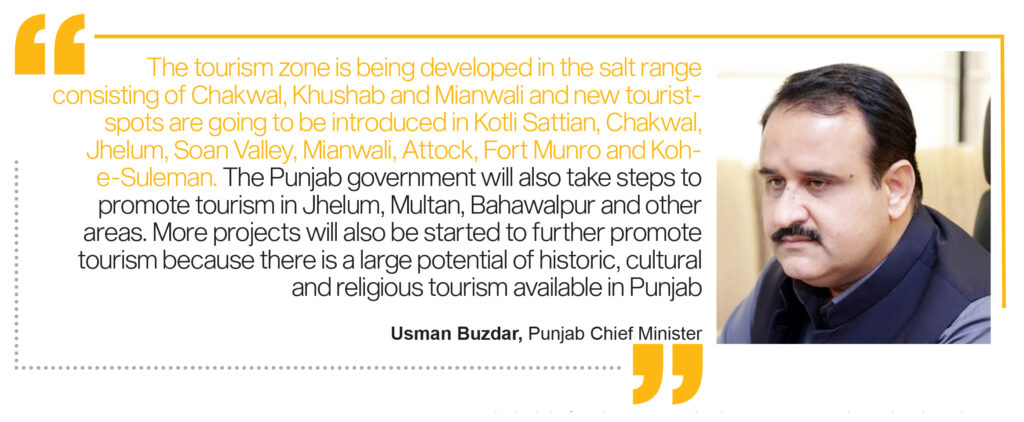 The sector has also been high on the priority list for the incumbent Pakistan Tehreek i Insaaf (PTI) government. In its 2018 elections manifesto, the party promised to boost the tourism industry and turn around the tourism industry to improve Pakistan's international image and increase its direct contribution to GDP. It has since taken some measures to this effect, including easing visa policies and inviting tourists to come to Pakistan. 
This has all been marketed by the government under the "Asia's best kept secret," campaign. The concept has been that people should come to Pakistan for tourism, but not just to go see the scenic north, but also historically significant and beautiful places in Sindh, Balochistan, and Punjab. One of these efforts has been the Tourism for Economic Growth project in Punjab under Chief Minister Usman Buzdar. 
Article continues after this advertisement
Provincial jurisdiction 
Pakistan's management of its vast tourism potential has been a strange trajectory. The country acquired membership of the United Nations World Tourism Organisation (UNWTO) in September 1949, soon after partition. However, the responsibility of tourism was initially under Pakistan Railways, since it already managed the major mode of transport at the time. It would not be until 1956 that tourism became the subject of the Communications and Transport Division.
In June 1960, the Bureau of Tourism was formed and in 1964, the affairs were placed under control of the Civil Aviation Authority (CAA) and then Pakistan Tourism and Development Corporation (PTDC) was established in March 1970. This was how things remained, until September 2004, when it was elevated to the status of a ministry, with the primary responsibility for policy development, promotion and marketing of domestic and foreign tourism. It was also supposed to regulate activity by the provincial governments and private sector. 
However, after the  18th Amendment it was made a provincial subject in the constitution of Pakistan, which resulted in dissolution of the Ministry of Tourism and each of the provinces was made responsible to watch over the tourism affairs of their respective provinces. They are now part of Pakistan Tourism Development Corporation (PTDC). 
While the incumbent PTI government would find this a reason to do away with the 18th amendment as well, they have still made certain strides in improving the tourism sector. They have managed to implement a framework to incentivise private sector investments in new facilities, the development of "themed" tourism such as eco-tourism, and other special incentives. All government guest houses have also been opened to the public, and uplift schemes have been undertaken.
Promises have also been made about improving processes to issue tourist visas, in particular for groups and champion initiatives, which strengthen our visa on arrival programme, eliminate NOC conditions for high potential tourist destinations such as Malakand, and support TVET curriculum and institute development to upskill human capital in hospitality to fill the supply side deficit of skilled labour.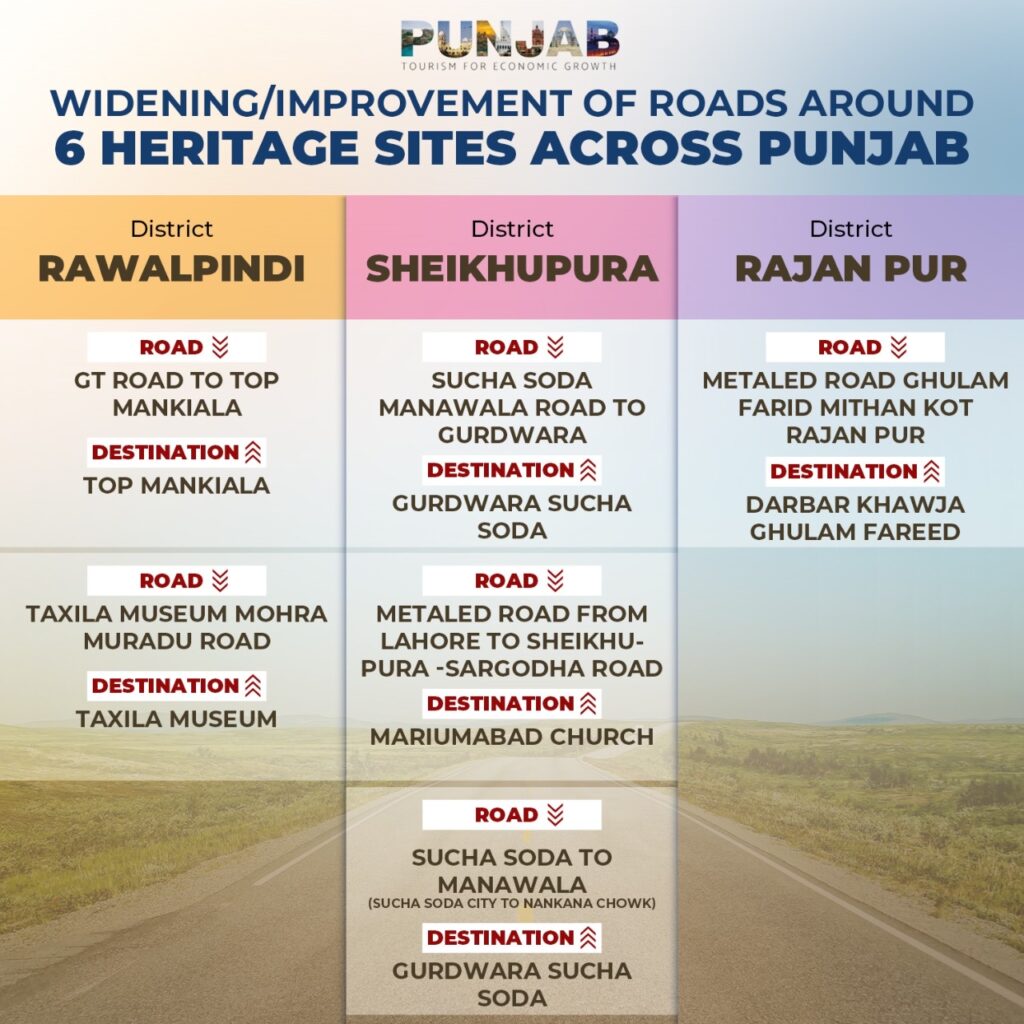 One other small step in the right direction has been the launching of the Tourism for Economic Growth project by the Punjab government. The Punjab tourism for economic growth project (PTEGP) was launched on December 18th in collaboration with the P&D Department and the World Bank. Chief Minister Usman Buzdar laid the foundation stone of roads infrastructure improvement plan of six tourist-spots under tourism for economic growth project at 90-Shahrah-e-Quaid-e-Azam (SQA). 
Speaking at the occasion, the CM Punjab said that Rs830 million would be spent to improve the  infrastructure and in the first phase revamping and widening of the 35-kilometre long six roads will be completed. 
"The tourism zone is being developed in the salt range consisting of Chakwal, Khushab and Mianwali and new tourist-spots are going to be introduced in Kotli Sattian, Chakwal, Jhelum, Soan Valley, Mianwali, Attock, Fort Munro and Koh-e-Suleman," the CM revealed.  "The Punjab government will also take steps to promote tourism in Jhelum, Multan, Bahawalpur and other areas. More projects will also be started to further promote tourism because there is a large potential of historic, cultural and religious tourism available in Punjab."
In addition to these moves, the CM said that his government is also undertaking the restoration of the Lahore Fort and other historic spots, for which Rs 4 billion have already been set aside, and that they were looking into public-private partnership as well as opening 176 rest houses to the general public through an online booking facility. 
"The Punjab government has formulated tourism policy and a tourism authority has also been set up to promote tourism while software has been designed for online issuance and renewal of licenses of stakeholders," CM Buzdar shared. On December 18, he also announced to project Chakwal (a-district in Punjab) as a lake city as a number of natural lakes are available in this historic district. "Resorts are also being established at various rivers and lakes to provide recreational facilities to the visitors. One such resort facility is under construction at Taunsa Barrage to offer water sports activities." 
Essentially, the idea is to turn Punjab into a place where there are tourist destinations in every city and around every corner if possible. This is not about developing a few spots, but about building a culture of tourism and about making Pakistan a destination. This means pulling out all the works, including the expansion of double-decker tourist bus service, which was started in Rawalpindi, to Bahawalpur, DG Khan and Multan at the earliest. 
He aims to project Punjab as the hub of tourism as he believes that there is a lot of tourism-related potential in the province. "The soft image of Pakistan can be projected worldwide through tourism and it will also attract investors. Punjab government will provide ample funds for the projection of tourism and cultural activities," claims the CM.  
On December 18, while addressing the ceremony through video link, Special Assistant to PM Syed Zulfiqar Bukhari said that Pakistan has tremendous tourism-related opportunities and these facilities are being fully exploited. "Tourism and economy go hand in hand and the national economy will be strengthened due to the promotion of tourism," he said. Country Director World Bank Najy Benhassine, through his video link address assured that the World Bank will continue its collaboration with the Punjab government for the promotion of tourism.
How the PTEGP works
The initial goal of the project is about widening and improving roads around six heritage sites across Punjab, which includes two roads in district Rawalpindi, GT road to top Mankiala, and the road between Taxila museum and Mohra. The plan also includes three road in district Sheikhupura, namely Sacha Sauda Manawala Road to Gurdwara Sacha Sauda, and a metalled road from Lahore going to the historic  Mariamabad Church. 
According to data released by the Punjab government, the 0.5 kilometres (kms) long Taxila Museum Mohra Muradu Road will cost Rs5.14million, the 4.1kms long Lahore-Sheikhupura to Mariamabad will cost Rs54.57 million, the 4.71kms long Ghulam Farid Mithankot Road will cost Rs105.79 million, the GT Road to Top Mankiala Road which is 2.10kms long will cost Rs51.53 million, the 1.15km long Sacha Sauda Gurdwara Road will cost Rs23.04 million and Sacha Sauda to Manawala Road which is 22.5kms long will cost Rs590.66 million.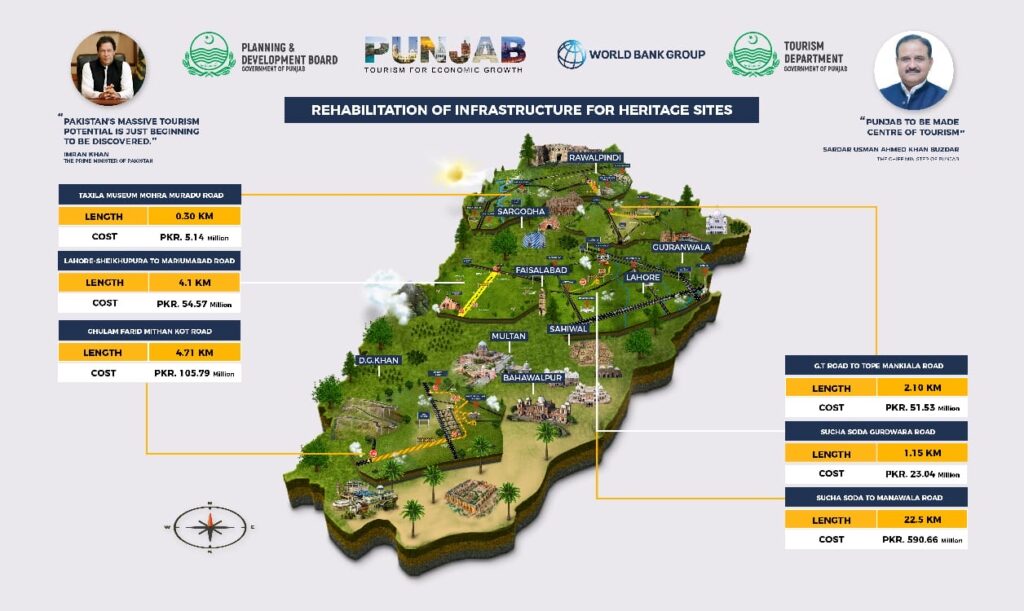 Speaking to Profit, Shelva Shareen, an English language lecturer at the University of South Asia, in Lahore and a frequent visitor to Mariamabad Church in Sheikhupura, said that it is a great initiative by Chief Minister Buzdar, and that it would save time to reach the historical Mariamabad Church for prayers and will facilitate the community as people could throng to this place on regular Sunday prayers and otherwise also. And it is not just this. Because when people think about going somewhere, they often have families to consider, and thus prefer places that are comfortable, and a smooth drive over definitely encourages tourism.    
Tara Singh, a resident of Nankana Sahib, who visits Gurdwara Sacha Sauda, told Profit that his community has no words to thank the government. "They have won our hearts. Gurdwara Sacha Sauda has great importance and significance in Sikhism because Baba Guru Nanak Sarkar came across some hungry Sadhus during a journey and he invested his resources to establish a langar (food) for the poor and needy classes of the society as he believed that no bargain could be more profitable than to feed the people who are needy and deserving with the food and clothes," he explains. The place is holy, and thus also attracts tourists that will now be able to more easily get to the Gurdwara.
Lack of promotion and marketing 
While the project looks promising, one of the problems it has faced is that up until now, the government has not been successful in marketing it as such. Speaking to Profit, one expert on the tourism and travelling industry, who wished not to be named, said that it is a good initiative but infrastructure is not the only important thing in supporting the tourism and travelling industry of Pakistan which has a huge potential. 
"Pakistan has been blessed with the natural beauty to be considered as a valued tourist attraction, however, one of the important reasons which has hindered Pakistan to emerge as a popular tourist attraction is the lack of promotion and marketing," they said. 
And this expert is not the only one that has raised these concerns. In fact, they have been raised time and time again for decades. Unfortunately, publicity of tourism has remained disorganised, incompetent and entire marketing effort have been mediocre over the years due to absence of enough expertise and fund allocation. "The governments have failed to carefully plan the method for promoting our tourism sites, destinations and brand Pakistan as a worthwhile destination," said another expert. 
According to a research study 'Analysis of Travel and Tourism Industry of Pakistan,' for the last six decades, Pakistan has been unable to create a successful brand for its tourism attractions as having rich natural, archeological, historic and cultural assets. The same problem persists today as well.  
"We have faced an identity crisis and have not been able to express ourselves until now regarding who we actually are and how we are distinct from India. We need to break away from the image that we are just a country that used to be a part of India and assert why Pakistan is different," said one of the researchers involved in the study. 
Whenever a tourist thinks about any specific country, an image is formed in his mind. For example, the marketing campaign of Malaysia revolves around the brand name 'truly Asia' and has produced positive and inspiring results over the few years. The brand name for Pakistan tourism should be promoted through joint marketing strategy by efficiently pooling in available resources and social media engagement can serve to be a vital tool in this regard, they recommended.